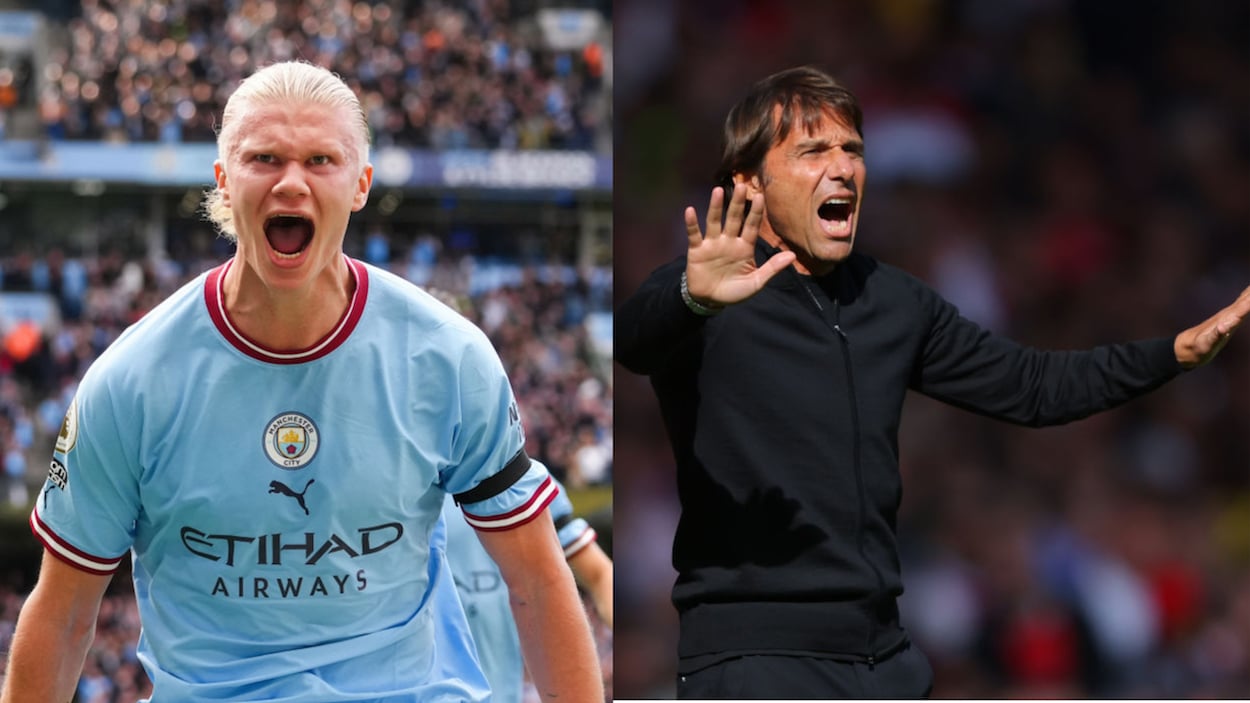 Erling Haaland, Antonio Conte, and the Winners and Losers of Premier League Matchday 9
With all 20 teams back in action and two massive derbies on the schedule, Premier League Matchday 9 featured plenty of highs and lows.
While it's been a while since we had a "normal" Premier League matchday, this past weekend was certainly worth the wait. There were two massive derbies, some gorgeous goals, and, above all else, plenty of intriguing storylines. It was a pretty sweet few days to be a soccer fan.
With Matchday 9 officially in the rearview mirror, though, let's take a sober second look at what happened. Here are the Premier League's biggest winners and losers from the weekend.
Winner: Erling Haaland
At this point, there isn't anything new to say about Erling Haaland. The young striker changed leagues, has new teammates, and stepped into a different system, but he hasn't missed a beat. Scoring a hat trick in your first Manchester Derby is impressive enough; having that be your third hat trick in three home matches is just incredible.
And, while you've surely seen the stats about how quickly he reached that milestone, please reconsider how unbelievable that is. Eight matches to score three hat tricks. When you beat an existing record by 40 matches, that's saying something.
While there's still plenty of soccer to play this season, it's safe to say that any concerns about Haaland adjusting to the Premier League have already been put to bed. At this point, all you can do is sit back and watch with joy or horror as he keeps scoring.
Loser: Erik ten Hag
For convenience, we'll stay within the Manchester Derby and look at United manager Erik ten Hag. While losing a big match 6-2 isn't ideal, that's not really why he's on this list. I take less issue with him sticking to his principles and trying to play his game than I do with some of his managerial choices.
While there's plenty that went wrong on the day, the Red Devils' midfield didn't help matters. The two-man unit was pulled apart, overran, and generally ineffective on the day. One solution could have been shifting from a midfield two to a midfield three, but Bruno Fernandes doesn't really shine in that system.
That part that seems baffling, however, is letting Scott McTominay stay in the lineup while Casemiro sits on the bench. The Brazilian might not be the perfect player for United at this point in time, but he's more of a stabilizing presence than the Scot. Keeping a set lineup is one thing; persisting with a starting 11 that isn't your best is another.
On a similar note, there's also the Cristiano Ronaldo situation. It's one thing to make a tactical decision, but it's a bit different to keep a player who, for all his faults, scores goals on the bench out of respect.
At the risk of being a bit blunt, United weren't supposed to win this game. The loss, however, highlighted some cracks that the club's recent form had papered over. Now, it's up to ETH to paper them over.
Winner: Arsenal
While building this list, there were plenty of candidates for this spot. Mikel Arteta could have earned the nod for building the current squad and getting everybody to buy in. Granit Xhaka almost got a shoutout for his continuing redemption arc. Ben White deserves some recognition for his continued work at right-back. Ultimately, that choice proved to be too tough, and I defaulted to Arsenal as a whole.
Although relying on anecdotal emotion isn't the best way to assess anything, the vibe around the Emirates is the best way to show the Gunners' transformation. When things were at their worst, the stadium was downright toxic. Mistakes were met with groans and grumbles, and you could feel how anxious the fans were through the TV. Everyone was waiting for the next thing to go wrong, which sapped the life out of the entire stadium.
These days, though, Gooners are genuinely excited. The squad is young, hungry, and, thus far, performing. The manager has installed a system and has everyone buying in. That, in turn, has created a different environment. On several occasions this season, fans have responded to mistakes or opposition goals with support, rather than anger. A few seasons ago, that would never have happened.
To highlight the change in attitude, look at Granit Xhaka. Not that long ago, the Swiss midfielder was jeered off the field. He responded by cursing at the supporters, was stripped of the captaincy and almost left the club. Arteta convinced him to stay and, thanks to a tactical evolution, the Swiss is playing some of his best football. Now, he's being serenaded by supporters, promoted on the team's social media accounts, and was recently voted Arsenal's September Player of the Month.
With changes like that, it's hard not to give the entire club a positive mention.
Loser: Antonio Conte
Again, we'll cross over from one side of the derby to the other.
During his time at Tottenham, just about everything has gone right for Antonio Conte. He helped Spurs earn a place in the Champions League, was backed during the summer transfer market, and got off to a hot start to the 2022-23 campaign. At Arsenal, however, things hit a bump in the road.
As I wrote with ten Hag, this is less about the result. Anyone can lose a derby match by two goals, especially when there's a red card involved. With that being said, though, the Italian manager is now facing a bit of criticism.
His tactics aren't a surprise — when you hire Conte, you know what you're getting — but they were juxtaposed against Arsenal's attacking football on Saturday. While you could suggest that Spurs were a few successful final balls away from winning the match, that's the downside of the system. When you play on the counterattack and rely on star players making the most of a few opportunities, there simply isn't enough volume to widen the margin. If you're only going to get a handful of chances per match, it's unreasonable to expect to score on every one of them.
Conte is also facing some tactical and selection-based criticism. Some have suggested he shift to a 3-5-2 in order to help Spurs get control of the midfield, but I'd argue that he doesn't have the squad depth for that system. He's also feeling the heat for continuing to pick Emerson Royal and seeming to have forgotten that Djed Spence exists.
It appears the manager is feeling a bit of that heat as he insisted that he wasn't "stupid" during his media availability head of Spurs' Champions League trip to Frankfurt. Given the Italian's history of getting frustrated and leaving a job when he feels like he doesn't have the tools he needs, this situation could be worth watching.
Winner: Conor Gallagher
In full transparency, this is partially an excuse to show the midfielder's beautiful goal again. When you add in the fact that Gallagher starred at Crystal Palace last year, was clapped onto the field by their fans, and then stole the points for Chelsea, it's hard to think of a more movie-ready scenario.
Beyond that, though, sports are defined by moments and making the most of opportunities. While that might feel a bit silly, think of all the players who stepped into a starting role thanks to an injury and never gave up that top job.
While I'm not saying that Gallagher just made himself the first name on Graham Potter's team sheet, it's easy to see how that goal could be a turning point. The midfielder is a young player fighting for his place at Chelsea, and Potter is a new manager who, for all his coaching strengths, needs to win football matches. After seeing that goal earn him three important points at Palace, it's easy to imagine him feeling like Gallagher is someone he can rely on.
Loser: Liverpool
At this point, it's still not 100% clear what's wrong with Liverpool. Fatigue could be taking a tool, as the Reds chased a quadruple to the end of last season, only to fall short in the two biggest competitions. There's been some player turnover — Sadio Mane left, and Darwin Nunez hasn't hit the ground running — injury issues, and overall defensive frailties.
Regardless of what the root cause is, though, one thing is clear: Liverpool is currently sitting in ninth place in the table with only two Premier League wins.
While writing off the Reds would be a mistake, the aura is no longer there. This doesn't seem like a squad that can run the table and close a 10-point gap over the remainder of the season. Would finishing in the top four and making a deep cup run be a good season? Probably, but that hasn't been Liverpool's standard as of late.
And, if we look beyond this season, things get even more ominous. The roster needs to start turning over, and bringing in one big-name player per window isn't going to cut it. How will Fenway Sports Group strike the balance between finances and building a competitive squad? Only time will tell.
Like Sportscasting on Facebook. Follow us on Twitter @sportscasting19 and subscribe to our YouTube channel.