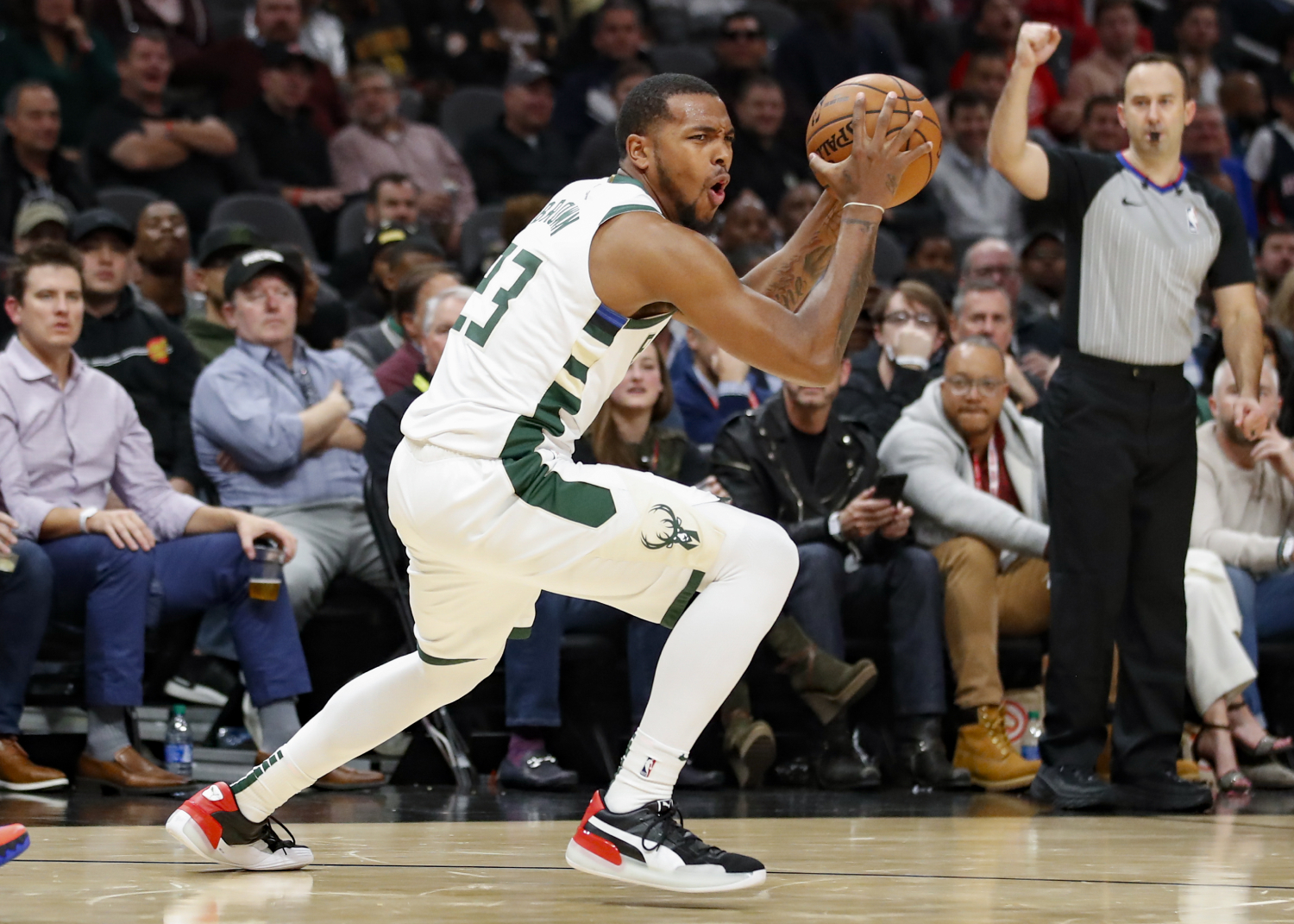 Milwaukee Bucks Swingman Sterling Brown Recalls When Police Kneeled on His Neck
Milwaukee Bucks swingman Sterling Brown recalls when police officers kneeled on his neck in January of 2018.
It was Jan. 26, 2018, and Sterling Brown, a reserve guard for the Milwaukee Bucks, went into a Walgreens in Milwaukee. It was late at night and he was coming from a friend's house. He parked across two handicapped spots to run into the store. When he came out, police approached him. Brown went to enter his car and the policeman, according to Brown, shoved him and Brown pushed the officer's hand off him. Things quickly escalated.
Sterling Brown was a rookie when the incident happened
Sterling Brown played his college ball at SMU and was a second-round pick of the Philadelphia 76ers in the 2017 NBA draft. Two weeks after the draft, the Sixers traded Brown to the Milwaukee Bucks for cash. Brown, a 6-foot-5 guard/small forward, played 54 games in his rookie season, averaging four points per game. In his three years in the NBA, he has averaged 5.2 points and 15.7 minutes per game.
According to a first-person account in The Players' Tribune, Brown stopped at a Walgreens one January night and chaos ensued after he parked across two handicapped parking spots and ran in quickly. "I could have parked in one spot but it was late at night and the parking lot was empty," Brown wrote last month. "I figured, I'm just running inside. What's the worst that could happen?
After his incident with the police officer, Brown found himself in trouble. "After the initial standoff, the officer said, 'I own this.' He must've thought that was gonna intimidate me. I said, 'You don't own me.' Then after a few words back and forth he called for backup and six more squad cars pulled up. While he was calling them, I was standing there thinking, What are we doing? Give me a ticket so I can be on my way." 
Brown was taken to the ground
Sterling Brown said he stood outside in the rain and cold while multiple officers searched inside his car. "One of them told me to take my hands out of my pocket after having them in there for 20 minutes," Brown wrote. "Somehow the officers must have felt "threatened" because next thing I knew they started punching, kneeing, and trying to get me to the ground.
"One of the officers had a knee on my neck. Another stood on my ankle. The cop who tased me had initially pulled his gun. The whole time I was on the ground, I was just wondering how we had gotten to that point. All I was focused on was getting back to my family and my job. I thought about fighting back, but it was just an unnecessary attempt for them to show power. I could have gotten them off of me, but it was six guns to none."
 Brown said the officers were making jokes about the Milwaukee Bucks during this time. He said they eventually put him in the back of the police car and brought him to a cell. "For what? Because I was a Black man with a nice car in the hood," he said. "But while I was in there I had time to think and reflect. I had time to turn my anger into fuel."
Brown said nobody believed him until body-cam footage came out
Sterling Brown said people doubted his side of the story until body-cam footage was released. "It happened 2½ years ago, but it wasn't until the body-cam footage came out that people started to believe me," Brown wrote. "Aside from a few people who were on the fence, most people assumed I was just another Black man who got aggressive with the police."
Brown said the city of Milwaukee wanted to settle with him. He refused. "The city of Milwaukee wanted to give me $400,000 to be quiet after cops kneeled on my neck, stood on my ankle, and tased me in a parking lot," he said. "But here's the thing: I can't be quiet.
"That was why I rejected the settlement offer from the city of Milwaukee last year. I want more than just money. I want cops to show respect and to be held accountable when they step out of line, especially in the neighborhoods they are supposed to serve and protect every day. If they kill a man, I want them to receive the same punishment that another guy on the street would."