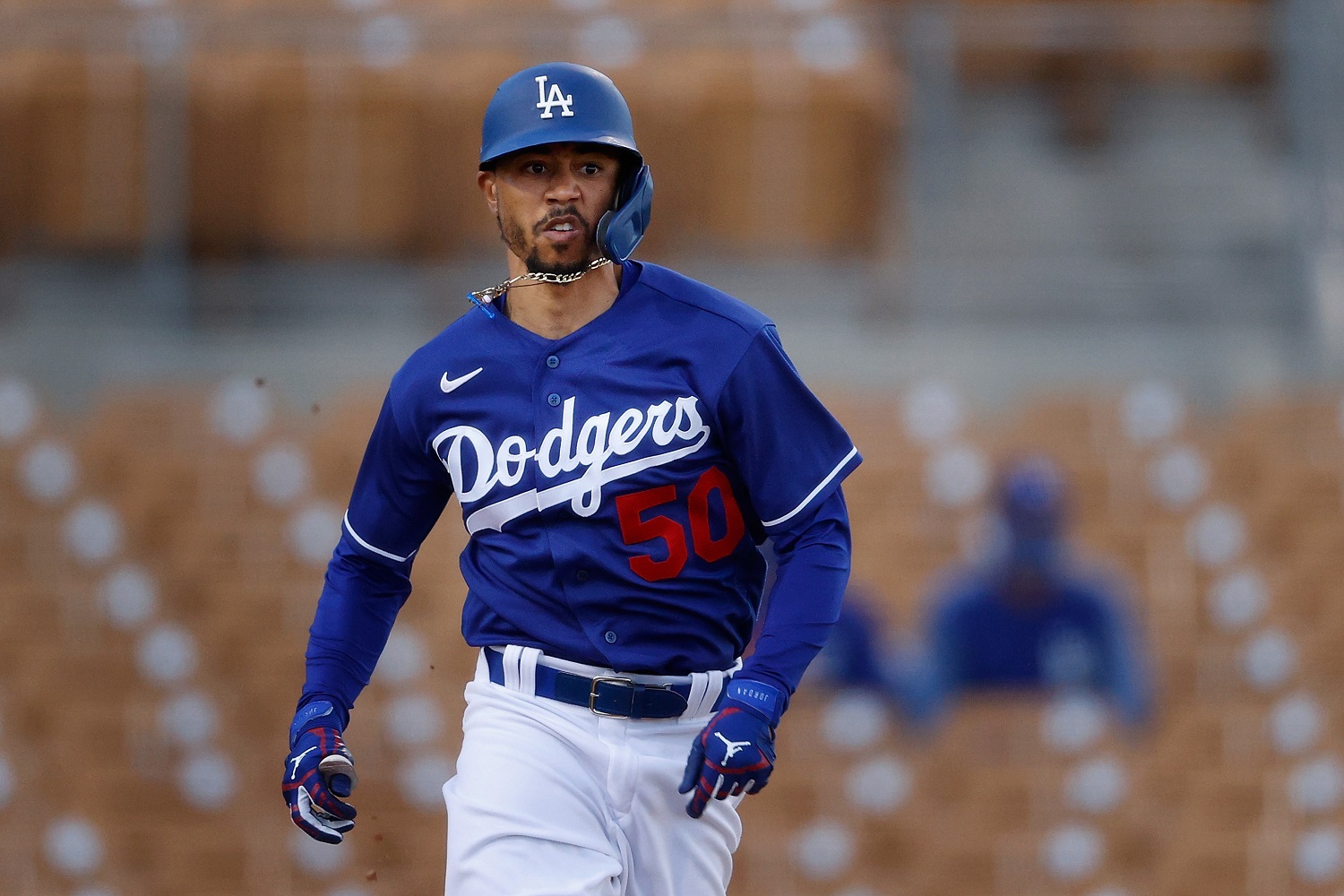 Mookie Betts Could Leave the LA Dodgers Over MLB's Expected Desperation Move
The idea of Mookie Betts leaving the Los Angeles Dodgers sounds far-fetched, but it becomes a possibility if MLB expands soon, as expected.
Let's start with this disclaimer: The whole world knows that Mookie Betts has committed to play the remainder of his career with the Los Angeles Dodgers. The exciting outfielder signed a $12-year, $365 million contract extension last year after coming over from the Boston Red Sox in a trade. That deal kicks into effect this spring.
Betts scored his jackpot from a big-market team that is rolling – eight straight trips to the MLB playoffs and a world championship last fall. So, what could make him want to leave LA?
Try greed. And we don't mean greed on Betts' part.
Rob Manfred says MLB teams are swimming in debt
Baseball's ridiculously short, 60-game regular season in 2020 still culminated in playoffs and a World Series, won by Mookie Betts and the Los Angeles Dodgers in six games over the Tampa Bay Rays, that salvaged considerable television money for the 30 MLB teams.
It led commissioner Rob Manfred to say that owners lost as much as $3 billion, raising the combined debt of the clubs to $8.3 billion, according to Sportico. The disclosure was met with skepticism from the players' union and others, but teams lost game-day revenue for an entire season. Many received only pro-rated shares of local TV and sponsorship contracts. That more than offset what was saved by player payrolls dropping by over 60% and significant off-the-field job cuts.
Owners intend to conduct a 162-game season in 2021, but most if not all the clubs will be under restrictions that will limit attendance. On top of that, the collective bargaining agreement expires at the end of the season, raising the possibility of a strike or lockout that could throw the 2022 season into chaos, triggering more financial issues.
MLB's potential solutions include expansion
Even before the pandemic wiped an estimated $7 billion in anticipated revenue off the books of MLB teams, owners were suggesting that baseball was overdue to add teams. The last expansion saw the Florida Marlins and Colorado Rockies come aboard in 1993, followed by the Tampa Bay Devil Rays and Arizona Diamondbacks in 1998.
The sport would need to add two teams at a time for scheduling purposes. At a projected expansion fee of $2 billion per new team, the existing clubs would more than recoup their average loss of $100 million apiece from last season.
Before expansion can happen, the new owners would need a minimum of two years (and preferably three) to build farm systems. If owners were to agree by year's end to expand, the new teams could theoretically be on the field by 2024.
Which cities would land teams? Montreal has been mentioned frequently of late, and some believe that MLB should make a push to expand to Mexico. It's more likely, however, that one if not both of the first two expansion locations would be in the United States. Portland and Nashville have been pushing hard, and Las Vegas and Charlotte have long been considered possibilities.
The thought that Nashville could succeed is what makes us think that Mookie Betts, the 2018 AL MVP, wouldn't last the whole 12 years with the Los Angeles Dodgers.
It's not as preposterous as one might think.
Mookie Betts could leave the LA Dodgers after MLB expands
Los Angeles is an entertainment mecca and offers huge endorsement possibilities. So, why would Mookie Betts leave? For starters, the five-time Gold Glove winner with four Silver Slugger Awards was born and raised in Nashville. In fact, Betts still considers himself a Tennessee resident.
That's no small matter financially. Differences in state tax laws could mean tens of millions of dollars for Betts' bank account, according to calculations by Sportico.
Regardless of where he lives, Betts will spend his career in the highest federal tax bracket (37%) and be subject to the "jock tax," under which some states and cities tax visiting teams' players based upon time spent there. Unfortunately for many athletes, California taxes income above $1 million at 13.3%, the highest rate in the nation; Tennessee does not have a state tax.
Between his $65 million signing bonus and $300 million in salary (some of which is deferred), Betts would pay $33.7 million less in taxes by claiming with absolute certainty that he is a resident of Tennessee rather than California. That may sound inconsequential for a guy with a $365 million contract, but Betts already loses $135 million of that to a federal government that could impose even harsher taxes later.
Given the choice between paying higher taxes in California or playing in the city where family and friends watched him grow up, wouldn't Betts have to at least consider asking for a trade if MLB grants Nashville an expansion team?
Like Sportscasting on Facebook. Follow us on Twitter @sportscasting19.