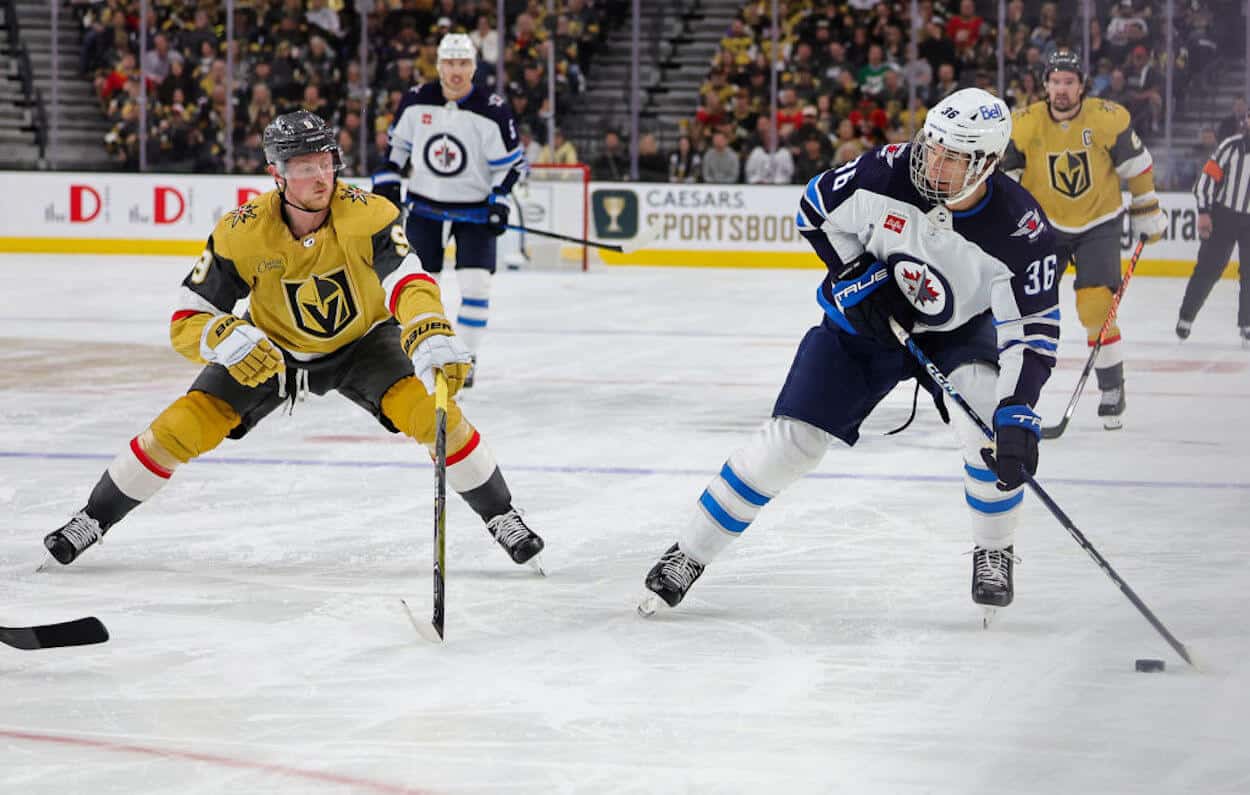 Morgan Barron Returns to an NHL Playoff Game After Getting 75 Stitches In His Face
Hockey players go their entire lives dreaming of winning the Stanley Cup, and they're willing to play through pain to get there. Just ask Morgan Barron.
With all due respect to hockey, most NHL players don't rank too highly in terms of overall popularity. While some names, like Wayne Gretzky, may have leaked into popular culture, the ice game usually doesn't make much of a wave. And, even among hockey fans, Morgan Barron is largely anonymous.
After Tuesday, April 18's playoff games, though, that will probably change.
During the Winnipeg Jets' date with the Vegas Golden Knights, Barron took a skate to the face. While that sent him off the ice for some running repairs, he returned in classic hockey style later that evening.
Morgan Barron wasn't going to let 75 stitches keep him off the ice
Hockey, understandably, is a dangerous sport. In addition to the physical contact, everyone is on ice and swinging sticks around. Oh yeah, and there are blades attached to your feet. Morgan Barron encountered that final reality the hard way.
On April 18, the Winnipeg Jets headed south to visit Las Vegas. Midway through a scoreless first period, a scrum ensued when the puck bounced around in front of the Knights' crease. When things eventually settled down, there was an issue that loomed larger than any goal.
Barron, one of the Jets' forwards, took an inadvertent skate to the face in front of the net and headed off the ice to receive medical attention. While it would have been understandable if he missed the rest of the game, that's not how hockey works.
During the second period, Barron rejoined his teammates. He had received 75 stitches in the side of his face and needed to wear a cage on his helmet, but that didn't stop him from taking the ice and contributing to a 5-1 win.
After the game, he was asked what ran through his mind as the incident occurred. Physical safety, it seems, wasn't the top priority.
"If the puck went in," Barron explained in a clip making the rounds on social media. "Cause it's sitting pretty close."
Some of his teammates, however, were a bit more concerned.
"Looks like he got attacked by a shark," center Adam Lowry said, according to an ESPN write-up. "It's a scary thing. We're all so worried about the puck crossing the line, and all of the sudden we see a trail of blood all the way from the crease to the bench."
At this point, it's impossible to know how the rest of the Stanley Cup Playoffs will unfold. It's safe to assume, though, that Morgan Barron will be ready to go for as long as the Jets stay alive.