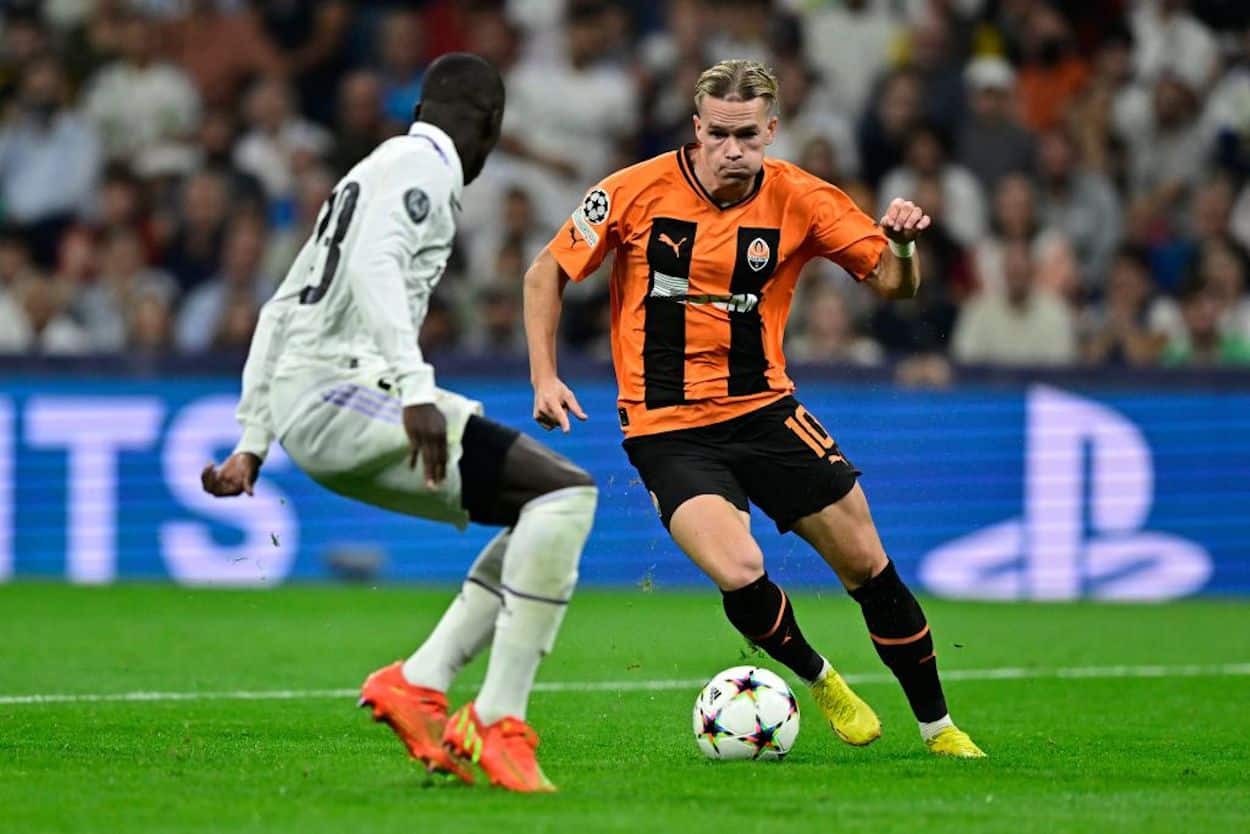 Mykhaylo Mudryk Scouting Report: Who Is Arsenal's Potential Big-Money Transfer Target?
Heard the rumors about Arsenal trying to buy a player by the name of Mykhaylo Mudryk? Here's everything you need to know about him.
Soccer's January transfer window can tell you a great deal about how a club views itself. Is the brass looking to stand pact and avoid throwing off the chemistry? Or is the manager seeking reinforcements to get his squad over the hump. Arsenal, it seems, are in the latter camp. Mikel Arteta and company seem to believe that the 2022-23 campaign is a chance to do something special, and they want all the help possible to reach the promised land. As of now, that help seems to be Mykhaylo Mudryk.
For even the most dedicated supporters, though, that name is a bit of a mystery. Who is this Mudryk guy? Will he even come to Arsenal? If he arrives, what does he bring to the table?
So, with that in mind, let's look at a Mykhaylo Mudryk scouting report and sketch out everything you need to know about the potential Gunner.
Who is Mykhaylo Mudryk?
As of now, Mykhaylo Mudryk is a professional footballer who plays as a wide midfielder/winger for Ukraine's Shakhtar Donetsk. That reality, combined with the fact that he's only 21 years old, explains why he's a relatively new name on the global football scene.
To date, Mudryk doesn't have a great deal of top-flight experience. He's played roughly 50 games in the Ukrainian Premier League and has represented his country from the under-16 level through senior international football. He's also appeared in the UEFA Champions League with Shakhtar, which helped place him on the global radar.
At the tail end of 2022, the winger started being linked to Arsenal. It seems like the English club is pretty interested in his services, although price could be a concern. We'll get to that shortly, though.
Why do Arsenal want to sign Mudryk?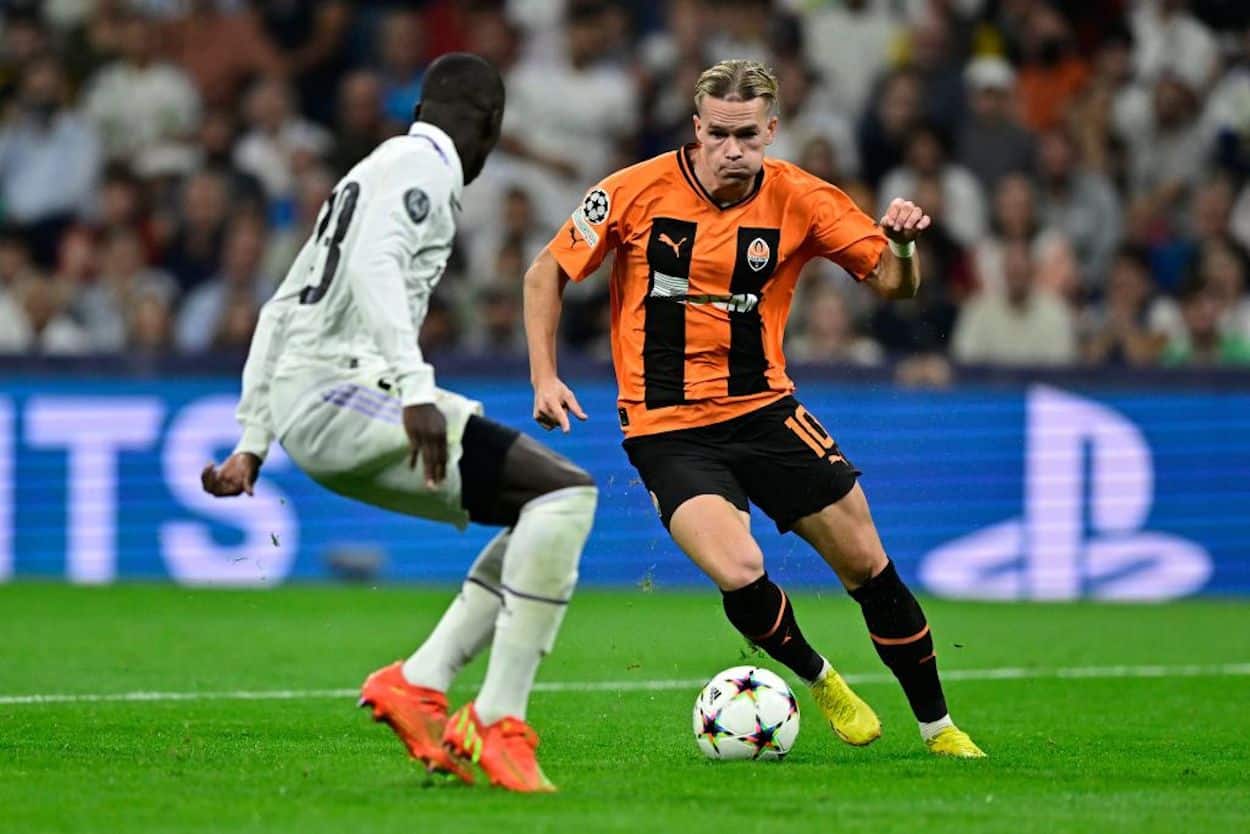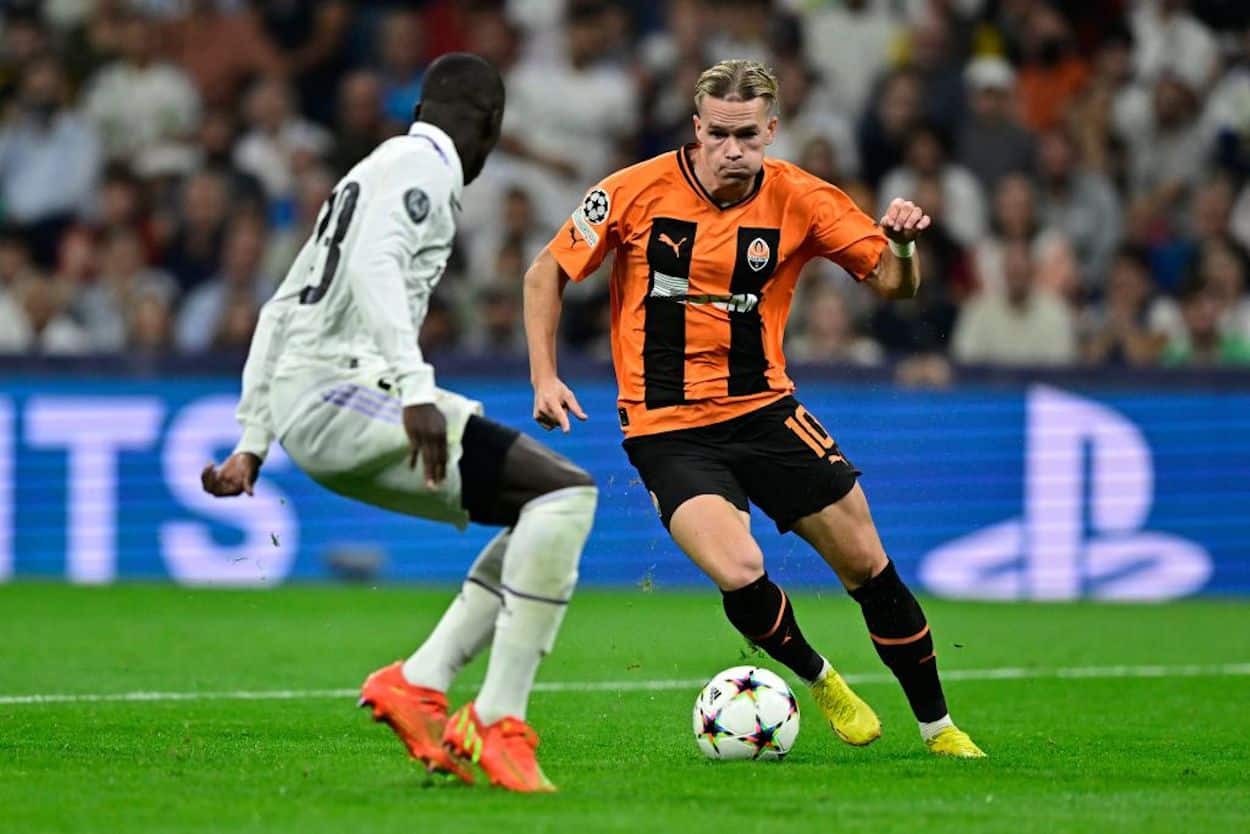 If you've spent any amount of time following soccer, you might expect me to produce a Youtube compilation of clips and say those moments made Arsenal decide to buy Mykhaylo Mudryk. Instead, I'm going to consider what Mikel Arteta wants from his team, especially in attacking areas, and see how the Ukrainian fits into those boxes.
At the most basic level, the Gunners' boss wants his team to put the ball in the back of the net. He's said that Arsenal need to score "90 to 100 goals at least" (h/t The Guardian) in order to win the Premier League. His squad, however, doesn't feature a dominant attacking threat, ala Erling Haaland, which leads to a more collective approach.
If you're trying to piece together 100 goals across the squad, you simply need as many players who are capable of chipping in as possible. Arsenal currently lack senior depth in the attacking areas — Nicolas Pepe is out on loan, Marquinhos and Reiss Nelson are both hurt, and Emile Smith Rowe is yet to return to full fitness — meaning that any reinforcements would be valuable.
Enter Mykhaylo Mudryk.
Then, moving on to wingers, Arteta's plans are pretty clear. As a believer in positional play, the Spaniard wants his wide players to stay near the touchline and be the external bookends of a five-man attacking front. They also have to be able to work inward within the attacking third, however, to make things happen in the box.
Mudryk can, at least based on his small sample sizes, fill that role. We'll get further into the scouting report a bit later, but he's a pacy inverted winger who's more than comfortable in the attacking third.
What sort of transfer fee would Arsenal have to pay for Mykhaylo Mudryk?
Here is where things get tricky. Based on the limited sample size, Mudryk is a talented player. It seems like he wants to come to Arsenal, and the Gunners are interested in his services. Shakhtar's asking price, however, is proving to be the sticking point.
While transfer reporting always requires a hefty pinch of salt, the Ukrainian club is asking, at least publicly, for somewhere in the neighborhood of €100 million or $107 million. That number theoretically comes from the sum that Manchester United paid for Antony during the summer transfer window.
Arsenal are understandably hesitant to pay that sum. According to The Athletic, the English club made an opening offer of "€40 million up front with a further €25 million in potential add-ons," which converts to a total of just under $70 million. Shakhtar, however, rejected that proposal.
Now, it's time for all three parties (if we include Mudryk) to engage in a bit of a dance. Arsenal's early offer suggests they're serious about landing the player, but they're not going to be held hostage during a crucial transfer window. Similarly, Shakhtar's brass probably knows a number short of €100 million that they'll be happy with. It remains to be seen, however, if they can find that common ground and how much the player's public desire to move shapes the calculus.
Mykhaylo Mudryk scouting report: How good is this relatively unknown winger?
One of the issues with assessing Arsenal's pursuit of Mykhaylo Mudryk is that no one outside of Ukraine has seen much of him. I'm not going to pretend that I'm any different. With that being said, though, I believe we can synthesize some clips, stats, and knowledge of Arsenal to paint a larger picture of the winger.
Looking at FBref's percentile-based stats, Mudryk profiles extremely well from an attacking perspective when compared to other midfielders. He sits in the 99th percentile for goals per 90 minutes and the 98th percentile for assists per 90. His shot totals, dribbles completed, and touches in the penalty area also look strong.
The issue, however, is the rest of his data. While no one is expecting an attacking winger to be putting in dozens of tackles or making interceptions, Mudryk's numbers are in the cellar. That could be a potential problem, especially since we know Mikel Arteta expects non-negotiable effort from all of his players.
Beyond that, though, passing numbers are concerning. While his assists per 90 metric looks strong, the winger sits in the first percentile for passes completed and progressive passes and the sixth percentile for pass completion percentage. It's easy to explain some of that away — being classified as a midfielder means Mudryk is compared to players who complete hundreds of passes a match, and as Shakhtar's offensive outlet, passing isn't really his job — but they still seem like something of a red flag.
At the risk of reopening an old wound, let's look at Nicolas Pepe. The winger burst onto the scene in France by scoring goals in transition. When he slotted into an Arsenal squad that wanted to possess the ball and had to break down massed defenses, the Ivorian struggled. It's impossible to avoid having that similar fear in the back of your mind when you consider Mudryk's numbers, especially when he's playing in an even weaker league.
All of that isn't to say that the Ukrainian isn't a good player, though. A glimpse at his Champions League highlights shows why teams are interested in his services. He's a technically skilled dribbler, a willing and pacy runner, and a capable finisher. If you're looking for an offensive spark, he'd probably provide it.
A potential X-factor, however, is Mikel Arteta's talent identification and coaching ability. During his time at Arsenal, virtually every player he's brought to North London has performed well. The Spaniard has also received credit for helping Raheem Sterling and Leroy Sane improve at Manchester City and seems to be helping Bukayo Saka and Gabriel Martinelli develop, too.
So, what does that all mean for Arsenal?
With the transfer window about to open, the rubber has to meet the road. Now that we've laid out the backstory and looked at a Mykhaylo Mudryk scouting report, how does everything fit together?
From Arsenal's perspective, Arteta and Edu Gaspar have presumably sat down and hatched a plan. They know how they'll use Mudryk and how much money they're willing to pay for a player of that stature. From there, the club will negotiate up to that point. Should Shakhtar's asking price remain higher, there's potentially a plan B.
That financial breakpoint is probably the missing X-Factor of this deal. Not only will it affect if it gets done or not, but it will also influence the success of the (potential) signing from Arsenal's perspective. It's one thing to sign a role player for $50 million, but it's a different kettle of fish to have a $100 million player on the bench.
So, as of now, everyone will have to sit tight and see what happens. This won't be the last you've heard of Mykhaylo Mudryk, though.