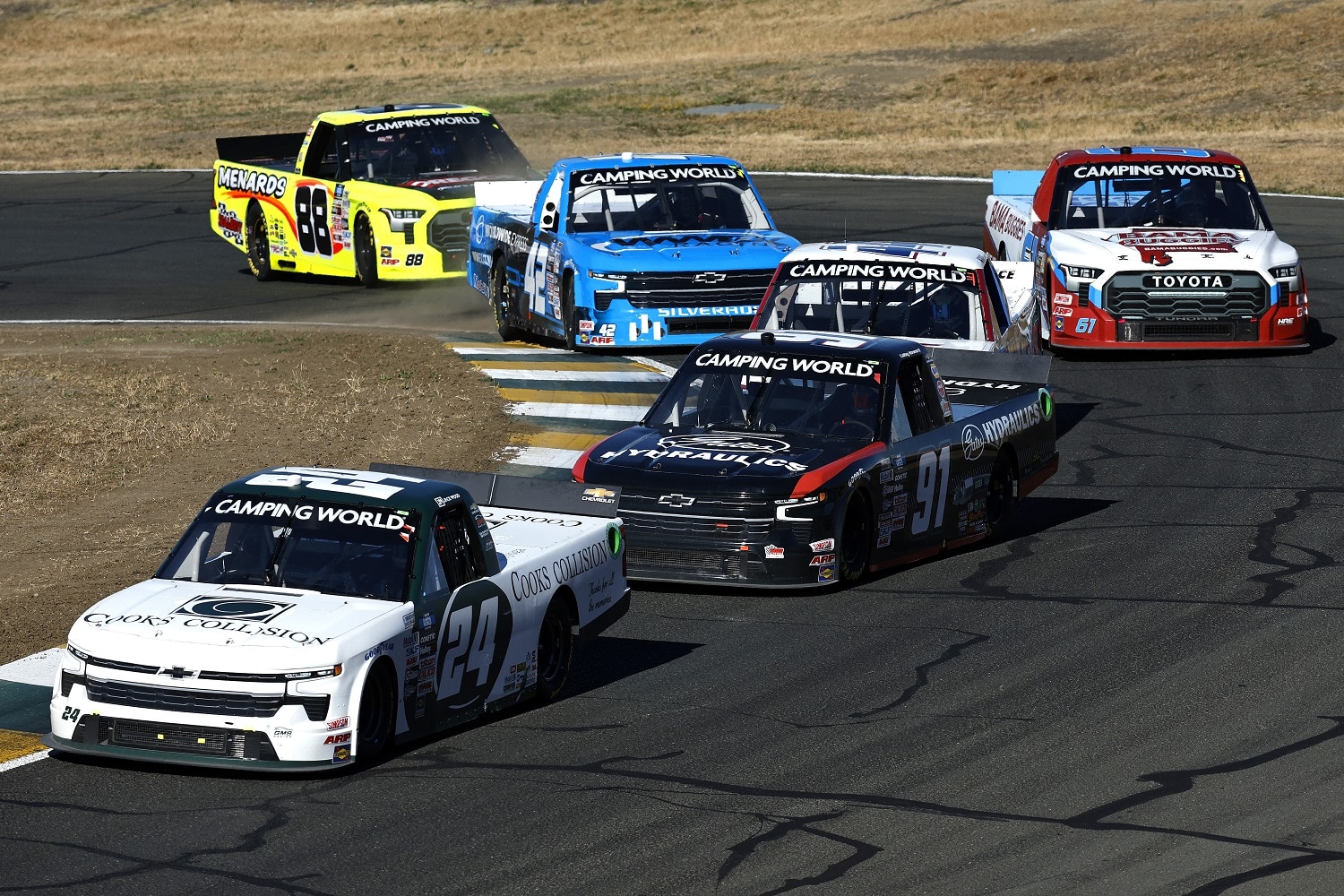 NASCAR Mailbag: Changing Teams Shouldn't Drastically Change Craftsman Truck Series Performances
There's an important reason why top team changing manufacturers won't make a huge difference in the truck series.
I don't follow the truck series closely, probably because they race so sporadically compared to the other NASCAR series, but now I'm interested because three significant teams switched manufacturers this offseason, which means more drivers than usual are on the move. To me, that will be a good indication of who was winning with superior equipment or struggling with bad equipment. (From C.D via Gmail)
It has definitely been an eventful offseason in the Craftsman Truck Series, beginning with Craftsman taking over sponsorship rights after Camping World's departure.
Kyle Busch Motorsports kicked off the big moves by shifting from Toyota to Chevy. Toyota then enticed David Gilliland Racing (now Tricon Garage) to leave Ford, followed by ThorSport Racing going from Toyota to Ford.
Before we get too excited by that, keep the two crucial aspects of the NASCAR truck series in mind: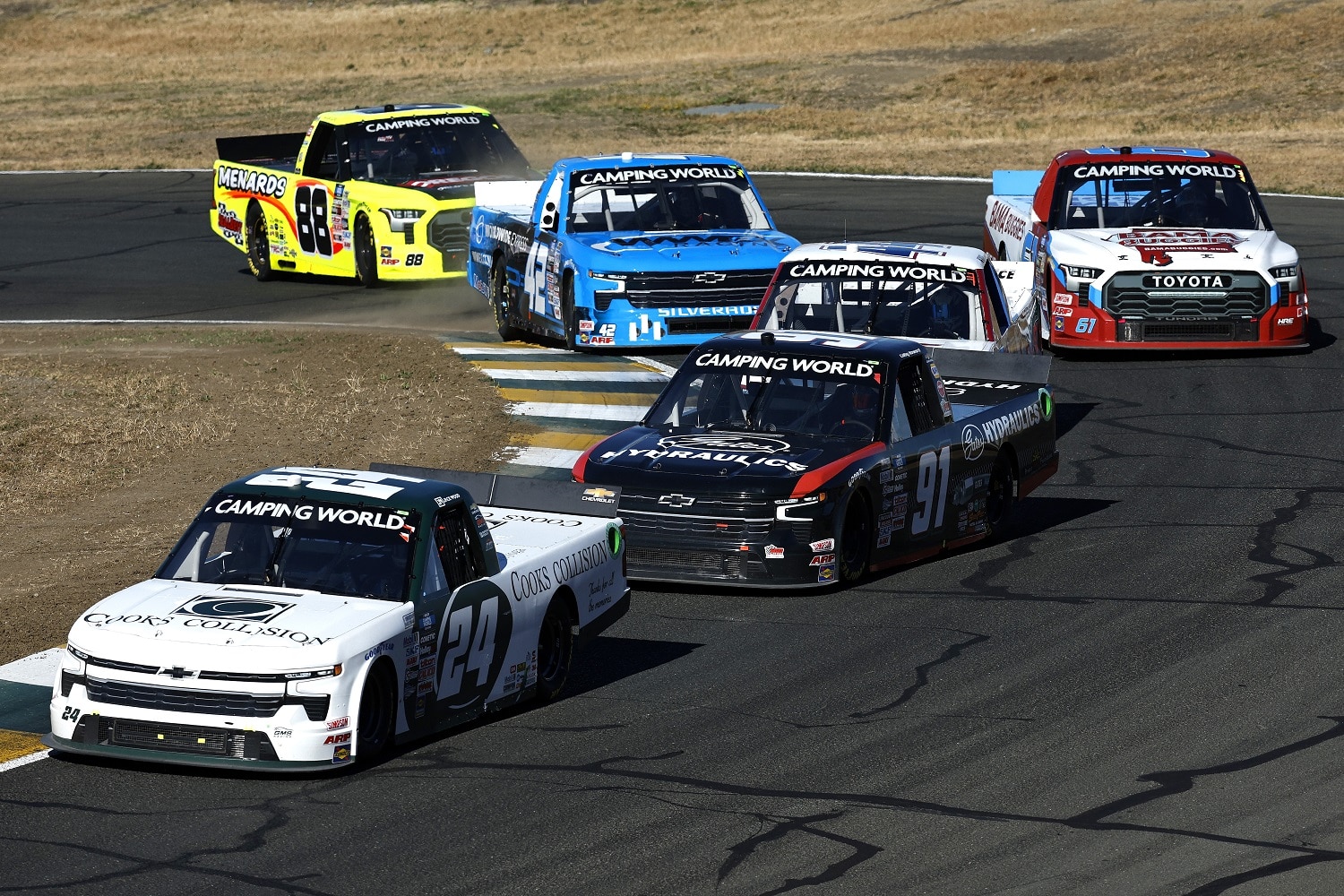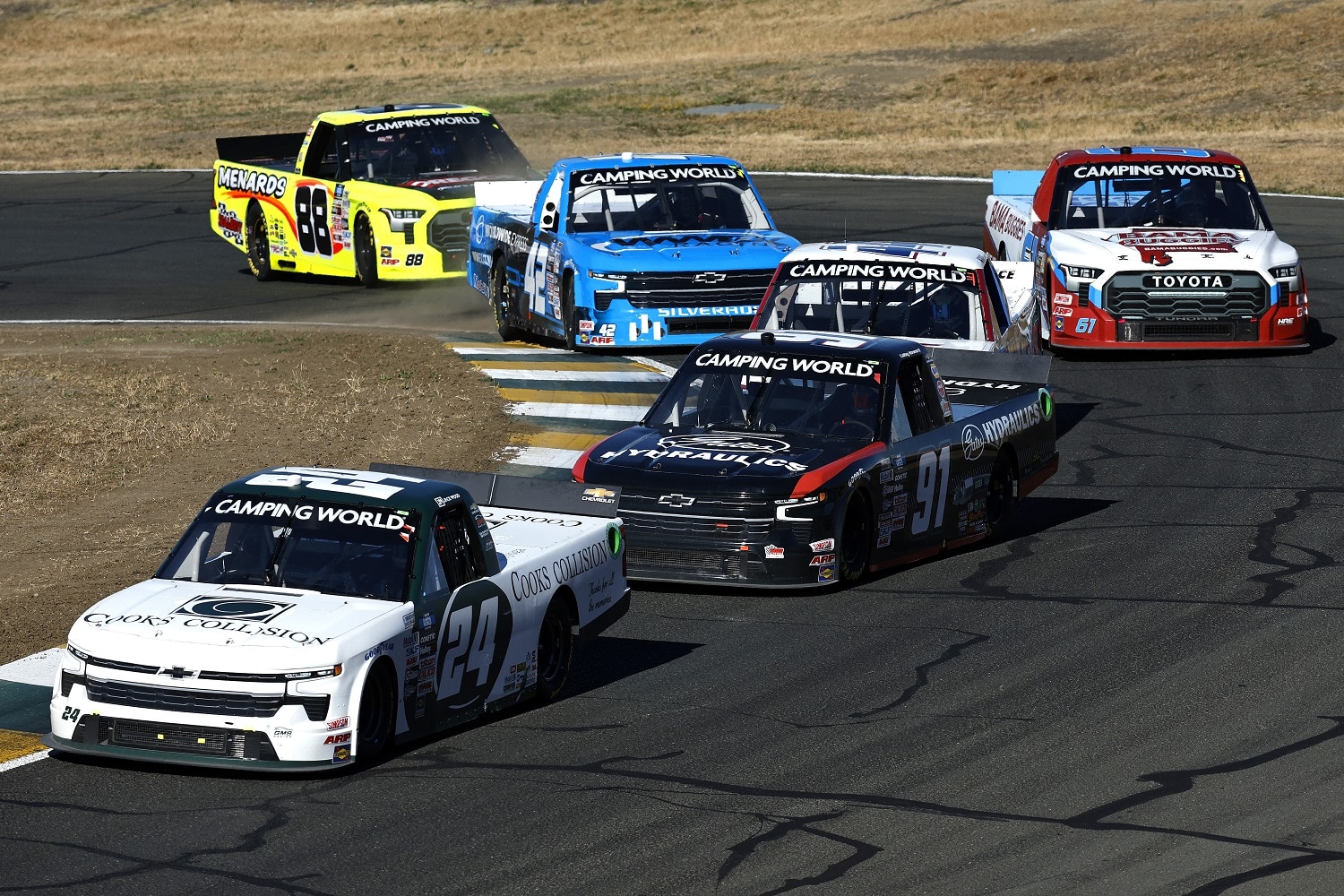 Manufacturer backing helps in several respects, the most significant being that Chevy, Ford, and Toyota identify promising drivers for their development programs, steer them into favored teams, and supply support.
Engines are the most important aspect of racing at any level, and all the truck teams get theirs from the same manufacturer (Michigan-based Ilmor).
It's not cut-and-dried, but the latter is an equalizer that should mean success or failure depends more on driver ability, pit crew efficiency, and making good calls on tire changes and restart strategy. That's why Ben Rhodes and Ty Majeski, who made the Championship 4, should feel minimal effect from ThorSport's switch, though Rhodes is getting a new crew chief.
Among returning playoff drivers, Christian Eckes figures to be a prominent barometer of how impactful change can actually be. Eckes finished eighth in the 2022 standings, but ThorSport did not retain him, and the 22-year-old from Middletown, New York, has moved to McAnally-Hilgemann Racing after two seasons in the No. 98 Toyota.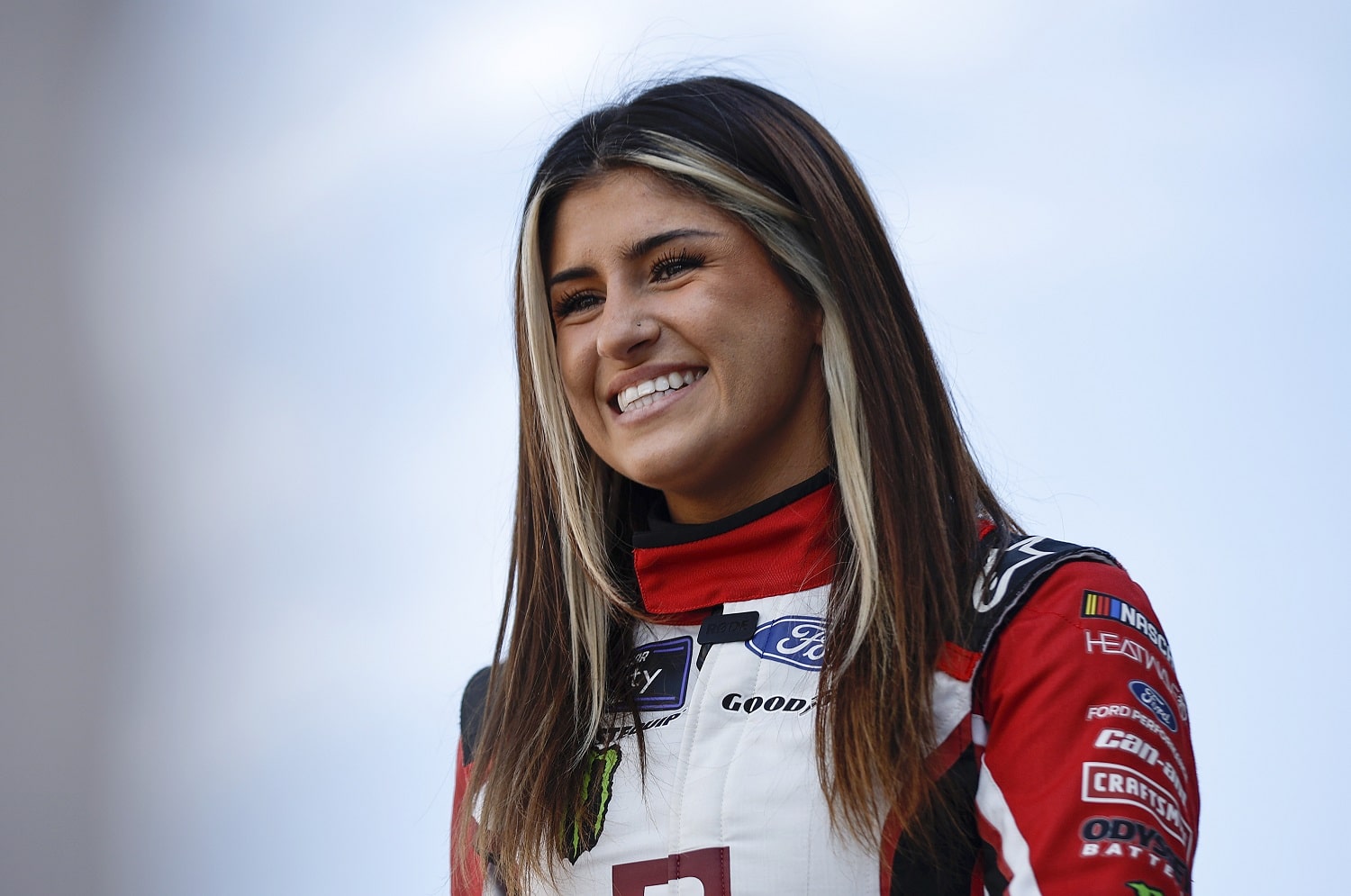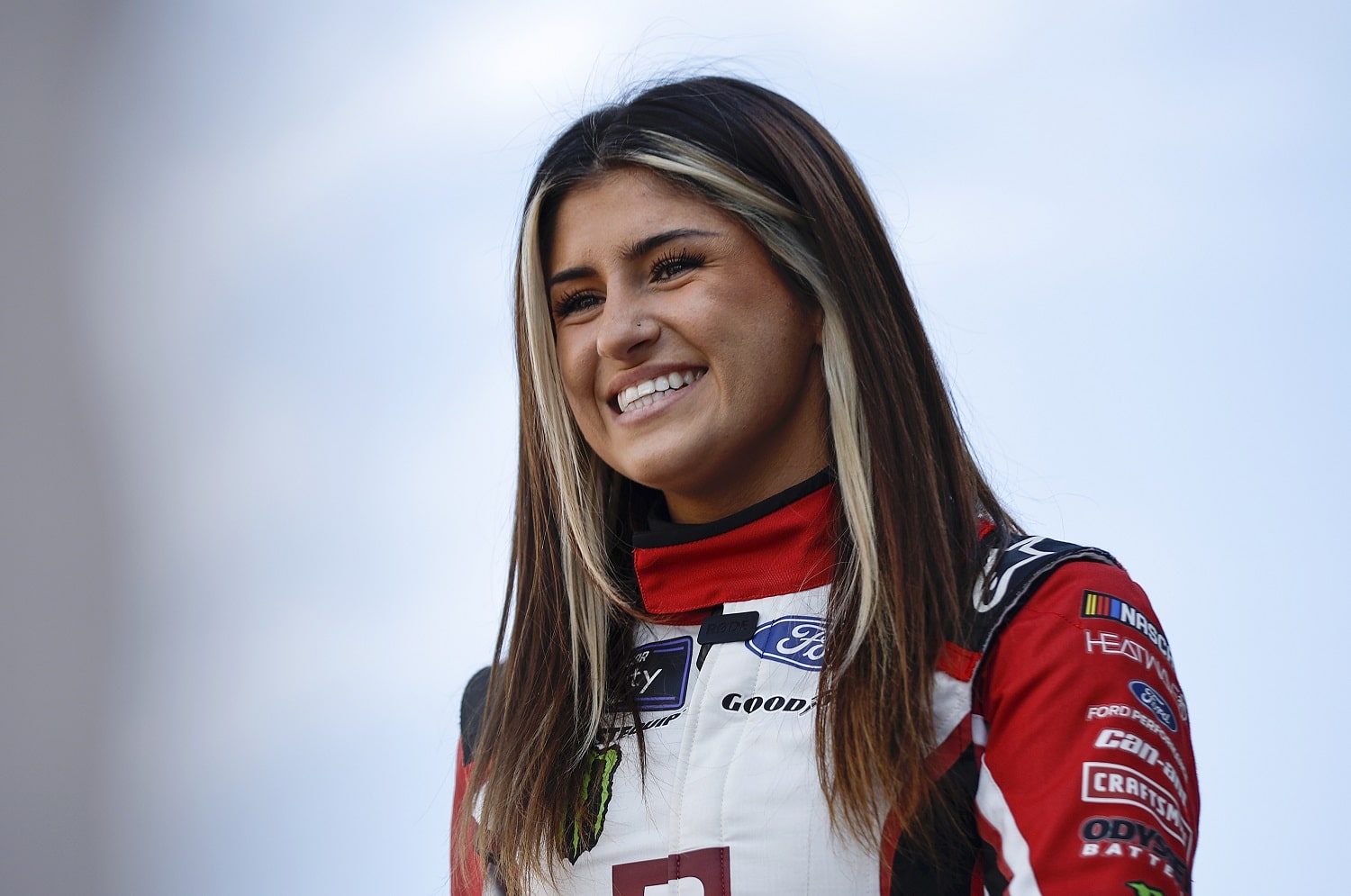 MHR is one notch down in the Craftsman Truck Series from ThorSport but still respectable, so there's every reason to believe Eckes can make his third playoff appearance in four seasons. Naturally, there will be more attention on Hailie Deegan, who moves from David Gilliland Racing to his spot at ThorSport.
Deegan hasn't shown much in two seasons other than an ability to attract sponsor dollars and fan support. Bouncing from one Ford team to another shouldn't do much for her results. Should she suddenly start running in the top 10 (or the top 15, for that matter) with greater frequency, then we might have to rethink what we thought we knew about both her and the truck series.
The Doobie Brothers? Seriously? Formula 1 is eating NASCAR's lunch by attracting a younger audience that will still be watching long after current NASCAR fans die of old age. But NASCAR is bringing in geriatric bubble-gum popsters to entertain at the Coca-Cola 600. I give up. (From W.D. via Gmail)
This falls under the heading of "good news, bad news." While it's true the selection by Charlotte Motor Speedway does nothing to expand the fanbase, no one goes to the Coca-Cola 600 for the pre-race entertainment. Maybe one song makes it on the air as part of the pre-race telecast.
Juxtapose that with Super Bowl halftime entertainment. Has the NFL done itself any favors with its recent picks? After Paul McCartney, The Rolling Stones, Prince (the greatest performance ever), Tom Petty, and Bruce Springsteen consecutively beginning in 2005, the NFL more recently has gone with Jennifer Lopez/Shakira, The Weeknd, and a cast led by Dr. Dre and Snoop Dogg. Rihanna, born after the release of two of the Doobie Brothers' three greatest hits albums, is up next.
At last word, the Doobie Brothers were still getting it done on stage, helped greatly by Tom Johnston and Michael McDonald touring together on the band's 50th-anniversary tour. I prefer the Johnston-era catalog, but I'm no longer whining about how McDonald took the band in a different direction. Hell, The Rolling Stones have needed a different direction since the Some Girls album (remember albums?) in the mid-1970s, which explains why Gordon Lightfoot has recorded more memorable tunes than Mick and the boys over the past 40 years.
Bottom line: Let the 50-something crowd in Charlotte enjoy an hour of old-school music. And someone needs to make a call to see what Lynyrd Skynyrd is doing the weekend of the All-Star Race.
Got a question or observation about racing? Sportscasting's John Moriello does a mailbag column each Friday. Write to him at [email protected].