Hailie Deegan Is Everything That Is Wrong With NASCAR, and the Numbers Don't Lie
Hailie Deegan ran the No. 1 truck for her first two seasons in the NASCAR Truck Series. There's irony in there. She didn't come anywhere close to winning and rarely sniffed the top 10. As much as her loyal fans will deny it, her results have hardly proven she's capable of being competitive in NASCAR's top three series, and definitely not a reason for her to land with one of the top teams in the sport. 
But that's exactly what happened this week when the 21-year-old announced she will join ThorSport Racing in 2023. That move by itself is interesting because Deegan didn't change manufacturers. The team switched to Ford and added her to its roster. 
Anyone who follows the sport knows why it's happening. Money/sponsorship talks. But consider the new fan or someone who is interested in becoming one and they look at Deegan's year-over-year statistics compared to others. They would be confused as to why anyone would view her career trajectory as trending upward and ultimately come to the conclusion that, in the end, on-track success in NASCAR doesn't necessarily matter. Unfortunately, they'd be right.
Hailie Deegan stats are not good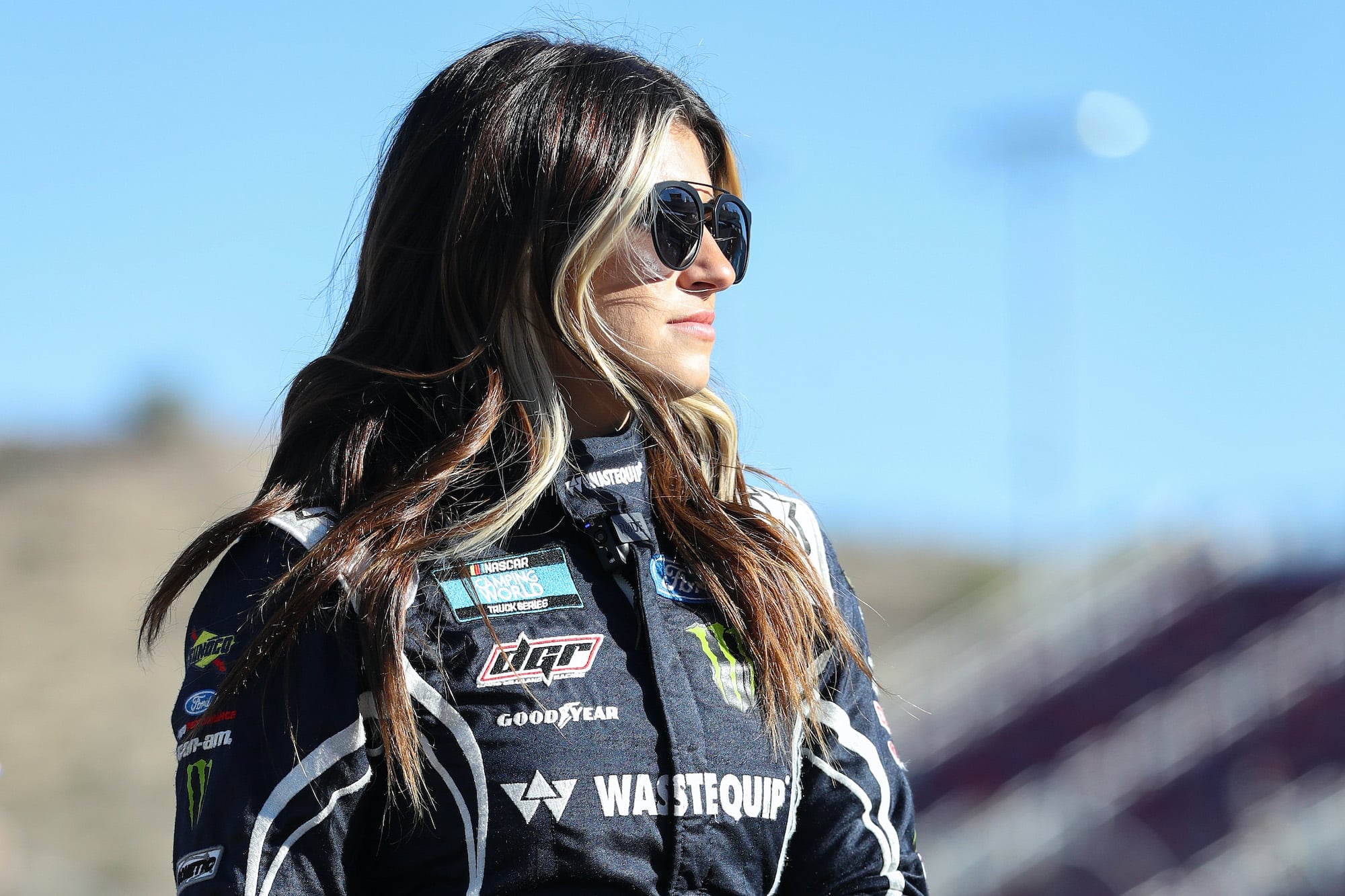 Let's start with this as the foundation of the argument — numbers don't lie. With that truth universally accepted, Hailie Deegan's numbers tell an ugly story since she arrived on the Truck Series scene in 2021. 
The much-ballyhooed young driver, who had won a couple of times in the K&N Pro Series West in 2019 and scored four top-5 finishes in the ARCA Menards Series a year later, impressed in her Truck debut, finishing 16th in a one-off race at Kansas in 2020. That solid finish wasn't a precursor of things to come.
In her first full-time Truck season in 2021, Deegan didn't score a finish that high until the seventh race of the season on the same track, where she finished 13th. Even those modest mid-level finishes were few and far between. She finished her rookie year with a single top 10. 
Progress was expected in the second year. It didn't happen. In fact, Deegan performed worse. While she did earn a pair of top-10 finishes in 2022, that's where the improvements over year one ended. There's no better evidence of this than her rocketing from three DNFs in her first year to seven in 2022. Her average starting position dropped from 18.0 to 20.0, and the finishing position unsurprisingly followed, going from 20.9 to 22.1. 
By all the important metrics, Deegan regressed in 2022. 
Comparing her to former DGR teammates
Many of her fans will wrongly suggest that she didn't have good equipment. Let's compare Deegan's numbers up against the other David Gilliland Racing trucks from last season, in effectively the same equipment. They're not good.
Todd Gilliland took a break from Cup racing and won at Knoxville. Ryan Preece jumped in that same No. 17 truck and won at Nashville a week later. Deegan finished 15th and 28th in those two races.
However, on a more apples-to-apples comparison as far as racing experience is concerned, 23-year-old Tanner Gray, in his third full-time season, had six top-10 finishes in 2022, including a pair of top 5s to open the season.
Xfinity Series debut success doesn't mean anything
Deegan made her Xfinity Series debut at Las Vegas in 2022 with SS Greenlight Racing, which has a technical alliance with Stewart-Haas Racing. After qualifying 20th on the 1.5-mile track, Deegan ran a solid race, stayed out of trouble, and finished 13th. 
Unsurprisingly, her fans, following what the driver herself has said in the past about the rough-and-tumble Truck Series, immediately began suggesting her single result in Sin City was proof she could be competitive if racing against cleaner drivers. 
Unfortunately, that argument is flawed in a couple of ways. First, finding success in a single race doesn't mean anything. See her first Truck Series race at Kansas in 2020. 
Secondly, she wouldn't get caught up in so much trouble if she wasn't running mid-pack or worse. Ask her former DGR teammates. They didn't have any problems moving up through the field and winning races a couple of times or finishing in the top 10 last year. 
Only sport where money more important than performance
There's no denying Hailie Deegan is a huge success on social media with a substantial following in the millions across multiple platforms. But there's also no denying, based on the results in her first two years alone, Deegan has not cut it on the track. 
Her performance is why any new NASCAR fan or someone who was considering following the sport would be incredibly confused as to why she's worthy of a top ride. It's hard to explain the situation when comparing it to stick-and-ball sports.
In football, college and professional are the two highest levels, and the best of the best graduate to the NFL. The NBA and MLB are the more traditional professional model where players go through the minor leagues before reaching the big leagues.
In none of those would an athlete with the most money/sponsorship make it to the top. If that business model were presented to the NFL, MLB, or NBA owners, the presenter would be laughed out of the room.
And that's why NASCAR needs to really take a hard look into the mirror. The upcoming television contract, which renews in 2025, could potentially help in remedying the situation, as Jeff Gordon and others have suggested. If teams from all three series get a bigger piece of the television revenue pie, then they can pay for the best drivers and not depend on the best-sponsored drivers to get behind the wheel and, as has been the case with Deegan thus far, record lackluster performances, and in the end, cheat race fans out of watching the best drivers in the world compete.