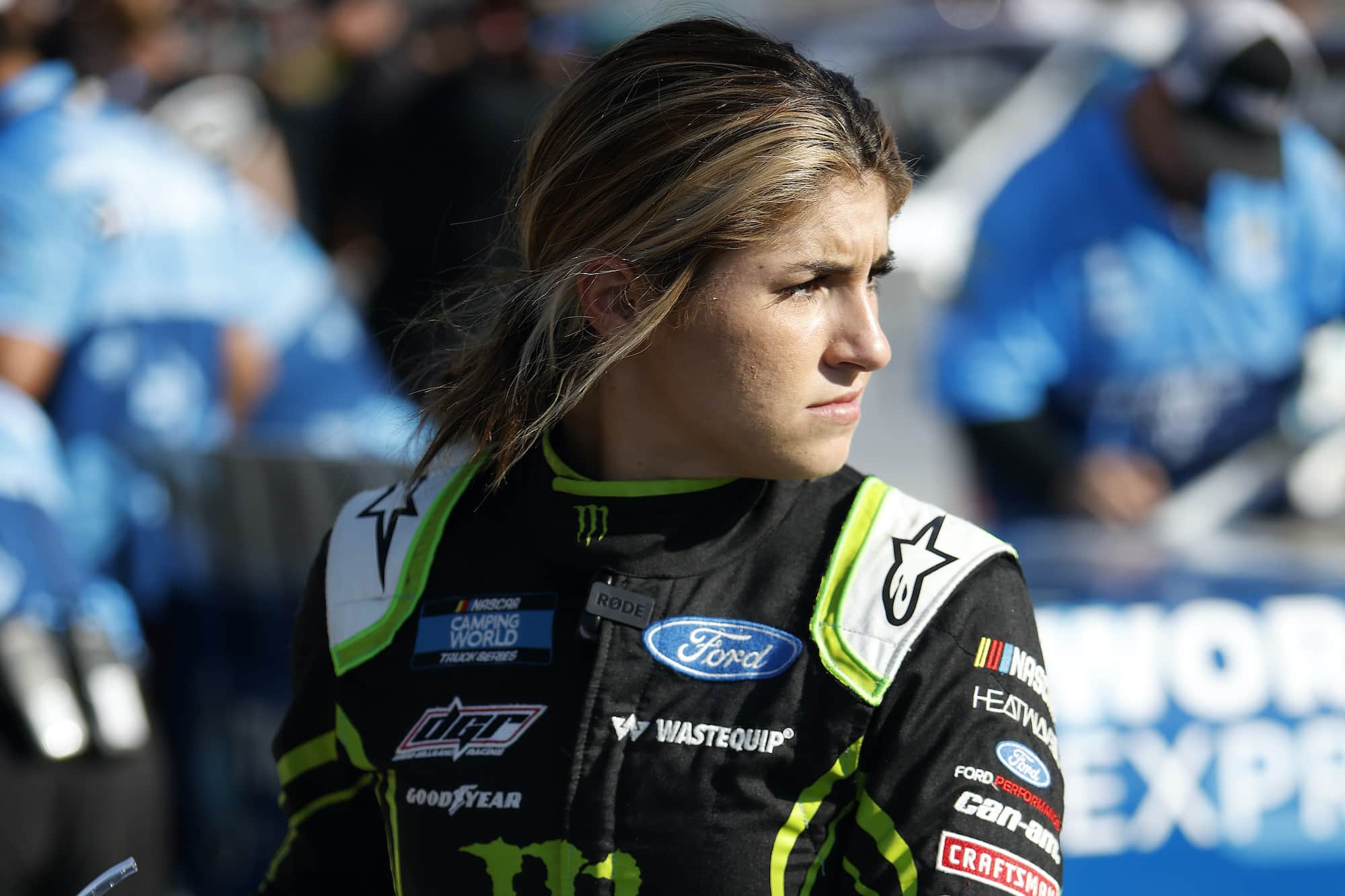 Hailie Deegan Better Back Up Her Latest Words, or Her Career Will Be Short-Lived
Hailie Deegan visited with the media this week and said she's taking a different approach with her racing going forward. If she actually follows through, it could be a career-changing move.
Hailie Deegan has struggled in her sophomore season with the NASCAR Truck Series. Some of it her own doing. Some of it not. 
This week she visited with reporters and talked about the aggressive nature of the lower-tier series and how she's often on the receiving end of other drivers and their antagonistic tendencies. She also made a statement about her response to those incidents, which was a notable shift from what she said just a month ago, and if she has any intentions of improving, or more importantly, keeping her ride in NASCAR, she better follow her own advice. 
Hailie Deegan admits she gets taken advantage of and why she hasn't retaliated
Hailie Deegan knows some drivers in the Truck Series field don't respect her just because she's a woman. It's obvious when she's involved in a random incident on an almost weekly basis. 
Just last month, she appeared on the Door, Bumper, Clear podcast and talked about why she's been involved in multiple incidents with other drivers since she arrived on the scene. 
"I feel like we do get taken advantage of a lot but also I get fired up when someone does something to me, like really fired up. I think it's my dad kind of speaking through me," Deegan admitted. "We've had so many situations where we've got wrecked out or put in bad situations. It could just be not our fault and get in someone else's situation. 
"I feel like I have kept my cool because I know how crucial it is that I need good finishes. Start popping off good finishes. Get the momentum going. And that's why I don't retaliate to take that chance of something happening to me. Oh my gosh, you get a tire rub, and it's just downhill quick, and that's something I don't want to put myself in that position."
Deegan says she's changing her approach
This week in a call with reporters, the 20-year-old talked about the season and offered an interesting answer when asked about the aggressive driving and her response to it going forward. It was a 180 from what she said a month ago.
"It's really crazy in the Truck Series," she said. "I feel like there's a lot that happens during these races. A lot of chaos. I think that it's hard to avoid it, and I think that either you kind of sometimes if you don't stand up for yourself or do what they're doing to you back, you'll get ran over quick. And it happens quick. I think that just from now on, I feel like I'm trying to do more of it, is just racing people how they race me."
She also noted how there are different types of aggression, like Ross Chastain, who does so but is respectful, versus younger drivers who can be more reckless. 
"There's some instances where like others, say there's a few drivers in the Truck Series, the moment they get to me, they try to move you," Deegan acknowledged. "You're like what did I do? I think that it kind of depends on who you're racing around. You kind of have to know who you're racing around. I feel like that affects it a lot. Everyone that you could be around at that moment you have to decide — how are they going to race me? Are they going to race me with respect, or am I going to get by them and they're going to wreck me the next corner?"
Thinks NASCAR could intervene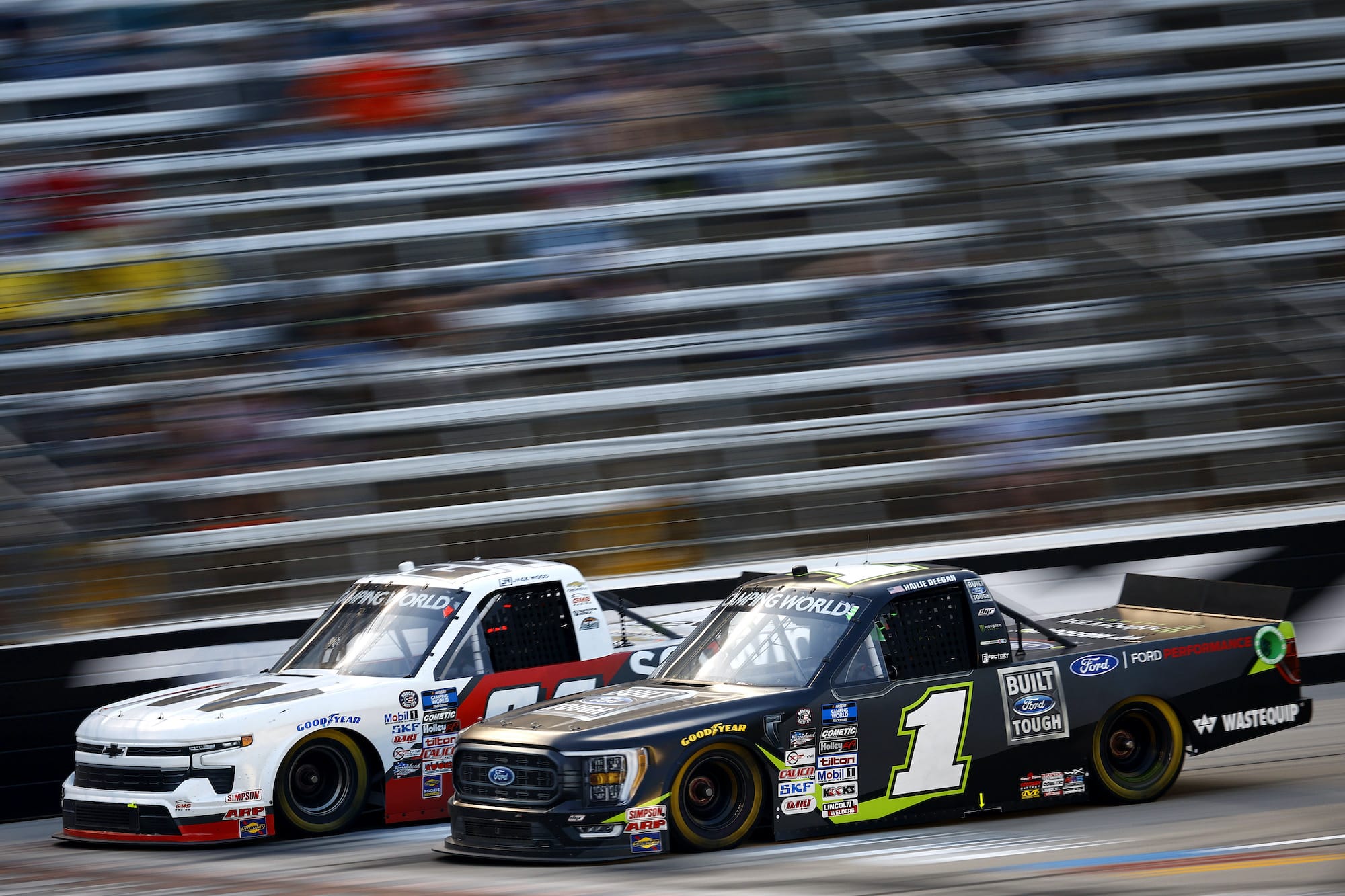 While Deegan said she will have to start being more aggressive and racing others the way they race her without concern for consequences, she also suggested that NASCAR could step in and reduce some of the careless driving. 
"I feel like there needs to be some structure to it in order to get it under control," she said. "I know, at least for me, if I'm going to go hit somebody, wreck somebody, or whatever, if there is a black flag or some sort of discipline, some repercussion that I could face because of it, I'm probably going to decide whether or not to do that, not just instantly do it because you know there's nothing bad going to come of it after. 
"I haven't seen many people get penalized in the Truck Series for what happens on track. It's kind of disheartening because you wish there were situations, like, 'Man, I didn't deserve that.' I just get put in these positions and I know that there's other drivers that probably feel the same way. I feel like there needs to be more discipline and structure in the Truck Series." 
Waiting on NASCAR to intervene isn't probably a good idea for the second-year driver. It's not likely going to happen. Instead, she would be better off just throwing caution to the wind, and letting it rip. She referenced Ross Chastain. Take notes from his driving style, which some in the Cup Series have taken issue with lately. He's not there to make friends but win races. If Deegan expects to have any chance of winning in the future, she must change her mindset or she'll be just another driver that showed promise but faded away and was never heard from again.  
Like Sportscasting on Facebook. Follow us on Twitter @sportscasting19 and subscribe to our YouTube channel.