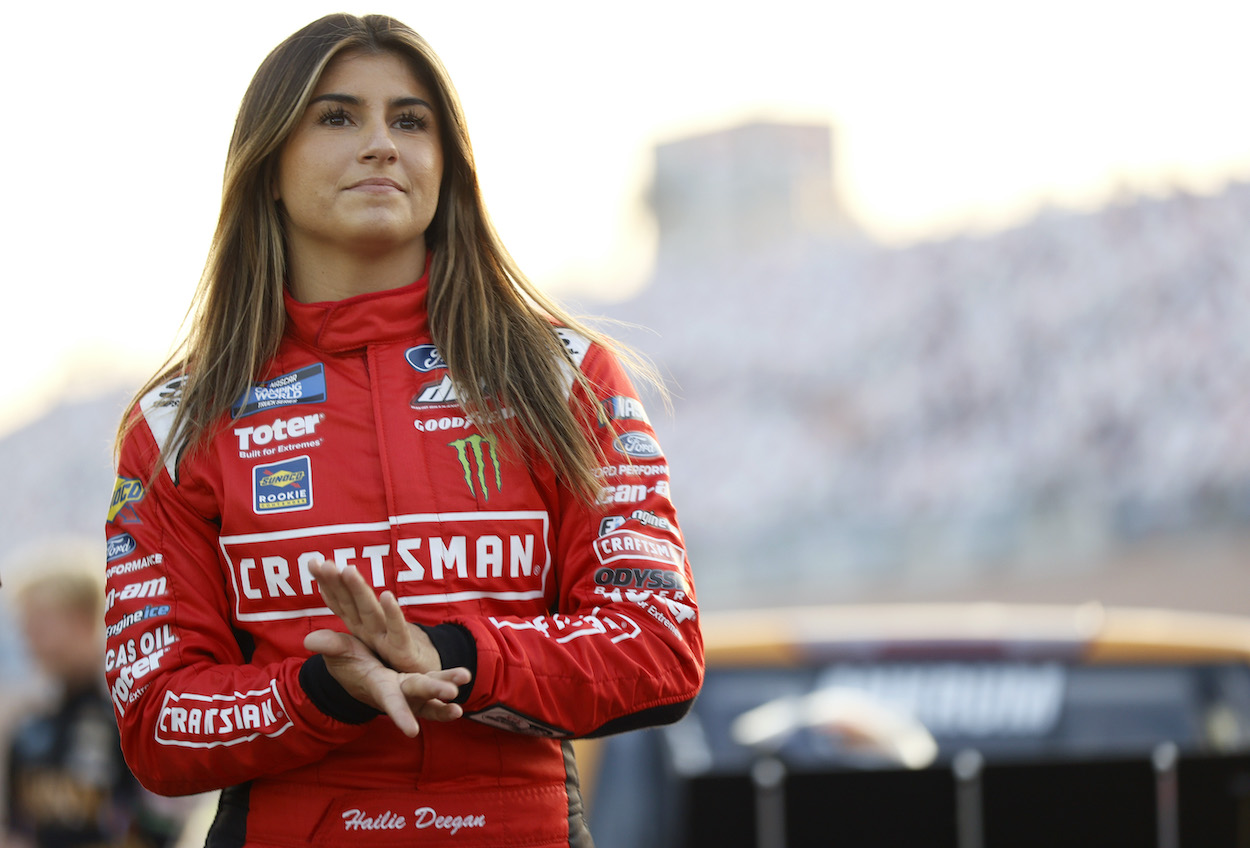 Hailie Deegan Candidly Admits Her Talent Is Not the Reason Why She Has a Full-Time Ride With the NASCAR Truck Series
Hailie Deegan candidly admitted that she has a full-time ride in the NASCAR Truck Series and it's not because of her talent.
After her first season in the NASCAR Truck Series, Hailie Deegan is looking forward to 2022 and improving on her rookie performance. Just weeks from the season-opening race at Daytona, the 20-year-old talked about the upcoming year and candidly admitted that the reason she has a full-time ride isn't because of her talent. 
Hailie Deegan finds limited success in Truck Series rookie season
Hailie Deegan made her debut in the NASCAR Truck Series in 2020 during a one-off appearance at Kansas. She finished 16th. Some suggested that result, plus her three wins in the previous two seasons with the K&N Pro Series West that she was set to do big things in NASCAR. 
In her first full-time season with the trucks, Deegan struggled to replicate that level of success. In fact, of the 22 races in 2021, she finished ahead of her 16th-place performance at Kansas just four times.  
Interestingly, most of her success last season came during a four-week stretch when she finished in the top 15 three times, including a couple of 13th-place finishes at Kansas and Charlotte. Her best race of the year came later when she recorded her lone top 10, a seventh-place finish at Gateway. 
All of it combined, she averaged a 20.9 finish for the season and finished 17th in the final standings.   
Admits it's not talent allowing to her run full-time in the Truck Series
Despite those first-season struggles, Deegan has developed an impressive fan following on social media. She has 401,000 subscribers on YouTube, 692,000 Facebook followers, 1.1 million on Instagram, and 3.1 million on TikTok. 
That loyal following propelled her to win the Most Popular Driver Award with the Truck Series in 2021. It's that same group of fans that is understandably appealing to sponsors and, by her own admission, the reason that she can compete full-time in NASCAR.
"I probably wouldn't be in the ride I'm in right now, being able to race in the truck series full-time, if it wasn't for me doing social media," she told Fox's Bob Pockrass. "Because it is very hard to sell sponsorship on a car when you can't guarantee TV time. It's very hard to guarantee that. Sponsors want to see numbers. They want to see, 'I put my logo on your car. How much product is it going to sell me?' I am able to give them that with social media." 
Treated differently than other drivers
While Deegan is still early in her career and can easily change the perception of sponsors and appeal to them based on her on-track performance and the resulting increased TV time, she can't be as sure about changing the perception of some of her fellow drivers who don't treat her with respect because of her gender. 
"It's different, definitely different," Deegan told the members of the I Am Athlete-NASCAR podcast last year. "When you're the only girl coming into the whole pit area. Obviously, I feel like I got a lot of different looks in the beginning. I feel like guy-to-guy they automatically have a respect. Guys automatically respect each other, but when a girl steps into play, it's kind of like you're on the laughing side. You're the joke side of things until you earn that respect. I feel like my entire life I've had to earn the respect of everyone before I actually got it. When guys, they automatically respect each other. 
"And I feel like the older generation; it's hard for them to respect you. So I notice whenever I get into incidents with some of the older guys on the track, it always drags on and it's always a lot more heightened than it is with the younger guys. Like wrecks, hard battles. It's like they can do something to me but if I do it back it's a problem. I'm like, 'Well you just did the same thing.'" 
If Deegan is able to find on-track success in 2022, she might turn the tide for both sponsors and some of those veteran drivers. Until then, she'll just keep digging and trying to prove that she belongs each and every time she straps on the helmet. 
Like Sportscasting on Facebook. Follow us on Twitter @sportscasting19.