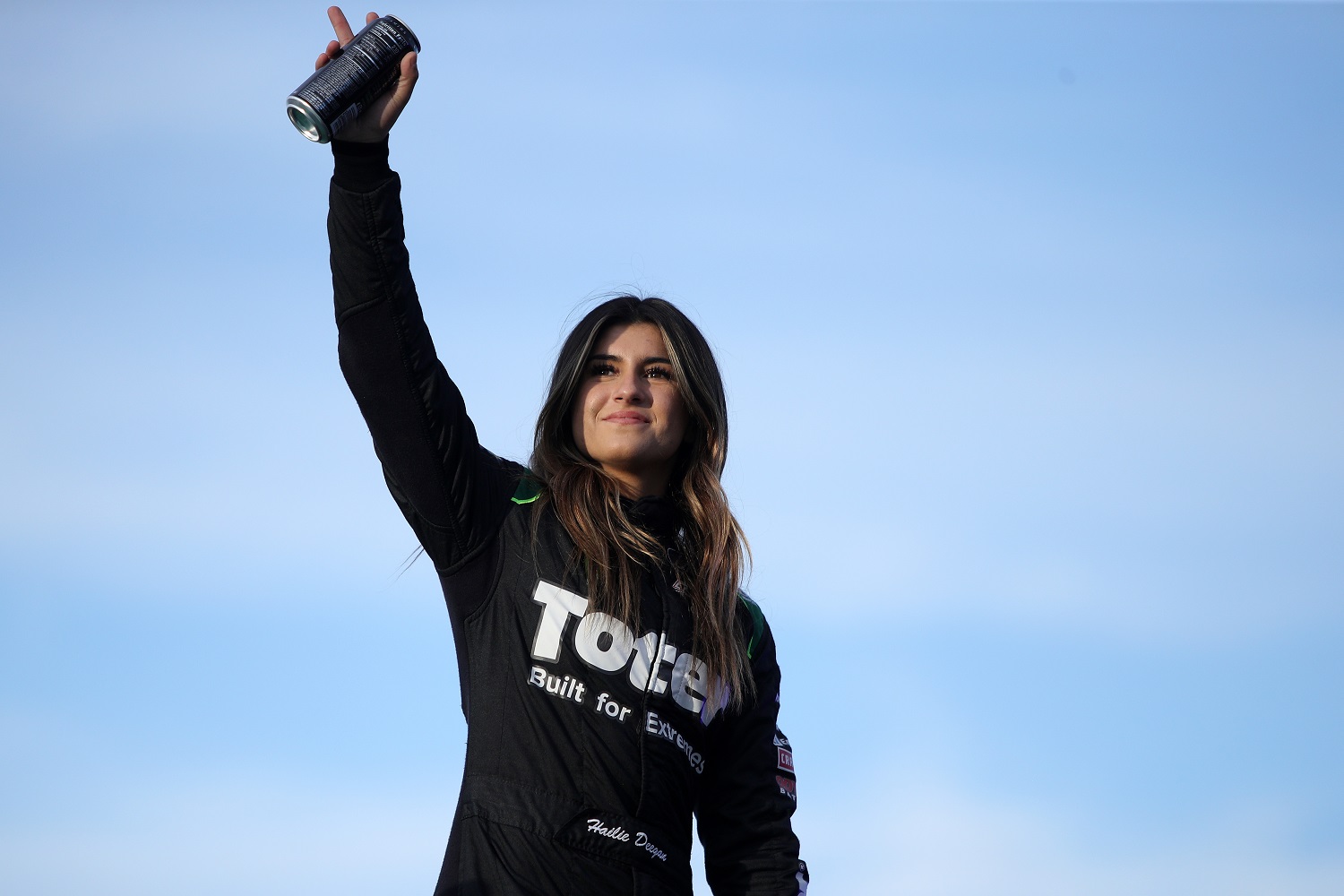 NASCAR Driver Hailie Deegan Is Going to the Tulsa Shootout With a Toolbox in Mind
Hailie Deegan, coming off her rookie season in the NASCAR truck series, is competing this week at the Tulsa Shootout with the goals being to have fun and expand her skillset.
It's all business in auto racing until you form your own team. Then, you get to go to the track occasionally feeling like it's more fun than work. Tony Stewart and Dale Earnhardt Jr. figured that out, and now NASCAR truck series driver Hailie Deegan has, too.
Deegan, coming off 17th place in her rookie season in the Camping World Truck Series, is in Oklahoma this week to compete in the Tulsa Shootout for the first time. Unlike each step of the way thus far in her NASCAR career, she'll be competing at the "Mecca of Micros" as an owner.
Hailie Deegan is making progress in her NASCAR career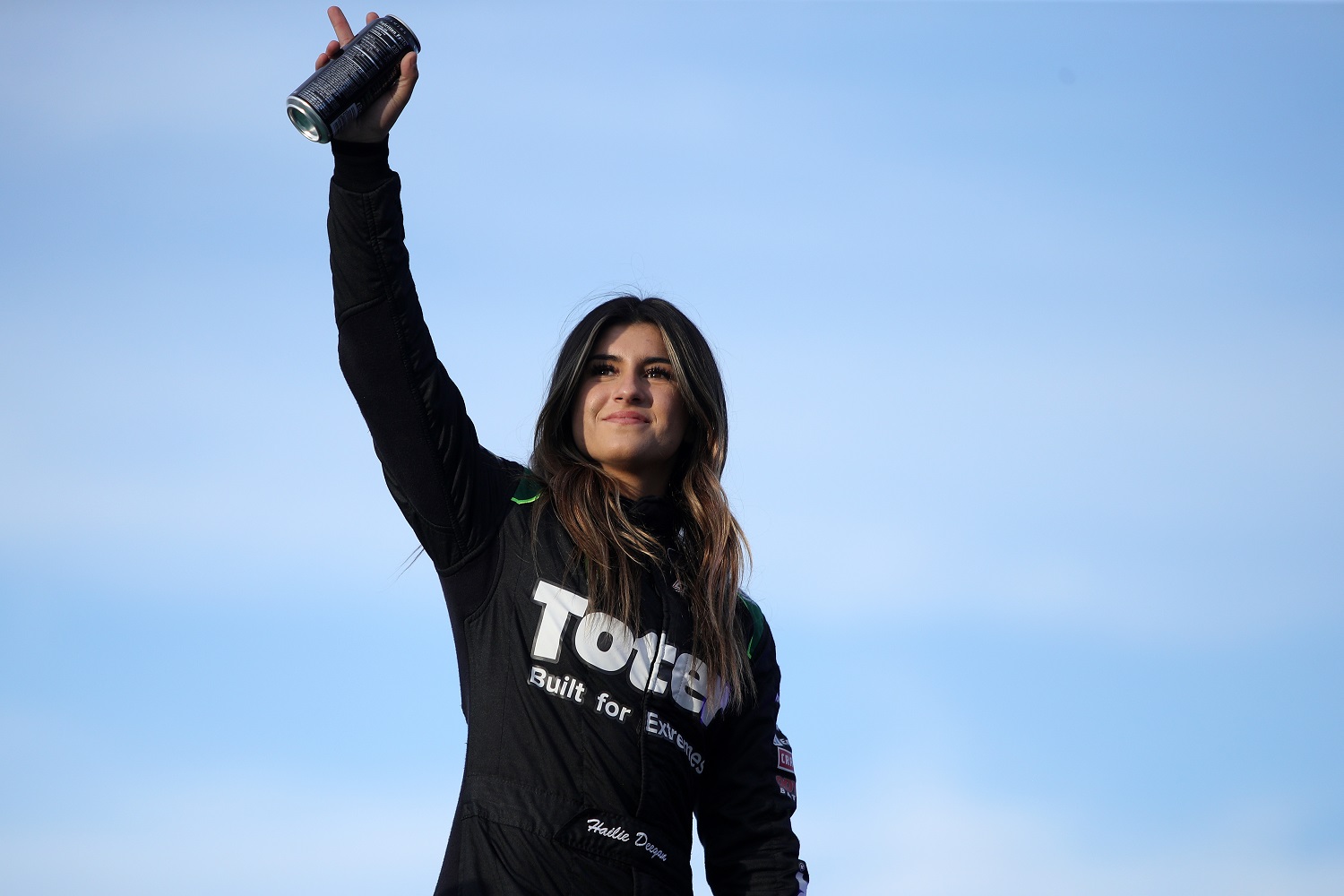 The goal is to reach the NASCAR Cup Series, and Halie Deegan has a long way to go. However, she is just 20 years old and already checking the boxes on the way to the sport's top series a few years down the road.
Deegan earned top rookie honors in the 2020 ARCA Menards Series, finishing third in points despite not winning in 20 starts. That earned the California native a shot in the NASCAR Camping World Truck Series in one of David Gilliland's Fords.
Deegan found NASCAR's No. 3 national circuit to be tougher going, and her only finish in the top 10 was seventh place in a race at World Wide Technology Raceway at Gateway. She steered relatively clear of trouble until bowing out in crashes at Bristol, Las Vegas, and Talladega on consecutive playoff weekends and finished 17th in points.
Her consolation prize was being selected the series' most popular driver, a not-so-inconsequential recognition in a sport in which fan interest and sponsorship money are related.
Only being able to watch last season proved to be frustrating
Hailie Deegan's first experience with the Lucas Oil Tulsa Shootout was as a spectator last year while her boyfriend competed.
 "I was there, and it's weird as a racer going to a race and not actually racing," she told FloRacing.com. "It honestly killed me inside. I was like, 'I am dying right now. I can't sit here in the stands and watch.'
"I feel like this is going to be a lot more fun after watching and learning the ropes last year."
Deegan, still a novice in the Micro Sprints niche, will compete in the Winged A-Class, Stock Non-Wing, and Non-Wing Outlaw divisions. However, she's serious enough about it to have plucked down her own money to do it right.
"I have my own car with my own trailer, and (boyfriend Chase Cabre) is driving for his good friend, Cal Thompson," Deegan told the Tulsa World.
It's not on the same level as Dale Earnhardt Jr. forming an Xfinity Series team or Tony Stewart going into partnership with Gene Haas in the NASCAR Cup Series, but there is that certain satisfaction in having your own name on the car and calling your own shots.
"In my racing career, I have a lot of pressure on me to perform whether it is just average people, from sponsors, or people on my team," Deegan said. "To be able to come out here in my own car and have fun, learn, and do the best I can is really nice."
Hailie Deegan is going to the Tulsa Shootout with a toolbox in mind
Hailie Deegan's expectations for the Tulsa Shootout are modest. She's never competed in such a large event and hasn't had much time to experiment with setting up her Micro Sprint.
"I tested at Milbridge a little bit," she said. "It has only been a couple of months and we are trying to get everything dialed in. My boyfriend is super smart with setups, so I feel he has a very good baseline on it right now."
Driving Micro Sprints won't be Deegan's path to stardom, but it will provide a respite from the grind of the NASCAR season.
"I just want to go out there, really gain experience and just have fun with it," she told FloRacing.com.
Her other motivation is to expand her skillset. Deegan has already driven ARCA cars and NASCAR trucks, and she also dabbled in Tony Stewart's inaugural SRX circuit last summer.
"Experience is invaluable," she told the Tulsa newspaper. "I am trying to gain as much of it as I can and do the best I can. Just being a driver in general who can go and drive different forms of racing makes you that much better.
"I want to have every tool in the toolbox."
All stats courtesy of Racing Reference.