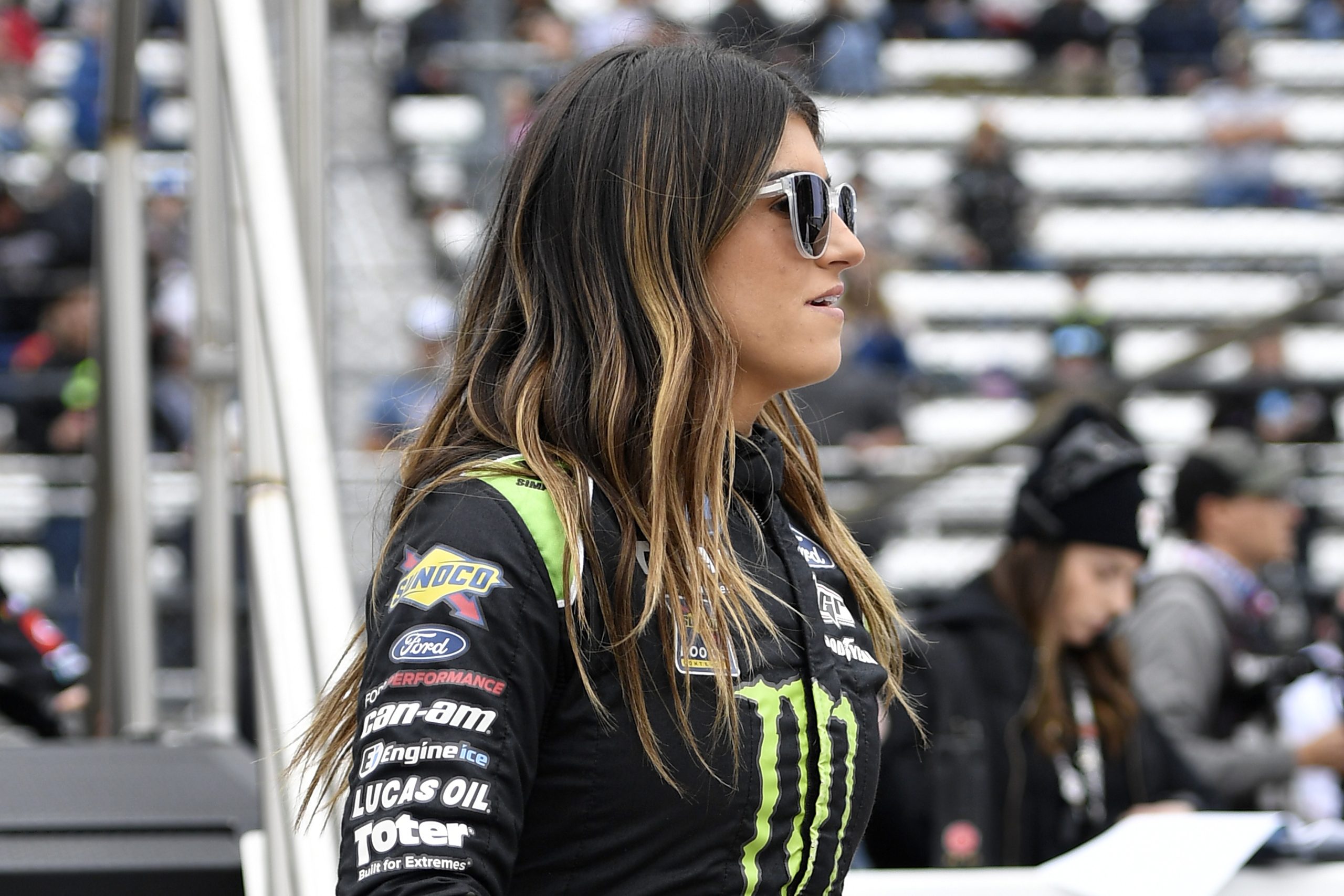 Tony Stewart Is the Man of NASCAR Driver Hailie Deegan's Dreams, but It's Not What You Think
Hailie Deegan only has one full season of NASCAR experience under her belt but is sure she wants to drive for Tony Stewart some day in the Cup Series.
Article Highlights:
Hailie Deegan just completed her rookie season in the NASCAR Camping World Truck Series
Deegan appeared in three races of the SRX series co-founded by Tony Stewart
Deegan says her dream is to compete in the NASCAR Cup Series in a car owned by Stewart
Hailie Deegan knows she is getting ahead of herself in laying out her future in racing. That's in stark contrast to her first full season of driving in the NASCAR Camping World Truck Series when she didn't get ahead of many rival drivers.
Even with just one top-10 finish this season driving for David Gilliland, Deegan made progress by logging extensive seat time, and she'll get better in 2022 when race weekends begin with practice and qualifying.
But it's not next year that Deegan is focusing on. She's looking at 2025 or '26 and knows exactly where she wants to be.
Hailie Deegan continues to build her racing resume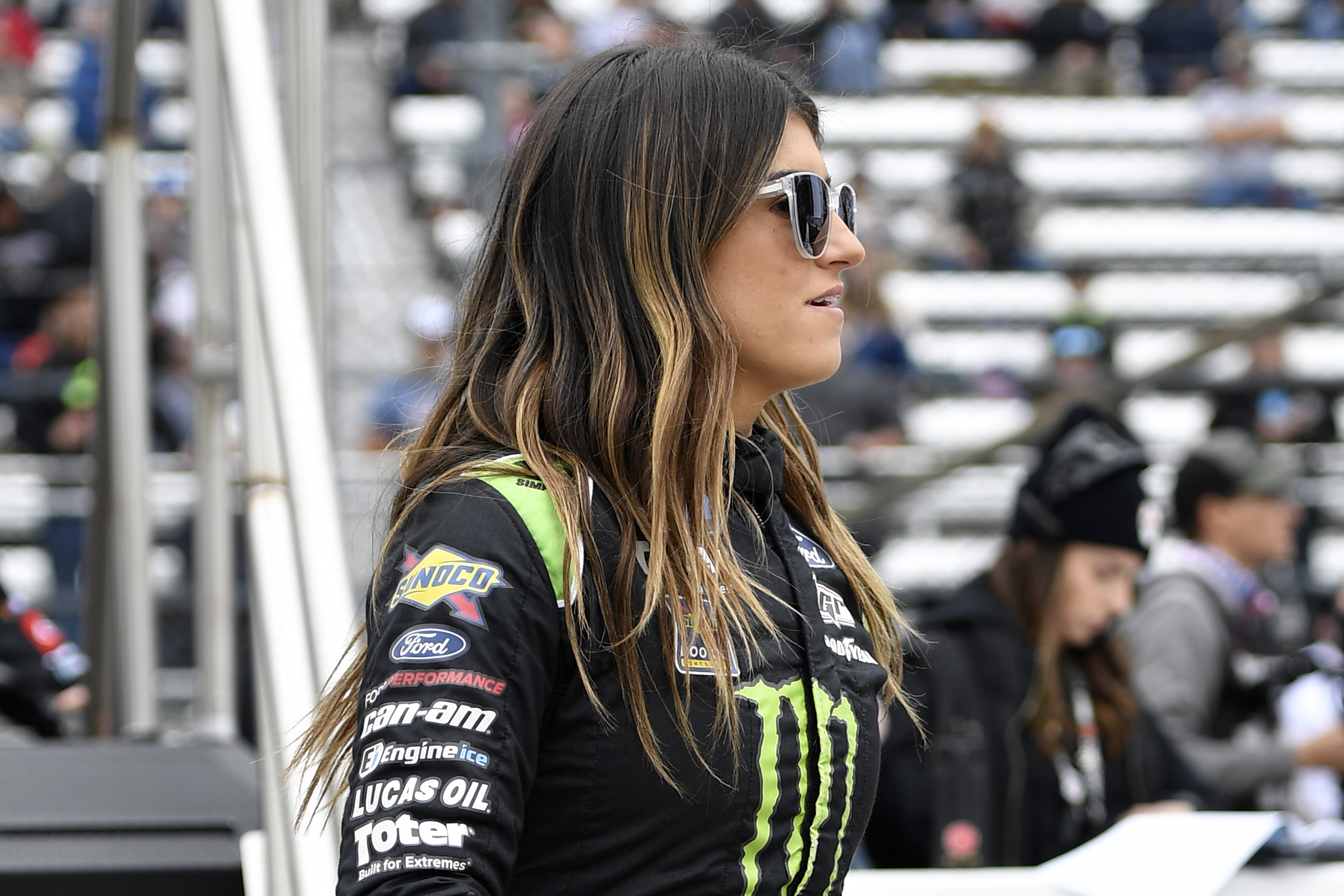 Hailie Deegan drove in the ARCA Menards Series a year ago, posting 17 top-10s in 20 races and finishing third in the season standings. That earned her a spot in the 2021 truck series, which is a rough-and-tumble circuit.
Deegan, who turned 20 in July and was the first woman to win in the ARCA Menards West Series, saw her nights in the truck series end early due to crashes in three straight races late in the season. However, she was still running at the finish in her other 19 outings. Even with just one top-10 finish, she ended the year 17th in points.
Along the way, she moonlighted in the Superstar Racing Experience (SRX) co-founded by three-time NASCAR Cup Series champion Tony Stewart and Ray Evernham.
Deegan drove in three of the six SRX races, including second- and fourth-place showings. The visibility was good since CBS bought broadcast rights to the summer series. It also didn't hurt to race cars since Deegan has already begun planting seeds that she wants to get to Xfinity Series as quickly as possible.
Tony Stewart is the man of Hailie Deegan's NASCAR dreams
Hailie Deegan appeared on the latest episode of the I Am Athlete podcast to talk about NASCAR and life with hosts Channing Crowder, Brandon Marshall, and Chad Johnson.
As she discussed what her future might look like, Deegan mentioned that she wants to compete for Stewart-Haas Racing, owned by Hall of Fame driver Tony Stewart and Gene Haas, should she make it to the NASCAR Cup Series.
Her first encounters with Stewart came through his SRX series, and talking about cars with him was a memorable experience since he is a connoisseur when it comes to all forms of racing.
"I'd never met Tony Stewart before," she said. "But then I got to meet him, kind of build a relationship with him. Talking about cars and setups with Tony Stewart is a big deal for me. That's definitely like a bucket list thing to do. After meeting him and seeing his personality and what he's all about, that would be a dream to run for Stewart-Haas.
"I don't know if it's going to happen, but there's kind of two Ford teams right now. Obviously, whatever team I'd end up at would be a great team, but that would be a goal."
Presumably, she was referring to Team Penske as the other Ford outfit, though Roush Fenway Racing and a couple of other smaller teams are tied to the manufacturer.
Danica Patrick was the NASCAR Cup Series' most recent female driver
Should Hailie Deegan make it to the NASCAR Cup Series a few years down the road, her path to the top will look nothing like the one taken by Danica Patrick, the most recent woman to race in the top series.
While Deegan is working her way up the classic stock car ladder by making the move from ARCA to the truck series, much of Patrick's early experience was of the open-wheel variety.
Patrick was 23 years old when she started driving in the NTT IndyCar Series in 2005. She split her 2010 and '11 seasons between that ride and the Xfinity Series, then drove Xfinity cars full-time in 2012. She ran a limited Cup Series schedule in 2012 at age 30, then stayed for five full-time seasons.
On her current career trajectory, Deegan could be considerably younger if she should reach the Cup Series. Whether she gets there, and whether it's part of Tony Stewart's team, remains to be seen.
All stats courtesy of Racing Reference.