Hailie Deegan Doesn't Sugarcoat Thoughts and Bluntly Calls Out Drivers in NASCAR Truck Series Who Blatantly Treat Her Differently Because of Gender
Hailie Deegan just completed her first season in the NASCAR Truck Series. She finished the season with a single top-10 result at Gateway. The driver recently appeared on the I Am Athlete-NASCAR podcast where she talked about her rookie season and bluntly called out certain drivers who blatantly treat her differently because she is a woman.  
Hailie Deegan finishes first season in NASCAR Truck Series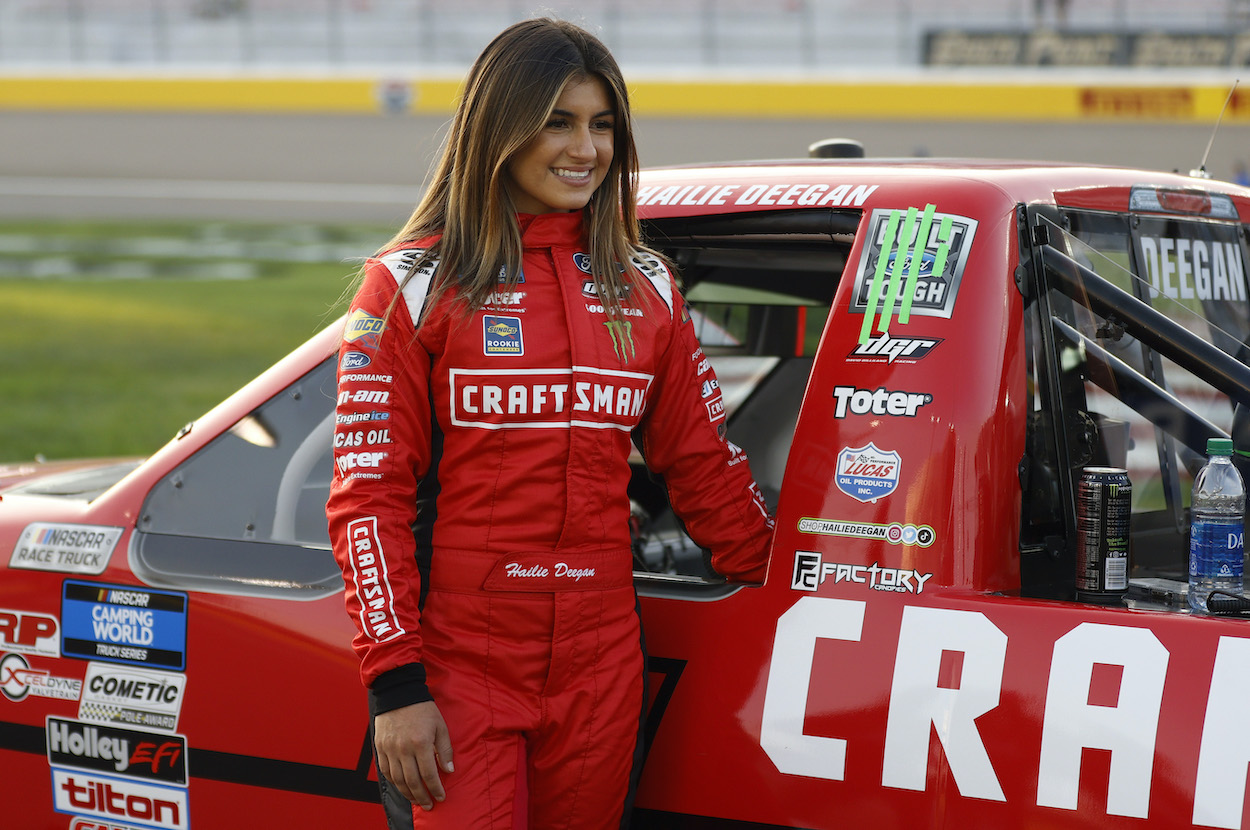 After racing a couple of seasons in the K&N Pro Series West, where she won a couple of times, Hailie Deegan made her debut in the NASCAR Truck Series in 2020 with a single appearance at Kansas Speedway. She earned a respectable 16th-place finish.
In 2021, Deegan ran full-time for David Gilliland Racing and achieved moderate success in her rookie season. In 22 starts, she earned 10 top-20 finishes, including her best finish of the season, a seventh-place finish at Gateway. Her worst race of the season came at Las Vegas where she finished 31st.  
She finished 17th in the final season standings.   
Calls out certain group of drivers who treat her differently
Deegan recently appeared as a guest on the I Am Athlete-NASCAR podcast, where she talked about a variety of topics, including her racing career, use of social media, and line of apparel.
To start the interview, I Am Athlete-NASCAR co-host Brandon Marshall started with the question the 20-year-old driver gets asked the most: What's it like being a woman in one of NASCAR's top touring series?
"It's different, definitely different," Deegan admitted. "When you're the only girl coming into the whole pit area. Obviously, I feel like I got a lot of different looks in the beginning. I feel like guy to guy they automatically have a respect. Guys automatically respect each other, but when a girl steps into play, it's kind of like you're on the laughing side. You're the joke side of things until you earn that respect. I feel like my entire life I've had to earn the respect of everyone before I actually got it. When guys, they automatically respect each other. 
"And I feel like the older generation, it's harder for them to respect you. So I notice whenever I get into incidents with some of the older guys on the track, it always drags on and it's always a lot more heightened than it is with the younger guys. Like wrecks, hard battles. It's like they can do something to me, but if I do it back it's a problem. I'm like, 'Well you just did the same thing.'" 
Had issue with Paul Tracy during SRX race this summer
Interestingly, Deegan felt the wrath of an older driver when she participated a couple of times in the SRX Series races this summer. Racing on the "World's Fastest Quarter-Mile Oval" at Slinger Speedway in Wisconsin, Deegan spun former IndyCar Series driver Paul Tracy in the race with two laps to go. He was not happy and confronted her about the incident after the race.
"Hey, I'm sorry. I didn't want to take you out at all, but I was at your door," Deegan started the conversation.
"I'm just so frustrated. People just dumping me," Tracy told her. "It's happened every race; someone dumps me." 
"I know. I understand. I've watched the video of it, and I was at your door coming off the corner. I was there on the straightaway," the Truck Series driver told him. "I didn't want to dump you, but I just held my line on the bottom. … I didn't try to take you out."
"Well, that's just not cool. I got dumped by Ernie in the first race, huge," he explained.
After a few more seconds of conversation, she again mentioned how she was at his door. 
"I'll remember when I'm at somebody's door. I'll just turn him," Tracy said, obviously agitated by her explanation. Then someone off-camera interjected. "Well, when you're at someone's door, they're going to run the second lane," the voice said.
"Alright, see you next week," Tracy said, adding an expletive that was bleeped out before he walked out of the trailer.
Deegan knows what she's up against. She's faced it her entire racing career. The only way she'll fully earn respect is through her results on the track. Until then, she'll just keep pushing herself to get better and prove that she belongs without worrying if those she races against believe it or not.
Like Sportscasting on Facebook. Follow us on Twitter @sportscasting19.