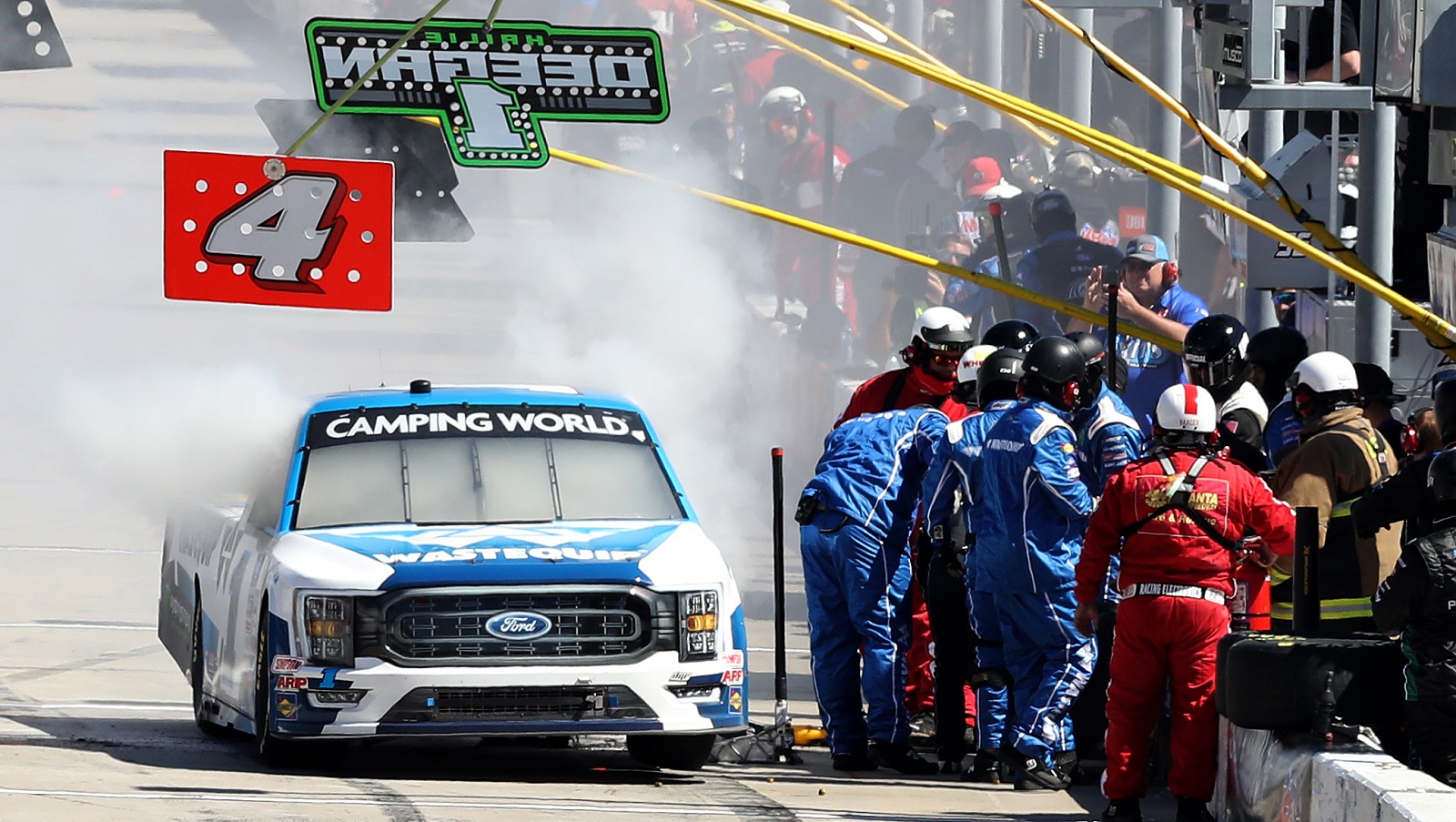 Hailie Deegan's Run of Ridiculously Bad NASCAR Truck Series Luck Continues
Hailie Deegan's luck turned sour near the end of her rookie season and has grown worse early in the 2022 NASCAR Camping World Truck Series.
The start of Hailie Deegan's second season in the NASCAR Camping World Truck Series is even more nightmarish than the finish of her rookie year. That hardly seems possible, but it's the only way to explain her inability to climb to safety on her own when her truck's cab filled with thick smoke on pit row.
Deegan's scary episode early in Saturday's race was the talk of the afternoon, arguably more significant than 19-year-old Corey Heim scoring a victory in his fifth career race.
Hailie Deegan has logged a DNF in five of her last seven races
After running largely incident-free for 17 races as a rookie and starting to stick on the lead lap with some consistency, Hailie Deegan saw three straight races end with late crashes and "DNF" next to her name. The common denominator? She mostly landed in other drivers' messes.
At Bristol, playoff racer Austin Hill wrecked on Lap 189, collecting Deegan and three others.
At Las Vegas, she wrecked on Lap 101 of 134 to end her day.
At Talladega, Sheldon Creed ran up on Grant Enfinger in the outside lane, triggering The Big One on Lap 76 and inflicting heavy damage on the front of Deegan's No. 1 Ford.
Deegan, 20, regrouped to place 19th and 17th in the final two races of the season, but she logged just one top-10 finish all year and landed 17th on the points list. Understandably, she thought the year of experience plus the ability to log practice and qualifying laps this year would translate into progress in the David Gilliland truck.
Instead, she opened by getting caught in The Big One near the end of the Daytona opener. That mishap dropped her from a potential top-10 finish to 17th place. Two weeks later in Las Vegas, a Deegan-esque episode featured two wrecks in a span of 10 laps early in the day.
She came to Atlanta this weekend 27th on the points list and looking to finally catch a break. There would be no such luck.
Hailie Deegan's run of ridiculously bad luck continues in Atlanta
Hailie Deegan finished last in Saturday's Fr8 208 at Atlanta Motor Speedway with a notation of "tire" next to her name to explain her departure on Lap 31. That doesn't even begin to explain her day in the Camping World Truck Series.
The misery began on Lap 7 when Colby Howard's No. 91 Chevy hit Deegan from behind. She made the save and pitted under the green with a flat tire.
Late in the first stage, Deegan sensed something was wrong, reporting on the team radio that there was a noise coming from her truck. Neither her spotter nor the crew could identify an issue, and Deegan stayed out. At that point, smoke started entering the cab, and she pulled into her pit stall.
"I was on fire for multiple laps," she explained on Twitter. "I started suffocating and couldn't breathe with the fire extinguisher and black smoke engulfed the truck on pit road.
"I couldn't get out because I couldn't see the window net."
The crew got Deegan out, but she was in obvious discomfort from the effects of the smoke and went to the track's medical facility on a cart.
It's getting late for her rather early in the season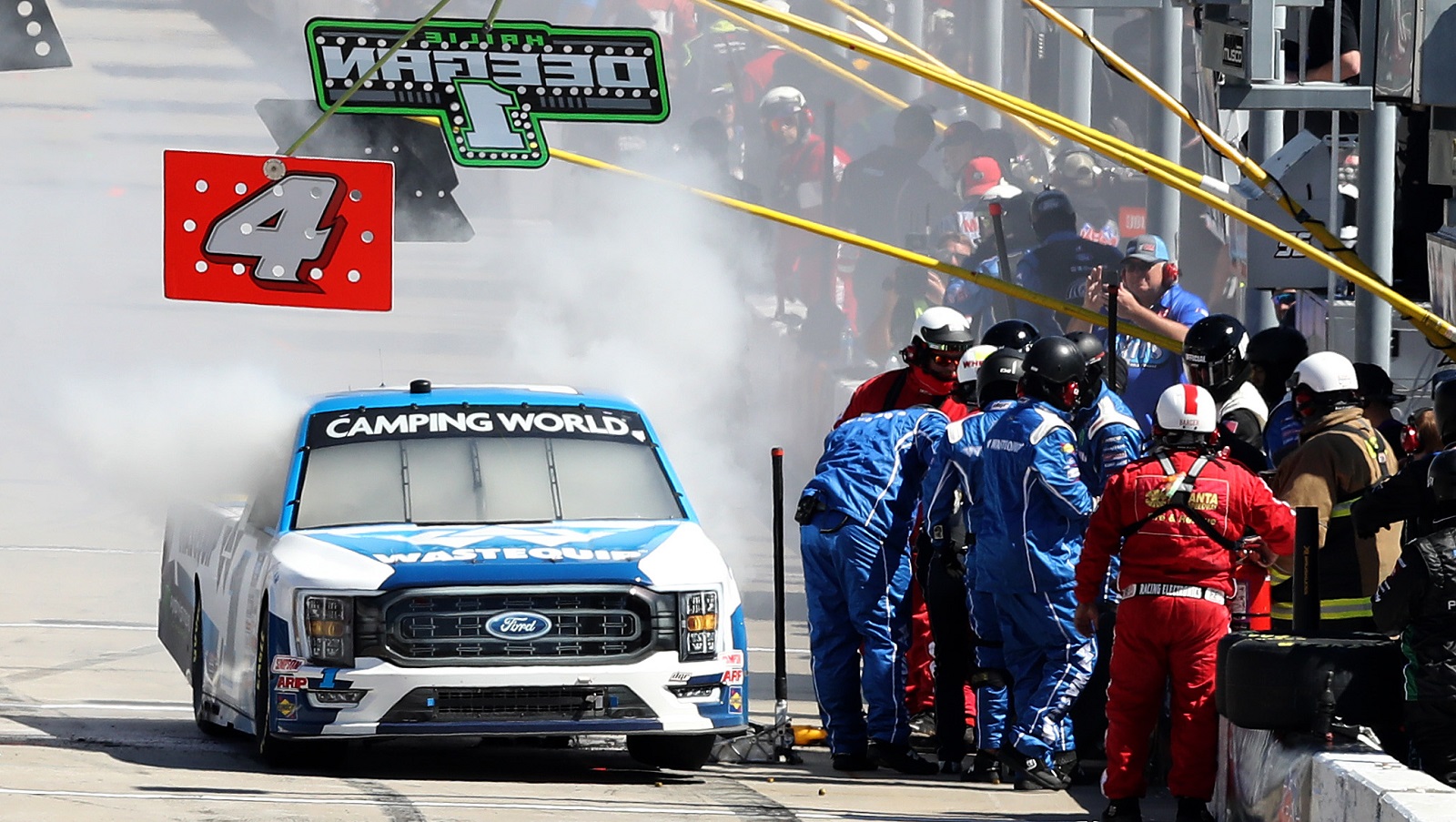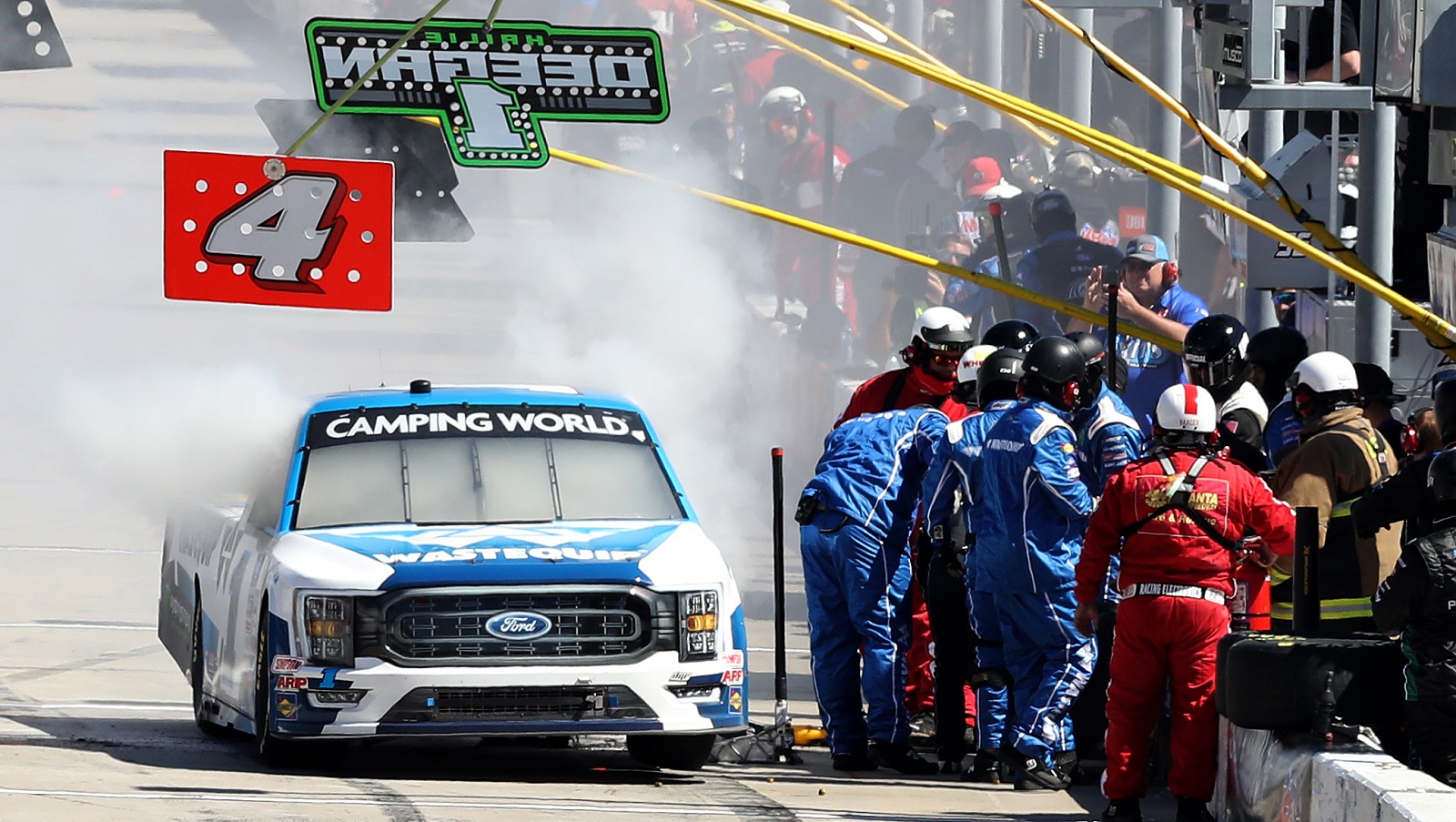 With two DNFs in three races to kick off the Camping World Truck Series season, Halie Deegan is already deep in the weeds if she's going to improve on last year's 17th-place showing on the points list.
She's slipped to 33rd in the early going this year and is projected to finish 25th, according to NASCAR.com. If there's any good news to report, it's that the next race on the schedule is at Circuit of the Americas, where Deegan started 28th on the road course a year ago but finished 14th.
After that come Martinsville and Bristol, where she scored 19th-place finishes as a rookie. That's not much to build on. At this point, though, Deegan will take whatever she can in terms of reasons to be optimistic.
All stats courtesy of Racing Reference.