Hailie Deegan Says She's Overcoming Her Major Obstacle to Success: A Lack of Confidence
Hailie Deegan admits to doubting herself during her rookie season in the NASCAR Camping World Truck Series.
One way to look at the kickoff to the NASCAR Camping World Truck Series season is that Hailie Deegan had nowhere to go but up, so 17th place at Daytona last month is nothing to brag about.
The other perspective is that she likely would have found a way to fully immerse herself in the late wreck instead of registering minor damage and ended her night in the garage while the rest of the field was still running had this been 2021.
She has the right backing, and a lot of people are rooting for Deegan. It's up to her to prove she's ready to make a significant step forward this season, and she thinks that will be the case.
Hailie Deegan was a modest 17th in points last season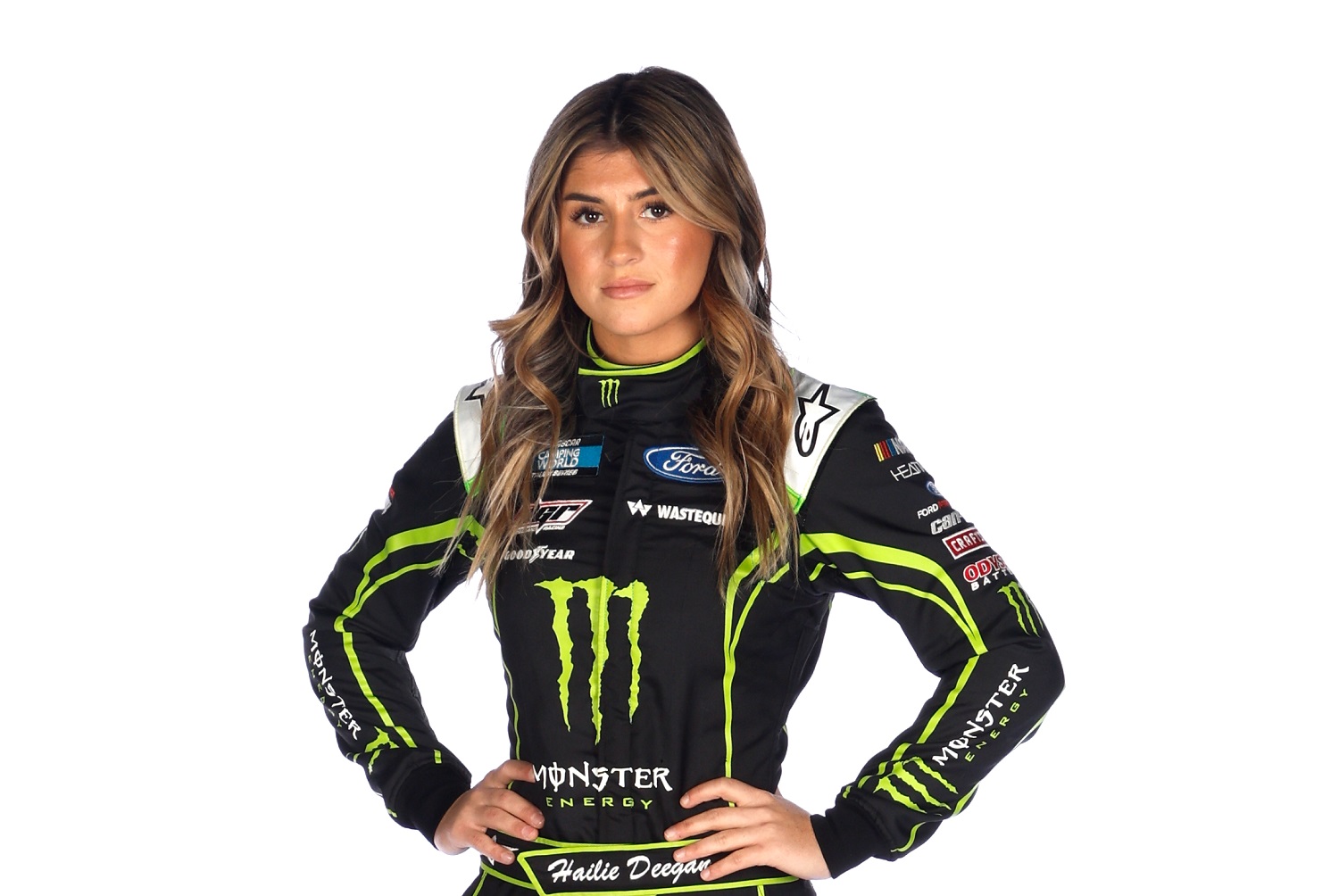 The Camping World Truck Series has been off since the Feb. 18 opener, which is fortunate. After the way nearly half the field wrecked on the white-flag lap, lots of teams needed the extra time before shipping their vehicles off to Las Vegas. Seventeen of 36 trucks absorbed some degree of damage, and it was a race-ender for nine of them.
Had it been a year ago, Hailie Deegan's Monster Energy Ford likely would have become a casualty of the wreck, even if it wasn't a mess of her own making.  After running largely incident-free through 17 races and getting the hang of finishing on the lead lap, Deegan saw three straight races end with late crashes and "DNF" next to her name.
She concluded her season with 19th and then 17th place in races that had a let's-get-it-over-with feel while the contenders in a very deep field battled for a championship ultimately captured by Ben Rhodes.
Deegan finished her rookie year 17th in points and with just one top-10 showing.
"I needed last year to learn to be good this year," Deegan told Racer.com. "There were so many components (to truck racing) that I was at the bad end of that, and I had to kind of push through it as best I could and absorb as much information as I could to be able to apply it this year."
Hailie Deegan says she is overcoming last year's lack of confidence
Truck series driver Hailie Deegan has spoken before about challenges she faced as a NASCAR rookie, including the pandemic-related elimination of practice time. Those were legitimate obstacles, and they affected newcomers more than the drivers with even just one previous season of experience.
Too, the depth of the competition is an underappreciated aspect of the Camping World Series. Some top drivers see the trucks circuit as a destination rather than as a step toward Xfinity and then Cup Series cars. And whether they aspire to run in the top series someday or not, nearly every competitor has a championship background.
So, these are not a bunch of weekend warriors whose most recent experience was SCCA local time trials on Saturday mornings. The competition didn't spook Deegan as a rookie, but there were times when she wondered if two seasons of K&N Pro Series and one in the ARCA Menards Series qualified her to be driving for David Gilliland Racing.
"I've heard it from so many people around me that I've got to be more confident, I've got to be mentally stronger, more confident in myself," she said. "That's what I've worked on a lot this offseason and really broke down everything because you can go, 'Oh, I'm going to be more confident,' but that doesn't mean anything.
"You have to figure out how you're going to do that. I figured out what I needed to work on to game-plan goals and how to accomplish them."
Two steps toward improvement in 2022
Hailie Deegan told Racer.com she carved out more offseason time to study track and performance data from a year ago and put it to use in the Ford simulator with an assist from David Ragan.
"I feel like I built a mindset of, 'We're going to do everything we possibly can here beforehand.' So, I'm confident that when I got to the track, I can say, 'That worked, that didn't.' Now, let's figure out the next thing and just constantly be in working in my head."
It also helped that Deegan did some offseason racing alongside boyfriend Chase Cabre after investing in a micro sprint to take to dirt tracks. There isn't much at stake and expectations are low until she fully gets the hang of the vehicle. But it keeps the competitive juices flowing and her mind in the game between "real racing" in the truck series.
That can't make up for missed practice time from a year ago, but it can build confidence.
All stats courtesy of Racing Reference.