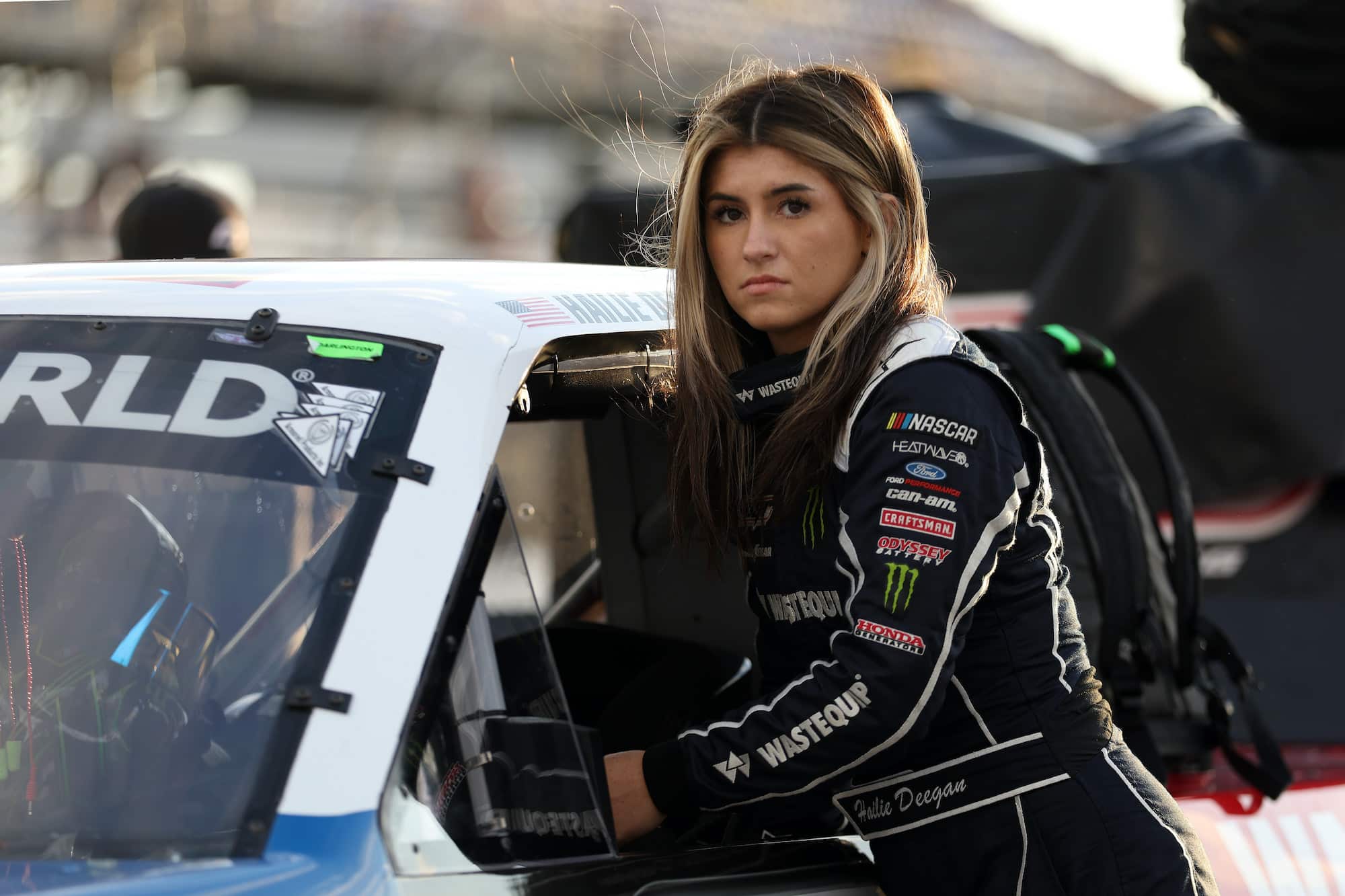 Hailie Deegan Candidly Admits Other Drivers Take Advantage of Her and Explains Why She Doesn't Retaliate
Hailie Deegan admitted this week that other drivers take advantage of her on the track and why she feels like she can't retaliate.
Hailie Deegan has been wrecked by multiple drivers since she arrived in the NASCAR Truck Series last year. This week, the 20-year-old driver appeared on the Door, Bumper, Clear podcast and candidly talked about the situations, who has caused them, and why she has opted not to retaliate. 
Hailie Deegan wrecked multiple times 
Hailie Deegan has struggled more than a third of the way through her second Truck Series season, including four DNFs. She had three in all of 2021. While the 20-year-old driver is undoubtedly still learning, other drivers have contributed to her poor finishes on multiple occasions. 
Her race at Martinsville, where she battled back and finished 19th, provided a couple of examples. In one incident, longtime veteran Johnny Sauter ran her into the wall and accepted responsibility after the race. "I got just a little bit loose coming off the corner and that was bad on me," he admitted. "That was not cool."  
Deegan didn't confront Sauter after the race. She had other priorities and confronted Lawless Alan about his driving and repeated run-ins with her during the race.
"What the f*** was that," Deegan said to him multiple times on pit road. The pair had a heated discussion for several minutes before she walked away.  
Talks about getting taken advantage of and why she doesn't retaliate
This week Deegan appeared as a guest on the Door, Bumper, Clear podcast and talked with the three show co-hosts, which consists of three spotters, including her own spotter TJ Majors. They talked about her career, this season's results, and her perspective on the multiple incidents with other drivers. 
"I feel like we do get taken advantage of a lot but also I get fired up when someone does something to me, like really fired up. I think it's my dad kind of speaking through me," Deegan admitted. "We've had so many situations where we've got wrecked out or put in bad situations. It could just be not our fault and get in someone else's situation. 
"I feel like I have kept my cool because I know how crucial it is that I need good finishes. Start popping off good finishes. Get the momentum going. And that's why I don't retaliate to take that chance of something happening to me. Oh my gosh, you get a tire rub, and it's just downhill quick, and that's something I don't want to put myself in that position."
Doesn't receive respect from certain drivers
Unfortunately, what's happened this season is nothing new for Deegan. She admitted as much last year during a guest appearance on the I Am Athlete-NASCAR podcast when show co-host Brandon Marshall asked her the question she gets asked the most: What's it like being a woman in one of NASCAR's top touring series?
"It's different, definitely different," Deegan admitted. "When you're the only girl coming into the whole pit area. Obviously, I feel like I got a lot of different looks in the beginning. I feel like guy to guy they automatically have a respect. Guys automatically respect each other, but when a girl steps into play, it's kind of like you're on the laughing side. You're the joke side of things until you earn that respect. I feel like my entire life I've had to earn the respect of everyone before I actually got it. When guys, they automatically respect each other. 
"And I feel like the older generation, it's harder for them to respect you. So I notice whenever I get into incidents with some of the older guys on the track, it always drags on and it's always a lot more heightened than it is with the younger guys. Like wrecks, hard battles. It's like they can do something to me, but if I do it back it's a problem. I'm like, 'Well you just did the same thing.'" 
Deegan has earned three top-10 finishes in her last four races, including a season-best 17th at Kansas. She's done it by avoiding those who have caused problems for her in the past. By the sounds of it, she'll have to take that same approach going forward until she's more established and in a position to return the favor.
Like Sportscasting on Facebook. Follow us on Twitter @sportscasting19 and subscribe to our YouTube channel.