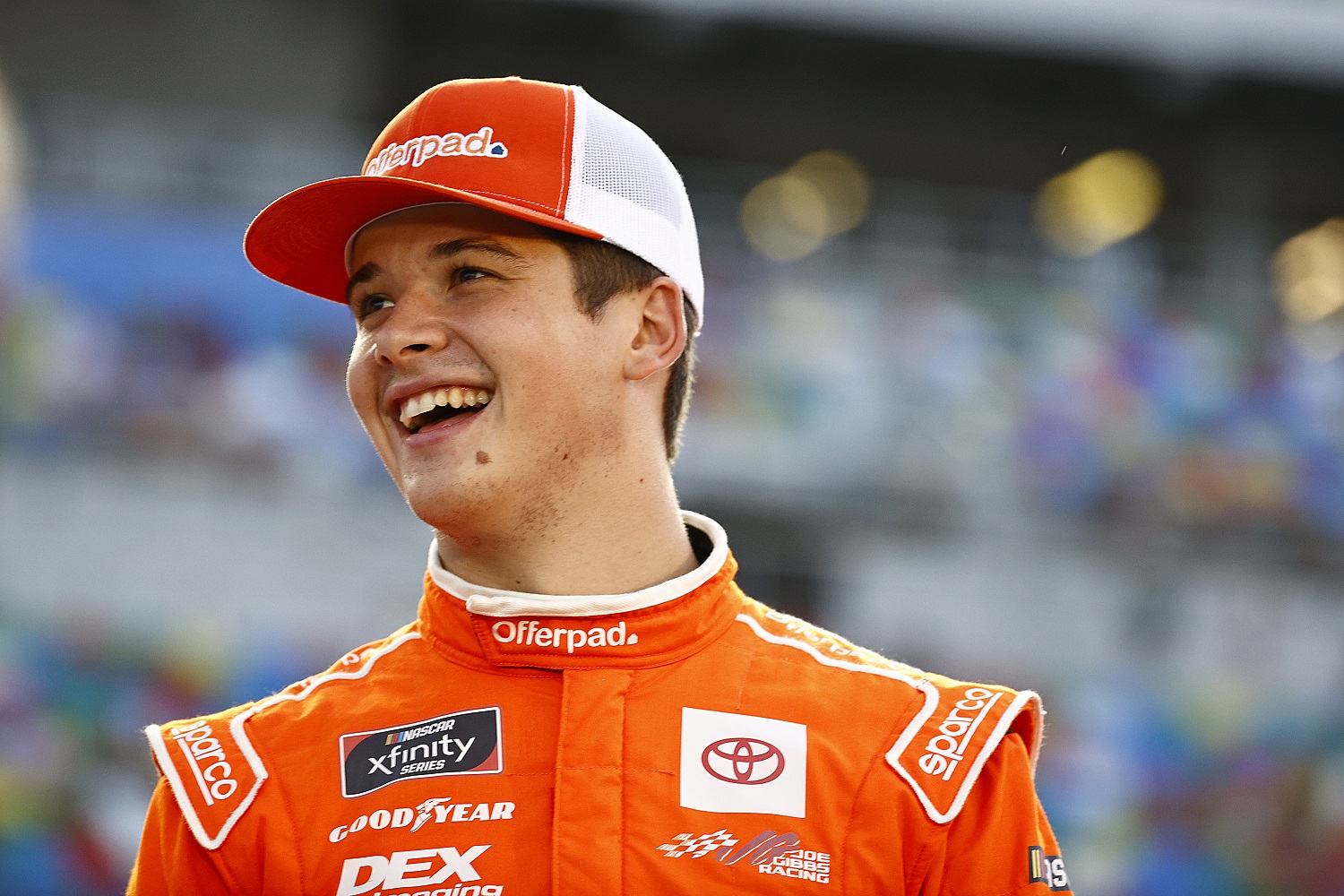 NASCAR Cup Series Rookie Harrison Burton Had a Bizarre Reason for Embracing Mixed Martial Arts
Harrison Burton, 21, is moving up to the NASCAR Cup Series with Wood Brothers. He took up MMA for other reasons, but he's found the workouts beneficial to his driving.
One of the truisms of contact sports is that they can't hit you if they can't catch you. Harrison Burton might be safe on the track in his rookie NASCAR Cup Series season based on what we saw during recent Next Gen testing at Daytona.
But what happens after races is as much a concern for Burton, which is why he began some unconventional training before last season in the Xfinity Series. The goal apparently is to be able to fight his way out of trouble.
Harrison Burton will drive for Wood Brothers this season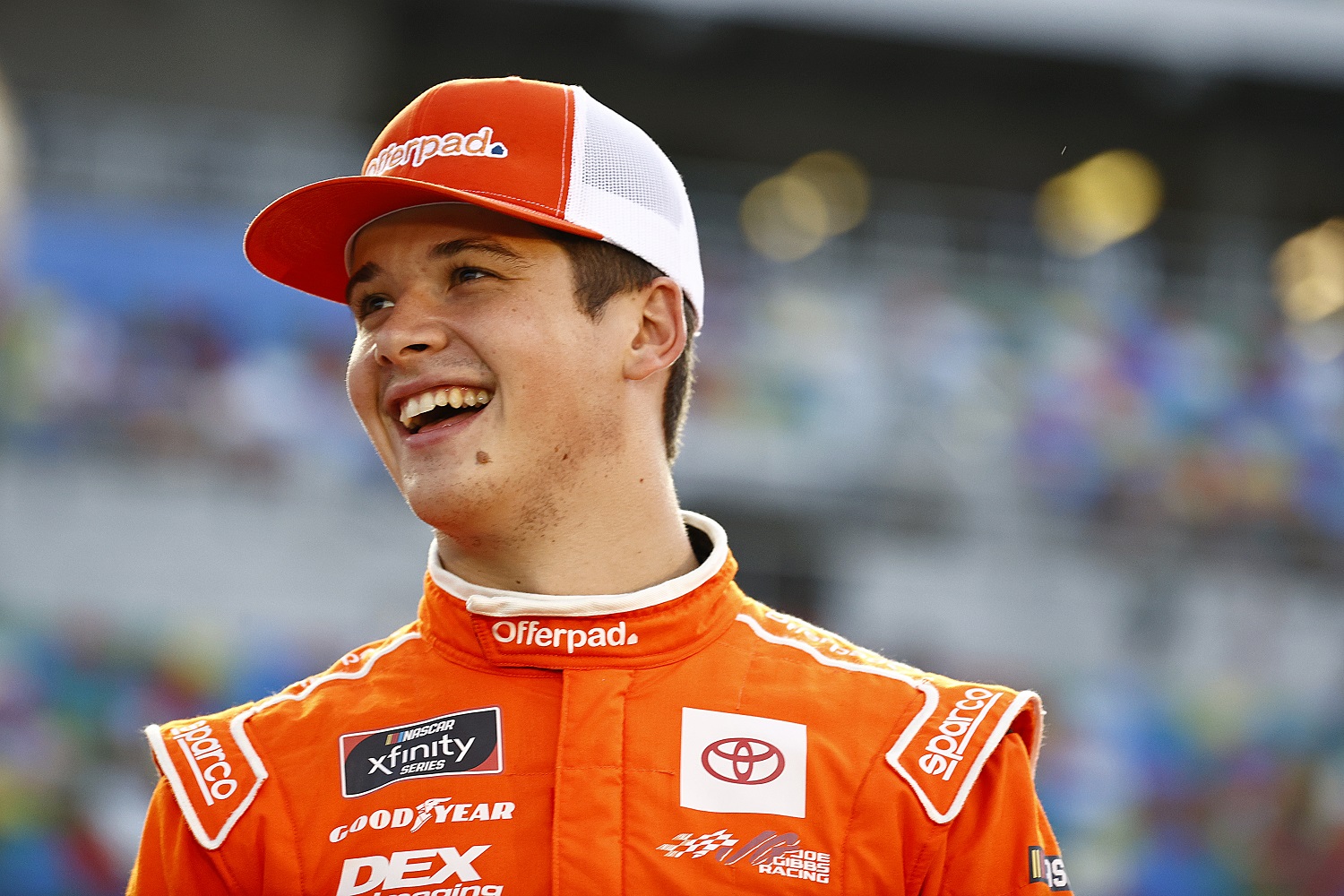 Harrison Burton must be feeling pretty good for a 21-year-old NASCAR driver. After just three full seasons driving in the Xfinity or truck circuits, Burton moves up to the Cup Series beginning next month.
Wood Brothers, the longest continuously operating Cup Series team, made the decision before last season to drop Matt DiBenedetto. Austin Cindric accepted the ride, but Team Penske snapped up Cindric to replace Brad Keselowski, opening the door for Burton.
In the team's golden era, the likes of stellar performers David Pearson, Neil Bonnett, and Bill Elliott drove for Wood Brothers. In 2022, the No. 21 Ford is in the hands of a driver who finished seventh in the 2019 Camping Word Truck Series and eighth in the Xfinity Series the past two seasons.
The rest of Burton's resume consists of 18 top-10 finishes in 38 trucks races, followed by four victories in the 2020 Xfinity Series for Joe Gibbs Racing. Burton didn't win last season, but he scored 22 of a possible 33 top-10 showings in each season.
Harrison Burton had a bizarre reason for embracing mixed martial arts
Harrison Burton and Noah Gragson were racing for fourth place late in a 2020 Xfinity race at Kentucky Speedway when their cars brushed and hit the wall. Both finished, but Gragson crossed the line 11th and Burton 17th.
Afterward, the pair engaged in a heated conversation that led to Burton shoving Gragson, who responded with a punch.
"It was the first time I had ever been in a real fight, and I was like 'What the heck do I do?' Burton told NBC Sports. "I tackled him, and he tried to take my head off with a punch."
Burton said he and Gragson have settled their differences, but he decided it would be prudent to make sure he could handle himself in similar circumstances. So, Burton began training in mixed martial arts. Pugilistic skills aside, he discovered MMA training helped him keep focused during long races.
"I've found it's more similar to racing than I thought it would be because you're tired, you're focusing on things that are happening really quick, have to happen right now and it's become kind of a really great tool," he said.
What else has he discovered in his MMA workouts?
"You better not mess up or you're going to get punched in the face."

Harrison Burton
The Daytona Next Gen test was a good sign for Wood Brothers
Wood Brothers Racing, founded in 1950, is NASCAR royalty, but times have been tough for many years. Trevor Bayne stunned the sport by winning the 2011 Daytona 500, then the next victory came from Ryan Blaney in 2017. Wood Brothers has been sitting on 99 all-time wins since.
Under ordinary circumstances, Harrison Burton would be a longshot to score No. 100 in his rookie season, but the Next Gen car is the great equalizer. The big teams like Hendrick Motorsports and Stewart-Haas Racing have more cars and more money to spend on R&D, but no one has a history with the new Next Gen car.
That's why testing at Daytona less than two weeks ago had to be encouraging for Burton, the son of former Cup Series star Jeff Burton, and Wood Brothers. Neither friend nor foe could catch him. In three practices over two days, Burton twice recorded the fastest average laps. On Jan. 11, he opened at 184.264 mph to edge Austin Cindric. The next day, he came in at a Daytona-like 195.304 mph.
"The biggest thing for me is to kind of understand that it's a huge blessing to be here and an insane opportunity for me to be here," Burton said, according to Motorsport.com, "and also understanding that I have to make the most of it."
All stats courtesy of Racing Reference.