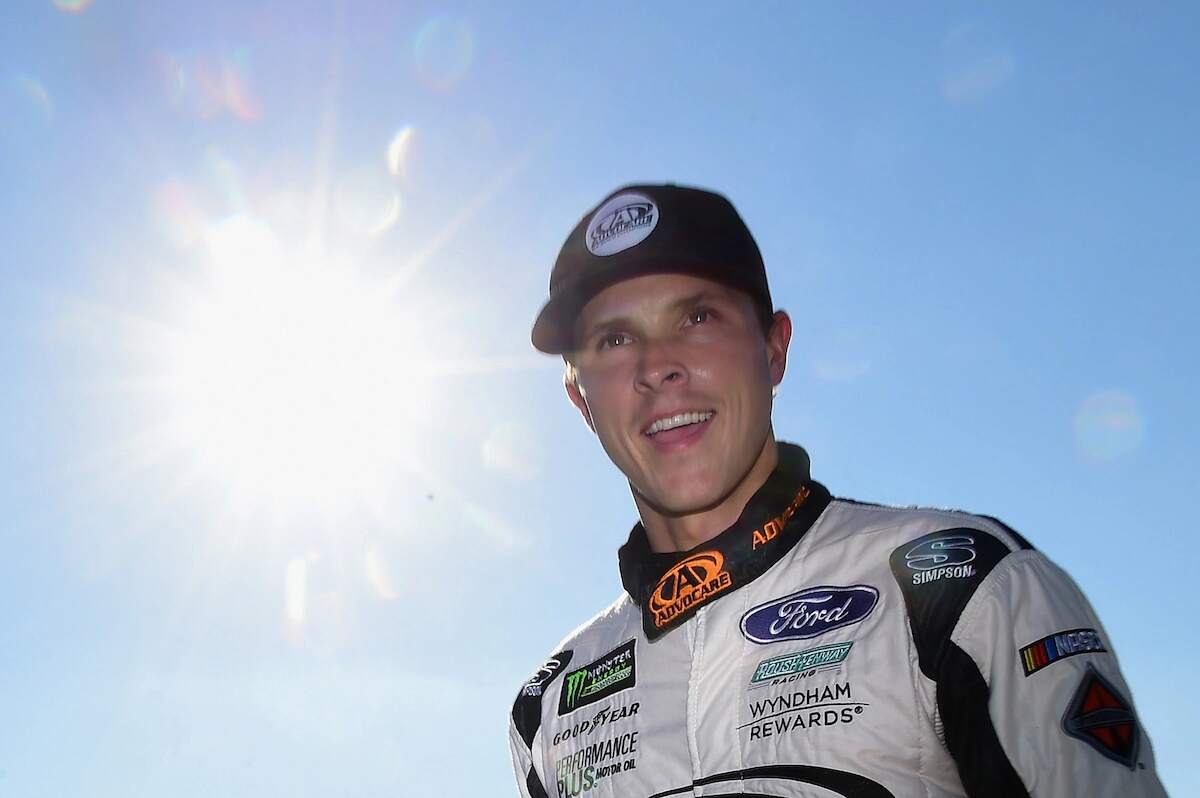 Trevor Bayne Went From Young NASCAR Sensation to Out of the Sport in Just 8 Years
Trevor Bayne won the Daytona 500 in his second NASCAR Cup Series race ever but never triumphed again in the sport's most prestigious circuit.
There is no bigger accomplishment in NASCAR than winning the Daytona 500. In 2011, Trevor Bayne did that in his second race in the NASCAR Cup Series while going up against stars like Dale Earnhardt Jr. and Jimmie Johnson, which should have set him up for a great career.
Eight years later, Bayne was out of the sport without ever having won again in the NASCAR Cup Series, stock-car racing's top attraction.
Trevor Bayne reached the NASCAR Cup Series quickly
Former NASCAR Cup Series competitor Trevor Bayne was already racing go-karts as a 5-year-old and was just 12 when he started competing in the Allison Legacy Series, which features cars comparable to those on the big NASCAR circuits but only three-quarters the size. He was 14 years old when he won the 2005 series championship.
By the time he was 17, Bayne was in the driver development program at Dale Earnhardt Inc., which quickly led to two years in the Xfinity Series for Michael Waltrip Racing, putting him one step away from competing against the biggest names Like Jimmie Johnson, Dale Earnhardt Jr., and Matt Kenseth on Sundays.
Bayne made his Sprint Cup Series debut in 2010, finishing 17th in the Texas 500 when he was just 19 years old. His second race on the big circuit turned NASCAR on its ear.
Trevor Bayne made Daytona 500 history
Wood Brothers Racing is one of the most revered names in NASCAR because of the team's rich history in the sport. However, they came into the 2011 season winless in a decade in the NASCAR Cup Series. That slump would end at the season-opening Daytona 500, although it took overtime to do it.
With the race coming down to a green-white-checker finish, Dale Earnhardt Jr., Ryan Newman, and Martin Truex Jr. got caught up in an accident behind the leaders. When David Ragan was forced to pit under the caution, Bayne took the lead heading into the second attempt at a green-white-checker finish. Bayne held off Carl Edwards and David Gilliland on lap 208 of the scheduled 200-lap race.
It gave Bayne, who turned 20 a day earlier, the distinction of becoming the youngest Daytona 500 winner ever. Winning the most important race of the entire NASCAR Cup Series should have set Bayne up for the entire season and beyond. Instead, it was the start of a sad sequence that would see him out of racing entirely eight years later.
Bayne's long streak of bad luck on and off the track
Trevor Bayne went from winning the 2011 Daytona 500 one week to nothing better than 17th place the next seven weeks. His luck got worse from there. After an April race in the Xfinity Series in Nashville, Bayne was hospitalized for five weeks for what was believed to be Lyme disease. By season's end, however, there was a new diagnosis: multiple sclerosis, as USA Today reports.
Although Bayne was able to maintain most of his Xfinity Series schedule, he never drove more than half a season in the NASCAR Cup Series until 2015, when he moved to Roush Fenway Racing. Although Roush had more resources at its disposal than Wood Brothers did, Bayne never came close to matching the lightning-in-a-bottle start to his career.
In 129 races over four seasons for Roush, Bayne's entire body of work was 13 top-10 finishes. He was never higher than 22nd in the points standings. Demoted to part-time status midway through the 2018 season, Bayne was released by Roush at the end of the year, as NASCAR reports.
Bayne sat out the entire 2019 season. His racing work in 2020 involved eight starts in the Camping World Truck Series. During this time, Bayne and his wife Ashton had their fourth child, a son named Jude. They also founded Mahalo Coffee Roasters in Knoxville, Tennessee, which he later sold in 2022 in anticipation of a full-time deal with Joe Gibbs Racing.
Instead, reports CBS Sports, Bayne ended up signing a part-time deal with the racing organization. Currently, the now-32-year-old races part-time for Joe Gibbs Racing in the NASCAR Xfinity Series. He drives the No. 19 Toyota Supra.