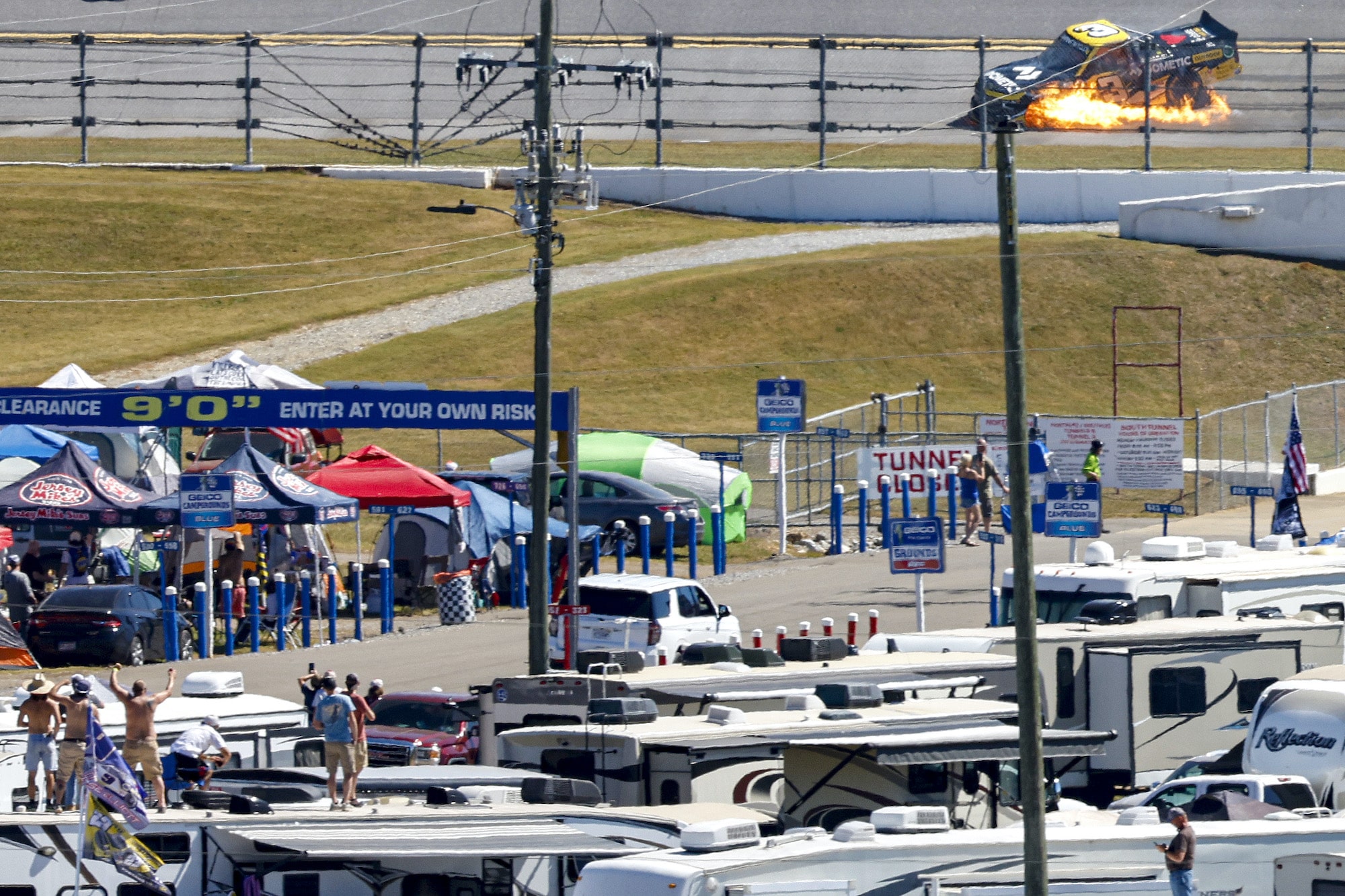 NASCAR Drivers May Not Be Scared of High Speeds and Crashing, but They Are Scared of Some Other Interesting Things
NASCAR drivers are fearless when it comes to racing around other cars at speeds near 200 mph. They do have fears about other things that you'd never expect.
In the world of sports, NASCAR drivers are right up near the top when it comes to toughness. Most don't view drivers Brad Keselowski, Denny Hamlin, or 2022 champ Joey Logano as physically tough like NFL players, but when it comes to mental toughness, there is no other athlete remotely close. That's because no one else works in an environment where the competitor must block out how a single mistake could prove deadly.
Interestingly, just because these drivers aren't scared of traveling around a track at speeds near 200 mph doesn't mean they aren't afraid of other things. And some of them you just have to read to believe. 
NASCAR drivers aren't afraid of high speeds or getting hurt
Ask any NASCAR driver about the element of fear inside a race car, and most of them will give you a similar answer. Brad Keselowski talked about it last year during an appearance on the Daily Stoic podcast.
"As I've gotten older, this has come more naturally to me. Especially as a race car driver but in other areas of my life," Keselowski said. "I've gotten to a spot where I'm kind of able to turn the fear off like a light switch. I'm in the car — look, I know something can happen to me. But you know what, I'm OK with that. 
"I'm not afraid of getting hurt. If it happens, it happens. If it doesn't, it doesn't. I'm more afraid of just not performing. You literally turn the fear off. When you can mentally turn those other things off, the physical side gets so much easier."
NASCAR drivers are afraid of some interesting things
Not being afraid of high rates of speed and the consequences of crashing is what sets NASCAR drivers apart from other athletes and the majority of the population. That being said, they are still just regular people and do have other fears.  
In a recent report by NBC's Mike Hembree, the drivers admitted to an assortment of fears, including some that you'd never think are worthy of such an emotion.
"Birds," Chase Briscoe candidly admitted. "Birds freak me out for whatever reason. I think one got in the race shop when I was younger and came flying at me. And horses. I love looking at them, but up close they freak me out. I'm afraid they're going to kick me."
Ross Chastain said female family members cause him the most fear. 
"Mom and grandmothers," he said. "They run our family. Get on their bad side, and it's going to be tough sledding. But I wouldn't be living up to the reputation of a bad-to-the-bone race car driver if I didn't. They keep their thumbs on us."
"Relationships," Daytona 500 winner and 2022 Rookie of the Year Austin Cindric said. "Women. It's just outside of my comfort zone. Social settings."
Christopher Bell, like other drivers, isn't afraid of the speed. But, also like most other drivers, he is afraid of something bad that can happen within the car while traveling at a high speed — fire. 
"Fire scares me," Bell acknowledged. "I think if you ask every race car driver that's the thing that scares them. Just that and not being able to get out of the car."
Fire fear is real 
Oddly, the 2022 season in NASCAR across all three series had its share of fiery moments. Kevin Harvick was vocal about his incident after Darlington in the first race of the playoffs. Jordan Anderson, however, didn't say a word after his terrifying incident at Talladega with the Truck Series in October. He couldn't talk because he was being airlifted to a local hospital for treatment of what turned out to be second-degree burns on his neck, arms, hands, and knees. 
The part-time driver/team owner has talked extensively about the horrifying crash in the last month, including the harrowing move he made to escape his flame-engulfed truck.
"Everybody thought I couldn't see where I was going," Anderson told Fox's Bob Pockrass. "But I could see the wall. My goal was to shoot towards the wall because at least that will help slow it down and get me out of there. So that was my goal — to try to time it to hit the wall and come out of it at the same time."
Unbelievably, like a stunt in an action movie, he did just that. He bounded out of his fire-filled truck the instant it hit the safer barrier. He survived and returned to the track four weeks later to watch his Xfinity Series team compete.
And he wasn't afraid. At least not of the speed.