Joey Logano Has a Year to Perfect a Task Kyle Busch Thinks the 2022 NASCAR Champ Botched the First Time
Kyle Busch and Joey Logano have a history, so it's hardly surprising one was critical of something the other wrote.
Joey Logano has rubbed some competitors the wrong way since arriving in the NASCAR Cup drivers in 2008, and the same can be said of Kyle Busch, who started four years earlier. You can imagine what happens when one of the two thinks the other has stepped out of line.
Joey Logano and Kyle Busch went at it in Las Vegas in 2017
Tempers flare every year in the NASCAR Cup Series. This year's No. 1 incident was an easy choice: Bubba Wallace and Kyle Larson mixing it up at Las Vegas Motor Speedway.
Five years earlier, Kyle Busch and Joey Logano had an incident at the same track, and it's among the most memorable on their resumes. Battling for a top-five finish on the final lap, Logano spun Busch onto the infield. Afterward, Busch confronted him on pit road and threw a punch. Logano and crew members took Busch to the ground, from which he emerged with a cut on his forehead.
One season later, Logano won the series title. A year after that, Busch succeeded him as the champion. Naturally, what could have been a cordial moment between the two did not go well.
Joey Logano tried explaining himself to his successor as NASCAR champion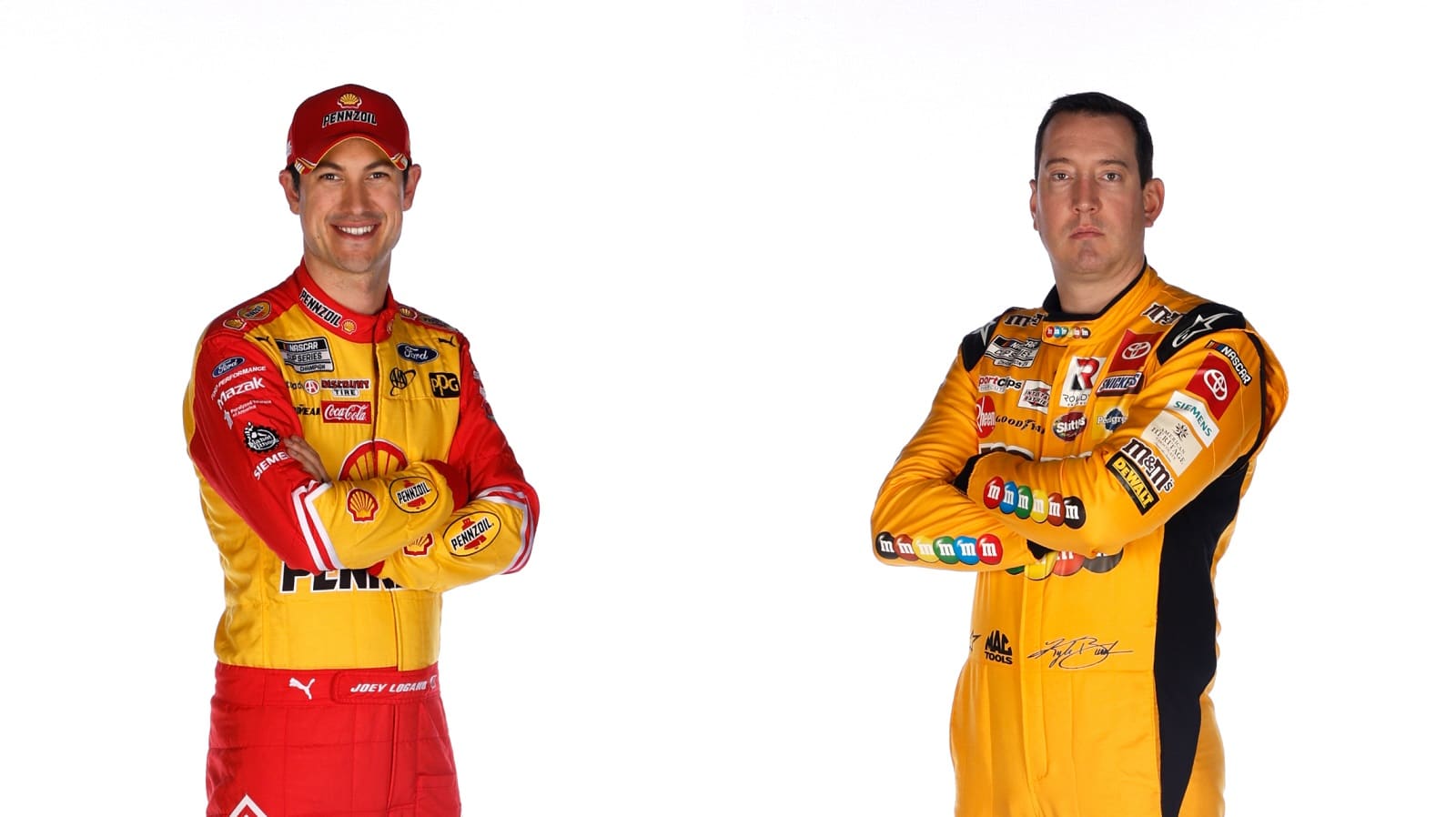 After winning his fifth Cup Series championship in 2010, Jimmie Johnson started a tradition that still exists by creating a journal to commit some of his thoughts to paper. After Tony Stewart won his third NASCAR title in 2011, Johnson gave him the journal. It's been passed down from champion to champion since, with each adding his own thoughts.
Only the championship drivers know the specifics of the journal. Comments from the select group indicate advice gets shared, congratulations are offered, and perhaps the predecessor makes note of how he saw his successor prosper during the year. When it was Logano's turn to hand the journal off to Busch after the 2019 season, the driver of the No. 22 Ford strayed.
"I wrote a letter to Kyle," Logano explained to NBC Sports last year. "Obviously, Kyle and I have had our run-ins on the racetrack and there's no secret to that. At the same time, I think we respect each other as competitors. I think we're very different people, but I think as competitors, we're probably more similar than he thinks. It's just kind of connecting at a different level and then handing it off."
Kyle Busch thinks the new champion whiffed the first time around
Kyle Busch didn't care much for what Joey Logano wrote in the NASCAR Cup Series champions' journal before presenting it to him.
"I can admit I was not touched by what Joey wrote to me," he said. "I felt as though he was trying to explain something or why our differences were. He was giving his side of the story and not necessarily understanding both sides of the story.
"He can say he put a lot of effort into it and thought into it and that's great. That's what we're supposed to be doing. But under different interpretations, it could come off a little bit differently."
Logano won his second championship last weekend in Phoenix, so he can expect a package soon from 2021 winner Kyle Larson, and he'll have an entire year to polish his thoughts before adding to it.
Busch hopes future possessors of the journal keep the tradition intact for years to come.
"I think the champion's journal is pretty cool," he said. "It's got some unique touches to it."
Got a question or observation about racing? Sportscasting's John Moriello does a mailbag column each Friday. Write to him at [email protected].