NASCAR Mailbag: Indianapolis Motor Speedway is an Oval Peg in a Square Hole
Welcome to Indianapolis Motor Speedway week for the NASCAR Cup Series, one of the more interesting installments of the motorsports calendar. With both NASCAR and IndyCar in town, it's a great place to be for racing fans.
On Saturday, IndyCar will go 85 laps on the 2.439-mile road course featuring 14 turns. On Sunday, it's the Cup Series turn, with 82 laps on the same circuit.
The only difference is that IndyCar has already spent time on the fabled oval there this season, competing in a little soiree known as the Indianapolis 500. NASCAR has given up on the oval for now, which leads us to the week's first question.
Is there any chance NASCAR will return the Cup Series race at Indianapolis Motor Speedway to the oval? (From R.R. via Yahoo Mail)
I thought the answer would be an emphatic "yes," and that it would happen next season. Comments by track president Doug Boles, however, indicate 2024 might be more likely.
A few thoughts on going back to the oval:
First, a lot of NASCAR fans are passionate about returning to the oval to reinstate the Brickyard 400. That's interesting considering how many thought the race was tedious to watch in the Gen 6 car era. I think the Next Gen car has shown enough promise on the big tracks to merit going back to the oval, but there's no guarantee we'll see a better show.
That's why NASCAR's best move might be alternating between the oval and the road course. After the Chicago street course flops next summer, and I'm pretty sure it will, then maybe we can get Road America back on the schedule in the years in which Indy is on the oval.
Next, going back to the oval means uncoupling NASCAR and IndyCar for the weekend since the Indianapolis 500 is a stand-alone. Holding the series together the same weekend makes for an amazing event for the city and gives NBC the opportunity for blowout coverage that benefits racing in general.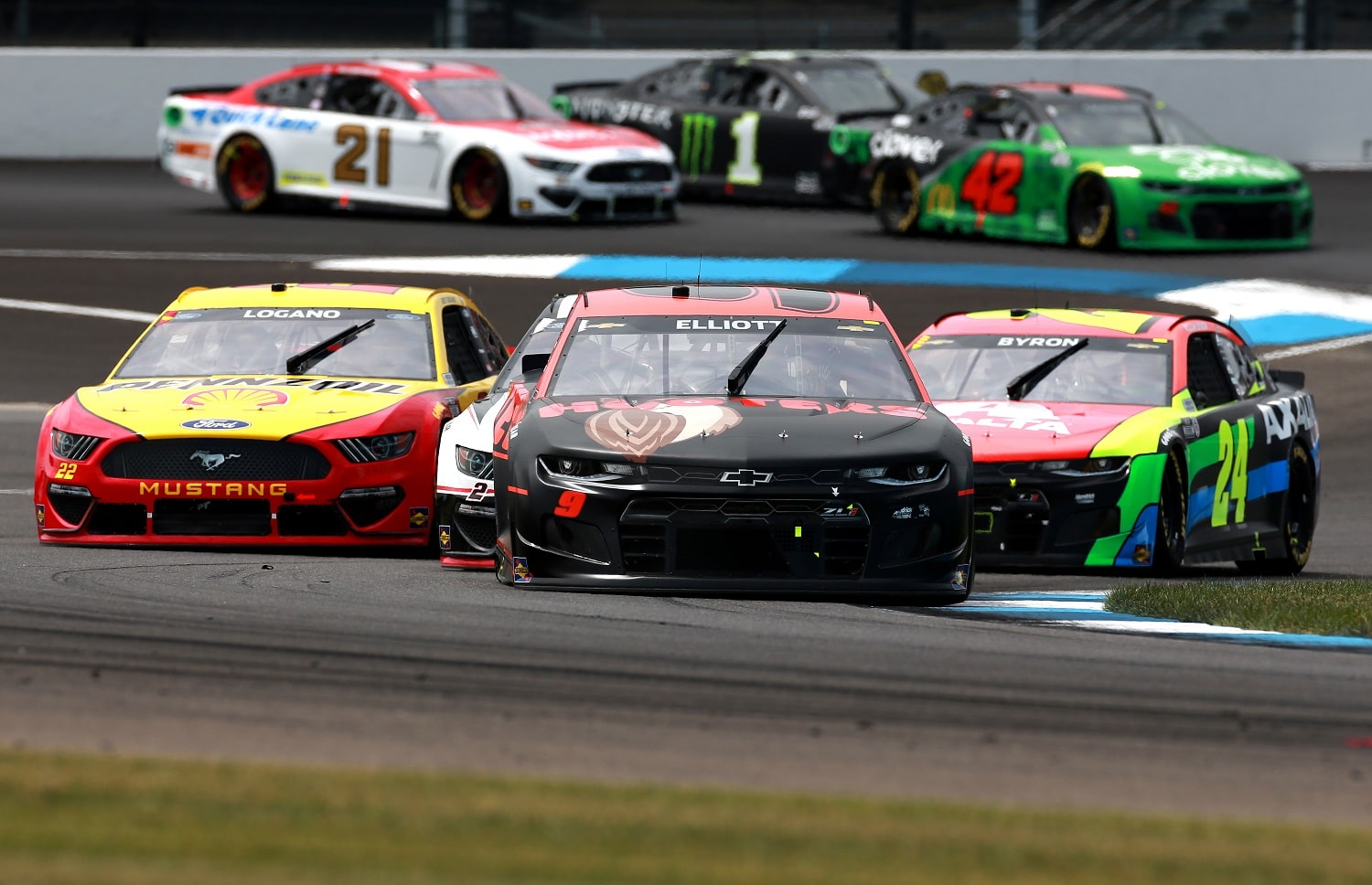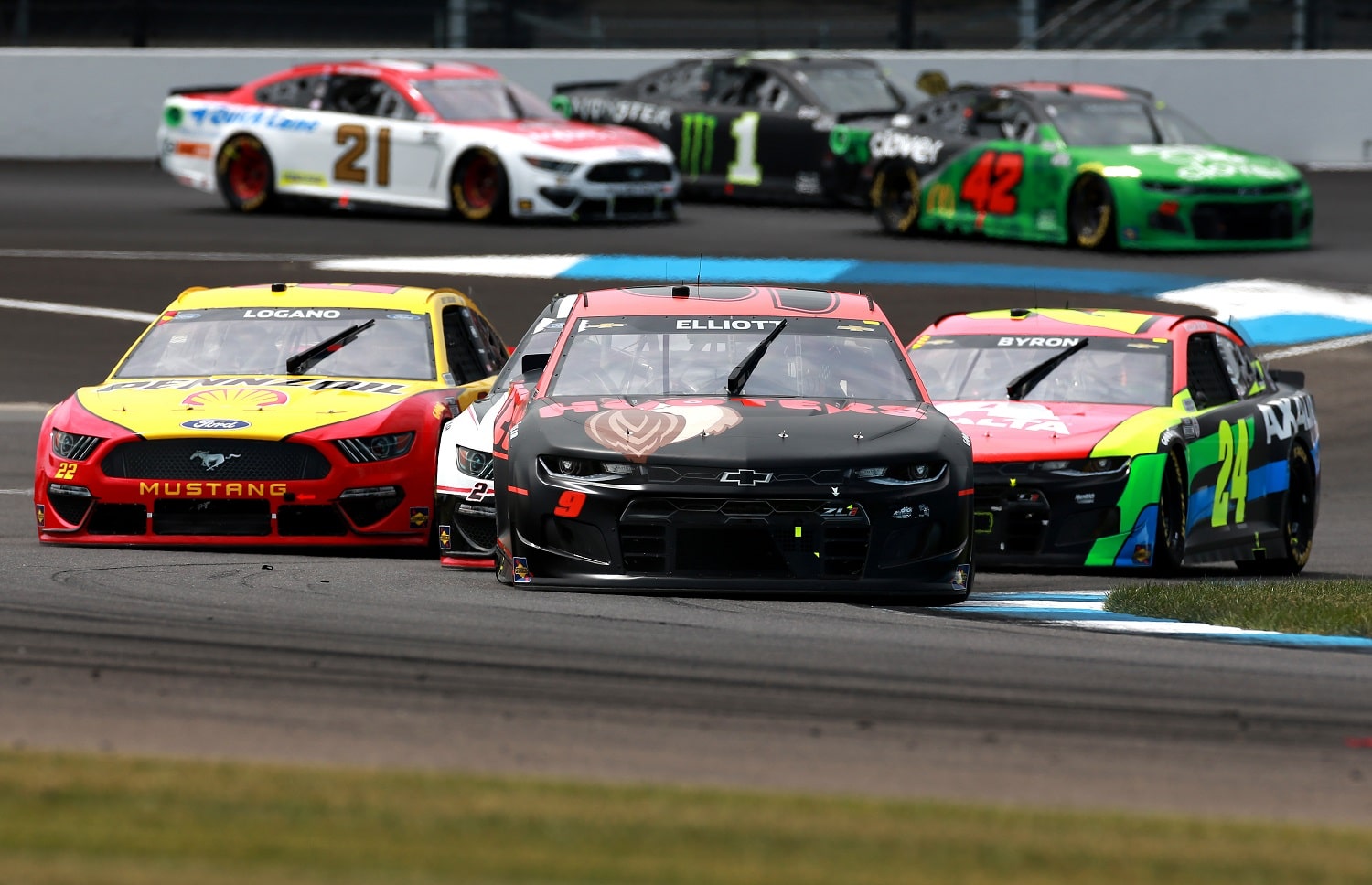 Finally – and I know this is an unpopular sentiment – shouldn't we be asking whether NASCAR belongs at Indy at all?
The Cup Series made its Indianapolis Motor Speedway debut in 1994, but the novelty wore off and attendance slipped. NASCAR didn't want to leave town, so it moved to the road course last season.
Stock cars look out of place on the Indy road course, but even more so on the oval. The difference between the open-wheel cars hitting 230 mph and Next Gen rolling at 190-ish is significant.
As I noted earlier this season, NASCAR has superspeedways at Daytona and Talladega. Atlanta is behaving like a superspeedway, and Pocono just looked like a glorified intermediate track with a touch of superspeedway.
The sport doesn't need to be at Indianapolis or any other big track beyond what it already has. But if NASCAR must stay, then the road course is the better option unless testing confirms that the success of the Next Gen car at Charlotte and Kansas will translate to the Indy oval.
To make a long answer short (I know … too late), that might be what's behind NASCAR not going back to the oval before 2024. The extra year gives NASCAR time to do the testing to create the best possible experience.
What's your impression of Ty Gibbs in his Cup Series debut? (From S.C. via Yahoo Mail)
I don't do impressions, but thanks for asking. Just kidding.
Sixteenth place (actually 18th before the disqualifications of Denny Hamlin and Kyle Busch) was a heck of a way to make a first impression, particularly since the 23XI Racing No. 45 team kept the training wheels on through the first stage at Pocono. After starting in the back of the field, Gibbs logged a bunch of laps with no goal other than to get the feel of a car he'd never driven.
Gibbs moved into the top 20 on Lap 66 and then lost a dozen places after the ensuing pit stop. It was a slow climb back after that, but Gibbs stayed out of trouble on a track that gave veterans plenty of trouble.
Pocono was about finding speed. Pinch-hitting again this weekend for Kurt Busch will be about nailing braking points in qualifying so that he doesn't have to make 20 passes on Sunday just to get to the middle of the pack by Lap 60. After that, he'll be racing side-by-side with a bunch of guys who won't be inclined to give the rookie a break.
He can consider it a free education that prepares Gibbs for what figures to be a long Cup Series career.
Like Sportscasting on Facebook. Follow us on Twitter @sportscasting19 and subscribe to our YouTube channel.
Got a question or observation about racing? Sportscasting's John Moriello does a mailbag column each Friday. Write to him at JohnM@Sportscasting.com.
RELATED: Ty Gibbs May Have Had the Best Weekend of His NASCAR Season Despite Not Winning a Race