Ty Gibbs May Have Had the Best Weekend of His NASCAR Season Despite Not Winning a Race
Ty Gibbs had himself quite the weekend at Pocono Raceway.
Ty Gibbs did not win either race at Pocono Raceway in his first career doubleheader NASCAR weekend, but it still could be considered his most successful trip to a track this season.
Gibbs narrowly finished second to Noah Gragson on Saturday in the Xfinity Series race and then ran 16th in his Cup Series debut on Sunday as a replacement driver in the No. 45 car for Kurt Busch, who was sidelined with concussion-like symptoms after a crash Saturday during qualifying.
Ty Gibbs didn't win a race but might have finally won respect
Gibbs might not be thrilled with either result, particularly losing to rival Gragson in the series Gibbs has dominated from time to time since his foray as an 18-year-old in 2021.
However, their final-laps battle was remarkably clean, especially since it was between two drivers known for their aggressive styles. Gragson took over the lead from Josh Berry with 21 laps to go and then held off a charge from Gibbs, who drew even with Gragson on the final lap.
Gragson and Gibbs entered the Tunnel Turn side-by-side, and Gragson was able to pull ahead in the top lane to notch his third victory of the season.
Gibbs already has a series-high four wins on the Xfinity circuit this season, but his approach to tally those wins has rankled several of his competitors.
He won the third race of the season at Las Vegas Motor Speedway but tussled with Ryan Sieg early in the event. Gibbs then won a superspeedway-style race at Atlanta Motor Speedway two weeks later, but his third win of the year created even more drama.
Gibbs visited Victory Lane in April at Richmond Raceway but shoved his part-time Joe Gibbs Racing teammate John Hunter Nemechek out of the way on the final lap to score that victory.
Gibbs admitted after the race he had retaliation coming after his run-ins started to pile up, and things boiled over the following week at Martinsville Speedway.
Gibbs was second in the race's final corner when Sam Mayer got underneath him and pushed him up into the outside wall. Gibbs ultimately crossed the finish line eighth but then stalked Mayer down pit road and started throwing punches when he got to Mayer.
Things settled down for Gibbs drama-wise after the Martinsville incident until two months later when the series made its first trip to the Portland International Raceway road course. Gibbs spun Gragson from the lead midway through the event, and Gragson vowed revenge in his post-race interview.
"I'll take care of that," Gragson said on pit road after the race. "I mean, we were racing, and I got the lead, and he just cheap shot us, but we'll keep it in the back of our minds and just try and go to Nashville and win that race. You'll know when I get him back, though."
Gragson did not retaliate at Pocono, as the two drivers had an intense but clean race to the finish.
Gibbs had an impressively clean Cup Series debut at Pocono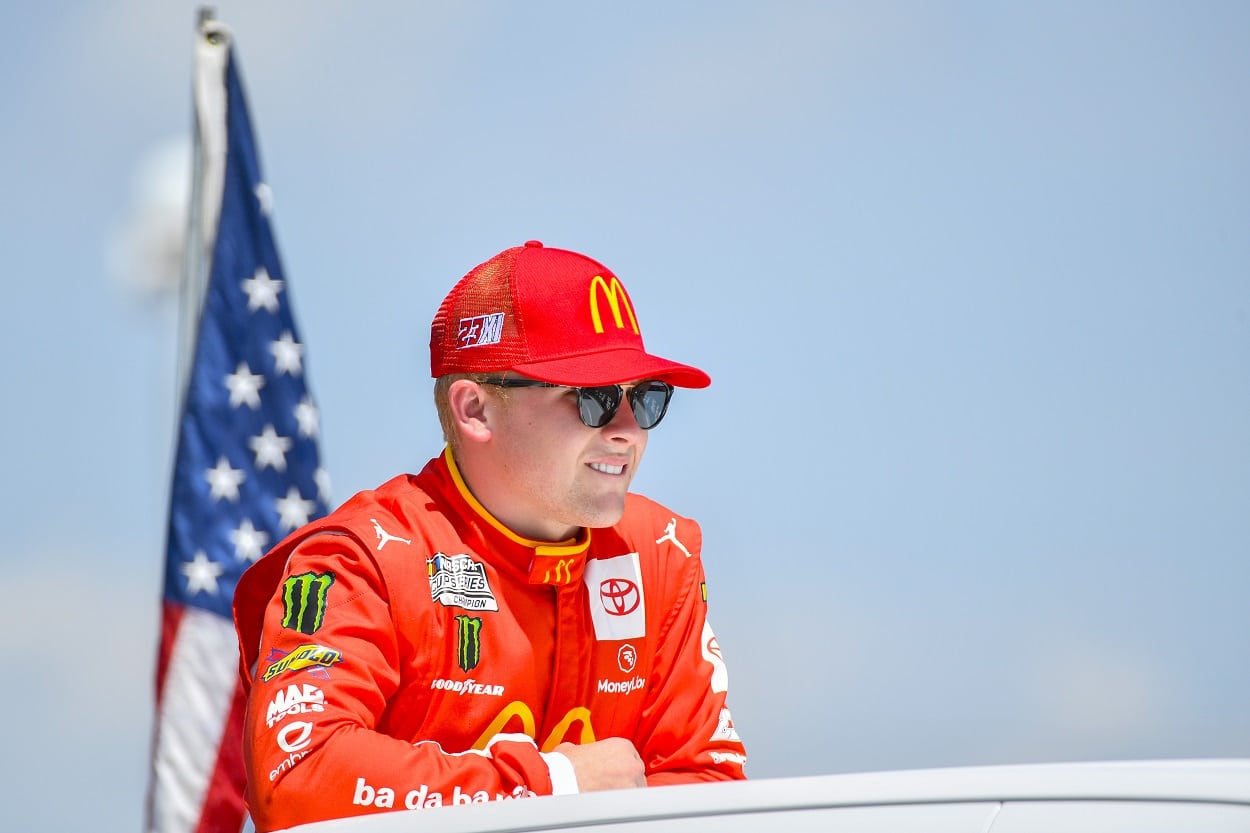 Both drivers also ran the Cup Series race Sunday. Gragson drove his sixth race of the year for Kaulig Racing and finished 26th before disqualification penalties to the first two finishers altered the running order and bumped him to 24th. Gibbs eclipsed him by eight spots but didn't have anything notable happen throughout the race.
The phenom driver known for his hard-charging ways brought the No. 45 Toyota for 23XI Racing back without so much as a scratch after the 160-lap event. Gibbs started at the tail end of the field because of the late driver change and methodically worked his way through the field.
He intentionally paced himself through the first two stages to learn about the Next Gen Cup Series car he had never previously driven in his career. He then rallied to 18th by the end of the race but is credited with 16th after NASCAR officials disqualified Denny Hamlin and Kyle Busch for failing post-race inspection.
Gibbs' drive Sunday might have done as much for his career as any of his eight Xfinity wins or 18 ARCA Menards Series triumphs. Busch still doesn't have a contract extension with JGR for next year, and the rhetoric around that situation has gotten more negative as the season has dragged on. 
Gibbs would always have a car capable of winning, and he showed Sunday he can be more deliberate and take what a race gives him rather than constantly forcing his way through and creating enemies.
Team owner and Ty Gibbs' grandfather Joe Gibbs has previously said he'd like his grandson to remain in the Xfinity Series for one more full season, but circumstances might force his hand and promote Ty to the No. 18 car if Busch leaves after this season.
If Gibbs can drive the way he did Sunday, that might actually be the best solution for all involved.
Stats courtesy of Racing Reference
Like Sportscasting on Facebook. Follow us on Twitter @sportscasting19 and subscribe to our YouTube channel.