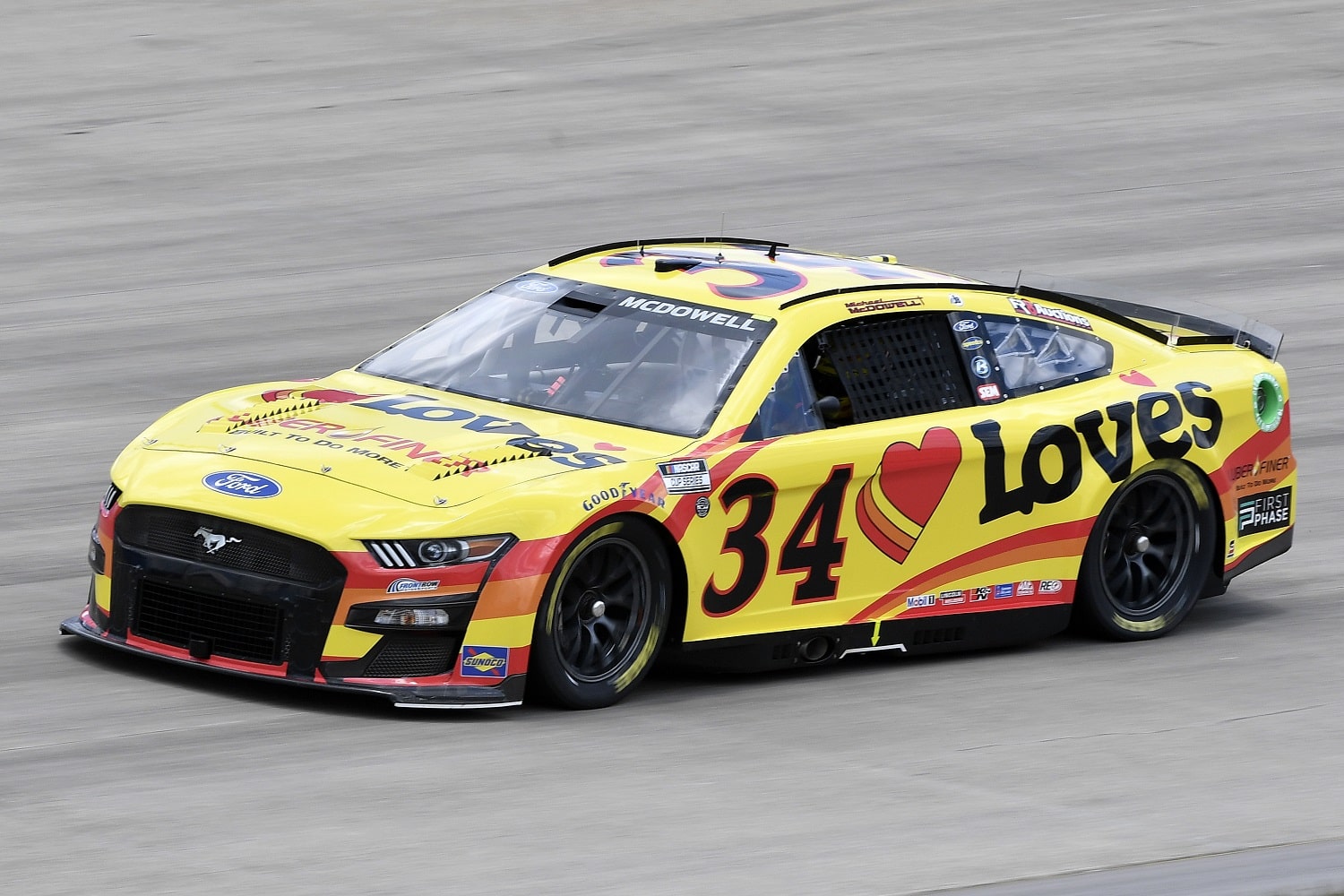 NASCAR Should Be Embarrassed by Its Unintentionally Cheeky Tweet
It may have seemed like a good idea at the time, but NASCAR misfired on Twitter regarding Michael McDowell.
Another flip of the calendar to a new month, another tweet from NASCAR that makes you wonder what the hell's going on. At least we know this time who the racing series social media department was talking about in the aftermath of Sunday's Cup Series race won in overtime by Tyler Reddick.
Michael McDowell posts another top-10 finish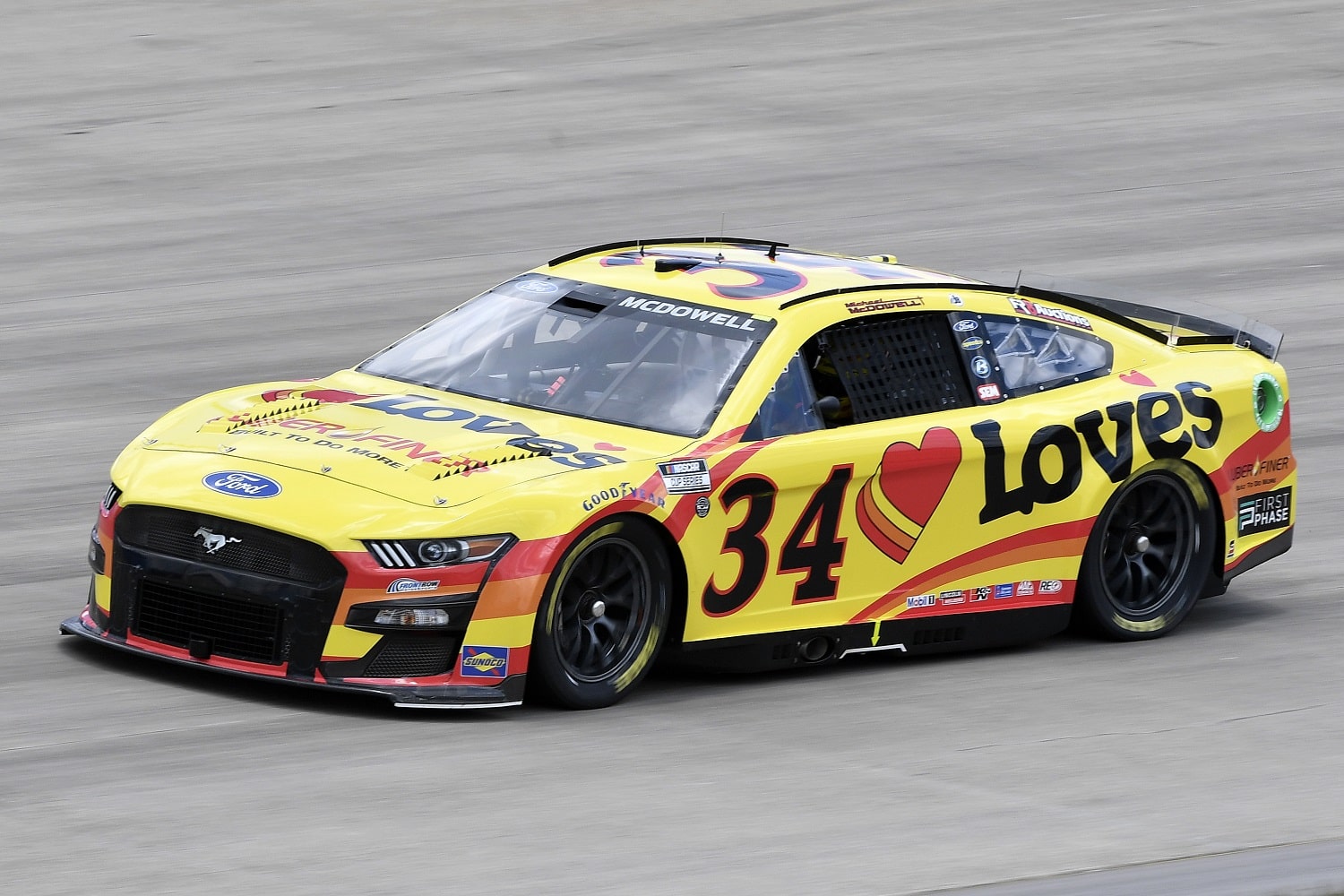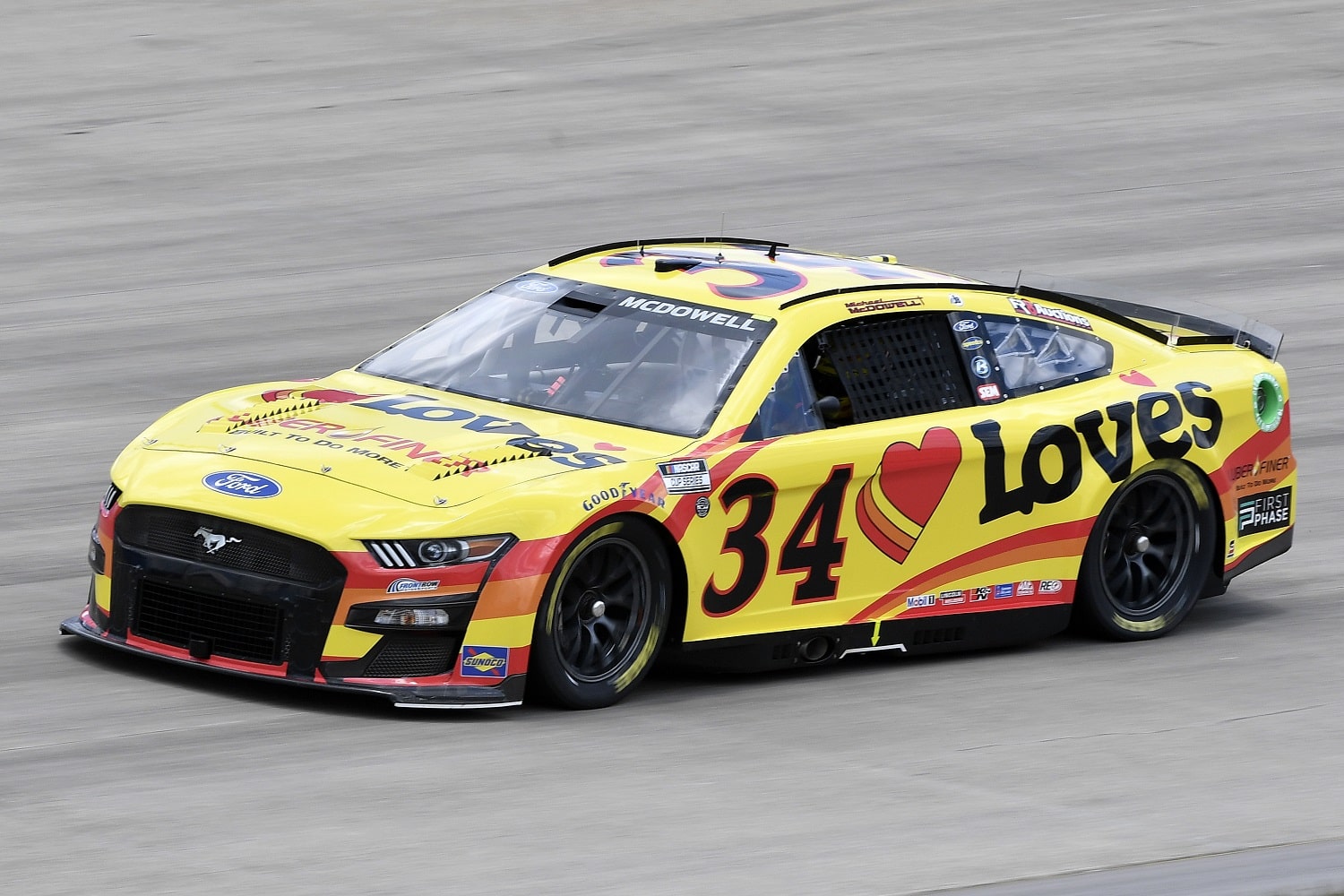 NASCAR veteran Michael McDowell resides in longshot territory for making the NASCAR Cup Series playoffs, but he's not going down without a fight.
The 2021 Daytona 500 winner put himself in a deep hole early in the season by following seventh place on opening day with six finishes of 24th place or worse in his next seven outings. He arrived at the midpoint of the regular season in 23rd place in points. Since, McDowell has delivered a respectable string of results that includes five top-10 finishes in his last nine races and only one showing worse than 18th.
In his two most recent starts, the driver of the No. 34 Ford finished sixth at Pocono and eighth on the Indianapolis road course. That brought him down to 19th in points.
Michael McDowell's week in Indianapolis got off to a rough start
Shortly after his solid showing at Pocono, Michael McDowell and his Front Row Motorsports team learned that NASCAR had selected his car for a random inspection at the R&D facility in North Carolina. It's a routine request made throughout the season and rarely results in any issues.
Unfortunately for the No. 34 team, this was one of the instances that did not go smoothly. Two days after the race, NASCAR hit McDowell's team with an L2-level penalty, docking the driver and the owner 100 points apiece. In addition, NASCAR suspended crew chief Blake Harris for four races and fined him $100,000. Should McDowell qualify for the playoffs, he will start 10 points in the hole, similar to the penalty dished out to Brad Keselowski after the first Atlanta race.
The punishment stemmed from rules governing modification of the body and the assembly of single source-supplied parts. Front Row Motorsports initially appealed but announced on Monday that instead accepted the penalty.
NASCAR fired off an unintentionally cheeky tweet
Morale in the No. 34 Ford garage was probably low while preparing for the Indianapolis road course. Close to two months of quietly progressing up the points list with good finishes were undone by the penalty that forces Michael McDowell to win at least one race and perhaps even two in order to return to the playoffs.
To their credit, though, McDowell and the team continued the recent run of competitive finishes by surviving the crazy first-turn carnage on the overtime restart to take eighth place.
The effort garnered little attention Sunday in the excitement over Tyler Reddick's second victory of the season, the penalty to Ross Chastain, and an angry Ryan Blaney playing bumper cars with Daniel Suarez on the cool-down lap.
The next day, however, NASCAR kicked off August by tweeting a photo of McDowell's car with the caption: "Sneakiest team in garage got another top 10."
Could NASCAR's tweeters have been any more tone-deaf six days after a 100-point, $100,000 penalty?
NASCAR also kicked June off with a curious tweet
The tweet regarding Michael McDowell's finish in Indianapolis was embarrassing but at least decipherable. The same couldn't be said for NASCAR's June 1 post on Twitter. In that tweet, the organization deftly apologized without offering insight into what the apology was about.
"As we celebrate the LGBTQ+ community, we acknowledge that recent actions have not aligned with NASCAR's mission to be a welcoming sport for all.

"We remain steadfast in our commitment to create a more inclusive environment — in our workplaces, at the race track & in the stands."

NASCAR tweet, June 1
As best anyone could tell that day, NASCAR was referencing the decision to have Gov. Greg Abbott wave the green flag to start the All-Star Race 10 days earlier at Texas Motor Speedway. In February, Abbott rankled some by calling for state agencies to investigate gender-affirming treatments for transgender teenagers.
If NASCAR was trying to sneak that apology through, it failed. The decision to be vague attracted attention and criticism from both supporters and opponents of the governor.
Like Sportscasting on Facebook. Follow us on Twitter @sportscasting19 and subscribe to our YouTube channel.
Got a question or observation about racing? Sportscasting's John Moriello does a mailbag column each Friday. Write to him at [email protected].