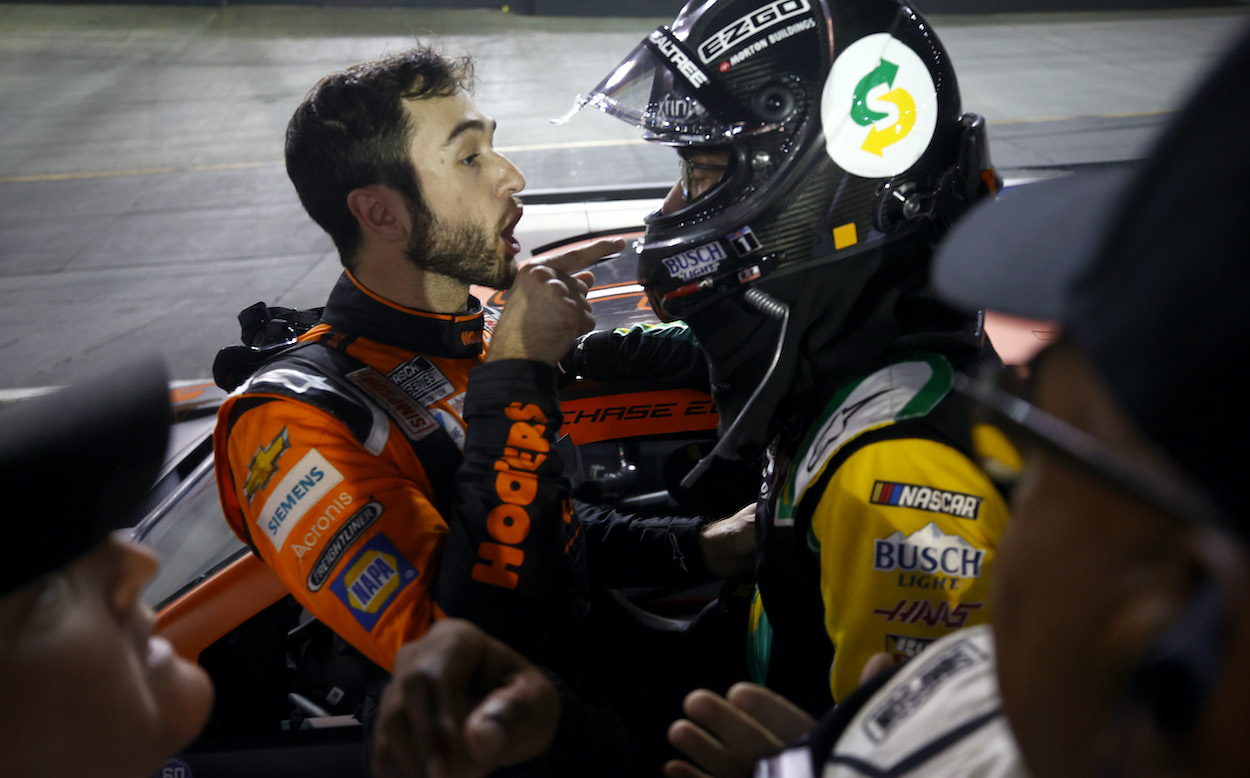 NASCAR Thinks the Feud Between Kevin Harvick and Chase Elliott Is Over but Texas Motor Speedway Officials Disagree and Have a Special Christmas Tree to Prove It
NASCAR wants the feud between Kevin Harvick and Chase Elliott to be over but Texas Motor Speedway officials have other ideas.
Just days after Kevin Harvick dumped Chase Elliott at the Charlotte Roval, NASCAR officials met with both teams and made it clear that they had seen enough. The organization expects both drivers to move on with no further incidents or there will be serious consequences. The folks at Texas Motor Speedway, which is hosting this weekend's Cup Series race, aren't done with it. They're having fun with it.   
Chase Elliott offers Kevin Harvick Christmas wishes at Charlotte
The history books will feature several highlights from the 2021 NASCAR Cup Series season. Among them, a breakout year for Kyle Larson, a winless season for Kevin Harvick, and a feud between Harvick and Chase Elliott. 
The Harvick-Elliott conflict started at Bristol during the race and carried over into several postrace confrontations, the last of which the 2014 Cup Series champion threatened retaliation against the reigning champ. For weeks, nothing ever happened and many suggested Harvick was all talk.
At the Charlotte Roval, Harvick backed up his threat by dumping Elliott early in the final stage, severely damaging the No. 9 car. In a bizarre twist, the Hendrick Motorsports team sufficiently repaired the car, and he made a comeback and finished 12th. Harvick crashed himself and out of the playoffs. 
After the race, both drivers addressed the incident.
"You remember Bristol?" Harvick said during his interview with PRN. 
"I'm not sure, but I'm really proud of our team," Elliott told NBC. "Just proud. Our Napa team did a really good job of fixing this thing. It's destroyed. I think we finished 12th. Our team has a lot of fight and I'm just super proud of that. As far as Kevin goes, I just want to wish them a merry offseason and a happy Christmas."
NASCAR attempts to end conflict
This week, both teams met with NASCAR and the organization made it clear that it expected the conflict to be over and any further action by either driver would result in "serious consequences." 
Chase Elliott's crew chief Alan Gustafson appeared on SiriusXM NASCAR Radio and detailed what NASCAR had told the teams.
"The message that NASCAR has delivered is they tried to do the best job they could do in allowing it to happen, and they're over it," Gustafson said. "Yeah, whatever way you want to look at it from there, but I think I commend them for allowing us to race, but I think they've had enough. They made that pretty clear."
Texas Motor Speedway has Christmas tree adorned with Chase Elliott and Kevin Harvick items
While NASCAR may be done with the feud, it doesn't appear everyone else is. Earlier this week, Chase Elliott's online store featured Christmas shirts and sweatshirts with his quote on it. 
And this weekend, Texas Motor Speedway got in on the fun by setting up a Christmas tree in the media center adorned with — you guessed it — Chase Elliott and Kevin Harvick items, including decals and koozies from each driver.
Shirts and decorated Christmas trees at Texas Motor Speedway are one thing. The drivers will ultimately decide if it's over.
Like Sportscasting on Facebook. Follow us on Twitter @sportscasting19.