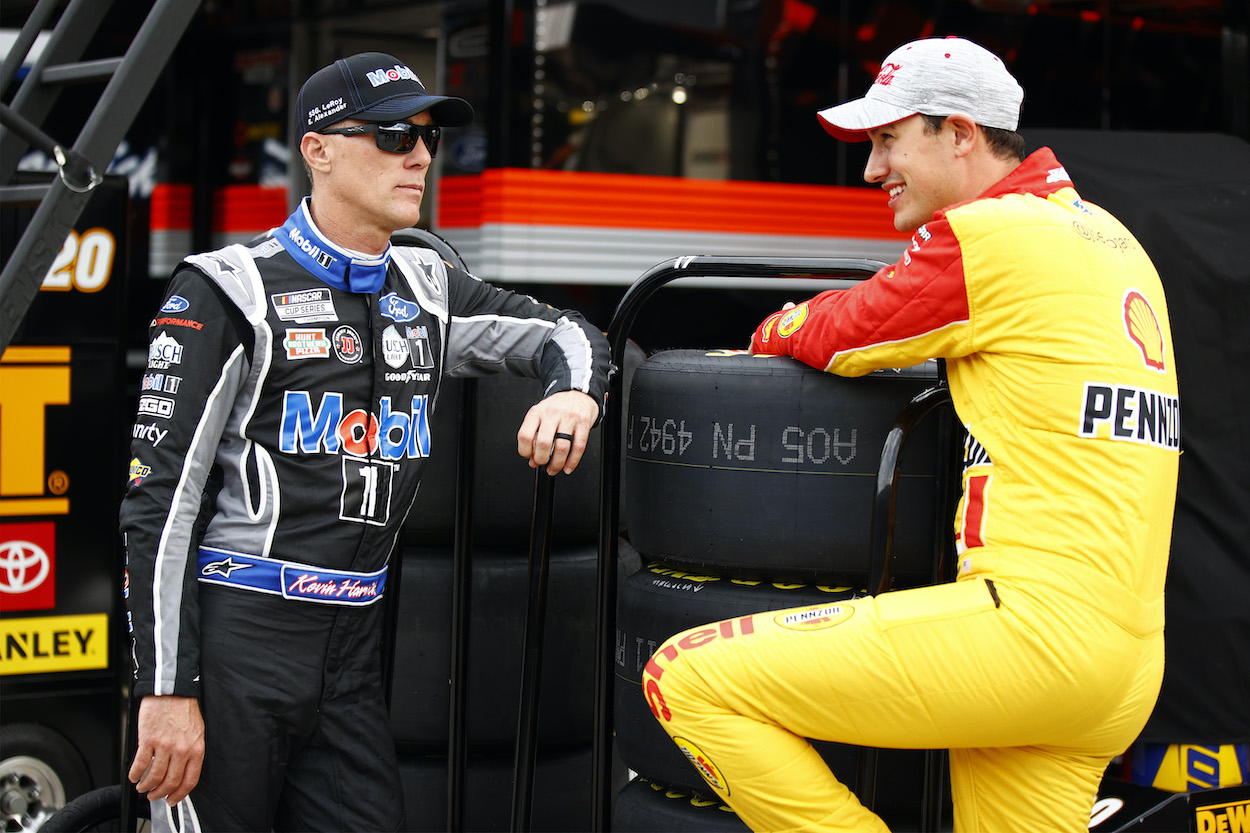 Joey Logano Speaks From Past Experience and Warns Chase Elliott About Kevin Harvick: 'I'd Be Nervous'
Joey Logano knows from his own past feud with Kevin Harvick and warned Chase Elliott that his conflict with the veteran driver is likely not over.
Kevin Harvick didn't hide his anger following several late-race incidents at Bristol with Chase Elliott, which resulted in confrontations on pit road and in the garage area. A week later at Las Vegas, the 2014 Cup Series champion made it perfectly clear that he was not done with the younger driver when he compared him and his behavior to his young son. 
This week, Joey Logano weighed in on the feud. He knows a little something about feuds. And he knows even more about feuding with Harvick. The 2018 Cup champion didn't sugarcoat his thoughts when talking about Harvick's mind games and admitted if he were Elliott that he'd be nervous.  
Kevin Harvick and Chase Elliott feud continues
Kevin Harvick has had a frustrating 2021 season. After winning nine times in 2020, he's come up empty this year. With that as the backdrop, it's understandable how tensions boiled over following the race at Bristol when Harvick felt Chase Elliott essentially took victory away from him. 
That feeling translated into multiple heated conversations after the race, including one where Harvick repeatedly told Elliott, "Now I'm just going to run you the f*** over."
Last week at Las Vegas, Harvick and Elliott played nice during the race, even though there were several occasions when the two cars raced against each other. However, before the race was a different story. That's when the veteran driver didn't hold back his thoughts when asked about the previous week's incident with Elliott.  
"It was like I was talking. It's identical, like it's 100 percent, the exact same scenario. They get hung up on one thing and you can't speak to them about the broader picture of how the whole thing works. It was like speaking to a nine-year-old," said Harvick, who has a nine-year-old son. "So I have good experience with it. Because that's a daily process. Day-in, day-out process."
While nothing happened during the race, Harvick's stinging remarks clearly revealed the feud was not over. 
Joey Logano says Harvick likes to play mind games
Kevin Harvick hasn't amassed 58 Cup Series wins in a Hall of Fame-bound career by accident. Like any successful athlete, he's done it with talent and a mental game that is second to none. And according to Joey Logano, a part of his mental advantage is playing mind games with other drivers.
"Games are played every day, I believe so," Logano told NASCAR.com. "I believe when you're out there racing for a win, it's a battle from every standpoint, whether it's on track or off track, I believe sometimes it's a battle. And that ratchets up. Kevin has been known to be that guy at times. I think how many times he's made little comments to me, you know, and that seems to ratchet up as the intensity picks up. I feel like he may think it's a tool in his box that he can use, and you know, it may be successful for him. It's probably why he does it, maybe he finds it works. Maybe he finds it works for him as much as hurting somebody else. I can't answer those questions."     
Logano knows from personal experience. When asked how he would react if he were in Elliott's shoes, the Team Penske driver admitted it would cause some anxiety.
"I'd be nervous. I'd be maybe a little nervous about the situation, you know, depending on who goes on to the next round or not," Logano said. "It could really affect how things go. I feel like I've learned a lot of lessons in this sport. Some have cost me a lot. That might be one that really cost me a lot. So, you know, they get smarter every year, but you know I think we all handle things differently after going through things in the past." 
Joey Logano has history with Kevin Harvick
Speaking of the past, Joey Logano and Kevin Harvick have one together. It started back in 2010, ironically enough, at Bristol when Harvick dumped Logano during an Xfinity Series race.  
Several months later at Pocono, it happened again. However, this time, Logano stood up for himself like Elliott did at Bristol. While Logano never got face-to-face with Harvick, he delivered one of the most memorable quotes in NASCAR history: "His wife wears the firesuit in the family, tells him what to do, so it's probably not his fault."
The pair had another incident in 2015 at Daytona but have since stayed out of each other's way. 
"Obviously we've had our differences because we both are hard racers," Logano admitted in 2017. "That's what it's going to be. We both want to win really bad, and we both do what we've got to do to win. Obviously we're not going to see eye to eye on some things in the past. But that's in the past, and I respect him as a race car driver. I believe he respects me as a race car driver. We have the same goals, and we really kind of go through things the same way."
If Harvick's past history is any indication and Logano is right, Elliott should have his head on a swivel. And race fans might want to grab an extra box of popcorn.
Like Sportscasting on Facebook. Follow us on Twitter @sportscasting19.