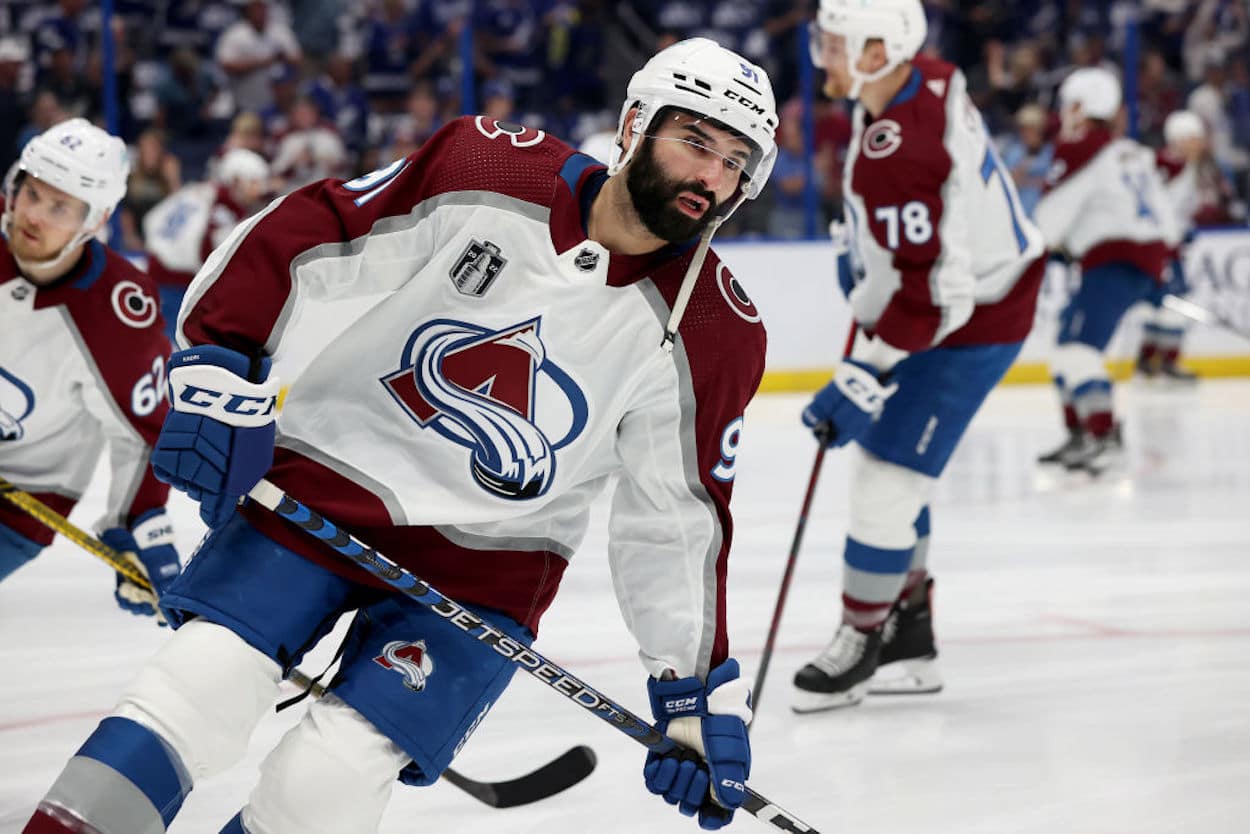 Nazem Kadri's Game-Winning Goal Perfectly Highlights the Flaws of NHL's Video Review Process
Coach's challenges and video reviews might seem like cut-and-try topics, but the NHL's system is still a bit flawed. Consider Nazem Kadri's game-winning-goal.
At this point, there's nothing novel about a coach's challenge. NFL fans have seen red flags flying for years. The NBA and Major League Baseball have since followed suit. Even the NHL has brought reviews to the old-school world of professional hockey.
While those systems are designed to strike a balance — you want to get calls right, but leagues presumably want to avoid putting every play under the microscope — that's still an imperfect system. Just consider Nazem Kadri and his overtime goal in Game 4 of the Stanley Cup Final.
Nazem Kadri put the Avalanche one win away from the Stanley Cup with a controversial goal
Earlier in the 2022 NHL playoffs, Colorado Avalanche forward Nazem Kadri suffered a broken thumb when Evander Kane illegally sent him into the boards. On Wednesday night, he returned to the lineup and potted the game-winning goal in overtime. Sounds like some perfect sporting karma, right?
Maybe not.
Prior to the goal being scored, it appeared that the Avalanche forward had jumped onto the ice a bit early. While players get some latitude — the player heading to the bench is considered out of the action once he's within five feet of the boards — Nathan McKinnon seemed to be much further away. That, in theory, should have led to a too many men on the ice penalty, stopping Colorado's offensive rush.
Tampa Bay Lightning coach Jon Cooper indirectly spoke to that reality after the game.
"This one is going to sting much more than others, just because it was taking on … it was potentially … I don't know … it's hard for me. It's going to be hard for me to speak. I'm going to have to speak. I'll speak with you tomorrow," he said, according to ESPN's Greg Wyshynski. "You're going to see what I mean when you see the winning goal. And my heart breaks for the players. Because we probably still should be playing."
That situation shows the dangers of gamifying the coach's challenge and limiting video reviews
At this point in the story, you might be thinking that a coach's challenge could save the day. In the NHL, however, that isn't the case. Teams can only ask for reviews in specific situations, like potential offsides, goaltender interference, and missed stoppages. Too many men on the ice isn't among those, and it's viewed by the league as a pure judgment call. Even the war room in Toronto, who can literally stop the game if they notice that the puck crossed the goal line, can't intervene.
"A too many men on the ice penalty is a judgment call that can be made by any of the four on-ice officials," NHL Hockey Operations said in a statement. "Following the game, Hockey Operations met with the four officials as is their normal protocol. In discussing the winning goal, each of the four officials advised that they did not see a too many men on the ice situation on the play."
While it might sound like I'm suggesting a grand conspiracy (I'm not), this is the situation the NHL wants. The league tries to prevent unnecessary challenges by literally penalizing a team that requests an unsuccessful review. To make things even more blatant, consider the following Gary Bettman quote from a 2019 announcement about a slight expansion of video review.
"The theory there is we don't want lots and lots of challenges," the commissioner said. "We don't want to disrupt the flow of the game. We only want challenges where it's crystal clear that an egregious mistake has been made. If it's, 'Well, maybe it could be, maybe it shouldn't,' then there shouldn't be a challenge. I think the coaches and video coaches will adapt to that."
That might sound well and good, but the genie is out of the bottle. Goaltender interference is largely a judgment call. How can you allow those challenges and cling to a black-and-white standard elsewhere?
Circling back to Kadri's goal, that raises the eternal question: Do you want to get the call right as frequently as possible, or do you want to sacrifice some accuracy for a smoother system? While there is some validity to the NHL's choice of the latter option, it does create some sticky situations like this, where a crucial, season-changing play can't be reviewed.
As Carlo Colaiacovo suggested on Twitter, could the NHL automatically review every goal? The NFL checks every scoring play without too many issues. If you consider that hockey teams 1) aren't usually scoring seven times per contest and 2) high-five the bench, make a line change, and generally take their time before lining up for the faceoff, it would seem like there's plenty of time to give everything a quick once-over before restarting play.
Coach's challenges are a great insurance policy, but they shouldn't be part of a game within a game. The priority has to be getting calls, at least the major ones, right.
The NHL brass said they didn't want challenges slowing down the flow of their game. This is a trade they're apparently willing to make.
Like Sportscasting on Facebook. Follow us on Twitter @sportscasting19 and subscribe to our YouTube channel.