NBA Executives Make Bizarre Claims About Stripping Draft Picks to Punish Teams
The Milwaukee Bucks won't have a second-round pick in the 2022 NBA Draft because of tampering. But some NBA executives want picks given to other teams rather than being removed, allegedly to prevent players from being punished by having fewer draft slots available.
A common punishment for teams violating rules while signing free agents is to strip them of picks in the NBA draft. In the 2022 NBA Draft, the Milwaukee Bucks won't have a second-round selection due to tampering with then-Sacramento Kings restricted free agent Bogdan Bogdanović during the 2020 free agency period. The Miami Heat and Chicago Bulls could face similar punishment for their sign-and-trade arrangements to sign Kyle Lowry and Lonzo Ball, respectively.
But some NBA executives want the league to award those picks to other teams rather than reduce the number of choices. Next summer, one fewer player will hear his name called on draft night. Is that as big an issue as some executives want us to believe it is?
Forfeited NBA draft picks go back many years
The first time a team lost an NBA draft pick was in 1975. Then-commissioner Larry O'Brien took away the New York Knicks' 1976 first-round pick after illegally signing ABA free agent George McGinnis.
At issue was McGinnis' draft rights. The Philadelphia 76ers used a second-round pick in the 1973 NBA Draft to select the former Indiana University star. When his contract with the ABA's Indiana Pacers expired in 1975, the Knicks swooped in to sign the rival league's co-MVP. But O'Brien ruled the 76ers owned McGinnis' rights.
Situations such as this were not unheard of in the ABA era. Until 1971, NBA teams couldn't draft players before their senior year of college. By the time Philadelphia selected McGinnis, he was already an ABA All-Star. The Atlanta Hawks committed a similar offense when they signed Julius Erving in 1972 though the Milwaukee Bucks took the Virginia Squires' star 12th overall.
In that case, however, the Hawks were forced to surrender picks directly to the Bucks.
The most severe punishment involving draft picks came in 2000. The Minnesota Timberwolves signed free agent Joe Smith to a bargain contract to fit under the salary cap. But they also signed him to a secret deal for significantly more money to get around the cap. NBA commissioner David Stern took five first-round picks from the Timberwolves (they did get their 2005 pick back).
Some want forfeited picks to go to other teams to help players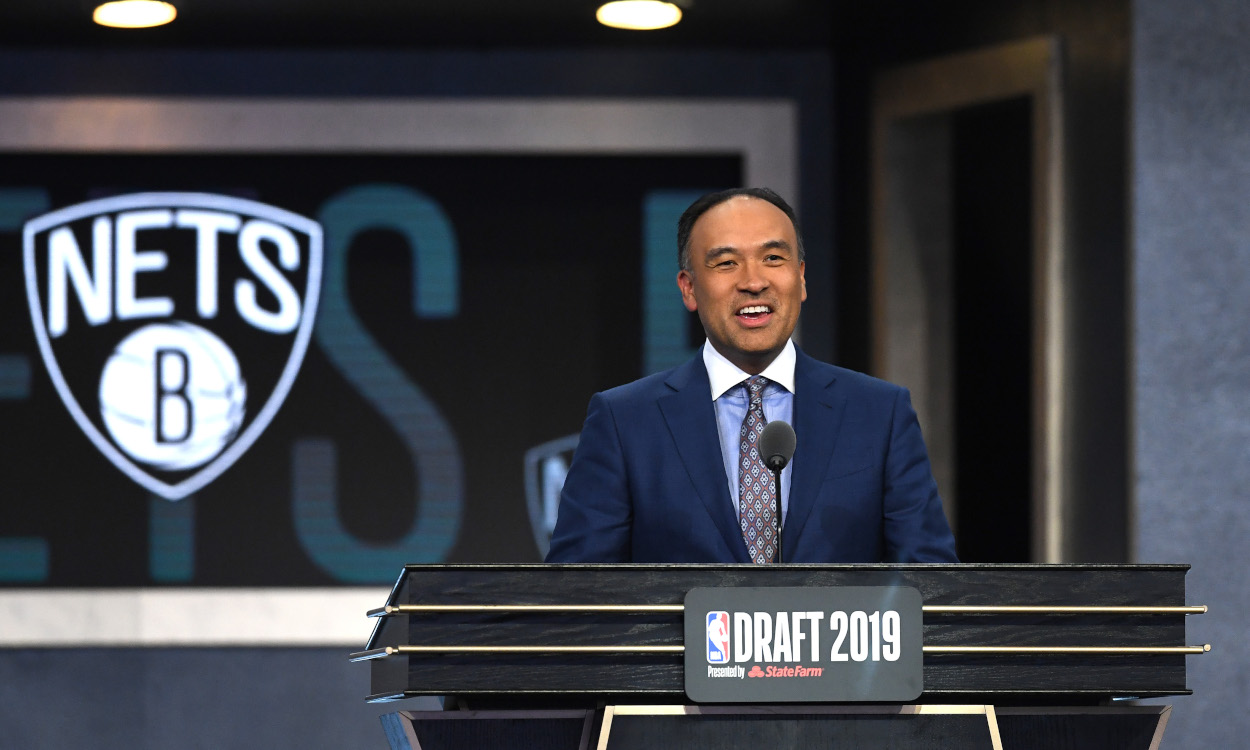 During the NBA Summer League, Jonathan Givony of ESPN reported some executives questioned the fairness of eliminating NBA draft picks. They believe players are ultimately the victims of such an action.
"Why are we punishing players by reducing the number of picks that are made in the NBA draft? Players work their entire careers to get to the point that they can hear their names called on draft night. It's completely unfair to them to have fewer bestowed that honor because of backroom shenanigans that are entirely out of their control."
Another front-office official had an idea of what to do with those picks. He suggested the selections shift to the end of the draft to teams that were division champions, won a potential in-season tournament, or to the team that the Kareem Abdul-Jabbar Social Justice Champion represents.
"How cool would it have been if Carmelo Anthony went up to the podium at the 60th pick and announced that the Portland Trail Blazers had drafted someone? That would have been a great moment at Barclays Center, shedding light on the work he's done and tying it to the start of a young player's NBA career, who could maybe follow in his footsteps."
It sounds like a fairy tale. That's because it is one.
Being taken in the second round of the NBA draft isn't helpful to players
In its long history, thousands of players churned through the NBA draft process. But wait? With two rounds and 60 picks, how could the number be that high?
That's because the two-round NBA draft didn't begin until 1989. It was three rounds in 1988, down from seven in 1987. The round count routinely went to the high teens in the draft's early years, sometimes more than 20.
It was a way for rivals to take options away from foes. If a GM knew a team was interested in a player, a rival executive would draft the guy. They didn't want him. They just wanted to deny their opposition the chance to sign him.
In today's era, second-round picks get tossed around like play money. Three second-round selections in the 2021 NBA Draft went through four teams. Only five clubs selected players with their choices.
An undrafted player can sign with any team. A second-round pick is limited to one. Reducing their negotiating leverage isn't helping a player nearly as much as these executives think it is. Worse, they know that.
Draft history courtesy of NBA.com.