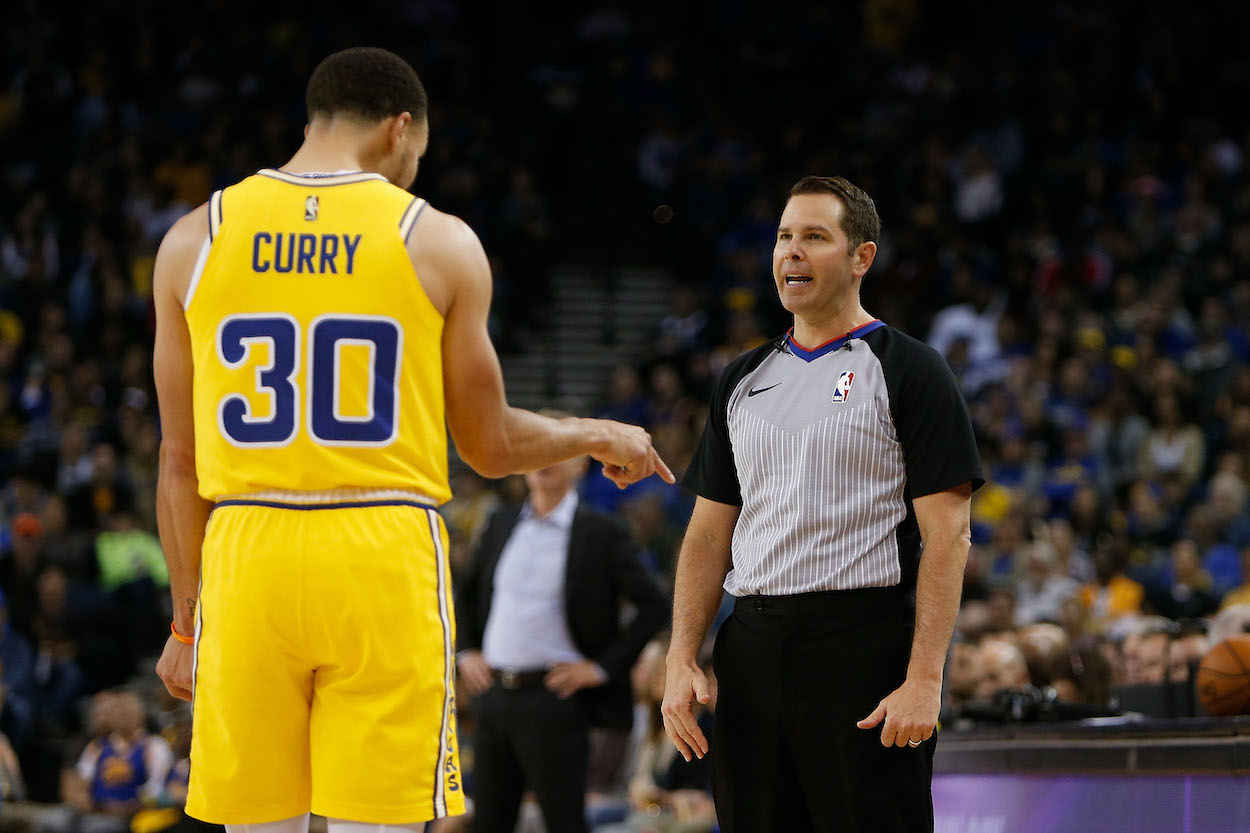 The NBA Just Sent Stephen Curry, James Harden, and the Rest of Their Flopping Friends a Stern Message Without Saying 1 Word
The NBA isn't messing around with its new anti-flop rules.
For the last few seasons, NBA players got away with egregious flops on the offensive end of the floor night in and night out. Stephen Curry, James Harden, Trae Young, and more made a living at the free throw line by jumping into defenders and forcing unnatural contact to draw fouls.
But those days are over.
The NBA put in place new rules this offseason to address the problem, and during the Golden State Warriors' first preseason game of the year, the league sent a stern message to flopping connoisseurs that it won't be tolerated any longer.
The NBA is finally cracking down on flopping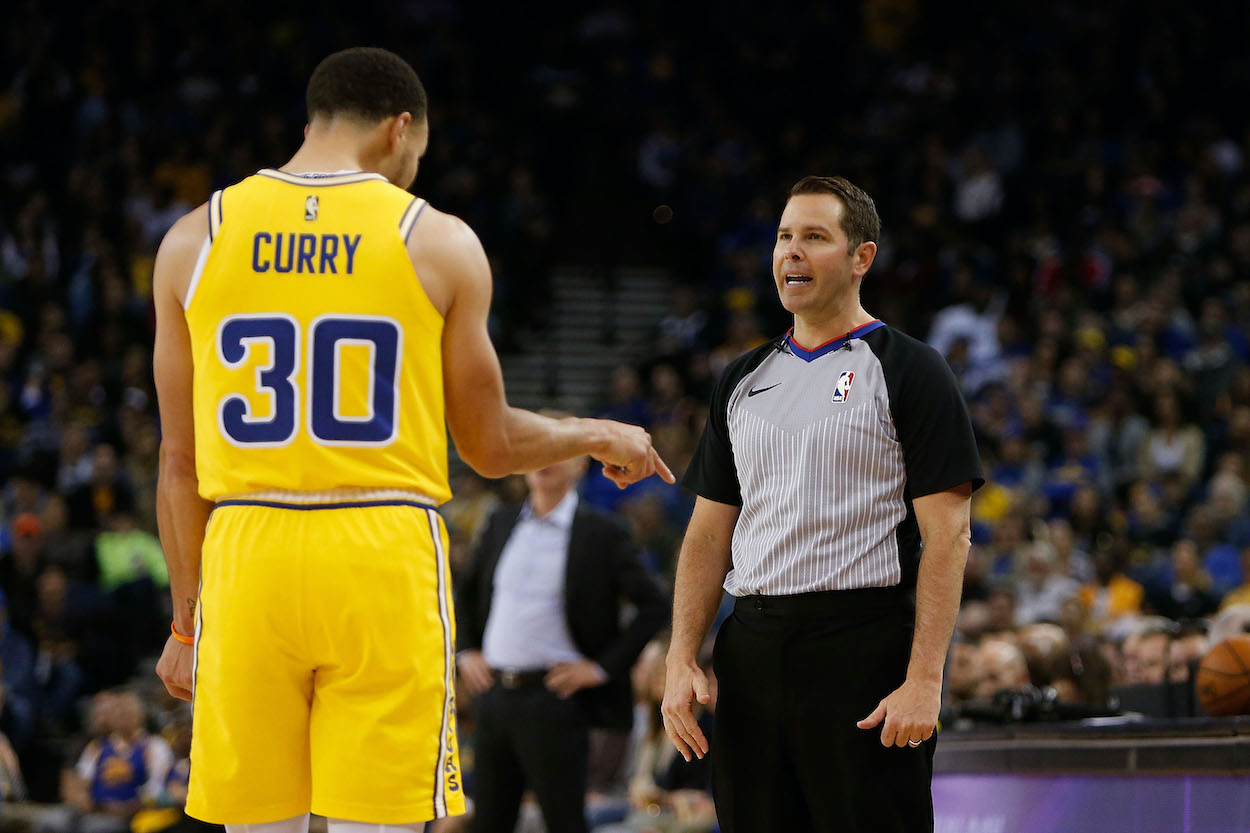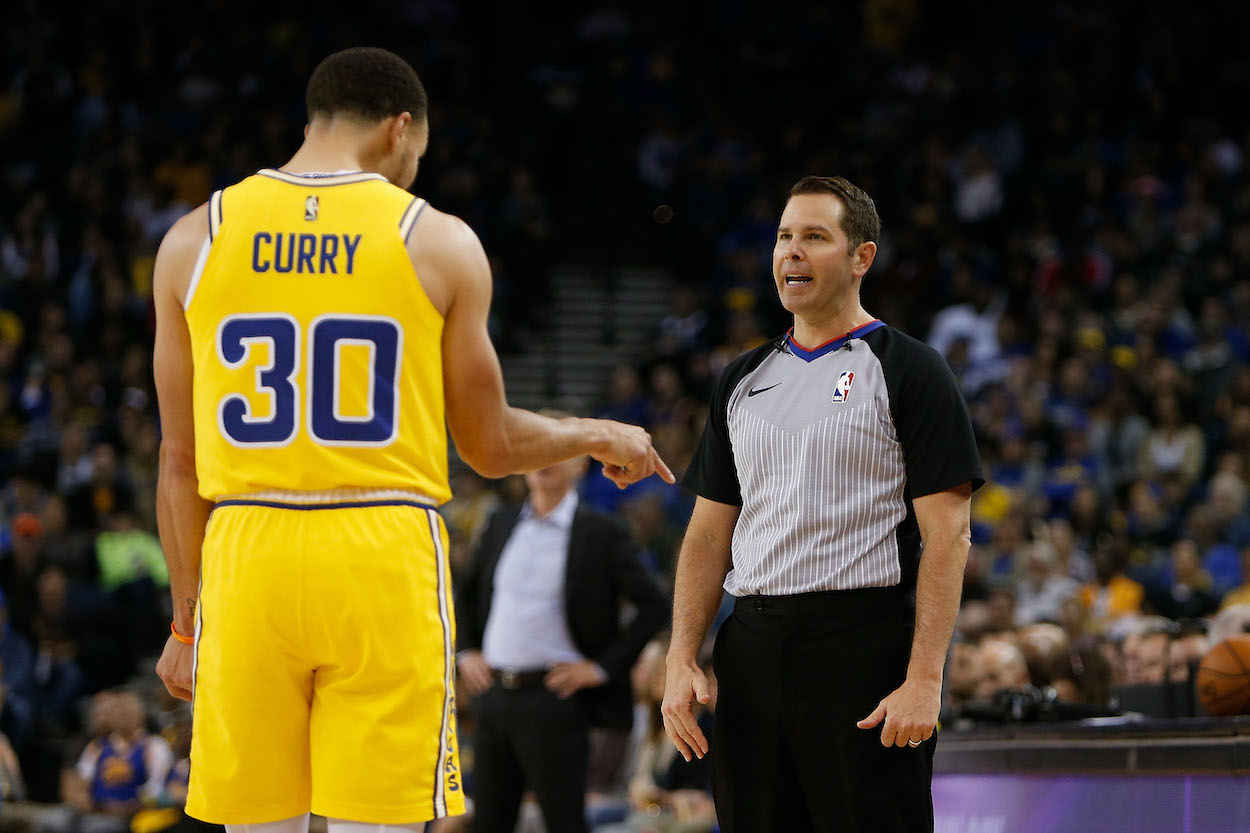 Many NBA fans have become infuriated over the past few years with some of the foul calls referees gifted offensive players every night.
Curry could receive three free throws by leaning into a defender standing still in front of him and chucking up a 3-pointer that hit nothing by air. Harden and Young routinely got to the line by lunging at a defender during a drive and flailing backward to sell the call. Offense players were initiating contact and getting rewarded with undeserved free throws, but the NBA has finally had enough.
Earlier this offseason, the league implemented new rules to put an end to the madness. According to Shams Charania of The Athletic, the NBA will be cracking down on three specific offensive moves:
When a shooter launches or leans into a defender at an abnormal angle.
When a shooter kicks his leg (up or to the side) at an abnormal angle.
When an offensive player abruptly veers off his path (sideways or backward) into a defender.
But referees won't be ignoring these actions completely. In fact, they're being encouraged to call offensive fouls on players who lean or lunge into a defender to draw contact.
NBA sends Stephen Curry, James Harden, and their flopping friends and stern message
It's one thing to create new guidelines for referees to follow during games, but it's another for refs to enforce them properly. The NBA is a fast-paced league with contact on every play, and the new rules are fairly vague and subjective.
But in the Warriors' first preseason game against the Portland Trail Blazers on Monday night, we got a taste of how the NBA will be officiating these abnormal shooting movements.
During the game, Curry stepped back behind the 3-point line and got his defender up in the air with a pump fake. The All-Star point guard then lunged forward into the defender to draw contact while heaving up a left-handed shot that ended up nowhere near the rim. In years past, this would be called a defensive shooting foul and Curry would be given three free throws. But on Monday, the whistles stayed silent.
Curry's flop attempt qualifies as a shooter launching or leaning into a defender at an "abnormal angle." It's simply not a defensive foul, and the NBA proved this week that it will no longer be called like one.
A learning curve for both players and referees
After years of gifting players free throws with fraudulent shooting fouls, it might take some time for NBA referees to nail down the new rules. There will still be confusion, arguments from players and coaches, and fans yelling through their television screens after questionable calls.
And guess what. The flopping isn't going to stop. It's up to the officials to enforce the new rules correctly and consistently across the league.
Curry tested the refs in his first appearance on a basketball court since the new rules were put in place, and he was firmly denied in his attempt. More of this, please.
Like Sportscasting on Facebook. Follow us on Twitter @sportscasting19.