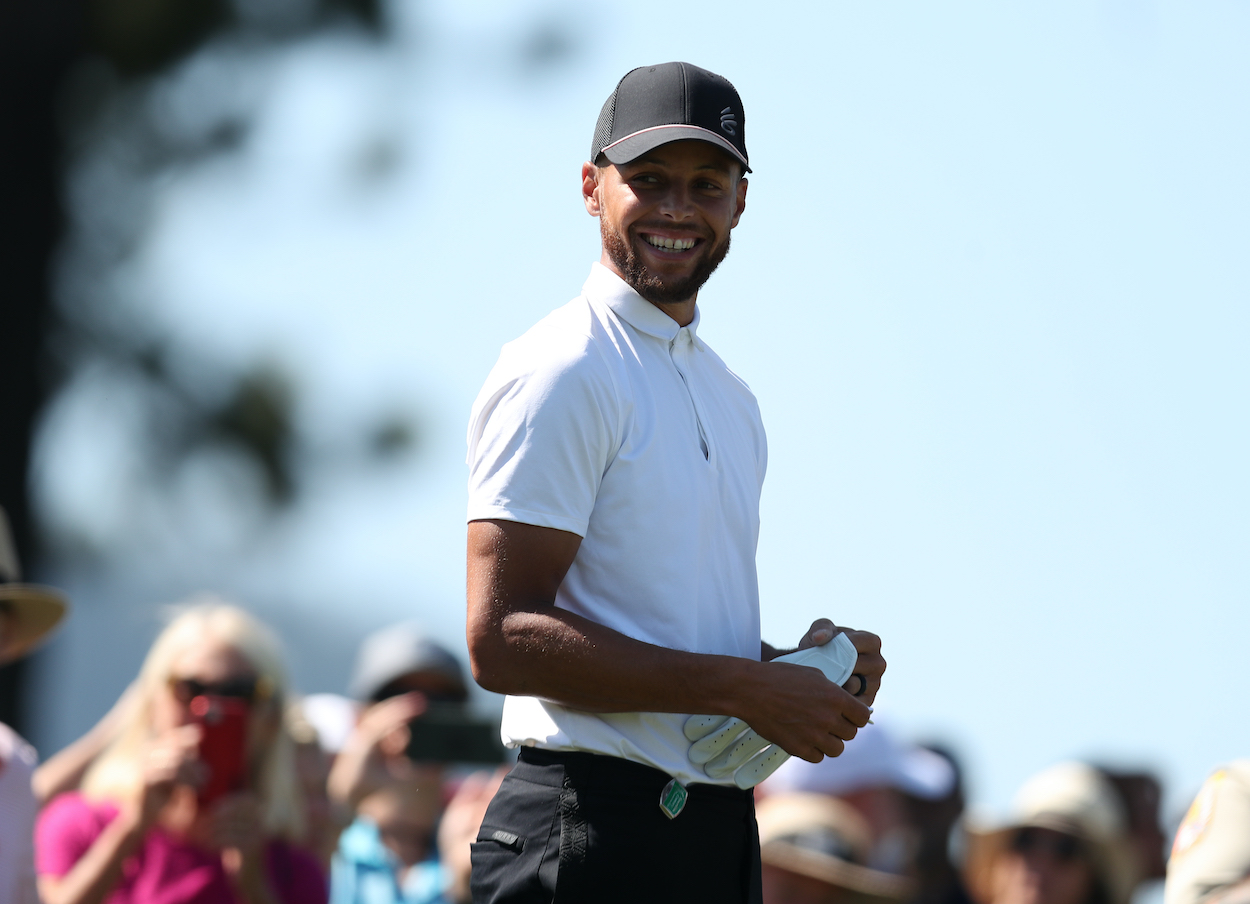 Stephen Curry Could Be Hinting at His Post-NBA Career Dreams With a Bold New Passion Project
Stephen Curry will be on the call for the 2021 Ryder Cup on NBC.
Stephen Curry is still playing some of the best basketball of his life at 33 years old, but he might already be lining up his second career when he eventually does retire from the NBA. The Golden State Warriors sharpshooter, who's an avid golfer off the court and a darn good one at that, will be joining the NBC broadcast for the 2021 Ryder Cup later this month.
Could this be the birth of the next NBA star-turned-broadcaster?
Stephen Curry is an avid golfer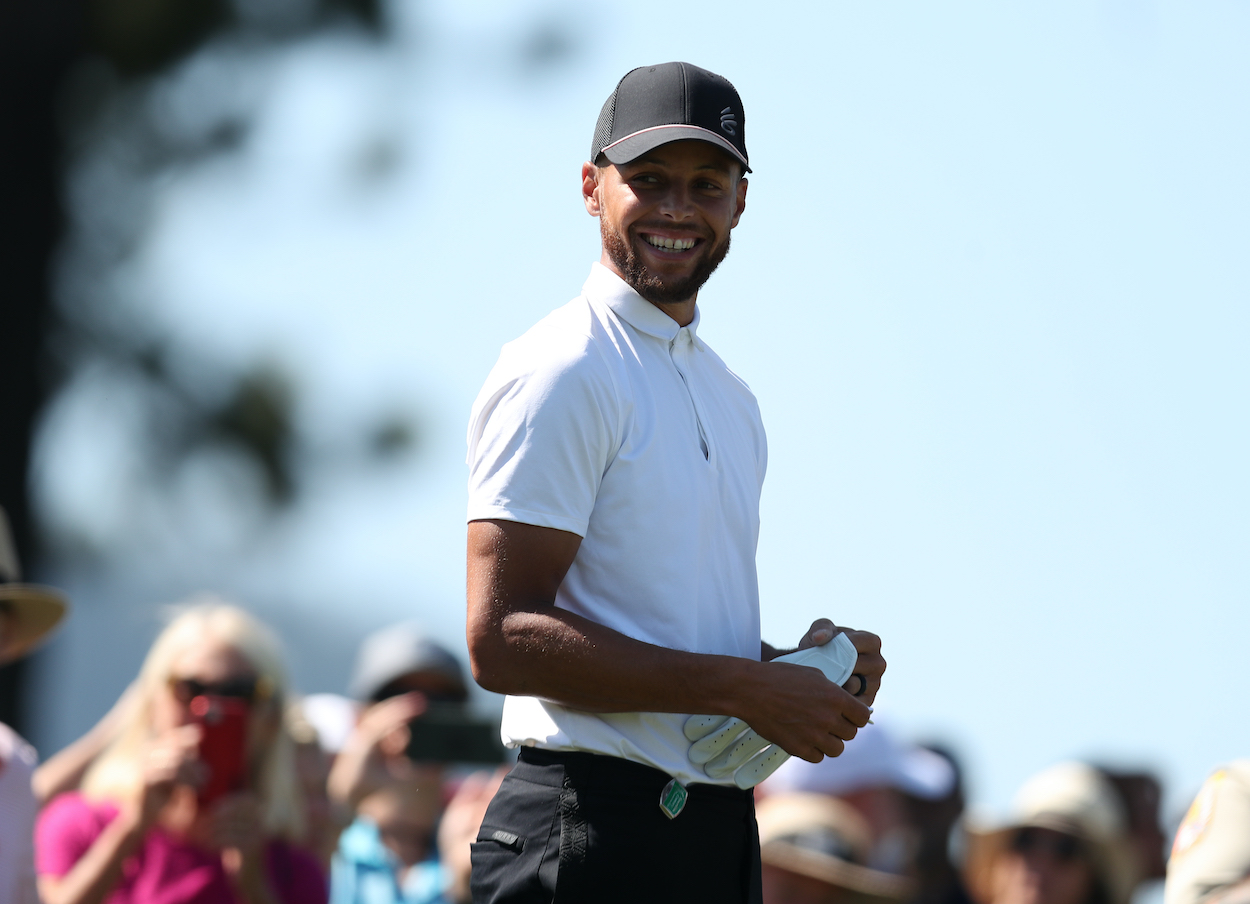 Curry is one of the best basketball players on earth, and he's not too shabby on the golf course either. The seven-time All-Star and three-time NBA champion is a scratch golfer, and he can probably be found rocking a polo and a hat whenever he's not in his Warriors threads.
"I got bit by the bug pretty early and became obsessed," Curry told Bleacher Report last year. "I'd find myself on the basketball court sometimes thinking about my next round. I kind of still do that in the league, which is kind of weird."
Now that's relatable. Well, if you switch out an NBA court with a cubicle, that is.
Curry has actually competed in professional golf events over the past few years. In 2017, he entered the Ellie Mae Classic on the Korn Ferry Tour and shot 74-74 in the first two rounds. Curry missed the cut by 11 strokes, but he still placed in front of seven players in the field.
Earlier this year, the long-range sniper finished ninth in the American Century Championship celebrity golf tournament. Curry could've possibly made it to the PGA Tour if he chose to pursue a professional golf career instead of the NBA, but it's safe to say he made the right decision.
Stephen Curry will cover the 2021 Ryder Cup for NBC
Curry has always been interested in getting more involved in professional golf, and he'll be doing just that later this month. On Tuesday, NBC Universal and Unanimous Media announced the Warriors star will cover the 2021 Ryder Cup at Whistling Straits for Golf Channel and NBC, per The Athletic.
"Curry will join GOLF Channel/NBC Sports across various platforms during the competition as the ultimate 'insider' with unparalleled insight on playing as a team and winning at the highest level," the press release states. "Curry will also create original content for GOLF Channel's critically acclaimed 'Live From the Ryder Cup' coverage and GolfPass. Curry's work with the Ryder Cup will be featured internationally in Sky Sports coverage of the competition across the United Kingdom and Ireland."
The Ryder Cup will be held in Kohler, Wisconsin from Sept. 24-26.
A hint at his next career?
We've seen numerous NBA stars go right from the basketball court to the broadcast booth in retirement. Shaquille O'Neal, Kenny Smith, and Charles Barkley have headlined TNT's "Inside the NBA" for years. Guys like Kendrick Perkins, Paul Pierce, and Jalen Rose have made a second name for themselves on ESPN talk shows. Others such as Reggie Miller and Chris Webber chose the play-by-play route.
As a well-spoken veteran and an insightful personality, Curry could be perfect for the broadcast booth when he eventually calls it quits on his NBA career. Plus, he'll most likely have the option to choose between basketball and golf if he does decide to go that route.
We'll see how Curry fares at the Ryder Cup later this month, but a strong debut could spell the beginning of a successful broadcasting career in his second life.
Like Sportscasting on Facebook. Follow us on Twitter @sportscasting19.