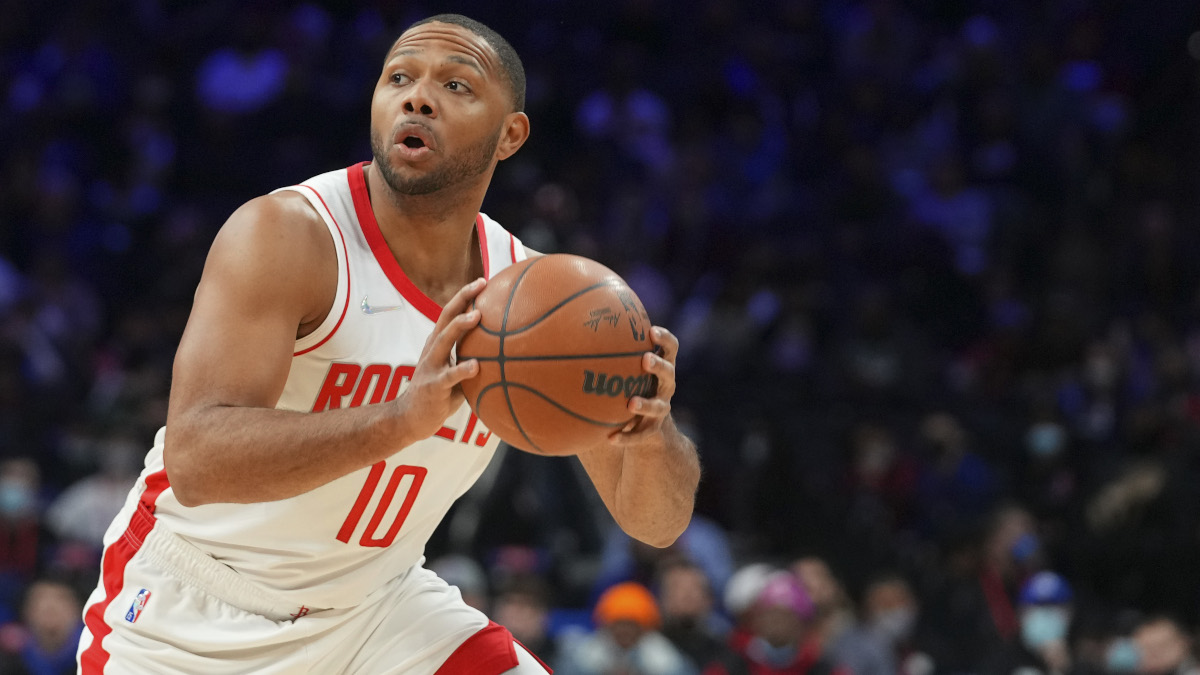 NBA Trade Deadline: Houston Rockets Hope to Leverage Eric Gordon and Christian Wood Into a Brighter Future
The Houston Rockets are rebuilding but have a couple of pieces that could help them gain more future assets at the NBA trade deadline.
Except for an inexplicable seven-game winning streak in late November into early December, the peaks have mostly been valleys for the Houston Rockets. Last in the Western Conference in the first full year of their post-James Harden rebuild, the Rockets have a couple of potential trade chips to play before the Feb. 10 NBA trade deadline.
Houston acquired what it hopes is the first piece of the rebuild last summer. The Rockets took guard Jalen Green with the second overall pick in the 2021 NBA Draft.
The Rockets are on target to be among the three teams with a 14% chance of winning the first overall pick in the May 17 NBA Draft Lottery. But they have a couple of players that could net more of the precious future assets rebuilding teams crave.
Christian Wood might not be the Houston Rockets best trade piece
The Houston Rockets picked up center Christian Wood in a November 2020 sign-and-trade from the Detroit Pistons. A future first-round pick from Detroit is of greater value, but the selection won't move in 2022 because of its top-16 protection.
Wood is averaging a double-double, leading Houston with 17.4 points and 10.2 rebounds a game. But the 26-year-old picked up a one-game suspension in early January by refusing to enter a game after being benched for violating a team rule.
That helped fuel speculation he might not remain in Houston past the NBA trade deadline.
The well-traveled big man gambled on himself, entering the 2015 NBA Draft after his sophomore season at UNLV. After going undrafted, he bounced from the Philadelphia 76ers, Charlotte Hornets, Milwaukee Bucks, and New Orleans Pelicans his first four pro seasons and played the 2017–18 season in the G League.
A breakout campaign with the Pistons earned him a three-year, $41 million payday, with one year and $14.3 million remaining on that deal. His efficiency has wavered this season. Wood is shooting 54.8% from 2-point range and 36.6% on 4.8 attempts per game from deep.
His size and shooting might be attractive to a contender at the deadline. However, two unrelated factors drive down his value. He takes 11% of his shots from mid-range and isn't very good from there, hitt4ing 30.6% from 10 to 16 feet and a dreadful 16.7% on deep 2s.
The other factor is his playoff resume. A contender looking for a push at the deadline might balk at giving up future draft picks for a player who has never played in a postseason game. Still, he could be an option for a team looking for a stretch big.
There will be NBA trade deadline interest in Eric Gordon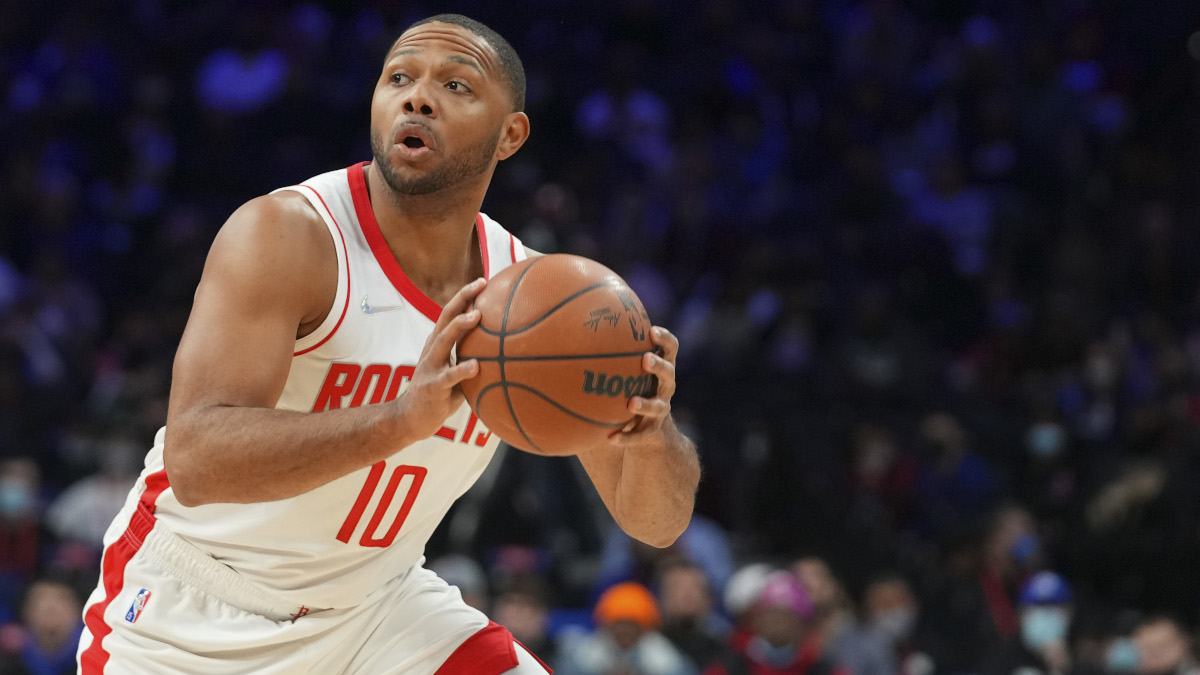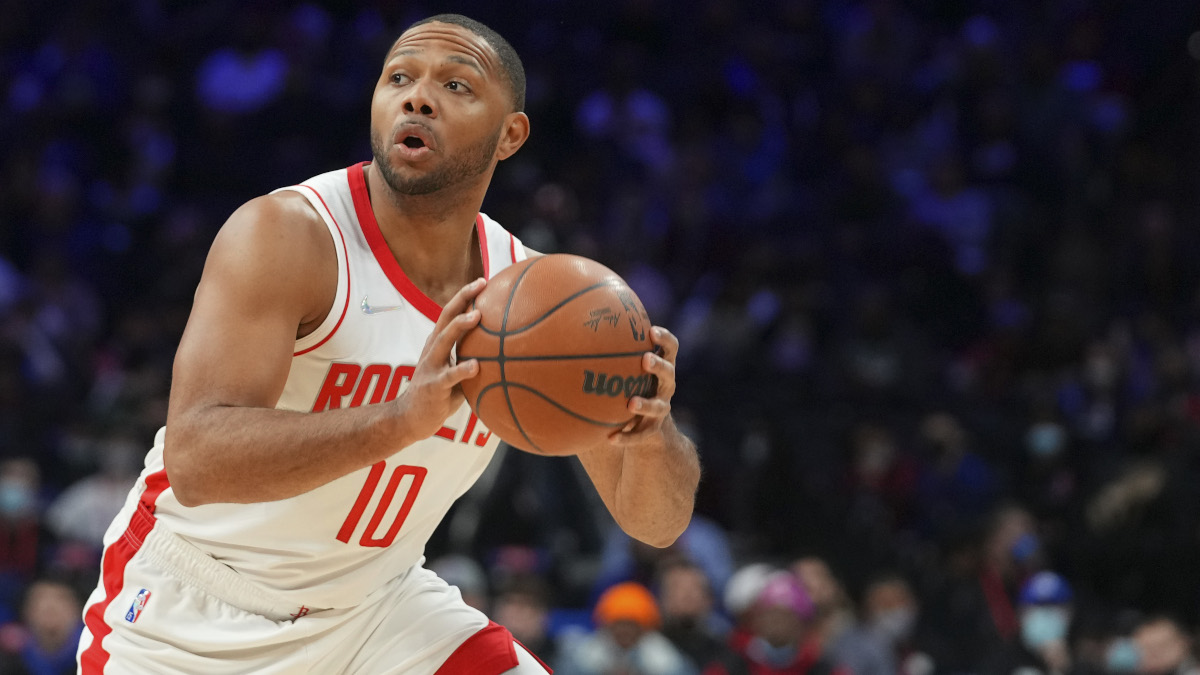 At age 33, Eric Gordon might not be having his best statistical season, but it's his most efficient by a significant margin.
Gordon is shooting 55.5% inside the arc and a sizzling 44.5% beyond it. Any contender looking to add bench scoring at the NBA trade deadline would be wise to kick the tires on the 13-year veteran. While he's primarily started for the young Houston Rockets, he is a former Sixth Man of the Year Award winner. A move to a reserve role wouldn't be a significant transition.
Unlike Wood, Gordon has 55 games of playoff experience and averaged 16.0 points a game in the second season.
As a bonus, Gordon is also a strong perimeter defender (a part of Wood's game that wavers at times).
Healthy again after struggling with injuries the last two years, The Hobbit is running out of time to chase a ring. Houston should get a first-round pick and maybe a second-rounder or two from a team in the title hunt.
What pieces do the Houston Rockets have in place?
The second pick in last year's draft, Green is as raw as he is talented. He'll turn 20 the day before the NBA trade deadline and is averaging 14.2 points a game. But he's shooting only 45.2% on 2s and 29.1% on 6.2 3-point attempts a night. The Houston Rockets can afford to be patient for now, but efficiency is a premium goal for the future.
Besides Green, the Rockets added two other first-round picks this season. Turkish center Alperen Şengün plays only 18.2 minutes off the bench but averages 8.9 points, 4.6 rebounds, and 2.5 assists. The 16th pick last July came in a draft-night trade from the Thunder.
The 19-year-old is still adjusting to the NBA game. His offensive game is a work in progress, but he shows a deft passing touch that belies his experience.
Another European big man, Usman Garuba, is more of a project. The Spaniard is out for six to eight weeks after wrist surgery. Played sparingly by coach Stephen Silas, Garuba is raw. He averages 1.3 points and 2.3 rebounds in 7.0 minutes a game and is shooting 54.5% from 2-point range. But he takes more than half his shots from long range, where he is a dismal 2-of-13.
In 11 games for the G League's Rio Grande Valley Vipers, the teenager averaged 9.2 points, 9.3 boards, and 1.1 blocks in 24.6 minutes a night, shooting 67.3% inside the 3-point line, but 6-of-18 from beyond.
Rebuilding takes time and some good bounces in the lottery. But the Houston Rockets are in a position leading up to the NBA trade deadline to build their cache of future draft picks by dealing Gordon and potentially Wood.
Statistics courtesy of Basketball Reference.
Like Sportscasting on Facebook. Follow us on Twitter @sportscasting19.