John Wall, Houston Rockets Tanking Arrangement Exposes NBA Double Standards Yet Again
John Wall and the Houston Rockets reached an arrangement before training camp. The former All-NBA guard would be around the team, but he wouldn't play for the rebuilding team. In return, Houston would look for someone else in the NBA to take on Wall's remaining two years and $91.7 million on the supermax extension Wall got from the Washington Wizards in July 2017.
Thus, this season, the second-highest paid player in the NBA has neither logged a minute of court time nor donned a uniform. The Rockets are in a rebuild. That's obvious. They have four rookies on the roster, with a fifth on a two-way contract. Ten of the 17 players on the team entered this season with two years' experience or less. But the NBA allowing this situation to play out runs counter to how it handled Anthony Davis' exile from the New Orleans Pelicans a couple of years ago. So what's changed?
Anthony Davis asked for a trade, then prepared not to play
During the 2018–19 season, Davis asked the Pelicans to trade him. While New Orleans sought a deal, Davis didn't play. The team's rationale was to protect against a Davis injury that could affect the return for their superstar in a trade.
The NBA intervened when the trade deadline came and went with Davis still on the New Orleans roster. According to NBA journalist Marc Stein on Substack, the league cited "league rules governing competitive integrity."
However, it appears the NBA is not so concerned about the Houston Rockets paying John Wall $44.3 million this season to play spectator. Did the NBA repeal these rules governing competitive integrity? There's evidence beyond just Wall and the Rockets that the rules are ignored when convenient.
A long time ago — as in earlier this year — the Oklahoma City Thunder were playing out the string on a losing season. Star Shai Gilgeous-Alexander was hurt, and veteran Al Horford magically disappeared for the final 28 games.
The team and Horford reached an agreement to sideline the five-time All-Star. OKC was 19–25 when general manager Sam Presti opted to hunt for lottery balls. The Thunder went 3–25 the rest of the way. Competitive integrity, indeed.
This season, Houston is 3–16 and has gotten no tangible contribution from Wall.
John Wall wants to play for the Houston Rockets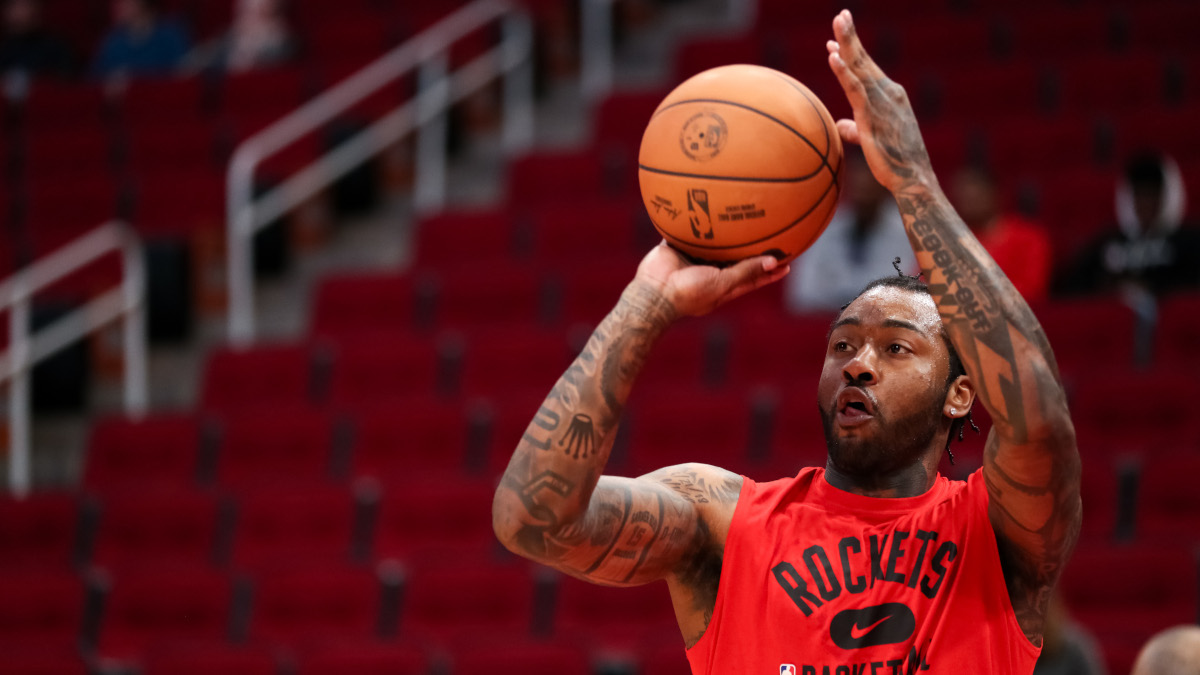 Competitive integrity rules aside, there's been a development in the John Wall-Houston Rockets mutual agreement. It's not so mutual anymore.
According to Shams Charania of The Athletic, Wall told Rockets executives he wants to play as a starter and have an opportunity to compete to retain it.
Houston consulted the ancient writings to form an answer. It went something along the lines of, "Uh … no." It's not that the Rockets are against Wall playing. They're just not wild about the thought of him playing a lot.
It seems management has a reserve role in mind for Wall, who hasn't come off the bench in a regular-season game since January 2013, when he was returning to active status after missing the first 33 games with a knee injury.
In one of those remarkable coincidences, Wall is represented by Klutch Sports CEO Rich Paul. Yes, the same agent who got Davis out of New Orleans and the same guy trying to get client Ben Simmons his freedom from the Philadelphia 76ers. Throw in dating Adele, and Paul's got a lot of irons in the fire.
The problem with trading John Wall
Trading John Wall is not an easy task for the Houston Rockets. He's 31 years old and has played 113 games since the 2017–18 season. While an optimist might contend Wall is merely well-rested, a pessimist looks at the games lost due to heel and Achilles' injuries and a post-operative infection and sees a significant injury risk.
Further complicating matters: the two years and $91 million (the last season and $47.4 million being at Wall's option). Finding a buyer becomes a bit more complex than just moving a unique fixer-upper.
Wall first hinted that his exile was not entirely his idea when responding to a tweet from a fan who asserted the five-time All-Star is being punished.
Houston wants to emphasize the development of No. 2 overall pick Jalen Green and young Kevin Porter Jr. in the backcourt. Reportedly, Wall was advised before training camp his role would be limited to minutes behind the Green-Porter tandem.
For those wondering why the Rockets don't simply negotiate a buyout with Wall, there's nothing simple about that. Because it's after Sept. 1, Houston would eat all his $44.3 million for this season. According to CBA FAQ, because that salary figure is more than 15% of the cap, teams cannot use the stretch provision. So waiving Wall would also be a $47.4 million salary-cap hit for 2022–23.
It appears supermax contracts create supermax problems for cap management.
What is less apparent is the NBA's position on blatant tanking. The league enforced competitive integrity rules in the case of Davis and the Pelicans. It chose not to with Oklahoma City and Horford and has sat idly by as John Wall and the Houston Rockets pull off a money-for-nothing deal. Too much of that could have the NBA in dire straits when it comes to keeping up appearances of competitive balance.
Statistics courtesy of Basketball Reference. Contract information courtesy of Spotrac.