NBA Trade Deadline: The Sacramento Kings Have to Make a Firm Decision about Marvin Bagley III and Follow Through
Marvin Bagley III hits free agency on July 1. The Sacramento Kings are running out of time to decide whether to try to get something for him.
The Midas touch continues to evade the Sacramento Kings. Very little touched by this franchise over the last decade and a half has turned into anything more than a steaming pile of a substance no one wants in their hands. Never forget the Kings are the club that came out of a three-way trade for lottery picks on draft night in 2011 with Jimmer Fredette. Sacramento had the second overall selection in 2018. With Luka Dončić and Trae Young on the board, the Kings chose Marvin Bagley III from Duke.
In fairness, Bagley hasn't played poorly when he's available. Unfortunately for the Kings, that's not often. Bagley missed 20 games as a rookie, was limited to 13 games in 2019–20, and played in 43 last season. This year, the Kings declined to offer the big man an extension and buried him at the end of the bench, hoping that would somehow increase his trade value (spoiler alert: it didn't).
With the Feb. 10 NBA trade deadline a little more than two weeks away, the Kings are at a crossroads with yet another lottery pick. General manager Monte McNair has a decision to make.
How did the Sacramento Kings and Marvin Bagley get here?
During the preseason, the Sacramento Kings removed Marvin Bagley from their rotation. He played in one of the team's first 13 games. Former coach Luke Walton dusted him off shortly before being fired on Nov. 21.
Under interim coach Alvin Gentry, the fourth-year pro moved up in the pecking order for minutes and has been a full-time starter since late December.
Apart from sitting out on Jan. 16 with a sore shoulder, Bagley has started the last 13 games he's played, averaging 11.5 points and 8.2 rebounds in 26.2 minutes per game. He's shooting 45.9% overall, but only 5-of-27 from deep (18.5%) in that span.
In his last four games, Bagley flashed some of the potential that led the Kings to take him second in the draft ahead of Dončić, averaging 18.0 points and 9.0 boards in 27.8 minutes per game. He's shooting at a 60.4% clip during that stretch and is 3-of-7 from long range.
A pending free agent, Bagley has started 14 games and played 593 minutes. Those totals are significant. If he doesn't start 41 games or log 2,000 minutes, the qualifying offer Sacramento must extend to make him a restricted free agent drops from $14.8 million to $7.3 million.
Sacramento has 34 games remaining, so theoretically, the 41 starts threshold is possible.
What are the options for the Sacramento Kings with Marvin Bagley?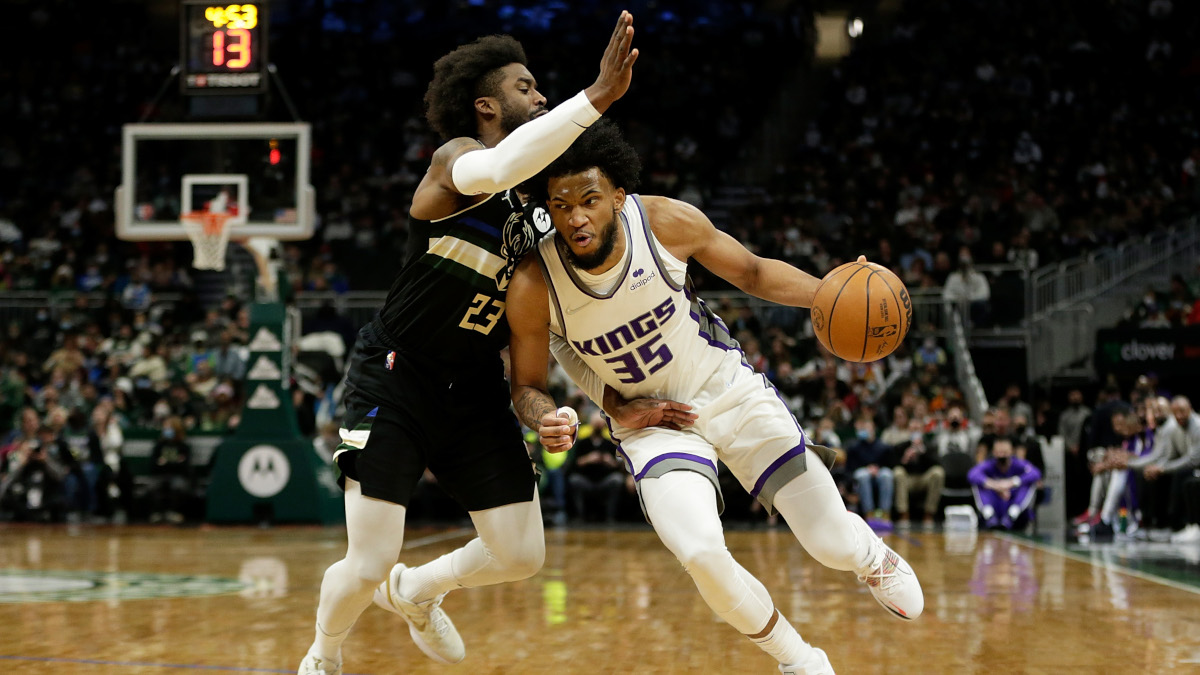 The Sacramento Kings have three choices regarding Marvin Bagley's future with the club. They can:
Deal him before the Feb. 10 NBA trade deadline
Extend him the qualifying offer on June 30 to retain the right to match any offer he receives
Decline to make a qualifying offer and let Bagley walk for nothing
A fourth option is much less likely: The Kings could waive Bagley, eat the remainder of his $11.3 million salary (already guaranteed), and put him on the buyout market.
Whatever McNair decides, he needs to do it quickly. Given Bagley's history, his trade value is nominal. That's even with his solid play of late. Teams know they can run out the clock and force Sacramento to decide whether to match an offer sheet in free agency.
Given that scenario, it's unlikely another team will offer much value in a potential Bagley trade. There is a possibility McNair can combine Bagley with something else. But that requires another decision.
Are the Kings playing for the postseason or a rebuild?
In the top-heavy Western Conference, the play-in tournament is within reach for the Sacramento Kings despite their 18–30 record. They're three games behind the 10th-place Portland Trail Blazers for the final play-in spot, with the New Orleans Pelicans a game ahead of them in 11th.
Sacramento could be aggressive and go for the postseason with the LA Clippers and Portland sliding due to key injuries (Kawhi Leonard and Paul George in LA and Damian Lillard for the Blazers). Considering the franchise's last playoff berth was in 2006, that could be the right choice.
If the Kings opt to extend the rebuild again, they could pair Bagley with a more attractive trade target. Center Richaun Holmes isn't a franchise player, but the 28-year-old is on an affordable deal (three years and $36.1 million left after this season, including a $12.9 million player option for 2024–25).
A contender seeking frontcourt depth could add Holmes and take Bagley as part of the package. What might scare off a top-tier team is a lack of postseason experience. Holmes played in three playoff games for the Philadelphia 76ers in 2018. With being in Sacramento and all, Bagley may have watched several postseason games on television. But that's about it.
The Sacramento Kings must decide on Marvin Bagley sooner rather than later. Given the franchise's track record, it's hard to be optimistic that the decision will be the correct one.
Statistics courtesy of Basketball Reference. Contract information courtesy of Spotrac.
Like Sportscasting on Facebook. Follow us on Twitter @sportscasting19.