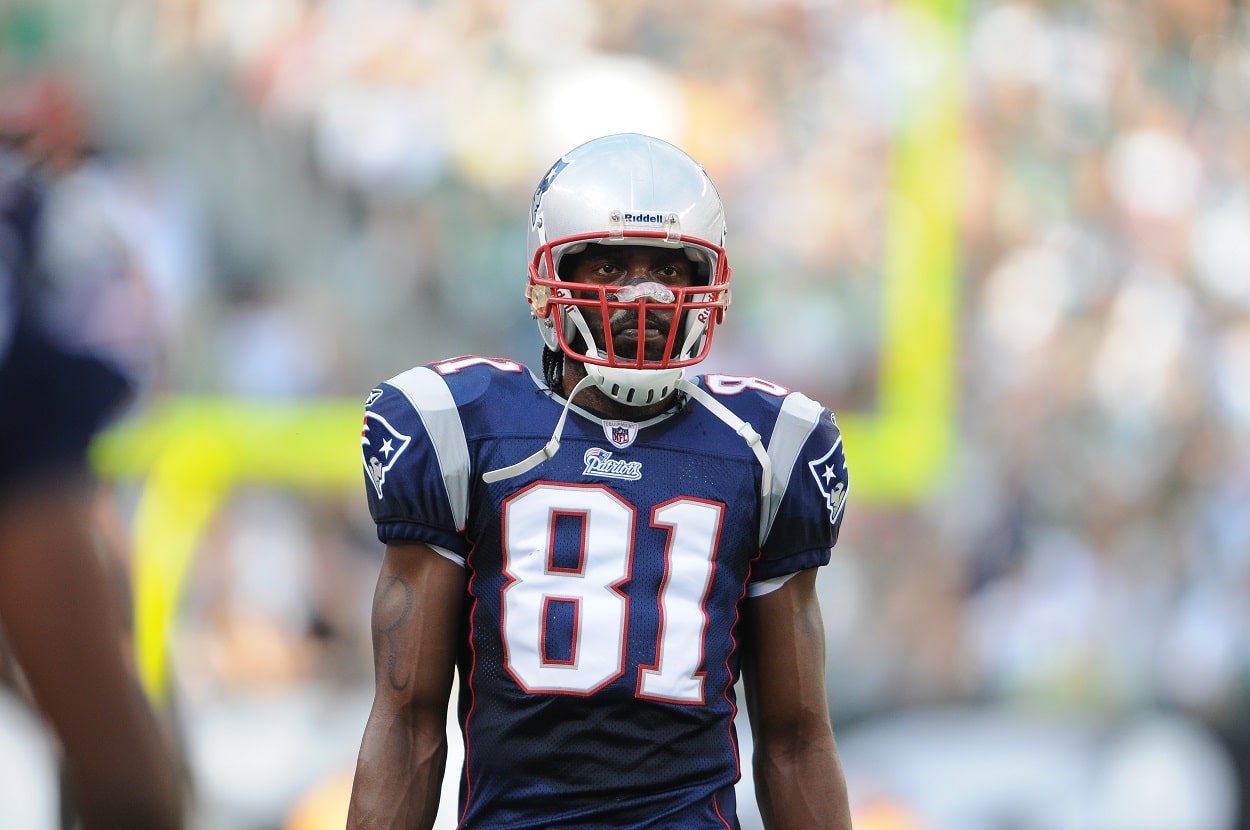 New England Patriots: Ranking the Top 5 Wide Receivers in Franchise History
A look at the five best wide receivers in New England Patriots history.
New England Patriots fans have witnessed several big-name receivers such as Randy Moss and Julian Edelman torch cornerbacks and safeties with relative ease. In fact, while the team's current crop of wideouts leaves something to be desired, the franchise has had plenty of talented players at the position over the years. 
So, who makes the cut for our top-five rankings? Here's how the list shakes out.
5. Troy Brown, 1993-2007
Although Irving Fryar totaled more touchdown receptions and averaged a robust 15.8 yards per catch, the No. 5 spot on this list goes to the ultra-versatile Troy Brown. An eighth-round pick in the 1993 NFL Draft, he spent his first few seasons buried down the depth chart.
In fact, Brown started just seven games before Bill Belichick took over. But with a new regime in charge, the South Carolina native suddenly became the focal point of the Patriots' passing game. 
From 2000-03, Brown averaged 134 targets–a stunning figure considering he had never surpassed 69 in a single season. Luckily for Tom Brady, the veteran wideout proved to be a reliable No. 1 option. And luckily for New England, Brown also excelled as a returner and held his own at corner when injuries sapped the team's depth.
A three-time Super Bowl champion and lifelong Patriot, Brown's career totals of 557 receptions for 6,366 yards and 31 touchdowns cement his case as one of the best receivers in franchise history.
4. Stanley Morgan, 1977-1990
While Troy Brown averaged a rather pedestrian 11.4 yards per catch across 15 seasons, Stanley Morgan made a significant impact for over a decade as a downfield playmaker. Selected 25th overall in the 1977 NFL Draft, he wasted little time justifying his first-round pedigree.
At 24 years old, the speedy receiver led the league in yards per catch (22.8) and receiving touchdowns (12). He followed up with two more seasons in which he ranked No. 1 in yards per reception. 
Although he didn't rack up colossal catch totals, Morgan's ability to run past corners and beat safeties deep helped him earn a reputation as one of the preeminent deep threats of his generation. Plus, the fact that he surpassed 10,000 receiving yards with Steve Grogan and Tony Eason at quarterback makes that accomplishment even more impressive.
With four Pro Bowl selections and 72 receiving touchdowns on his resume, Stanley Morgan easily takes the No. 4 spot in our rankings.
3. Wes Welker, 2007-2012
When the Patriots traded second- and seventh-round picks to the Miami Dolphins for an undersized backup receiver, nobody could have predicted what would happen next. By betting big on Wes Welker's route-running skills and toughness, Bill Belichick secured a vital piece of a puzzle that came agonizingly close to winning a championship.
And when you look at what Welker did across six seasons in New England, there's no doubt he deserves significant praise—even if he let a potential game-sealing reception slip through his hands in Super Bowl 46. 
With Randy Moss demanding double-coverage, his smaller, quicker teammate dominated the middle of the field. By taking advantage of matchups against slow-footed linebackers and safeties out of the slot, Welker racked up ridiculous numbers from 2007-12, leading the league in catches three times during that span.
Before he took his talents to Denver, he posted eye-popping totals of 672 receptions for 7,459 yards and 37 touchdowns. Not only did Welker set the standard for the slot receiver position, but he earned the respect of Patriot Nation by putting his body on the line and playing with relentless effort and passion.
2. Julian Edelman, 2009-2020
Sometimes, stats can't tell the whole story. So even though Julian Edelman fell well short of Wes Welker's gaudy numbers, he still outranks his predecessor. After all, when you factor in regular and postseason production, it's impossible to put Minitron anywhere else but No. 2. 
A college quarterback who needed a few years to learn the nuances of playing receiver, Edelman went from being a little-used backup to TB12's most trusted target. From 2013-19, he recorded three 1,000-yard seasons—a notable feat given his constant battle with injuries. Most importantly, though, Edelman rose to the occasion when it mattered most.
Outside of Jerry Rice, no wideout can compete with his playoff resume, which includes 118 catches for 1,442 yards and five touchdowns in 19 games. Oh, and with three Super Bowl rings and a Super Bowl MVP trophy at home, Julian Edelman has the hardware that reflects his standing as an all-time great Patriot.
1. Randy Moss, 2007-2010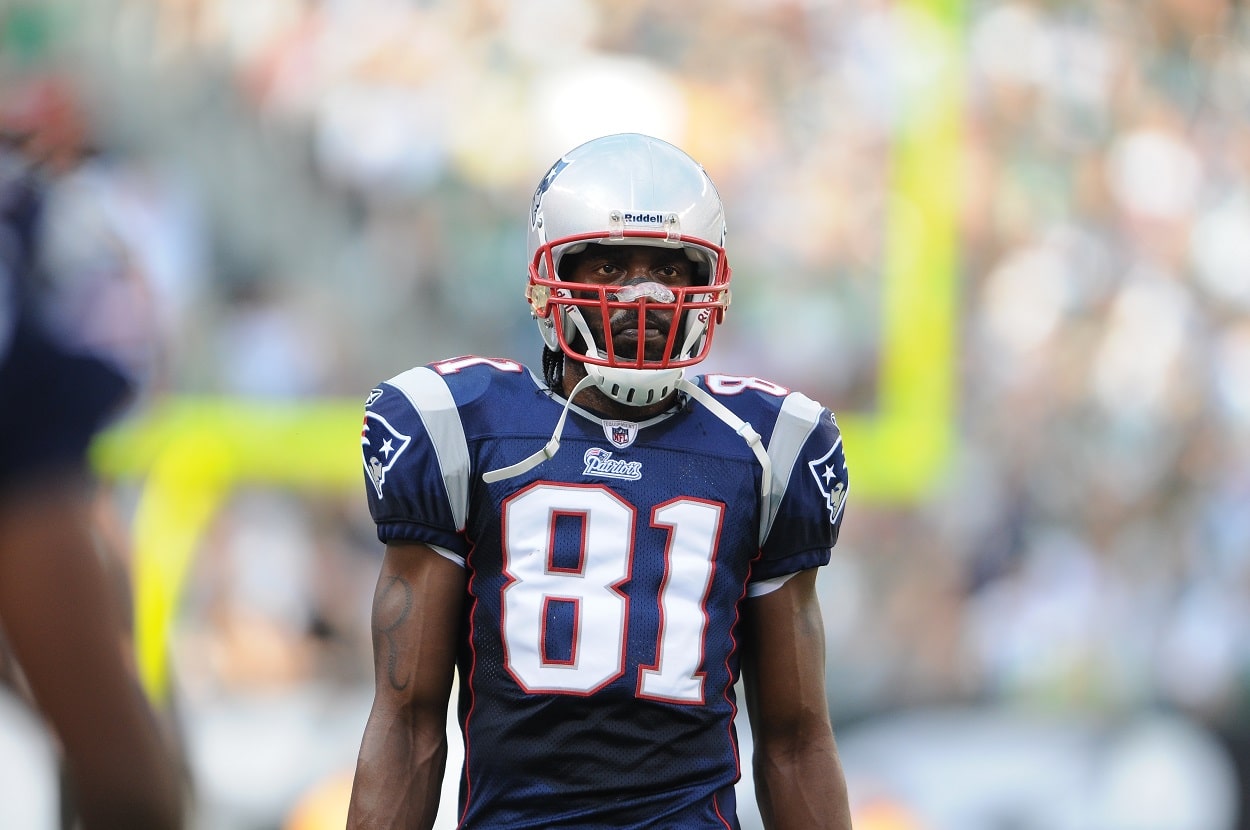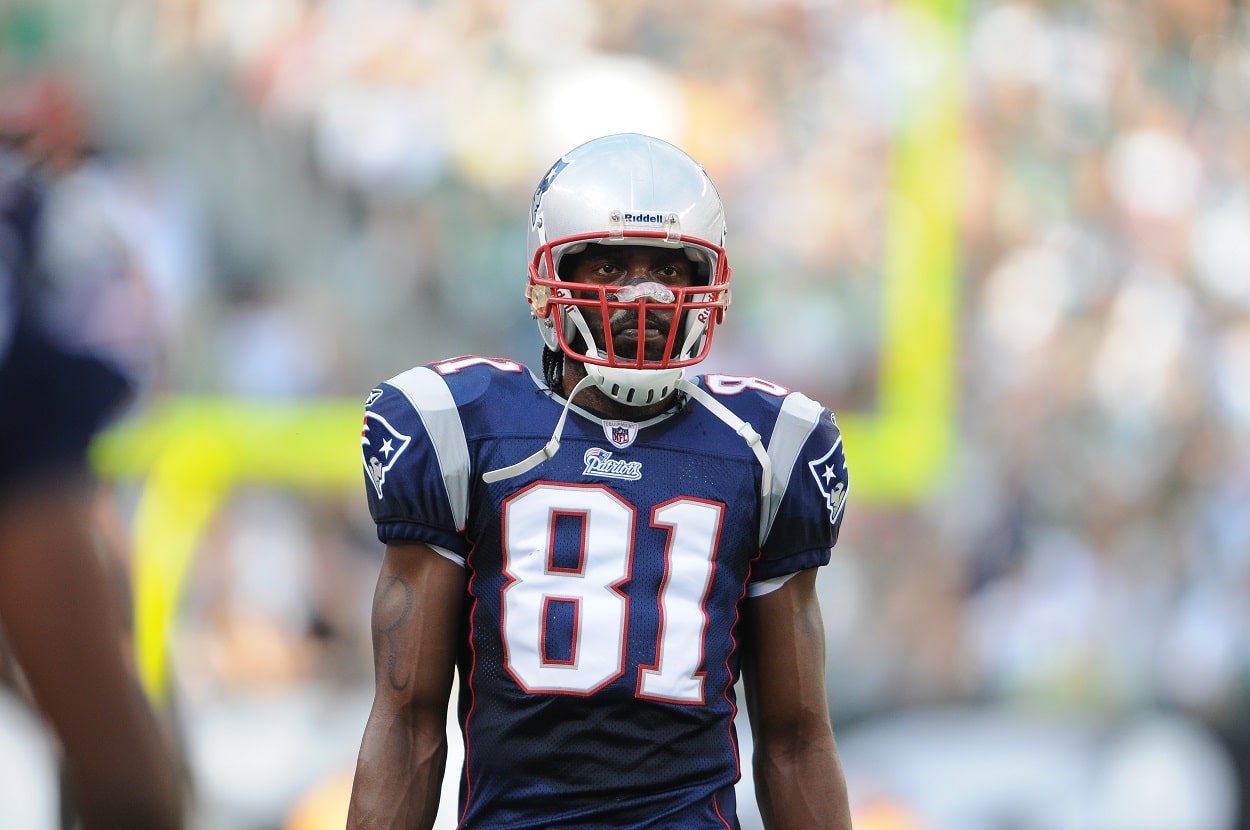 Did you really expect anyone else to take the top spot? Sure, 11 other players have recorded more receiving yards for the Patriots. Fourteen have caught more passes. And Rob Gronkowski's 79 touchdown receptions put him well ahead of his former teammate. But out of all the pass-catchers who've put on a Patriots uniform, none have been better than Randy Moss. 
Acquired for a measly fourth-round pick ahead of the 2007 season, the most electrifying receiver in NFL history showed he still had plenty left in the tank by setting an NFL record with 23 touchdown receptions. Two years later, Moss led the league in touchdown catches for the fifth and final time of his storied career.
His combination of size, speed, and leaping ability paired perfectly with the ultra-precise Brady, who looked to No. 81 in crucial moments. In terms of pure dominance, there's no doubt Randy Moss is the best receiver to ever suit up for Robert Kraft's franchise.
Stats courtesy of Pro Football Reference
Like Sportscasting on Facebook. Follow us on Twitter @sportscasting19 and subscribe to our YouTube channel.