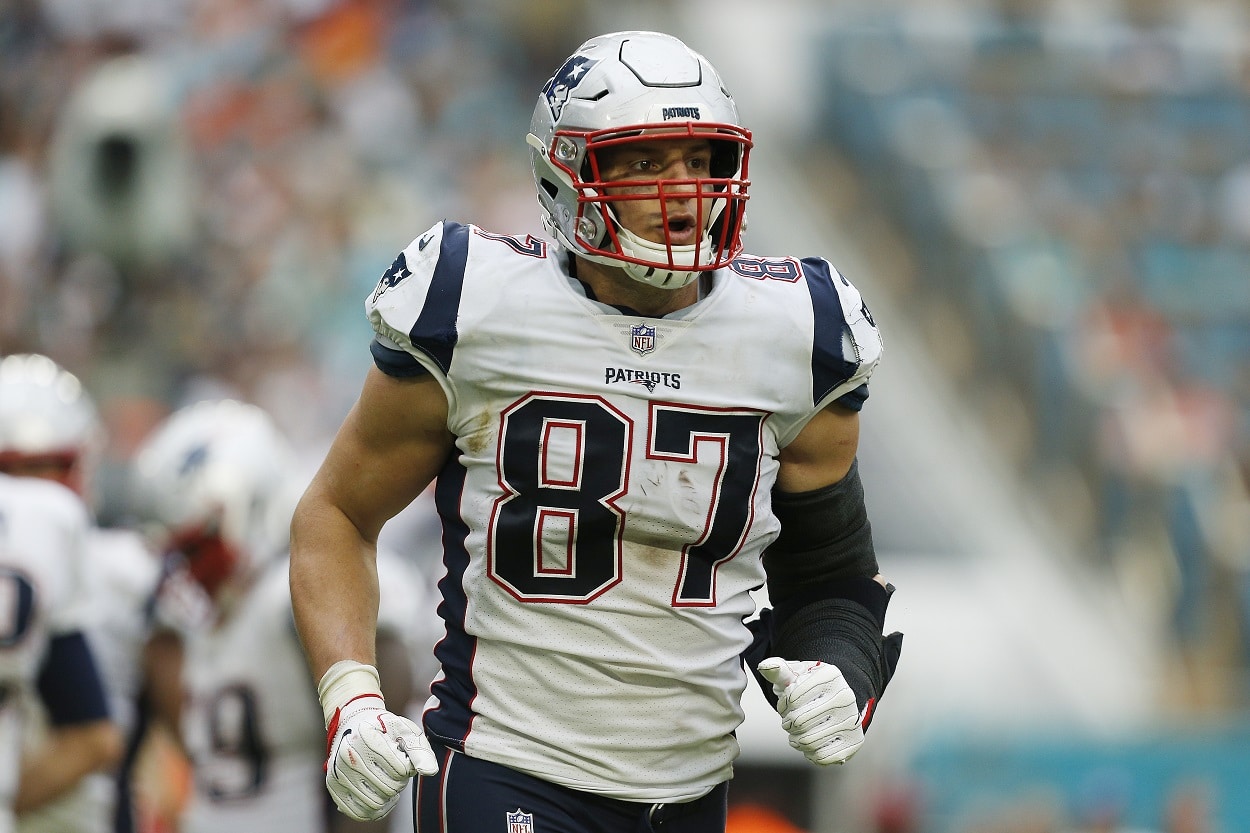 Rob Gronkowski's Ridiculous Final Reception Headlines His Top 5 Moments With the New England Patriots
The top five moments for Rob Gronkowski with the New England Patriots.
With Rob Gronkowski announcing his retirement (again), it looks like the most dominant tight end in NFL history has officially caught his final pass. Of course, there's still a shot that Tom Brady comes calling in mid-October to convince his best friend to come back to work. But as of now, the Tampa Bay Buccaneers and their iconic quarterback seem set on playing the 2022 season without Gronk's services. 
Ultimately, whether the fun-loving, big-bodied tight end finds the urge to put on a helmet and shoulder pads again remains to be seen. And even if Gronk sticks to his word and never suits up in another NFL game, he provided more than enough awe-inspiring plays throughout his Canton-worthy career. While a few of those took place during his time in Tampa, the majority of the future Pro Football Hall of Famer's highlights occurred with the New England Patriots.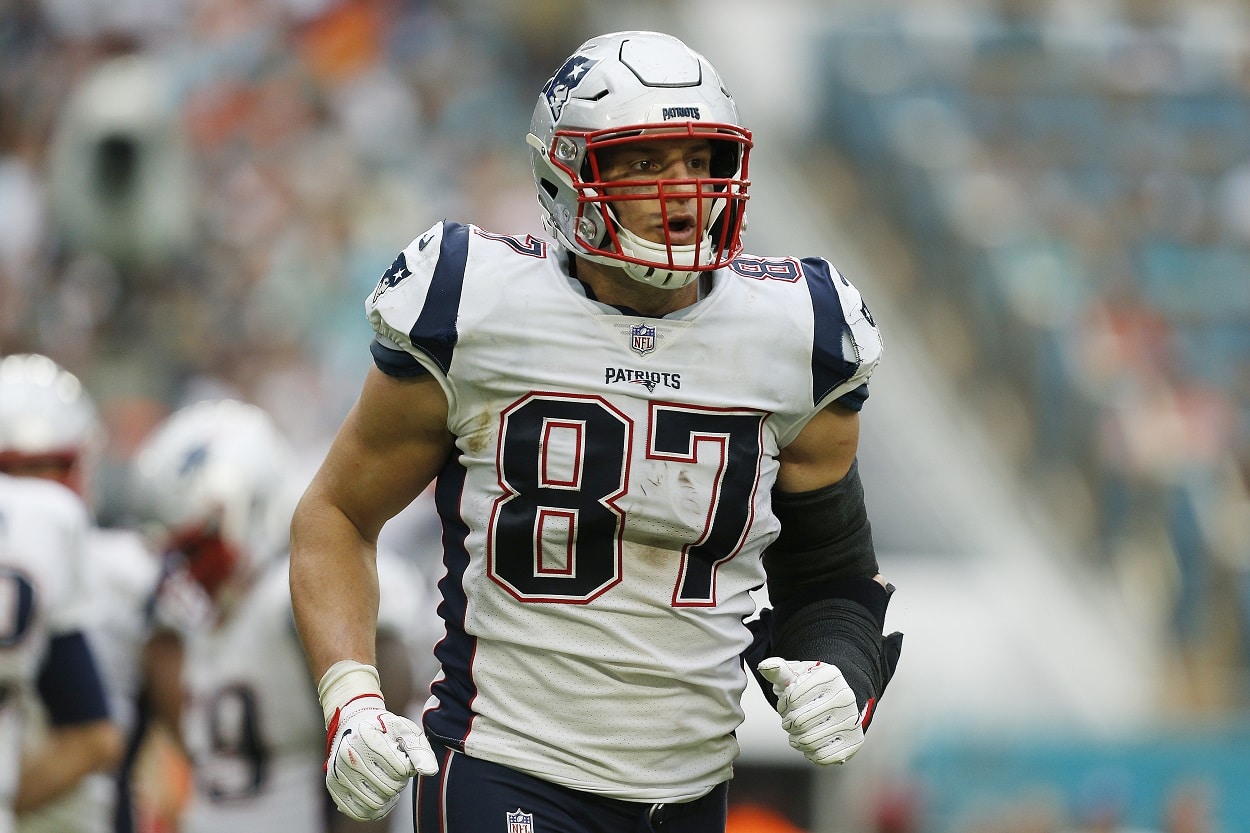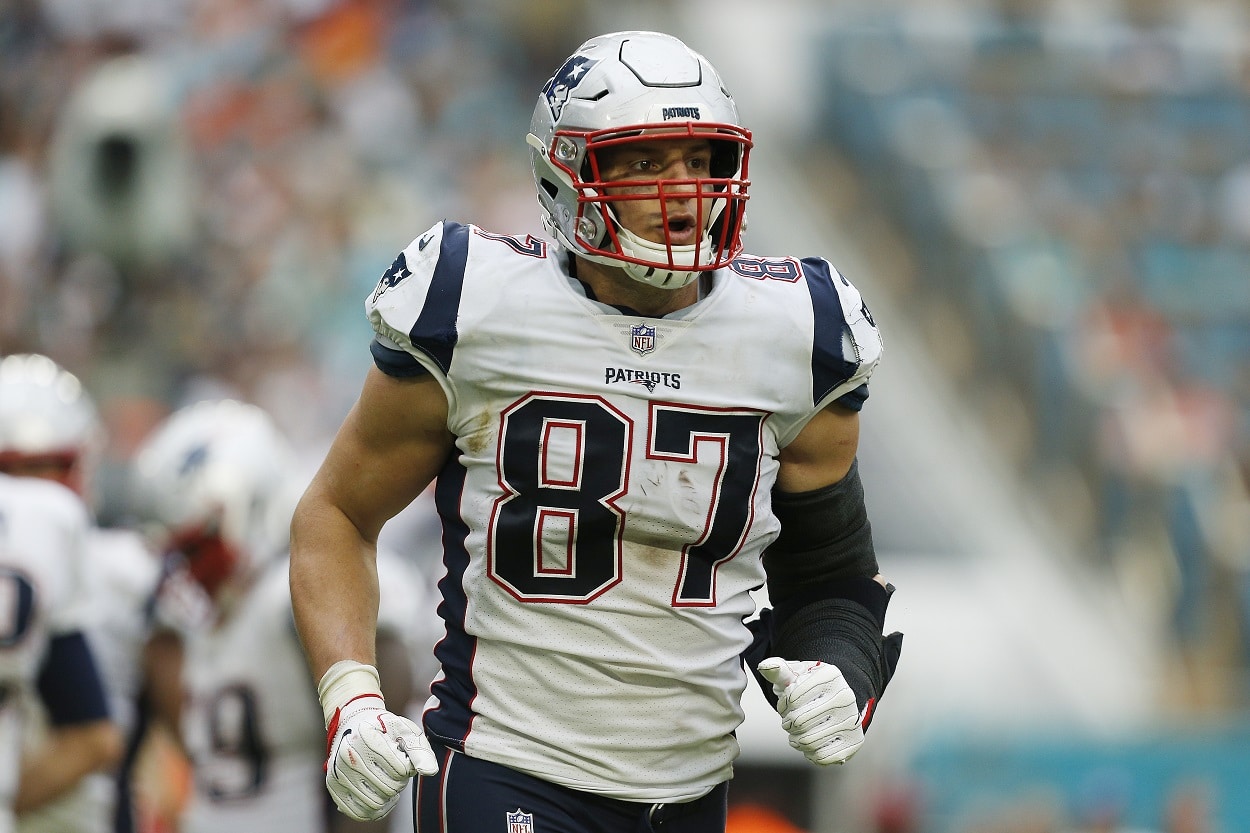 Looking back at Gronk's nine years in Foxborough, it's nearly impossible to narrow down a list of his best moments to only five. In fact, he compiled so many that throwing Sergio Brown "out of the club" just missed the cut. However, in an effort to show how special and valuable he was with the Patriots, here are the performances that stand out above the rest.
5. "How the f*** did you catch that?"
By 2014, Tom Brady had certainly seen more than his fair share of spectacular catches. After all, he got a chance to throw the ball to the premier aerial artist of all time: Randy Moss. But even the GOAT couldn't contain his excitement (and bewilderment) over what his most trusted target did against the Denver Broncos in Week 9 of the 2014 season. 
Squaring off against a talented squad led by Peyton Manning, the Patriots surprisingly made light work of the reigning AFC champions. In fact, the highly anticipated Sunday Night Football matchup turned out to be a rather one-sided affair. New England handled business at home, dropping 43 points on a Broncos defense that entered the night allowing an average of 20.2 points per game. 
Among all the big plays in the 22-point victory, none topped the one-handed catch Gronkowski made that elicited an expletive-laced reaction from TB12. With his momentum taking him in the opposite direction, the 6-foot-6, 265-pound tight end leaped high in the air, reached out with his left hand, and somehow came down with the ball. 
How ridiculous was Gronk's fourth-quarter reception? 
Microphones on the Patriots' sideline recorded Brady asking him, "How the f*** did you catch that?" 
Seriously, we'd still like to know.
4. Rob Gronkowski sent Pittsburgh Steelers fans home speechless in 2017
Although this moment occurred during the regular season, there's no doubt Gronkowski's dominant 2017 outing against the Pittsburgh Steelers deserves attention—as well as the No. 4 spot on this list. With the Patriots trailing by 8 points heading into the fourth quarter, the offense desperately needed its most dangerous weapon to step up. And in true superstar fashion, Gronk put the team on his back and helped stage a furious comeback. 
Having already caught five passes, he nearly matched that total on what turned out to be the game-winning drive. Despite everyone in the stadium knowing exactly where Brady wanted to throw the ball, Pittsburgh had no answer for Gronk.
Stunningly, he caught three straight passes (including back-to-back 26-yard gains and a ridiculous shoestring grab) that allowed the Patriots to advance from their own 23-yard line to the Steelers' 8-yard line. 
Once Dion Lewis punched the ball in for the go-ahead touchdown, New England dialed up a two-point play for Gronkowski. To no surprise, the All-Pro pass-catcher easily hauled in a beautifully thrown fade from Brady that cemented the Patriots' impressive come-from-behind win over one of their biggest rivals.
3. Clutch catches against the Kansas City Chiefs in crunch time
Although he no longer ran by defenders with relative ease near the end of his run in New England, Rob Gronkowski put on a vintage performance when it mattered most. With the Patriots and Chiefs exchanging a flurry of fourth-quarter blows that caused the lead to flip back and forth, the AFC Championship firmly hung in the balance. Luckily for Bill Belichick, his two biggest stars shined down the stretch. 
After failing to hook up with Gronk with 6:29 left in regulation, Brady later connected with him on an 11-yard gain that eventually led to a Sony Michel rushing touchdown. 
On New England's next drive, Gronkowski made one of the best plays of his career—and it couldn't have come at a more opportune time. Facing a 3rd-and-5 from Kansas City's 29-yard line, Brady launched a deep ball with pinpoint accuracy that eventually landed in the outstretched arms of No. 87. That 25-yard gain set up an easy touchdown run for Rex Burkhead, seemingly putting the game away.
Of course, Patrick Mahomes engineered a game-tying field goal drive that forced overtime. Unfortunately for Chiefs fans, they suffered a severe case of heartbreak when Gronkowski hauled in a key 15-yard pass on 3rd-and-10. Three plays later, Burkhead punched in the game-winner to send the Patriots to Super Bowl 53.
2. Destroying the Denver Broncos in the 2015 AFC Championship
Notice a theme here? Like many other NFL legends, Gronk made sure to bring his A-game on the biggest stages, and his heroic effort against the Broncos in the 2015 AFC title game still stands out as one of the greatest games by a tight end ever. 
As the focal point of a talent-deficient offense that trotted out uninspiring options like an aging Steven Jackson and career backup Keshawn Martin, Gronkowski seemingly should have had a difficult time getting open and doing damage against Denver's fourth-ranked scoring defense. Yet that didn't prove to be the case. On the contrary, the league's top tight end wreaked havoc. 
Even with linebackers and safeties trying to stop him, Gronk racked up 144 receiving yards and a touchdown. Brady routinely looked to him in critical moments, with four of his eight catches coming in the fourth quarter. Although the Patriots fell just short of earning back-to-back Super Bowl bids, it's scary to think how the score would have looked without Gronkowski's Herculean performance.
1. Rob Gronkowski's final reception with the Patriots was a fitting end to his career in New England
Apparently, Rob Gronkowski believes in saving the best for last. Because out of all the terrific plays he made in a New England uniform, none encapsulates his brilliance like his final reception for the franchise. And in fitting fashion, the four-time Super Bowl champion finished his Patriots career by putting his body on the line for the sake of the Lombardi Trophy. 
In a defensive battle between two well-coached teams, the score remained tied midway through the fourth quarter. But on New England's penultimate drive, Gronk came alive. After gaining 18 yards on a first-down reception, he proceeded to make the most important catch of the game (and maybe of his career) by laying out for a 29-yard pass from Brady that couldn't have been placed any better. 
Although Gronk came up short of the goal line, the Patriots took the lead for good on the ensuing play. And by the time TB12 took a final knee, he and his close friend got to celebrate winning yet another title together.
Stats courtesy of Pro Football Reference
Like Sportscasting on Facebook. Follow us on Twitter @sportscasting19 and subscribe to our YouTube channel.