New England Patriots: Ranking Rob Gronkowski and the Greatest Tight Ends in Franchise History
A look at the top 5 tight ends in New England Patriots history.
Long before Rob Gronkowski started spiking footballs on Sundays, the New England Patriots employed a tight end who also made NFL defenders look overmatched. And before Ben Coates became a household name, the franchise featured several other players who played the position at a high level. 
While nobody can (or likely ever will) surpass Gronk on the Mount Rushmore of Patriots tight ends, there's some fierce competition for slots two through five. Of course, if Hunter Henry continues at the pace he's on, he'll certainly have a chance at knocking someone off this list. 
But here's how things shake out for now.
5. Ben Watson, 2004-2009, 2019
Although he didn't develop into an all-out superstar, Ben Watson carved out a lengthy NFL career that began and ended in New England. An elite athlete coming out of the University of Georgia, the 2004 first-round pick carved out a valuable role as a two-way tight end who could contribute as a blocker and receiver. From 2005 to 2009, Watson totaled 165 catches for 2.086 yards and 20 touchdowns while also helping open holes in the running game. 
Ironically, he experienced more success once he left Foxborough. But after putting together some impressive campaigns in other stops, including a 68-catch season with the Cleveland Browns in 2010 and a final line of 74/825/6 with the New Orleans Saints in 2015, Watson returned to New England in 2019.
And as a testament to his work ethic and reliability, at 39 years old, he posted the fourth-highest reception rate (70.8%) of his career in what turned out to be his final NFL season.
4. Jim Whalen, 1965-1969
Born in Massachusetts, Jim Whalen stayed close to home by attending Boston College. Luckily, his family and friends didn't have to travel far to watch him play in the pros, either. Selected in the third round of the 1965 draft by the then-Boston Patriots, Whalen wasted no time making his presence known, averaging 17.3 yards per reception as a rookie. 
That set the stage for an excellent three-year run in which he increased his numbers annually. After hauling in 29 catches for 502 yards and four touchdowns in 1966, Whalen posted stat lines of 39/651/5 and 47/718/7 in '67 and '68, respectively. He may not have the longevity of some of the guys above him, but he deserves the No. 4 spot on this list.
3. Russ Francis, 1975-1980, 1987-1988
Blessed with unique athleticism and a 6-foot-6, 242-pound frame, Russ Francis became the highest-drafted tight end in franchise history when he went 16th overall in 1975. And it didn't take long for the Seattle native to show why the Patriots used a premium pick to bring him to New England. In fact, Francis' first year in Foxborough turned out to be the most productive of his lengthy NFL career. 
Despite starting just 11 games, the big-bodied tight end averaged an eye-popping 18.2 yards on 35 receptions. Francis proceeded to earn three straight Pro Bowl selections–an impressive feat considering he missed 10 games from 1976-78. Like Ben Watson, the productive pass catcher took his talents elsewhere before finishing his career as a member of the team that drafted him in the first round.
And by totaling 207 catches for 3,157 yards and 28 touchdowns in 92 games with the Patriots, Francis cemented his place as one of the best to play the position in franchise history.
2. Ben Coates, 1991-1999
It's a shame Ben Coates didn't get a chance to shine during the dynasty days. However, despite experiencing losing much more often than the No. 1 player on this list, he still made a name for himself by torturing safeties and linebackers with relative ease. Tipping the scales at 6-foot-5, 245 pounds, Coates went from being a rotational player to the focal point of the Patriots' passing attack when Drew Bledsoe took the snaps.
By the end of his fourth NFL season, the 1991 fifth-round pick earned his first of five straight Pro Bowl selections. Impressively, Coates only missed two games during a highly productive nine-year run in New England that included 490 receptions for 5,471 yards and 50 touchdowns.
But after holding the title of the top tight end in team history for a significant stretch, the NFL 1990s All-Decade Team member lost those bragging rights to an even bigger star.
1. Rob Gronkowski, 2010-2018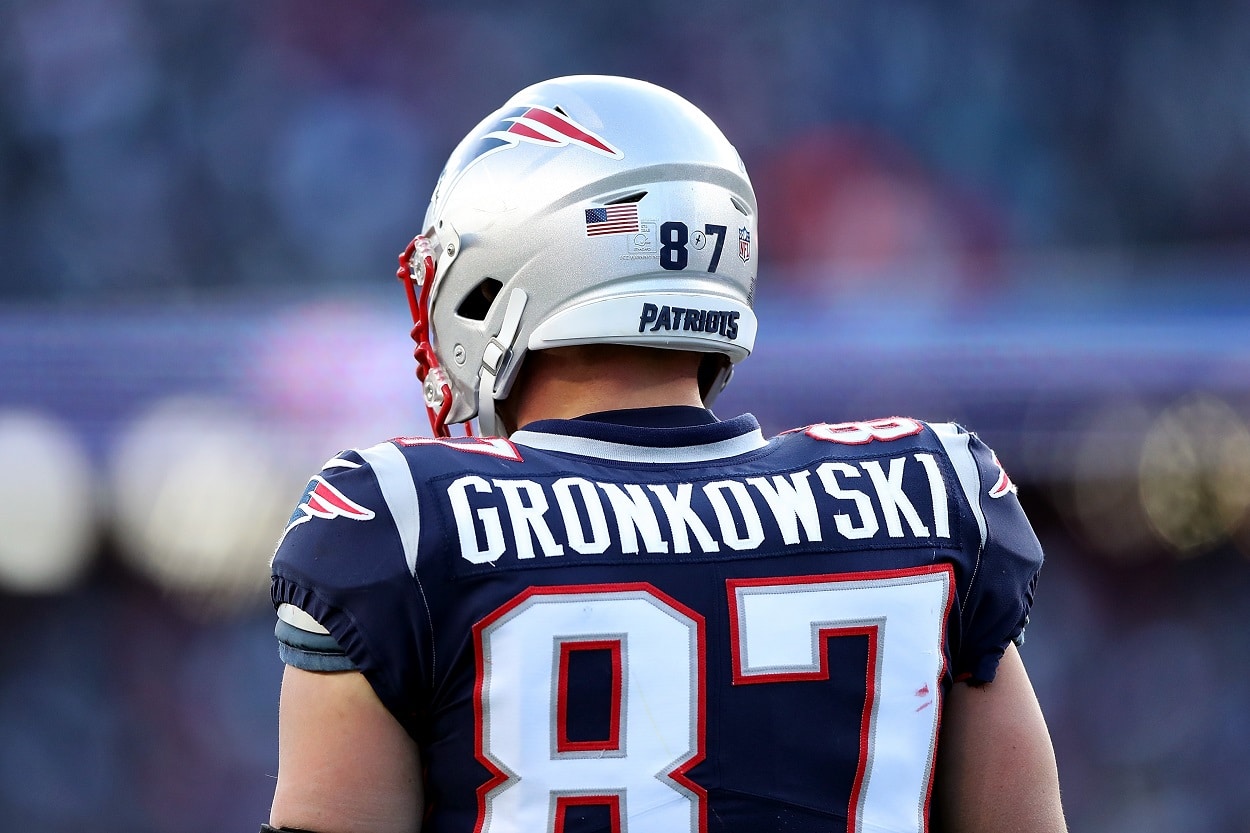 Think the rest of the NFL regrets letting Rob Gronkowski fall right into Bill Belichick's lap? Although injuries kept the physically imposing tight end off the field for significant stretches, the Patriots undoubtedly made the right decision to trade up for the former University of Arizona standout in the 2010 NFL Draft.
And by taking a chance on a player with a well-documented history of back issues, New England secured a huge target for Tom Brady, an instant fan favorite and arguably the most dominant offensive force in NFL history. 
For nearly a decade, Gronkowski dominated defenses using an uncanny combination of size, speed, and skill. A premier red-zone threat who was basically unguardable in his prime, he racked up 521 catches for 7,861 yards and a whopping 79 touchdowns in 115 regular-season games. Most importantly, Gronk came through when it mattered most, posting a line of 81/1,163/12 across 16 playoff games.
Fittingly, his final appearance as a Patriot featured an incredible diving catch that set up the only touchdown in Super Bowl 53. Though he called Tampa home for the last two years, Rob Gronkowski will rightfully be remembered as not the greatest tight end in Patriots history but also of all time.
Stats courtesy of Pro Football Reference
Like Sportscasting on Facebook. Follow us on Twitter @sportscasting19 and subscribe to our YouTube channel.