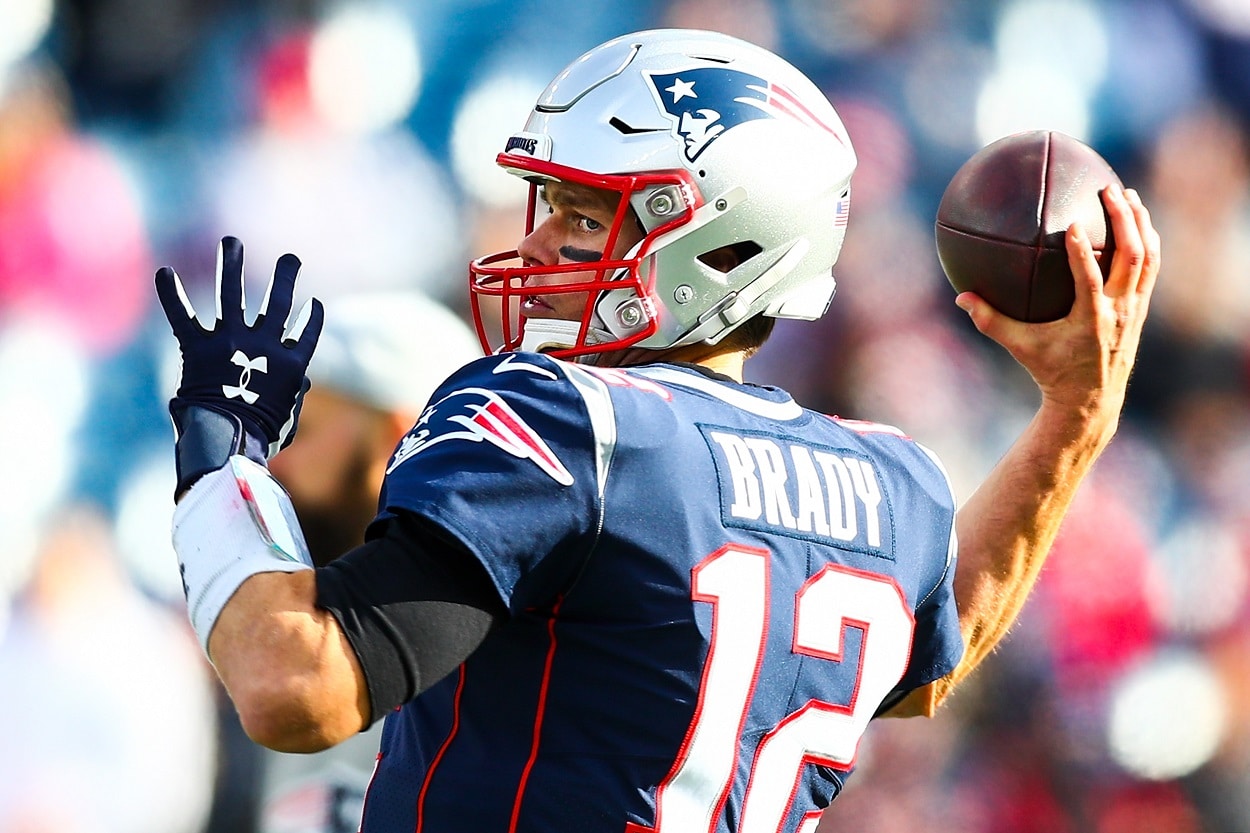 New England Patriots: Ranking the Top 5 Quarterbacks in Franchise History
A look at the top five quarterbacks in New England Patriots history.
Before Tom Brady became a household name, the New England Patriots weren't exactly known as a team with a stellar history of starting quarterbacks. In fact, the franchise went decades without having a true star at the most important position in sports. And as much respect as Drew Bledsoe generates from the loyal members of Patriot Nation, it's abundantly clear Bill Belichick made the right call to send the $100 million signal-caller to the bench in favor of a slow, skinny kid out of Michigan. 
Of course, the fate of Robert Kraft's beloved franchise now rests in the hands of another promising player who possesses the passion and passing acumen to propel himself into top-five territory. And while it may not take long for Mac Jones to knock someone off this list, here are the best quarterbacks in Patriots history as it stands today.
5. Jim Plunkett, 1971-1975
While Tony Eason put together a rock-solid campaign in 1986, he gets edged out for the No. 5 spot by a quarterback who put together a much more impressive NFL career. Jim Plunkett arrived in New England as the No. 1 overall pick in the 1971 draft, and while he may be remembered for leading the Raiders to a pair of Super Bowl titles in the early 1980s, he deserves credit for compiling nearly 10,000 passing yards in 61 games as a Patriot. 
In addition, Plunkett's mobility and overall athleticism helped him keep defenses honest. The California native racked up 817 rushing yards and nine touchdowns in five years with the team. Although he experienced far more success after leaving New England (38-19 record as a starter with the Raiders), Plunkett benefitted from playing with a significantly better supporting cast.
4. Vito "Babe" Parilli, 1961-1967
Perhaps this is a reflection of just how average the Patriots were at quarterback before TB12 took over. Because the fact that Babe Parilli, whose last NFL game came in 1969, is legitimately a top-five player at the position in franchise history says a lot about what New England had under center during the '70s, '80s, and '90s. Still, considering the era in which he played, it's impossible to look at Parilli's numbers and not come away impressed. 
Selected fourth overall by the Green Bay Packers in the 1952 NFL Draft, the Pennsylvania native spent his first few seasons as a backup. However, at 31 years old, Parilli took advantage of an opportunity to start for the Patriots and led the league in completion percentage his first year in New England.
Three seasons later, the undersized signal-caller earned his first and only All-Pro selection by ranking first in passing yards (3,465) and passing touchdowns (31). With three Pro Bowl nods and a 44-32-7 record across seven seasons, there's no doubt Parilli ranks among the best passers in franchise history.
3. Steve Grogan, 1975-1990
Was Steve Grogan a star? Not even his biggest supporters would make that argument. Yet you can't talk about the best quarterbacks to ever don a Patriots uniform without shining the spotlight on someone who never wore another team's colors. After all, the 1975 fifth-round pick spent his entire 16-year NFL career in New England. 
Luckily for Grogan, it didn't take him long to experience success at the pro level. Following a 1-6 stint as a rookie starter, he posted an impressive record of 47-25 from 1976-80. During that stretch, he scored 21 rushing touchdowns, threw a league-high 28 in 1979, and earned widespread respect from fans, coaches, and teammates for his toughness and willingness to play through injury. Unfortunately for Grogan, he never got a chance to taste championship success but undoubtedly deserves the No. 3 spot on this list.
2. Drew Bledsoe, 1993-2001
Just over two decades after the Patriots made Plunkett the first player taken in the 1971 draft, they used the No. 1 overall pick on another quarterback. Unlike the two-time Super Bowl champion, though, Drew Bledsoe didn't have any semblance of mobility. What he did possess, however, was one of the strongest arms in NFL history–a trait that helped him compile nearly 45,000 passing yards before he retired. 
Expected to lead New England to new heights, Bledsoe didn't exactly light the world on fire as a rookie. But over the next four seasons, he earned three Pro Bowl selections, led the league in completions twice, and made his first Super Bowl appearance. A fortuitous hit by Mo Lewis may have ended Bledsoe's reign as the face of the franchise (and nearly killed him), but he still played a valuable role as a mentor and injury fill-in during the team's magical 2001 season.
So, even though the Patriots didn't become a dynasty until Belichick transitioned to Brady, Drew Bledsoe made a sizable impact by compiling nearly 30,000 passing yards and a 63-60 record as a starter before being traded to the Buffalo Bills.
1. Tom Brady, 2001-2019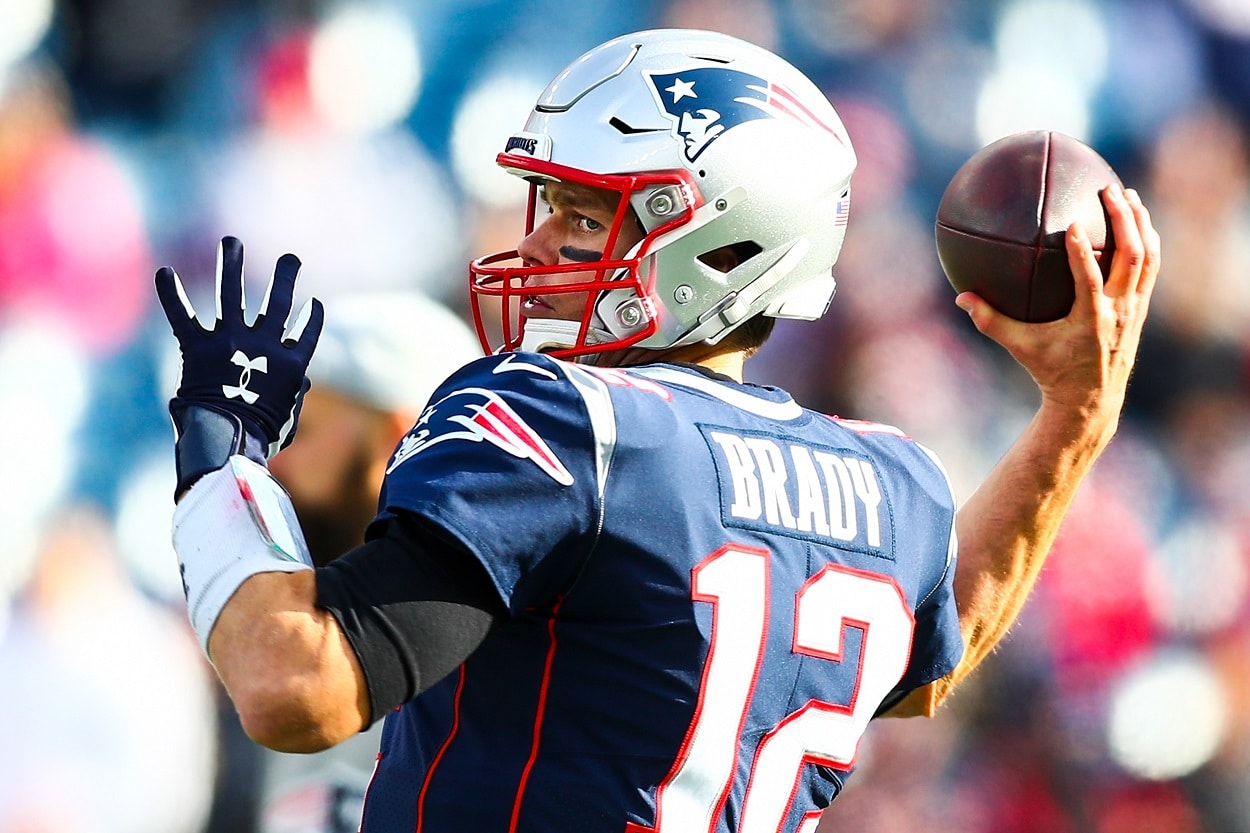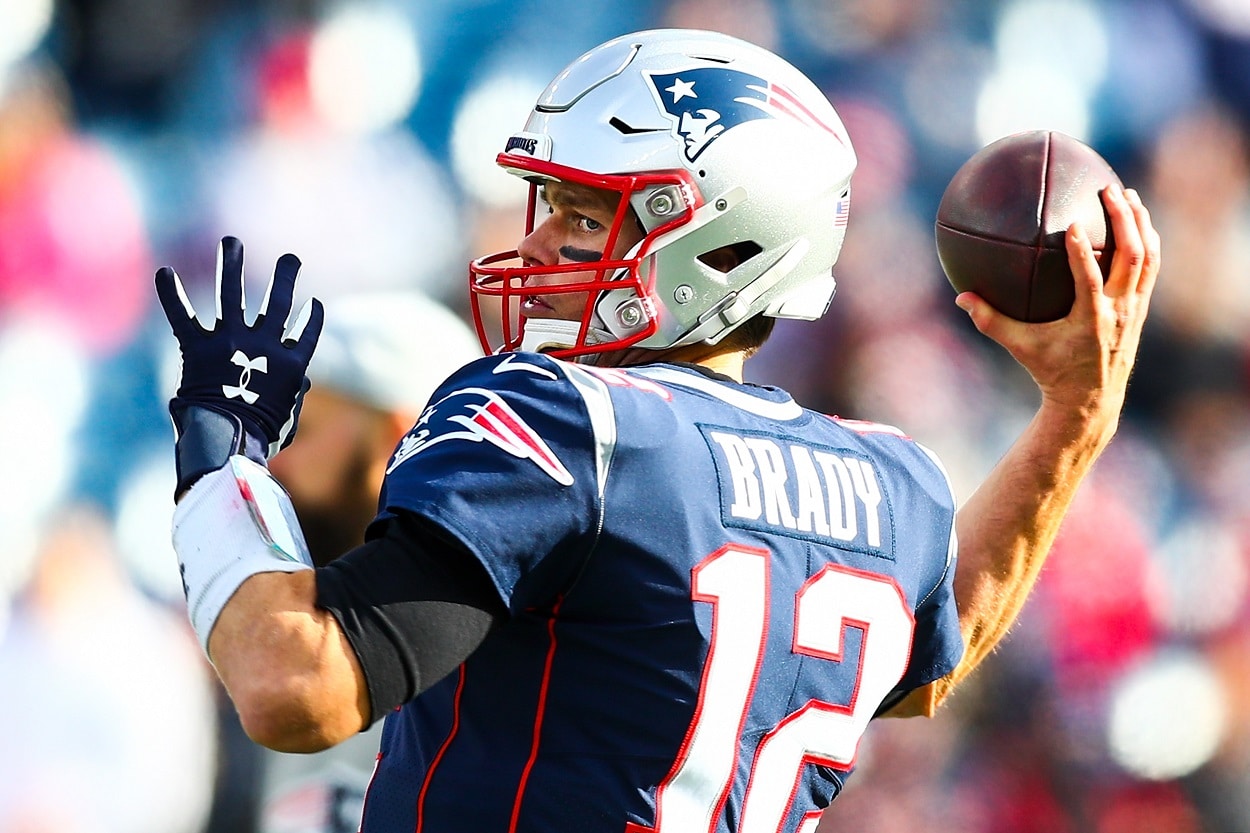 At this point, it's fair to wonder where the Patriots would be if Belichick had simply let the greatest quarterback of all time finish his career where it started. Sure, Mac Jones may be the guy for the next decade, but even if he develops into a bonafide Pro Bowler, he has no chance at filling the void left behind by Brady. After all, when you accomplish everything the Michigan product did during his two-decade run in New England, it's clear the No. 2 spot is what future quarterbacks will be aiming for. 
Six Super Bowl rings, 14 Pro Bowl nominations, three NFL MVP awards, and countless clutch moments encapsulate the TB12 experience in Foxborough. He changed the culture of an organization that had never hoisted the Lombardi Trophy prior to his arrival.
Brady etched his name in league history by smashing records, winning at a prolific rate, and establishing a reputation as the most competitive player to ever grace a football field. And at 44 years old, the GOAT still has a burning desire to prove people wrong–a quality that propelled him to the top of the NFL mountain during his time in New England.
Stats courtesy of Pro Football Reference
Like Sportscasting on Facebook. Follow us on Twitter @sportscasting19 and subscribe to our YouTube channel.