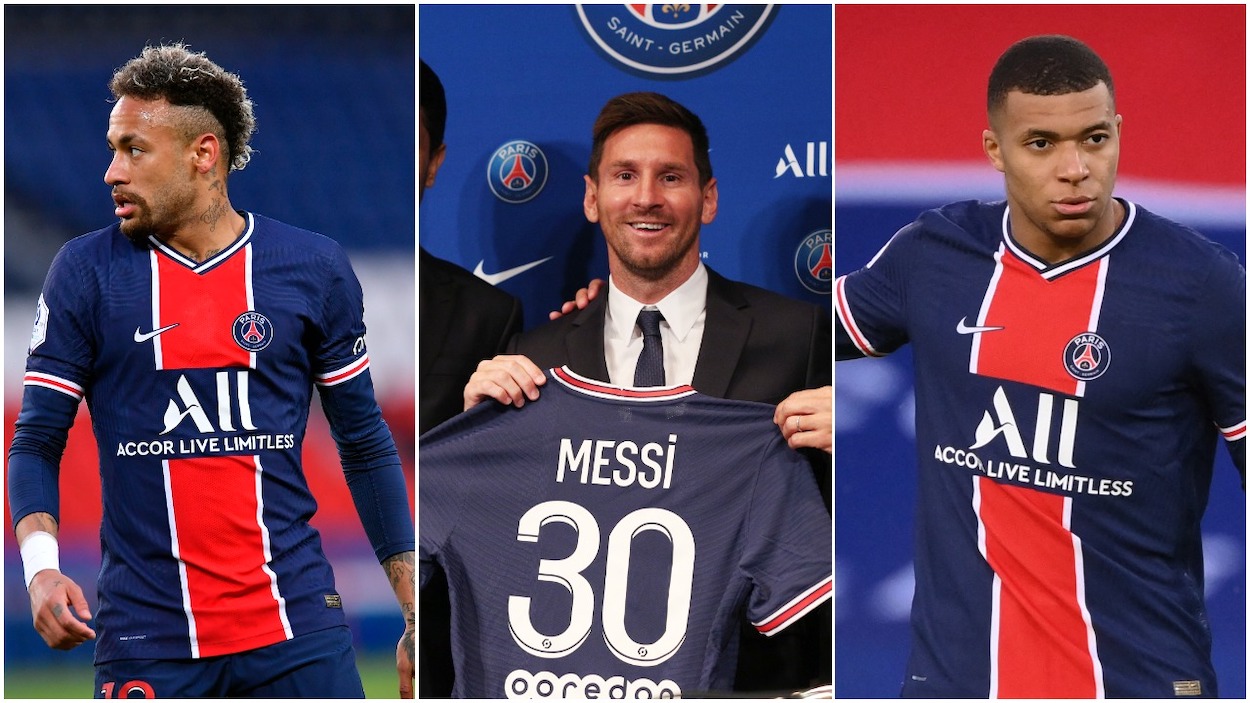 The New French Connection: What PSG's Lineup Will Look Like With a $104 Million Front Line of Lionel Messi, Neymar, and Kylian Mbappe
Paris Saint-Germain just pulled off one of the biggest moves in soccer history. The already stacked French side just added Lionel Messi from Barcelona, one of the greatest players of all time. Messi and his $46.7 million annual salary will join two other global superstars, Neymar ($35.25M) and Kylian Mbappe ($22.3M). The trio will form a $104M front line, giving …
Paris Saint-Germain just pulled off one of the biggest moves in soccer history. The already stacked French side just added Lionel Messi from Barcelona, one of the greatest players of all time. Messi and his $46.7 million annual salary will join two other global superstars, Neymar ($35.25M) and Kylian Mbappe ($22.3M). The trio will form a $104M front line, giving PSG one of the most dominating attacking trios in history. 
Behind these three, manager Mauricio Pochettino also has his pick of a number of international superstars all around the pitch. The team is eleven more loaded this seasons with 2021 offseason transfers like winger Achraf Hakimi, midfielder Georginio Wijnaldum, defender Sergio Ramos, and keeper Gianluigi Donnarumma. The question is now, how will PSG lineup with Messi? 
PSG's front line
The best thing for PSG about the Lionel Messi signing is that he is an excellent fit with Neymar and Mbappe. Messi's skill and versatility make him a fantastic fit with almost anyone in the world, but these two especially. Messi and Neymar played together at Barcelona from 2013 to 2017. During that window, Neymar scored 105 goals while Messi put up 204 goals and 194 assists. 
Neymar will play on the left side of any PSG attacking formation. Messi and Mbappe's versatility gives Pochettino options for the rest of the field. 
If Poch wants a straight three-man attack, Mbappe can play striker, and Messi can play on the right. For a more interesting lineup (with more firepower), the manager could bring Messi's fellow Argentine on Angel DiMaria. He can play the right wing, and Messi could slide back into a playmaking, second striker/attacking midfielder role. 
PSG will face many teams this season in Ligue 1 that it can overwhelm with sheer offensive force. This makes the front four most likely. It will be a different story in the Champions League at times, and Pochettino will have to give more consideration to his midfield and defense. 
The midfield
Three attackers like Messi, Neymar, and Mbappe, lends itself to a Pep Guardiola-style 4-3-3. PSG doesn't have the all-around midfielders to do that, though. 
Long-time PSG central midfielder Marco Verratti and Wijnaldum, newly signed from Liverpool, are better suited for true central or defensive midfielder roles. This is why the most likely formation is a 4-2-3-1 with DiMaria on the field with the big three. 
While PSG will likely sell some of these players soon to balance their wage bill after the Messi splurge, Pochettino will have good depth at these two midfield spots. He can easily plug in Ander Herrera, Rafinha, Danilo Pereira, Leandro Paredes, Idrissa Gueye, or even the more offensive-minded Julian Draxler to these spots. 
Playing with two central midfielders is the biggest certainty for PSG, no matter what formation Pochettino chooses. It's the backline that could get very interesting. 
PSG's backline
Pochettino has generally stuck with a four-man backline in his brief time at PSG. However, he was a fan of the three-man defensive unit at Tottenham. 
The French side added 35-year-old Real Madrid legend Sergio Ramos to an already solid center-back pairing of Marquinhos and Presnel Kimpembe. Those three will rotate in a four-man backline. The manager could play the three of them together, although it might be risky. Thilo Kehrer is currently the only other real center-back on the roster, but Abdou Diallo can play there.  
If four is the number, Hakimi will play right-back, and Juan Bernat, Layvin Kurzawa, and Diallo could all rotate on the left side. With three at the back in a 3-4-3 (or something similar), it would likely be Hakimi and Bernat at wingback. They're the two most comfortable going forward. There is a world where DiMaria plays right wingback and Hakimi and Bernat rotate on the left. This would open PSG up defensively a lot on DiMaria's side, though. 
No matter how PSG lines up in defense, the team will feel more comfortable than ever in their D now that Italian Euro 2020 hero Gianluigi Donnarumma is in net. The former AC Milan goalkeeper is now one of the best in the world and will be able to protect from the inevitable counterattacks that come from pushing so many forward. 
PSG will have plenty of lower-level competition to practice these formations against in Ligue 1. The real test will come in the Champions League when they take on the best in the world. With this collection of talent, though, they are undoubtedly among the favorites to win the trophy, no matter how they line up. 
All stats courtesy of Transfermrkt