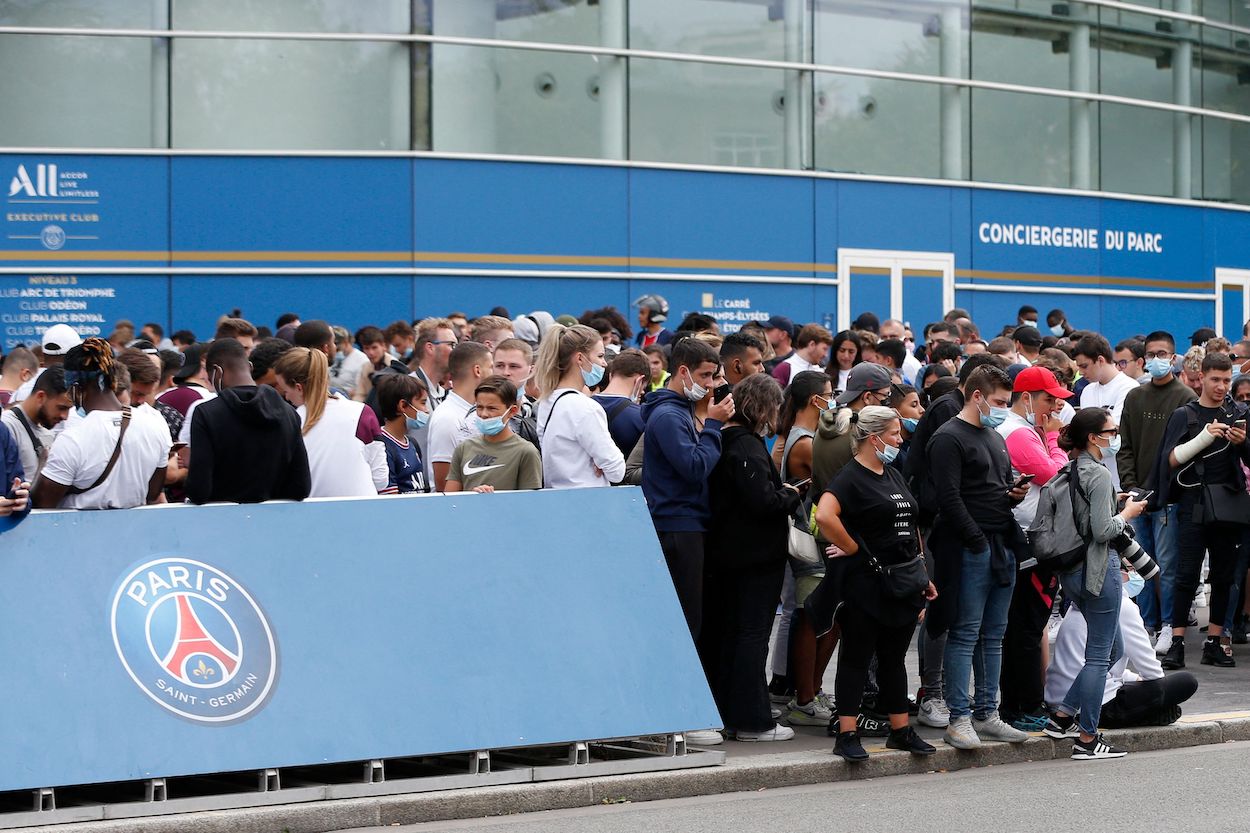 Lionel Messi Isn't at His Own Party: Fans Gather at PSG's Stadium While Video Shows Messi in Barcelona
PSG fans are lining up in the French capital to get a glimpse of their rumored new star, but Messi spent the day reportedly swimming in Spain. While Messi's move from Barcelona to PSG still looks like it should happen any minute, for American sports fans, the lack of solid information can be confusing.
Hundreds, if not thousands, of Paris Saint-Germain soccer fans are gathering at PSG's Parc des Princes stadium and Le Bourget airport in Paris. They are all hoping to catch a glimpse of their team's potenital new acquisition, Lionel Messi. The problem is, it looks like the global soccer superstar is still at home in Barcelona.
PSG fans can't wait to catch a glimpse of the GOAT
Paris Saint-Germain formed in 1970 when two lower-level French football clubs – Paris FC and Stade Saint-Germain—merged. The team big city side quickly earned a promotion to France's top league, Ligue 1, per FootballHistory.org.
The team started winning the league and tournament trophies in the 1980s. In 1991, French TV giant Canal+ bought the team and brought in the organization's first true world-class player, George Weah. He would go on to win the Ballon d'Or and FIFA World Player of the Year awards in 1995.
After more than a decade of decline around the turn of the century, Qatar Sports Investments bought the Parisian side. The new owners injected a massive cash infusion into PSG. In 2017, the team purchased two of the best young players in the world. The club paid $244 million to Barcelona for the rights to Neymar. Then, after a year-long loan, paid $159 million for Kylian Mbappe from Monaco.
The point is, PSG fans are no strangers to world-class talent coming to their club. However, Lionel Messi is a different beast altogether. He may be the greatest soccer player of all time and, even at 34, trumps any other transfer PSG has ever made.
Video shows Lionel Messi at home in Barcelona
Despite the excitement in the streets of the French capital, it appears that Lionel Messi is still 600-plus miles away at his home in Barcelona.
Sky Sports tweeted a video of Messi at his home in Spain walking around his property shirtless in what look to be swim trunks. He certainly didn't look like a player that is just moments away from strolling into Paris to sign a contract.
While this might be upsetting for fans camped out at the stadium or the airport, it doesn't mean a deal with PSG in the coming days is any less likely. As Sky Sports reporter Gary Cotterill told fans, Messi has his own private jet standing by to whisk him and "about 15 or 16 friends, family, [and] advisors" to France.
When you are a global icon on Messi's level, it is easy to go from the swimming pool to signing day in a matter of a few hours.
Why are reports conflicting so much on Messi?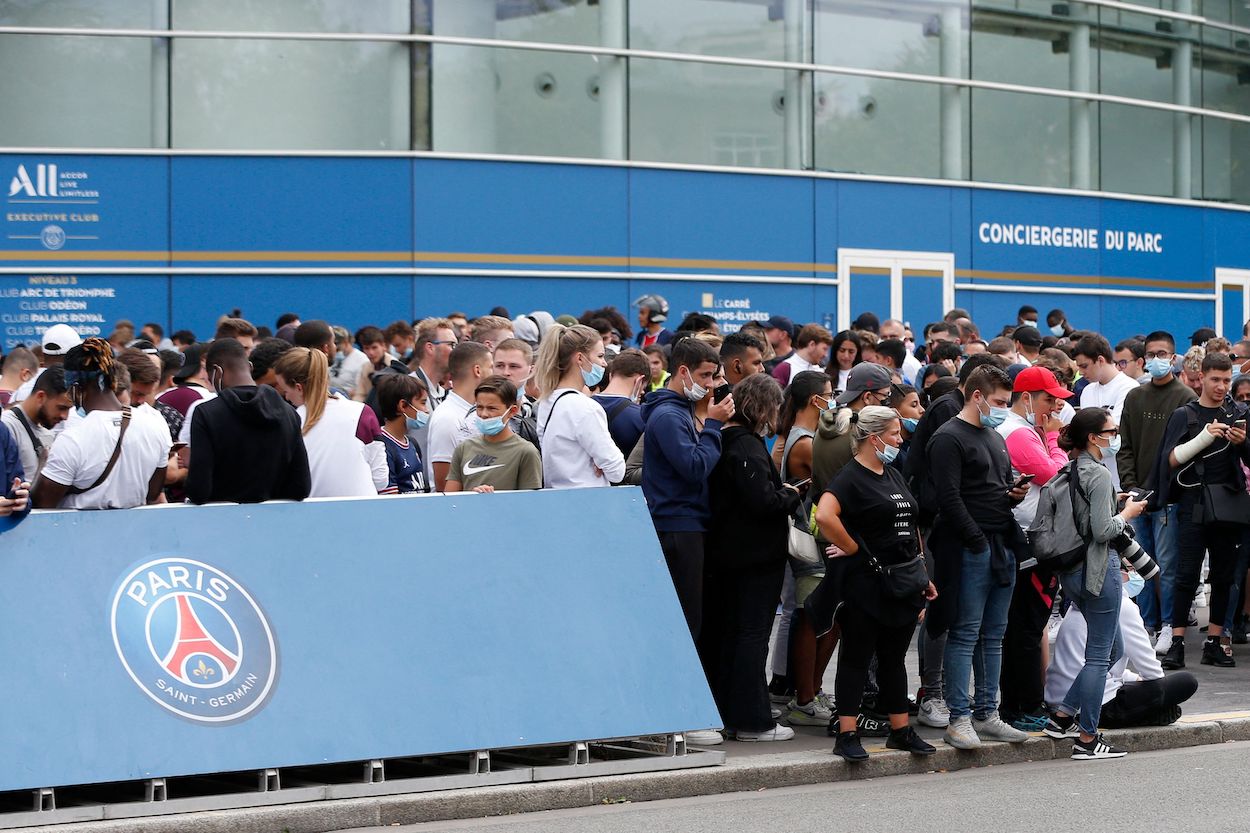 For American sports fans, all the conflicting information surrounding the Lionel Messi transfer saga can be confusing. In the North American professional leagues, when Adam Schefter or Adrian "Woj" Wojnarowski tweet something, you can take it to the bank. 
That's just not the case in the international soccer world. 
The top players in the world are spread throughout leagues in England, Spain, Germany, Italy, France. Top prospects can come from even more places like Russia, Netherlands, Belgium, or Brazil. This creates physical geographical, and cultural barriers to covering all the best athletes. 
There is also no single sports media entity like ESPN that is plugged into all these leagues, teams, and players. This means there is no single reporter that is either. 
The global marketplace leads to reporters from all over the world trying to cultivate sources and break news about a player like Messi without being as dialed in as U.S. fans are used to. The result is sketchy information that comes in drips and drabs on social media, often in different languages.
The best way for U.S.-based fans to cut through the noise is to follow as many respected soccer reporters as possible and look for local sources in the countries involved. After that, when multiple reporters or news outlets with huge followings all start reporting the same thing, they're often on the right track. 
Even then, however, a zig can happen even when the consensus is a zag is about to occur. The moral of the story is: Don't show up at the stadium or airport until you're 100% sure the plane is in the air. 
All transfer figures courtesy of Transfermrkt