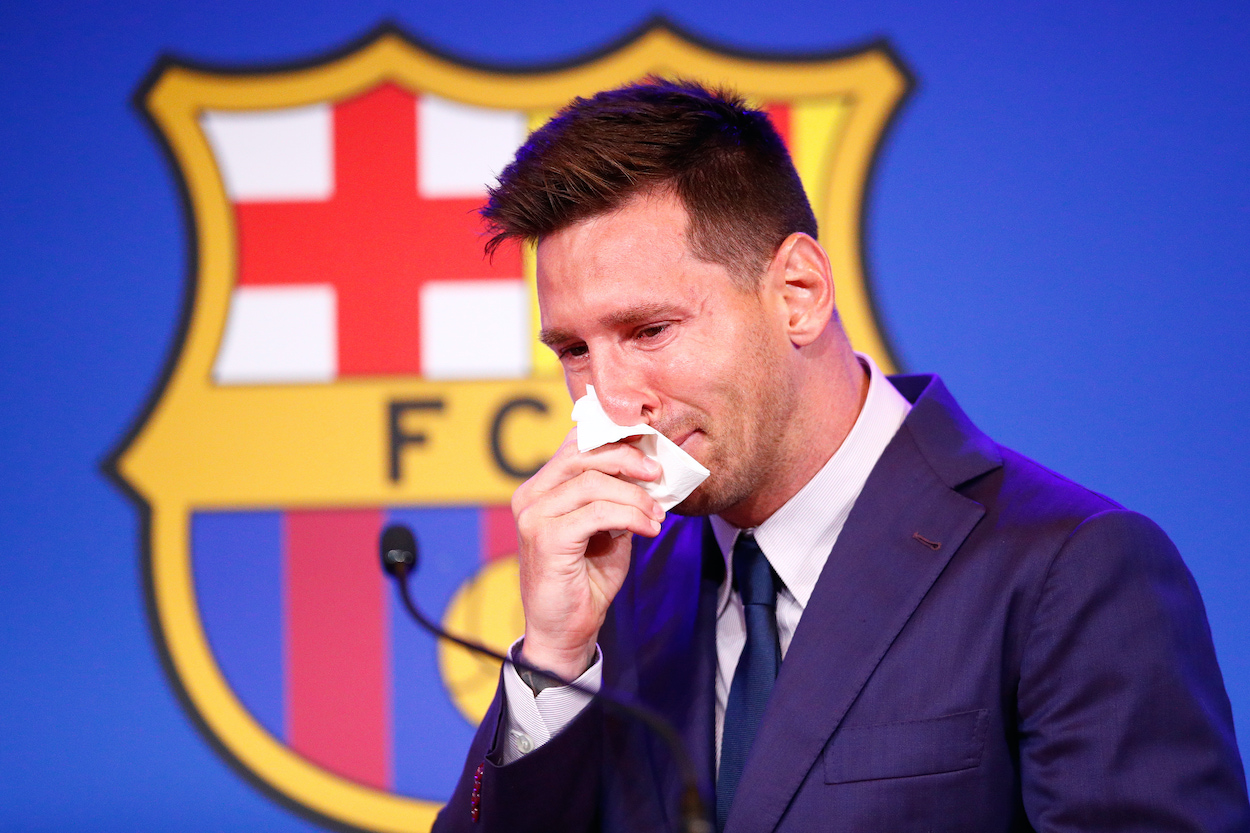 Don't Buy Your Lionel Messi PSG Jersey Just Yet, the Saga May Not Be Over
Lionel Messi to PSG looks imminent but don't count out an eleventh twist that sends him to Manchester City over even back to Barcelona. There is a chance this whole ordeal is a ploy by Barcelona to get La Liga to lighten up on their finances and let them sign Messi and other players.
FC Barcelona dropped a major bombshell on the soccer world when they announced that their global superstar Lionel Messi is leaving the club. The move prompted sadness and anger from Barcelona fans and breathless anticipation from  Paris Saint-Germain and Manchester City supporters. 
Before you run out and buy your new PSG or Man City Messi shirt, though, you may want to take a breath and wait until the star signs on the dotted line. Until that point, there is still a lot that could happen. 
A PSG signing looks like it could happen at any minute, but there is still time for City or even La Liga (and Barcelona) to swoop in. 
Why is Lionel Messi leaving Barcelona?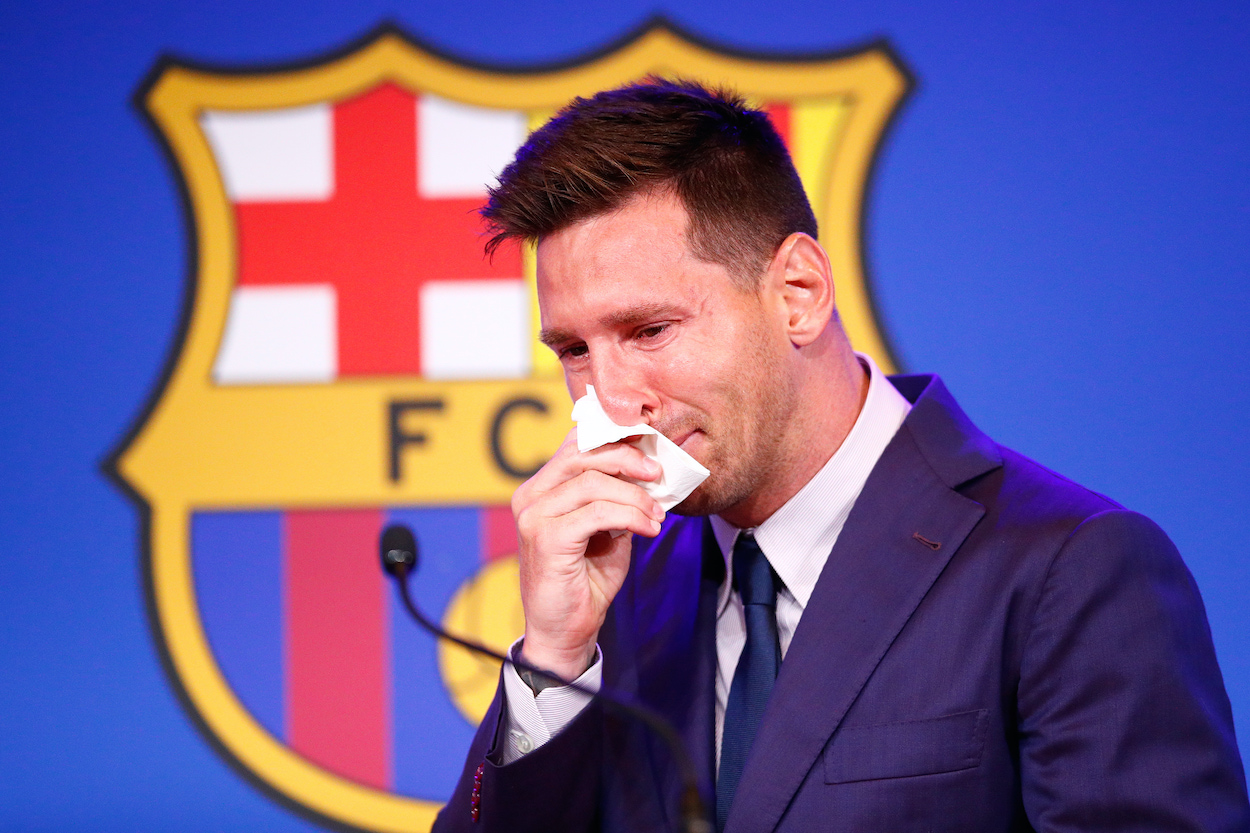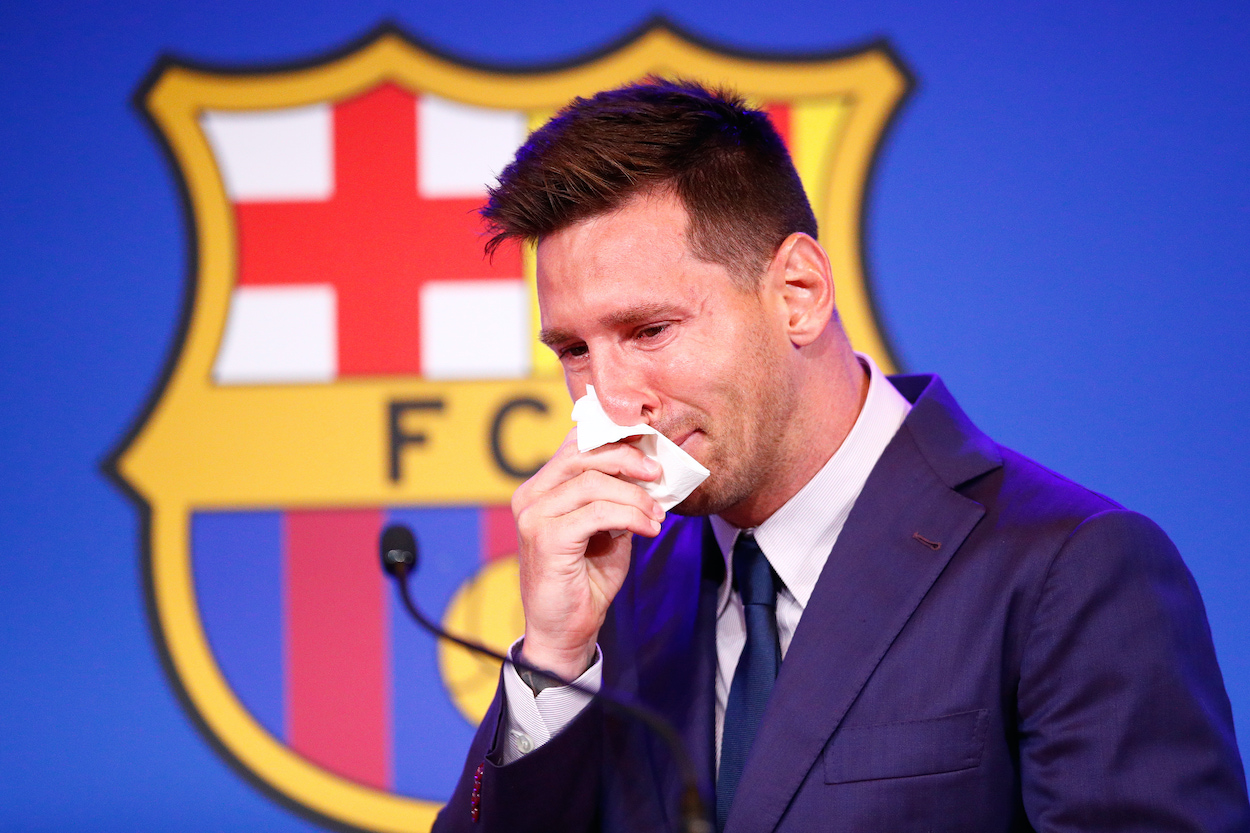 Messi is leaving Barcelona because the club's finances are a mess. The team is carrying over $1 billion in debt, and the losses from the COVID-19-interrupted 2020-21 season are around $470 million. This figure is more than double what executives projected. 
With these financial issues, La Liga, the Spanish professional soccer league Barcelona is a part of, won't allow the club to register new contracts without the team first reducing its overall wage bill. This includes registering the new deal Messi agreed to just a few weeks ago. 
All this financial drama led to the announcement by Barca that Messi is out at the club. While this seems very likely, it may not be 100% yet. 
There is speculation in some corners that this whole thing is designed to call La Liga's bluff. Is the league really willing to lose its most valuable star to draw a hard line over the debt of a club valued at over $4 billion? 
In the official team statement, the club even takes a not-so-veiled shot at the league. The statement says that Messi won't be coming back specifically "because of Spanish LaLiga regulations on player registration."
The hour is getting late, and a PSG signing seems imminent, but there is a chance that La Liga could still relent and let Bara and Messi have his way, which is certainly what the player seems to want after his teary press conference. 
If La Liga stays firm and doesn't respond to Blaugrana's posturing, here are the two most likely options for Messi. 
Why Messi to PSG makes sense
If Messi doesn't return to Barcelona, it's no secret that Manchester City of the English Premier League and PSG of France's Ligue 1 are significant frontrunners for the star. Both clubs can offer more money than anyone else, and they each offer a different type of career twilight for the Argentinian forward. 
It seems like Messi wants to play at a high level for at least a few more years, as evidenced by his initial desire to stay with Barcelona in La Liga, the second-best league (or maybe third-best behind England and maybe Germany) in the world. But, at 34, that won't be the case forever. 
At PSG, Messi would join a team of international All-Stars that includes the likes of Neymar and Kylian Mbappe, who play in no better than the fifth-best global league. Even without Messi, the team usually walks to a league title without breaking a sweat, although they did finish second to Lille in 2020-21.   
The team also plays in the most prestigious international club tournament in the world, the Champions League, which Messi no doubt wants to be a part of. Signing with PSG means an easy domestic football life and possible Champions League glory, which sounds like a nice way to ease into retirement for Messi. 
Why Manchester City makes sense
City offers a slightly different path. Coming to the EPL would be a major move in Messi's career. If he can dominate in England, which is deeper, more talented, and more physical than La Liga, it could cement his GOAT status. His chief rival, Cristiano Ronaldo, played at Manchester United from 2003-2009, which is an argument Ronaldo fans use to prove their guy's greatness. 
After a few years of higher-level competition in England, with his old Barcelona Manager Pep Guardiola, the City Football Group, which owns Man City, can offer Messi an excellent retirement package too. CFG also owns NYCFC in the MLS (along with amongst a dozen other clubs around the world). 
Messi can sign a three- or four-year deal with Manchester City then head to the States to do his farewell tour while increasing his already sky-high brand awareness. This strategy has worked well for other soccer stars like David Beckham (LA Galaxy), Zlatan Ibrahimovic, Thierry Henry (New York Red Bulls), and Wayne Rooney (D.C. United). 
Whatever avenue Messi picks, it will likely be soon with the season just days away for most leagues, and it will definitely be enormous news. 
Like Sportscasting on Facebook. Follow us on Twitter @sportscasting19