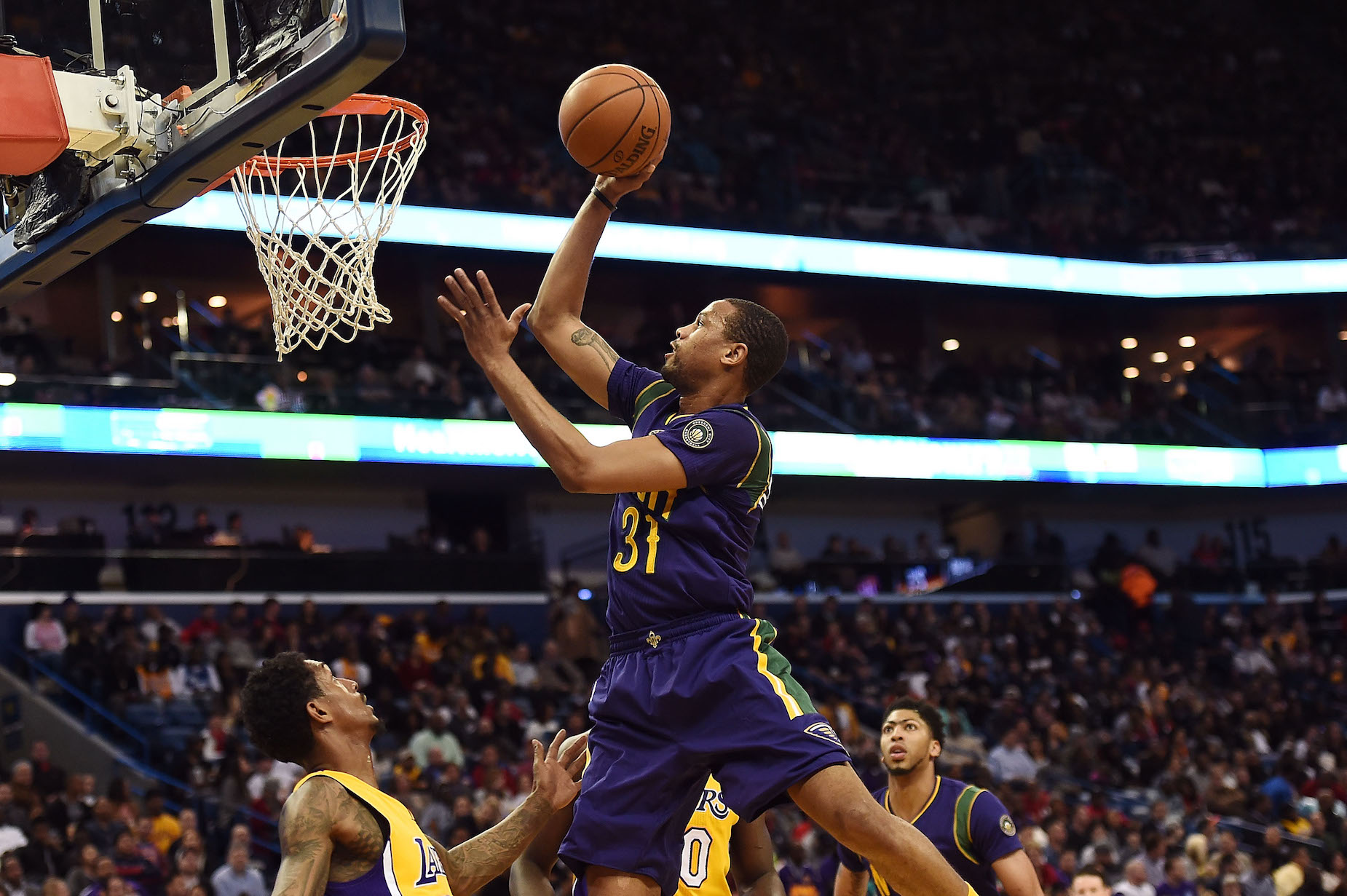 New Orleans Pelicans Guard Bryce Dejean-Jones Tragically Died After Trying to Open the Wrong Door
While New Orleans Pelicans guard Bryce Dejean-Jones might not be a household name, his death still stunned the NBA.
While it's cliche to say, Bryce Dejean-Jones was living the dream. After an up-and-down college career, the guard had made it to the NBA and inked a contract with the New Orleans Pelicans. Even if he wasn't going to magically turn into a star player, things were looking up. Things all changed, though, when tragedy struck.
In May 2016, Bryce Dejean-Jones paid an ill-fated visit to his girlfriend and daughter. In an instant, both his NBA career and life came to a tragic and untimely end.
Bryce Dejean-Jones showed potential during an inconsistent college career
While Bryce Dejean-Jones might not be a household name, he developed a fairly consistent reputation during his time on the hardwood. The guard had plenty of talent and drive but sometimes took things too far.
As Jeff Pearlman explained for Bleacher Report, Dejean-Jones could have a bit of a temper. He started his college career at USC but left the program after his freshman year; the guard "engaged in multiple confrontations during practices and had to be kicked out of the gym on several occasions."
Seeking a transfer, Dejean-Jones landed at UNLV; things went a bit better, but ultimately ended the same way. After his redshirt season and two years on the active roster, he was told that there was no place for him with the program. He transferred again to Iowa State and played out his final year of eligibility with the Cyclones.
Across his various stops, Dejean-Jones played 117 games of NCAA action. He averaged 10.8 points, four rebounds, and 2.3 assists per outing; while there were clearly some issues, his talent was plain to see.
Finding a home in the NBA
As you might assume, Bryce Dejean-Jones didn't garner much attention ahead of the 2015 NBA draft. While he went unselected, the guard still managed to land a professional job.
After suiting up for the New Orleans Pelicans in the Summer League, Dejean-Jones joined the organization's D-League affiliate, the Idaho Stampede. In January, he joined the big-club on a 10-day contract; he played well enough to earn a second 10-day deal and, in February, inked a proper, three-year contract.
While rising from undrafted free agent to a legitimate rostered player was a dream come true, Dejean-Jones' success didn't last long. Shortly after signing his three-year contract, the guard fractured his wrist; that injury ended his season prematurely.
The tragic death of Bryce Dejean-Jones
On paper, Bryce Dejean-Jones' injury was only supposed to end his season; the following fall, he would return to the court as good as new. The guard, however, never got the chance to play in another NBA game.
As recorded by CNN, Dejean-Jones traveled to Dallas to visit his girlfriend and celebrate his daughter's first birthday. On the night of May 28, 2016, though, tragedy struck.
When attempting to return to his girlfriend's apartment, Dejean-Jones mistakenly entered the wrong unit; he went to the third, rather than the fourth, floor. Inside that incorrect apartment, the guard found the bedroom door locked and kicked it open. The resident inside, faced with a stranger bursting into the room, shot Dejean-Jones. The guard was transported to a hospital, where he died.
According to Pearlman's Bleacher Report story, Dejean-Jones and his girlfriend had clashed earlier that night; the guard's "blood-alcohol level was 0.188 (for his weight, anything over 0.08 is considered legally intoxicated), and he also tested positive for marijuana."
Bryce Dejean-Jones died a few months short of his 24th birthday.
Stats courtesy of Sports-Reference and Basketball-Reference