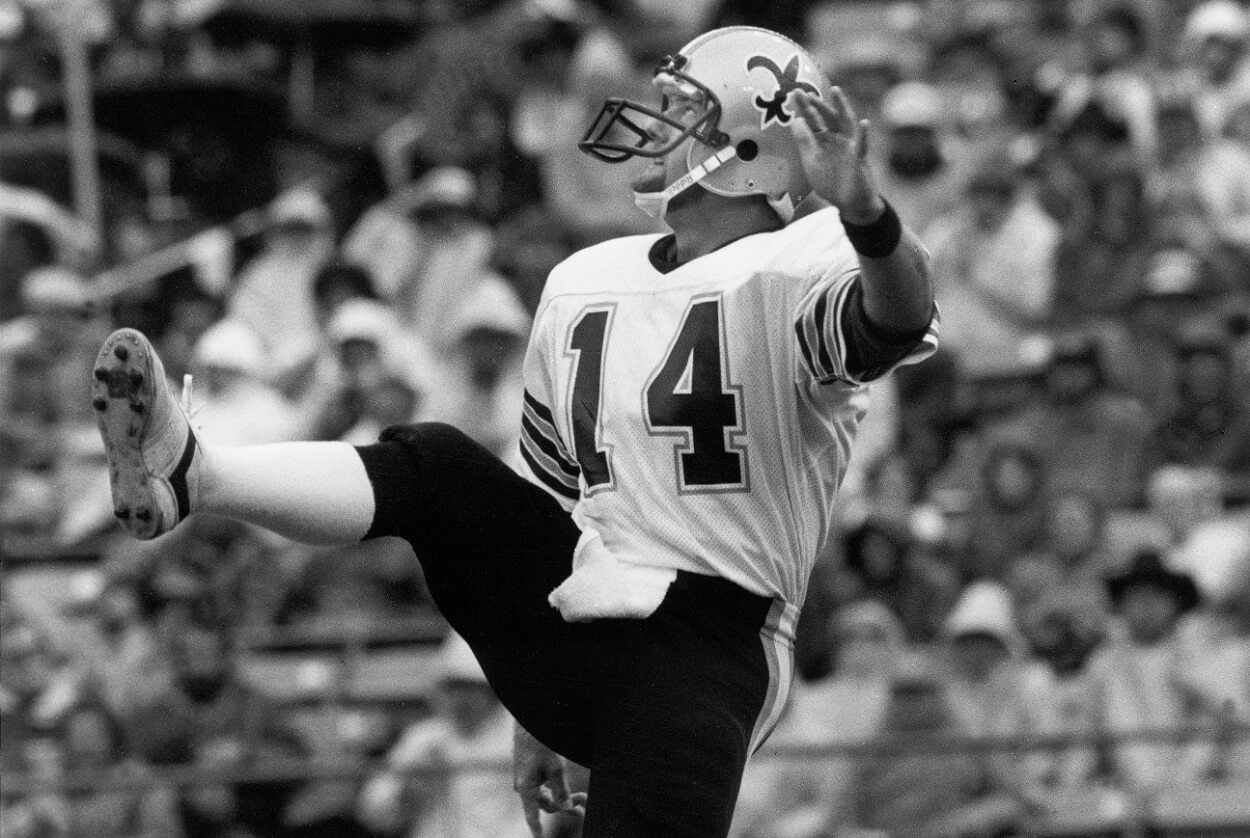 The New Orleans Saints Once Took a Punter in the 1st Round Who Later Spent More Years in Prison Than He Did in the NFL
A look at Russell Erxleben, the punter who was taken with the 11th overall pick in the 1979 NFL Draft.
Heading into the 1979 NFL Draft, the New Orleans Saints were coming off the best season in franchise history.
Sure, they'd gone just 7-9 in 1978, but those seven victories were two more than they'd ever had. So it was a step in the right direction. And as the Saints held the 11th overall selection in the '79 draft, the chances of them adding another talented piece to the roster were pretty solid.
And while they did add a three-time All-American with that No. 11 pick, they shocked the entire football world by drafting a punter. Actually, Russell Erxleben was both a punter and a kicker. And that was apparently part of the allure, as New Orleans was hoping to save a roster spot by having him take on both roles. Nevertheless, the Saints used a first-round pick on a freaking kicker, which you just don't do.
And things never quite worked out. While Erxleben spent five years with New Orleans, he certainly never reached the level expected of a first-round pick. And life after football got rough as well, as the Texas native spent more years in prison than he did in the NFL.
Russell Erxleben got off to a rocky start in the NFL
As mentioned, Russell Erxleben was a three-time All-American, taking on both the punting and placekicking duties at the University of Texas. And it can never be argued that the guy didn't have a strong leg. In a 1977 matchup against Rice, he set an NCAA record for the longest field goal in history, drilling a 67-yarder, one of three field goals of at least 60 yards that season.
Of course, you could still kick field goals off a tee back then, but it was impressive nonetheless.
Erxleben just never found that kind of success in the NFL. In his very first regular-season game, the Saints took on the rival Atlanta Falcons, and things were going okay. He'd made all four of his extra point attempts, both field goal tries, and averaged 37 yards on four punts. Not bad, right? But it was all downhill from there.
At the end of regulation, the score was tied 34-34. And during the overtime period, Erxleben was forced to attempt to run down a poor snap deep in his own territory. The snap certainly wasn't his fault, but the chest pass he tried was, and it went right into the arms of Falcons special teamer James Mayberry, also playing his first NFL game, who ran it back for a game-winning touchdown.
Just one week later, Erxleben suffered a hamstring injury and was lost for the season. Despite the Saints scrambling to fill both positions, they still went 8-8.
He was stripped of his placekicking duties and spent just four more years in the NFL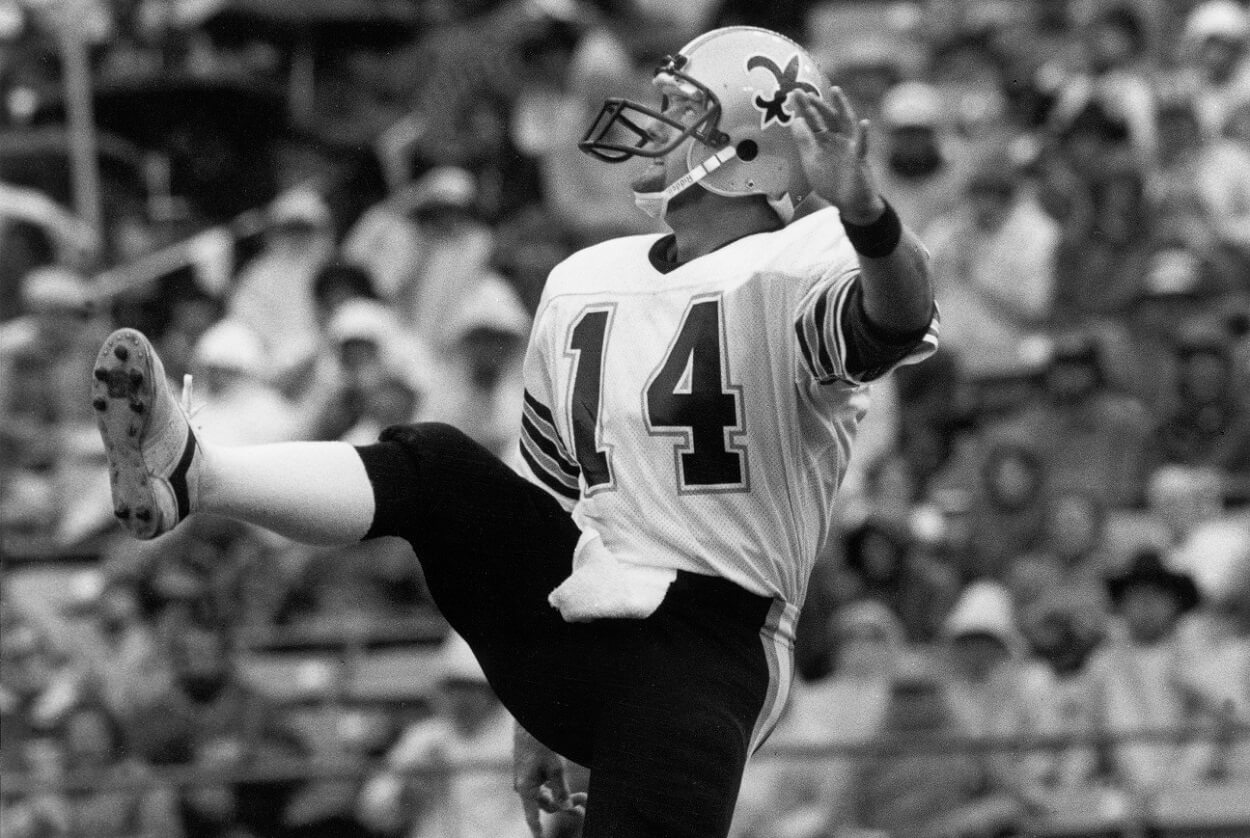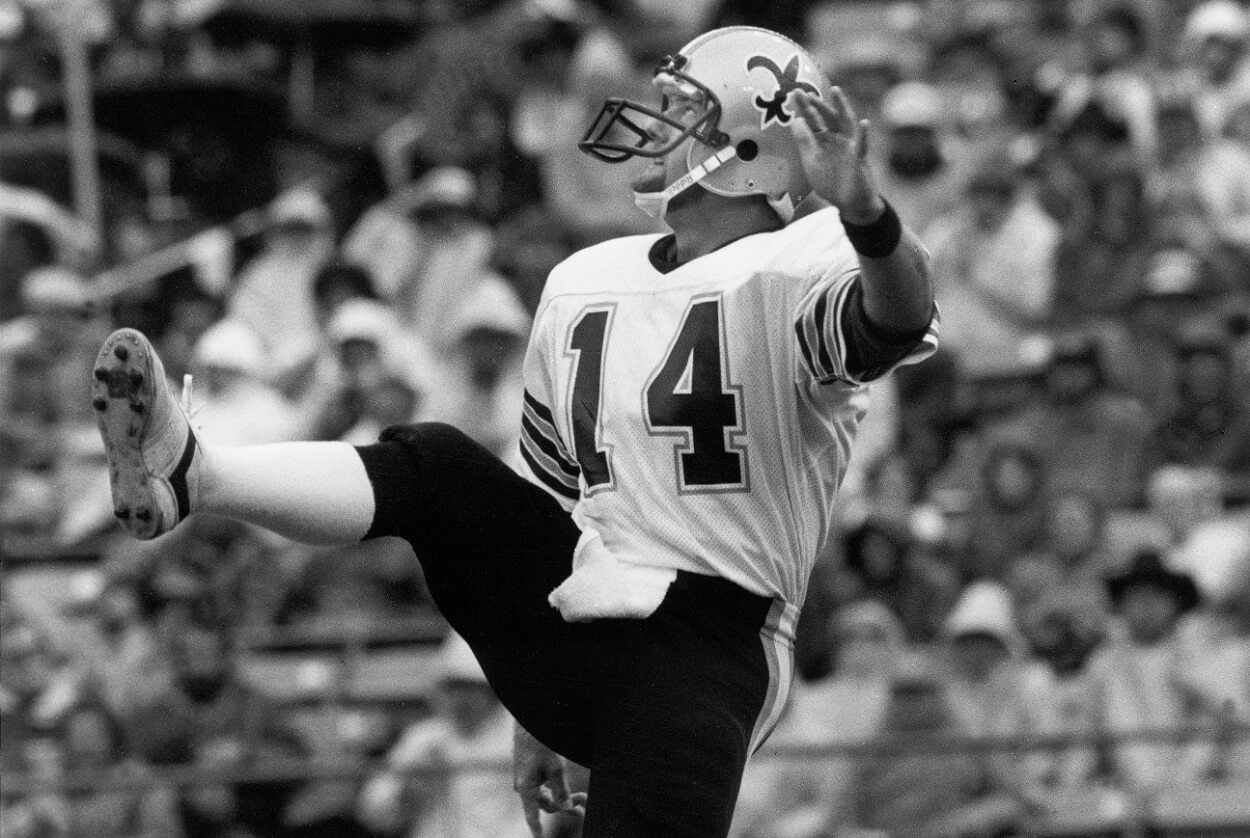 Erxleben's late-game woes followed him into the 1980 campaign. Recovered from his injuries, he had an opportunity to get New Orleans into another overtime opener, this time against the San Francisco 49ers. But trailing 26-23, his game-tying effort missed. It was one of two missed field goals for Erxleben that day. He was relieved of his placekicking duties a short time later.
That was the first of 14 consecutive losses for the Saints that season, and they finished the year with a 1-15 record.
In 1982, New Orleans drafted Morten Andersen, who became one of the greatest kickers in NFL history. So there was no shot at Erxleben getting his job back on that front. And in 1984, the Saints drafted punter Brian Hansen. And it should be noted that Hansen was taken with the 237th overall pick — you know, where you're supposed to select punters.
As New Orleans had selected Hansen, Russell Erxleben was released. In five seasons with the Saints, he never made the Pro Bowl as a punter and made just four of eight field goals.
After several years away from the game, Erxleben attempted an NFL comeback as a replacement player with the Detroit Lions during the 1987 strike. But things didn't pan out, and he gave up the game for good in 1988.
Erxleben spent more years in prison than he did in the NFL
Upon retiring from the NFL, Erxleben began a career in the world of finance and even started his own firm in his home state of Texas, founding Austin Forex International. But it didn't take long for that career to go south as well.
In 1998, federal investigators concluded that Erxleben was involved in a massive Ponzi scheme in which he conned approximately 500 investors in his firm out of roughly $35 million in retirement plans, college tuition, and other savings. He was later sentenced to seven years in prison, the last two of which were under supervised release in a halfway house. He was also ordered to pay millions in restitution and was given a hefty fine.
Despite being barred from dealing with stock or securities, a condition of his release, Erxleben later began running yet another Ponzi scheme, this time conspiring with several others. He pleaded guilty to counts of wire fraud and money laundering and was sentenced to 90 months in prison in early 2014. He was granted early release in 2019.
That's right, folks. Russell Erxleben, the punter taken in the first round of the '79 draft, spent more time in prison than he did in the NFL. Is it a wonder why Saints fans used to wear bags over their heads?