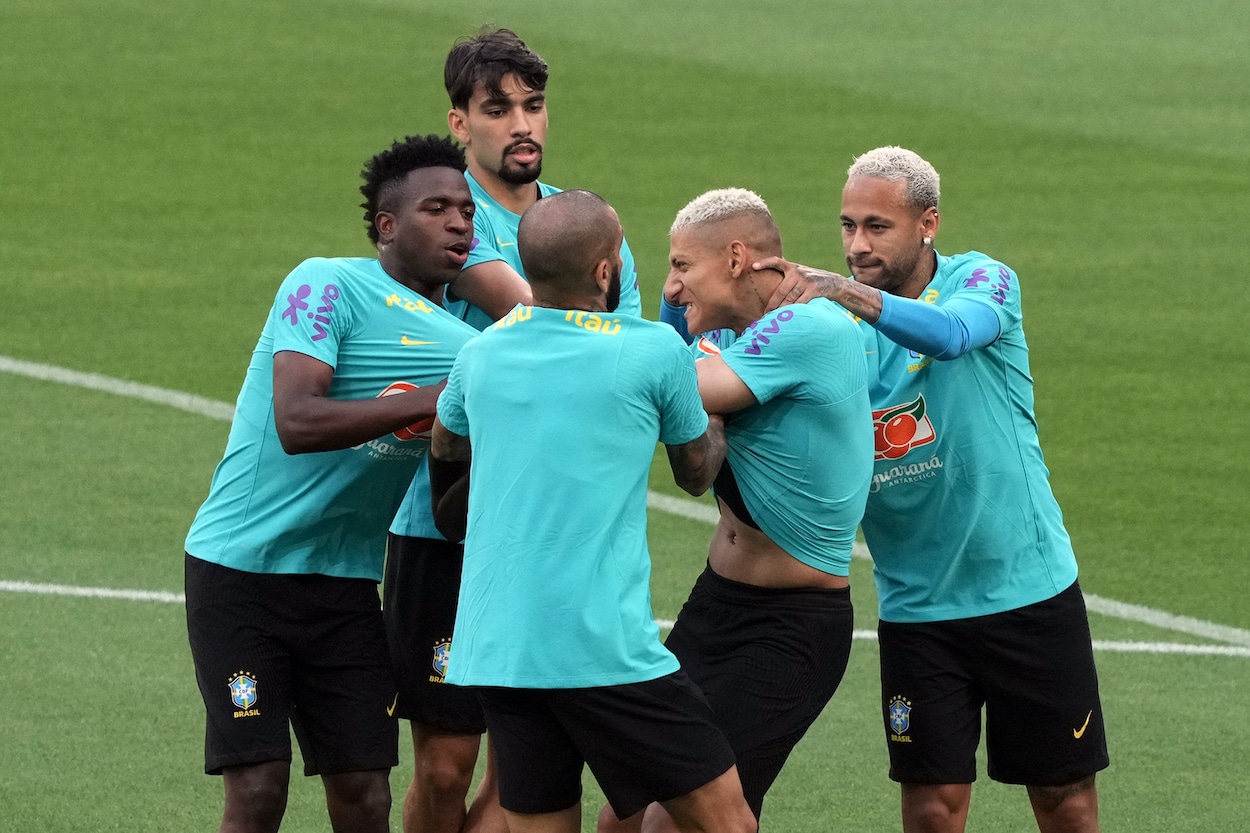 Neymar Has to Separate Brazilian Teammates Vinicius Jr. and Richarlison During Practice Fight
Brazil's national team had a training incident before a friendly in Japan involving forwards Vinicius Jr., Richarlison, Neymar, and a fight.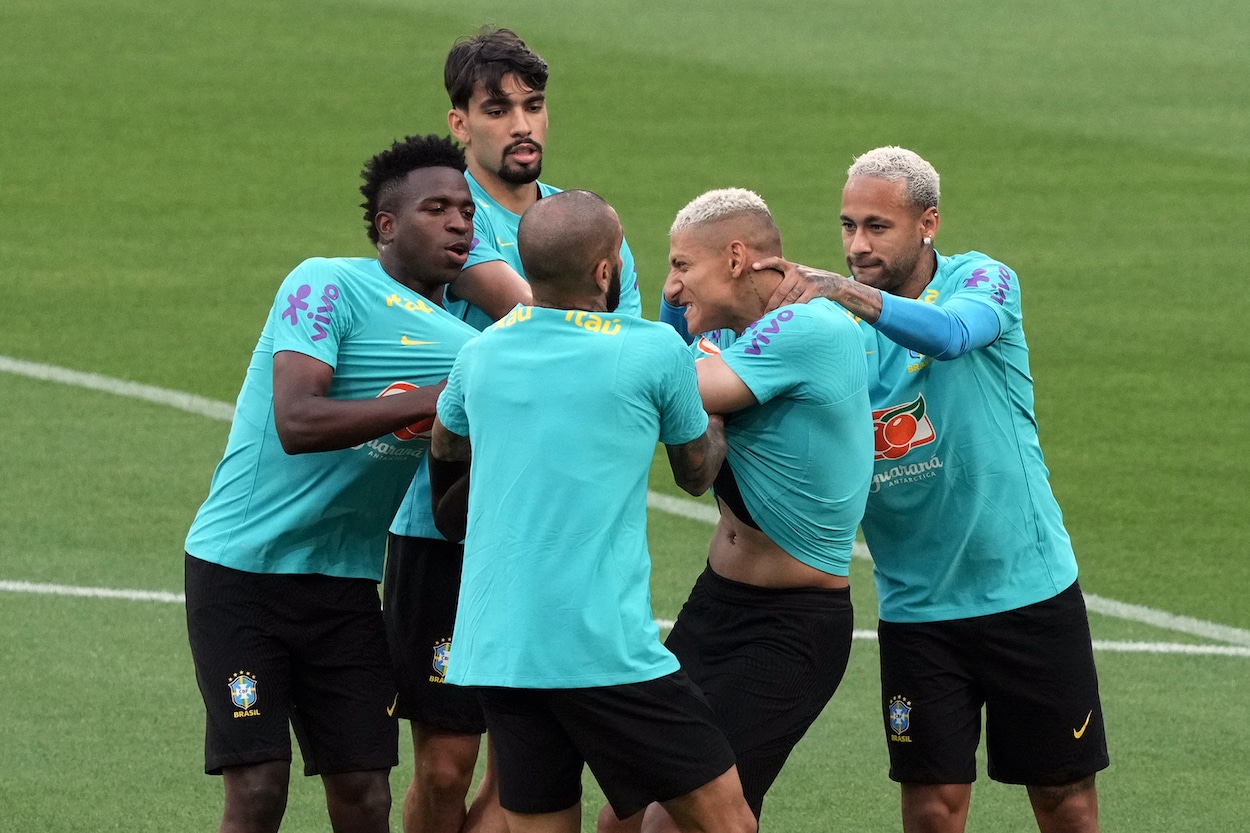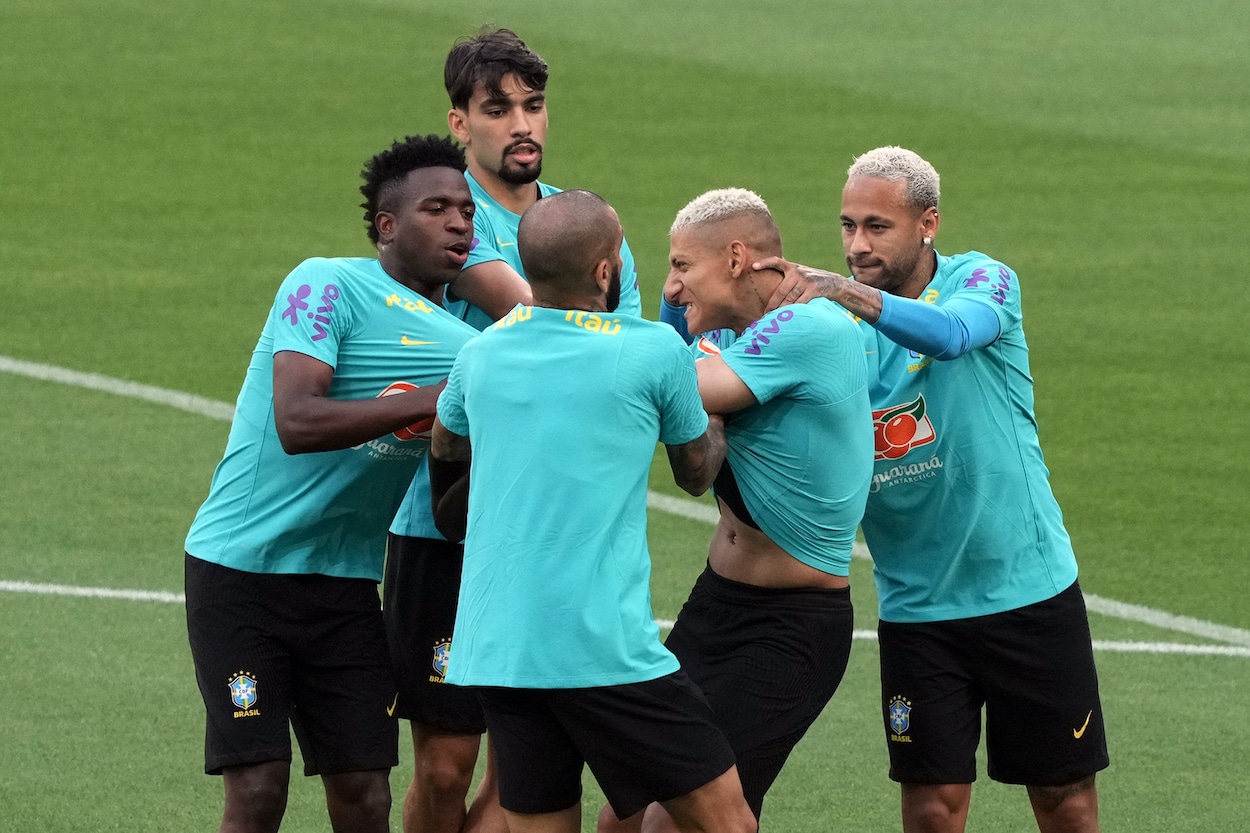 Fans of a team never want to see two of its own players fighting during practice. It's even worse if one of the players involved is a young star on the rise. That's what happened in Brazil's practice, though, when newly-crowned Champions League title holder Vinicius Jr. and Richarlison went at it in training. The fight got even worse when Neymar, the team captain and one of the best soccer players in the world, had to get involved. 
Neymar had to separate Vinicius Jr. and Richarlison at a Brazil practice
The Brazilian national team is in Tokyo, Japan training for a friendly match against Japan. The June international break friendly is a tune-up for the 2022 World Cup, which starts in November in Qatar. 
These matches will let head coach Tite figure out his tactics for the World Cup as well as his lineup. 
One of the most critical battles for Brazil will be at the forward spots. The South American powerhouse is loaded with offensive talent, but only so many can play at one time. Paris Saint-Germain superstar Neymar will be on the pitch no matter what in Qatar. 
That leaves two, maybe three starting spots available. Fighting for these spots are a host of young stars like Manchester City's Gabriel Jesus, Leeds United's Raphinha, Everton's Richarlison, and Real Madrid's Rodrygo and Vinicius Jr. 
Two of these forwards took the fighting piece literarily this week as Vinicius Jr. and Richarlison got in a physical fight in training. 
As the two tussled, Neymar, Barcelona's Dani Alves, and Lyon's Lucas Paquetá had to jump in and separate the pair. Marca reports that, while no reason for the dustup has been given yet, Vinicius Jr. was calm after the fight, while the fiery Richarlison "continued to edge towards the young forward in an attempt to cause him harm."
Vinicius Jr. is a rising star at Real Madrid
If there is a best bet to be in the starting lineup when Brazil takes on Serbia in its World Cup opening match, it's Real Madrid's Vinicius Jr. 
The 21-year-old Brazilian is a rising star in European football. This season, the speedy winger poured in 22 goals and 21 assists in 52 appearances for Los Blancos on the way to a LaLiga title and a Champions League trophy. 
Vini Jr. dominated is Champions league, especially. His speed gave Manchester City fits in the semifinals, and the youngster sparked Real Madrid's miraculous comeback in the dying moments of the second leg. Vinicius Jr. also scored the only goal in the club's 1-0 win in the final vs. Liverpool. 
Vinicius Jr. is the future of Brazil in international football, so it shouldn't be surprising he seemed relatively un-phased after the training ground fight. 
Richarlison is a controversial figure at Everton
Unlike Vinicius Jr., Richarlison wasn't an immediate breakout star. The 25-year-old spent his first two decades in Brazil before moving to Watford in the English Premier League at 20. 
With Watford and then Everton, Richarlison has been good but hasn't yet earned a move to one of the top-level teams in Europe. The forward had 11 goals and five assists in 33 appearances last season with Everton. He also has 35 caps and 14 goals for Brazil. 
Richarlison is no stranger to controversy. 
Just this season, the FA disciplined him for throwing a lit flare back into the stands during a goal celebration. He also had to apologize to Liverpool's Thiago after a particularly vicious challenge that earned the Brazilian a red card. 
He also went after Sky Sports commentator Jamie Carragher on social media after the pundit and Liverpool legend criticized the Brazilian for his performance and faking injuries. Richarlison tweeted, "@Carra23 wash your mouth before you talk about me and everton and I don't respect you," followed by a poop emjoi. 
Just like it's not a surprise Vini Jr. was calm after the practice incident, it's also on-brand that Richarlison seems to be the instigator and the one who wouldn't let it go. 
All stats courtesy of Transfermrkt
Like Sportscasting on Facebook. Follow us on Twitter @sportscasting19 and subscribe to our YouTube channel.