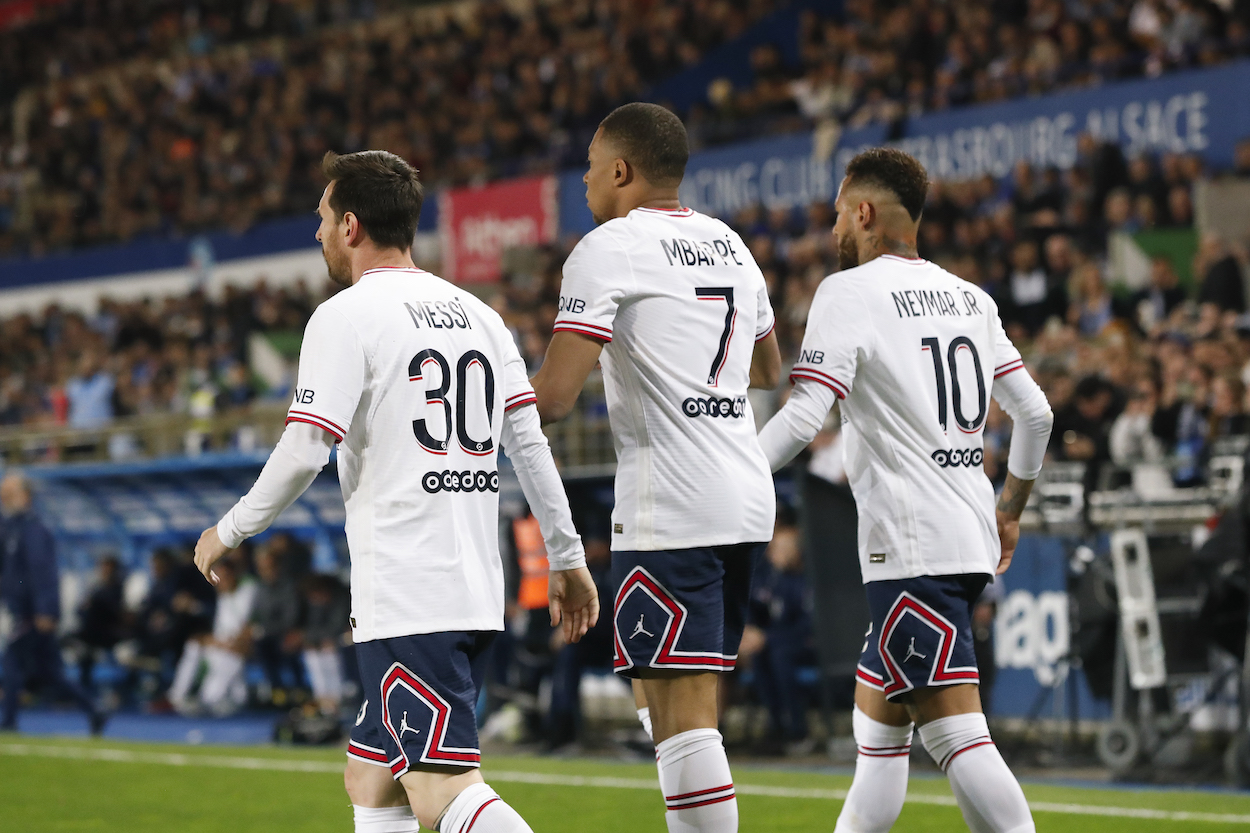 PSG Could be Falling Apart Amidst Kylian Mbappé Saga and Lionel Messi to MLS Rumors
What's next for PSG is the Lionel Messi, Kylian Mbappé, and Neymar Era is over after just one season together?
No soccer team in the world has a more star-studded roster than Paris Saint-Germain (PSG). The French Ligue 1 side features three of the best five players in the world in Lionel Messi, Kylian Mbappé, and Neymar. 
However, after one relatively disappointing season with these three mega-stars together, the PSG machine may already be falling apart. 
PSG has the most talent in the world
Any list of the best soccer players in the world in 2022 has to include PSG forwards Lionel Messi, Kylian Mbappé, and Neymar. You can rank them however you want and slide in Cristiano Ronaldo, Robert Lewandowski, Kevin De Bruyne, or Erling Haaland somewhere among them, but these three players will be on the list. 
It's not just the trio at the top, though, making PSG the most talented roster in the world. 
Goalkeepers Gianluigi Donnarumma and Kaylor Navas, defenders Marquinhos and Achraf Hakimi, midfielder Marco Verratti, and forwards Angel Di Maria and Mauro Icardi are all among the best in the world at their positions. 
Despite the loaded roster, PSG didn't set the world on fire during the 2021-22 season. 
Yes, the team will win its league for the eighth time in the last 10 seasons. And they'll do it with a comfortable 15-point margin. However, this team isn't measured by how badly it beats up on the other teams in its third-rate domestic league. 
The Parisian side finished second in its UEFA Champions League group to the equally deep-pocketed Manchester City, then blew a 2-0 aggregate lead in the last half hour of the Round of 16 second leg vs. Real Madrid. 
Now, with transfer rumors flying around the club, this doesn't look like a slow start to a dominant era but rather a failed shot at glory with the best team in the world.
Lionel Messi, Kylian Mbappé, and Neymar could be leaving PSG
At 23, Frenchman Kylian Mbappé has played his entire career in Ligue 1. He started at Monaco before making a massive $159.5 million move to PSG. Mbappé has 168 goals and 87 assists in 216 appearances for his current club. And he's won his league's Player of the Year Award the last three seasons running. 
However, despite PSG throwing potential record-setting new contract numbers at him, Mbappé is poised to leave France and become the next Galácticos to sign with Spain's Real Madrid this offseason, per ESPN. 
On the heels of the Mbappé news, rumors of Lionel Messi's imminent departure came out. 
Futbol Total DIRECTV's football insider Álex Candal shockingly reported that Messi has an agreement in place with Inter Miami owner and soccer legend David Beckham to move to the Major League Soccer club for the 2023-24 season in exchange for a 35% ownership stake in the franchise.
Finally, there are conflicting reports about Neymar's future with the club. Some outlets, such as Goal.com, speculate that the Brazilian's big contract with three years left on it means he will stay with PSG into next season. Although others, like the Spanish outlet Fichajes.net, believe PSG will let Neymar go if a big offer from Manchester City, Newcastle United, or Barcelona comes. 
If any or all of this happens, the Paris Saint-Germain squad that takes the field at Parc des Princes in 2022-32 could look very different. 
Who could replace Messi, Mbappé, and Neymar?
In addition to possibly losing its Big 3, Paris Saint-Germain will also see Angel Di Maria exit this offseason for Juventus. Midfielders Marco Verratti, Leandro Paredes, and Idrissa Gueye could be on their way out as well. 
PSG's best bet to restock its cabinets quickly is to lure unhappy or out-of-favor French stars back to their homeland. This includes Manchester United's Paul Pogba, Chelsea's N'Golo Kanté, and Barcelona's Ousmane Dembélé.
Additionally, rumors have PSG interested in Benfica forward Darwin Núñez and Napoli midfielder Sergej Milinkovic-Savic, who are also Manchester United targets. 
Unfortunately for PSG fans, it now looks like the French club is out of the race for the biggest prize of the 2022 offseason. Borussia Dortmund's 21-year-old striker Erling Haaland will be heading to Manchester City next year instead of PSG or Real Madrid. 
However the next transfer window shakes out, there is no doubt that PSG will have a starting 11 next season that looks different than this year's team. While this may be nerve-wracking for the Parc des Princes faithful, the club may be better off with its talent and money spread more evenly than it was in 2021-22. 
All stats courtesy of Transfermrkt
Like Sportscasting on Facebook. Follow us on Twitter @sportscasting19 and subscribe to our YouTube channel.