NFL Insider Ian Rapoport Reports the Jets Could Make Godfather Offer for Deebo Samuel
San Francisco 49ers WR Deebo Samuel wants out of he Bay Area and the New York Jets might have the draft picks to get him to the Big Apple.
In an offseason where players having Instagram tantrums and trade demands have become commonplace, the Deebo Samuel trade demand came as quite a surprise. One team that could make the San Francisco 49ers a monster offer for the talented young wide receiver with running back skills is the New York Jets, which NFL insider Ian Rapoport recently confirmed.
Deebo Samuel demanded a trade from the San Francisco 49ers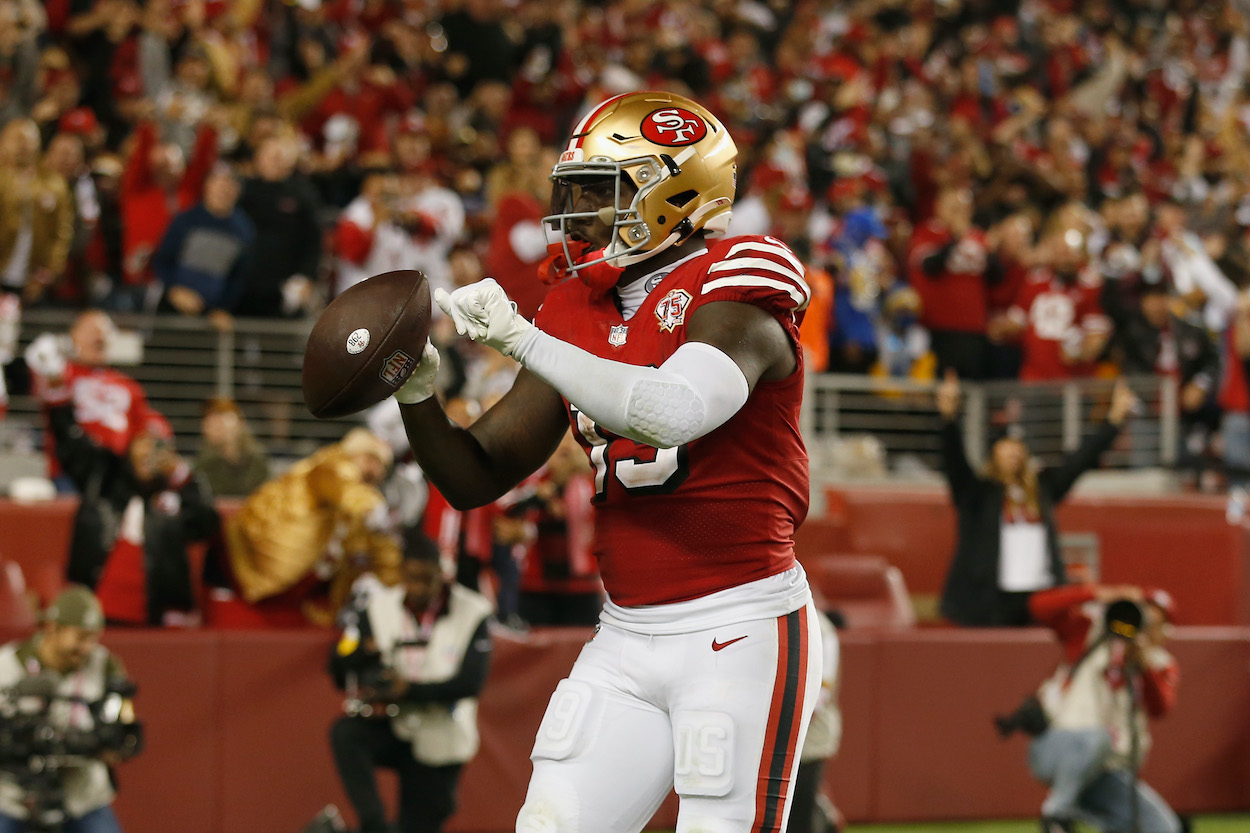 When Deebo Samuel scrubbed his Instagram of all mention of the San Francisco 49ers, fans knew there could be trouble. A few weeks later, the trouble came as the team's "wide back" announced he was demanding a trade.
Samuel is an incredible talent. As a 2019 second-round draft pick out of South Carolina, Samuel is electric when he's healthy and on the field. During his first two seasons, Samuel played 22 games, caught 90 balls for 1,193 yards, and scored seven total touchdowns.
In 2021, the wideout truly broke out. In 16 games, he made 77 catches for 1,405 yards and scored six receiving TDs. He also led the league in yards per catch at 18.2. Samuel also became a weapon out the backfield last season. He rushed the ball 59 times for 365 yards and added eight more TDs on the ground.
The biggest (and really only) knock on Samuel is that he's missed 11 games in three seasons. And, at 6-foot, 215-pounds, how long can he stand up to NFL punishment as a receiver who excels at going over the middle and a part-time RB?
That's a question that any NFL team that wants to trade for him will have to answer, including the New York Jets.
Ian Rapoport thinks the New York Jets could make a massive offer 
As news of the Deebo Samuel trade demand spread, Ian Rapoport joined several of his NFL Network colleagues to update the situation. The NFL insider confirmed the demand and shared some info on what teams will be in the Deebo Samuel sweepstakes:
Deebo Samuel wants out. We know that. We know there are several teams who are interested. Joe Douglas, the Jets GM, does, in fact, have interest in the Deebo Samuel situation. Said if it was the right situation, they'd be aggressive. They have before. We saw them swing — and eventually miss — but still swing pretty heavily on the Tyreek Hill situation. I would expect the same here.

Ian Rapoport on Deebo Samuel and the New York Jets
The Jets will have to step up with a Godfather offer, though, if they want Samuel, as Rapoport suggests. In addition to Gang Green, the NFL insider says that several other teams are interested in the former South Carolina Gamecock as well.
Rapoport lists the Green Bay Packers, Detroit Lions, and Kansas City Chiefs as possible destinations, along with "some other teams interested as well."
It's really just, does anyone have an offer that would make the 49ers take it?" Rapoport concluded. "There is a point where they say, 'We can no longer turn this deal down.'"
How much is Deebo Samuel worth?
So, the question becomes, what does an offer the San Francisco 49ers can't refuse for Deebo Samuel look like?
There have already been two blockbuster WR trades this offseason, so we have a bit of a roadmap to look to. The Green Bay Packers traded Davante Adams to the Las Vegas Raiders for a first- and second-round pick (Nos. 22 and 53).
The Kansas City Chiefs got an even bigger haul from the Miami Dolphins for Tyreek Hill. The 'Phins also sent first- and second-round picks (Nos. 29 and 50), plus two fourths and a sixth.
Both these wideouts are more accomplished and have a better health track record than Samuel, but Adams and Hill are both older and command bigger contracts than Samuel will.  
The Jets are flush with picks in the 2022 NFL Draft. The team has two picks in the first (Nos. 4 and 10), second (Nos. 35 and 38), and fourth (Nos. 111 and 117) rounds. To blow the 49ers away, the No. 10 pick plus a few others might get it done. Since No. 10 is much higher than the picks the Raiders and Dolphins gave up, the Jets might even be able to save their second-rounders and get the Niners to agree for a third (No. 69) or the two fourths.
If Joe Douglas and the Jets can pull off this deal, it will likely go right down to the last minute, so expect draft night to be exciting.
All stats courtesy of Pro Football Reference