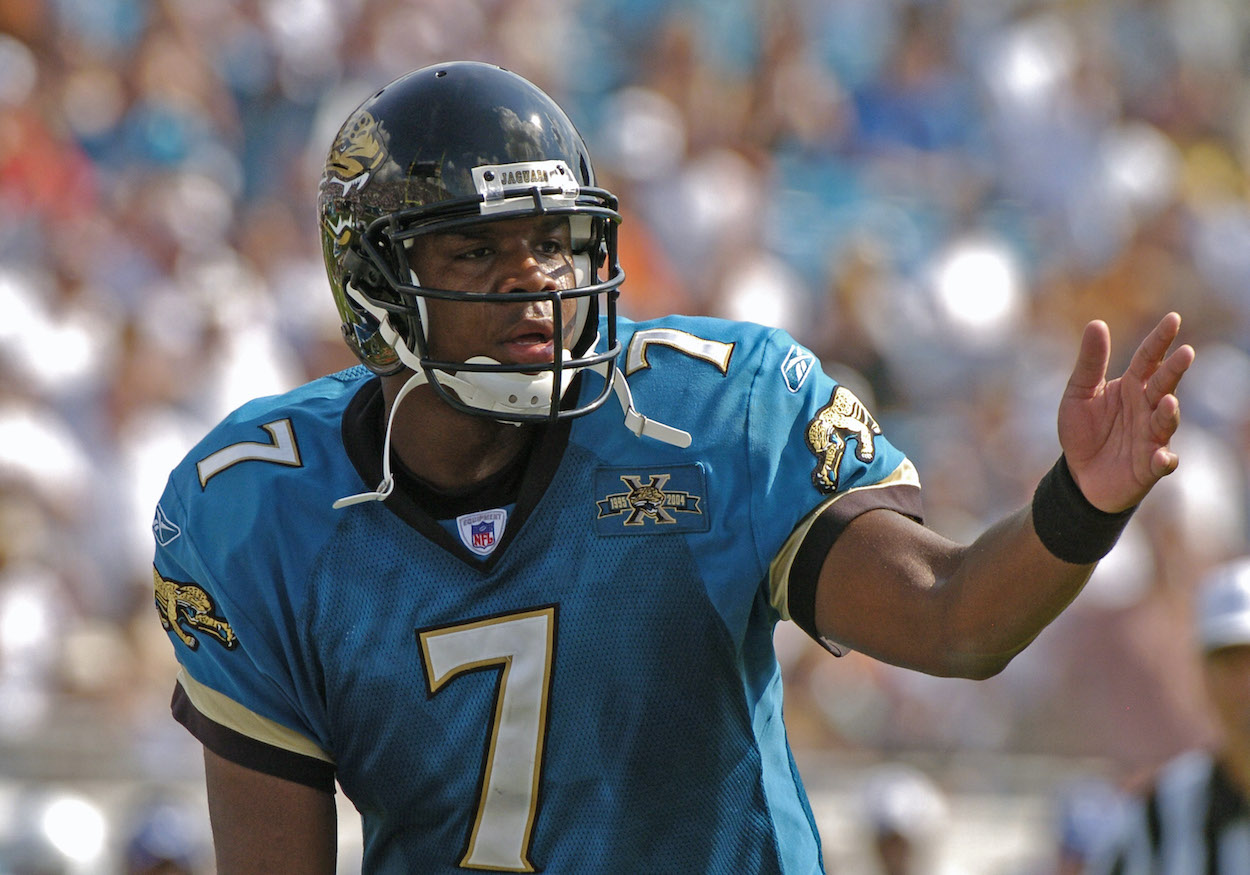 NFL Insider Ian Rapoport Says the Jacksonville Jaguars Should Consider Their Former QB Byron Leftwich to Replace Urban Meyer: 'I Think He Would Probably Want It'
Tampa Bay OC Byron Leftwich is a hot NFL coaching prospect who could be a perfect fit to replace Urban Meyer with his old team, the Jacksonville Jaguars.
There are several hot head coaching candidate names out there related to who will succeed Urban Meyer after Jacksonville Jaguars owner Shad Khan finally fired the embattled head coach. Kansas City Chiefs offensive coordinator Eric Bieniemy, former Philadelphia Eagles head coach Doug Pederson, and New England Patriots OC Josh McDaniels are in that group. However, NFL insider Ian Rapoport (among others) thinks that the best move would be to bring back one of the franchise's former quarterbacks, Tampa Bay Buccaneers OC Byron Leftwich.
Byron Leftwich is a Super Bowl-winning OC with the Tampa Bay Buccaneers
Byron Leftwich had an interesting journey from Washington D.C. to Marshall University to the NFL (more on that below). Still, he's had an even more meteoric rise through the NFL coaching ranks.
The nine-year NFL veteran retired after the 2012 season. Four years later, he joined Bruce Arian's Arizona Cardinals staff as an intern. The team then hired him as quarterbacks coach in 2017. In 2018, Arians left and Leftwich stayed on with one-season head coach Steve Wilks. The Cardinals promoted him to offensive coordinator for the last few games of the 2018 season after the team fired OC Mike McCoy.
Arizona dismissed Leftwich with Wilks after the 2018 season, but his former boss Arians hired him as OC at his new gig with the Tampa Bay Buccaneers.
In 2019, Leftwich led the NFL's third-ranked offense. He also mentored James Winston through his infamous 30/30 season, where he led the league in passing attempts, yards, and yards per game, all while throwing 33 touchdown passes and (an also league-leading) 30 interceptions.
Then Tom Brady came to town.
It took a while for the Bucs offense to get going in 2020 due to COVID-19 restrictions and trying to integrate the greatest QB of all time. However, the end result was Brady, Arians, and Leftwich lifting the Lombardi Trophy.
In 2021, Leftwich and the Buccaneers O have stayed on top. Tampa Bay is one of the best teams in the NFL once again and boasts the No. 1 scoring and yardage offense in the league.
This success means Leftwich's name is now brought up in 2022 head coaching candidate conversations, including the one that just started surrounding the team that initially brought him to the NFL back in 2003: the Jacksonville Jaguars.
NFL Network's Ian Rapoport supports bringing Leftwich back to the Jacksonville Jaguars
After months of bad behavior, anonymous reports, and losses came to a head in Duval County, Jacksonville Jaguars owner Shad Khan finally fired Urban Meyer late at night on Wednesday, Dec. 15, 2021.
What once looked like a promising marriage between a down-on-its-luck organization, an uber-successful college coach, and a franchise-altering No. 1 overall QB is now nothing more than another job opening in 2022.
While there are plenty of drawbacks to the Jacksonville Jaguars job — old facilities, small fan base, history of losing, etc. — the Trevor Lawrence piece will make it appealing to the top coaching candidates in the NFL.
NFL insider Ian Rapoport joined The Rich Eisen Show the day after the firing went down and discussed potential candidates, including one who knows the franchise well and would only have to move three hours north:
I don't know which direction this is going to go, but there are some good leaders out there. … Byron Leftwich was a former Jaguars quarterback. He is a coordinator of a pretty good football team and has earned the respect of a pretty good quarterback. And is a leader. … Leftwich makes a lot of sense, and I think he would probably want it.

Ian Rapoport on the Jacksonville Jaguars and Byron Leftwich
While there are plenty of football reasons to want the job (mostly Trevor Lawrence-related), Leftwich is likely one of the few candidates who has a soft spot for the franchise itself.
That's because the Jaguars were the team who took a kid from inner-city D.C. and a small West Virginia college and made him an NFL QB.
The former Jaguars QB had a solid NFL career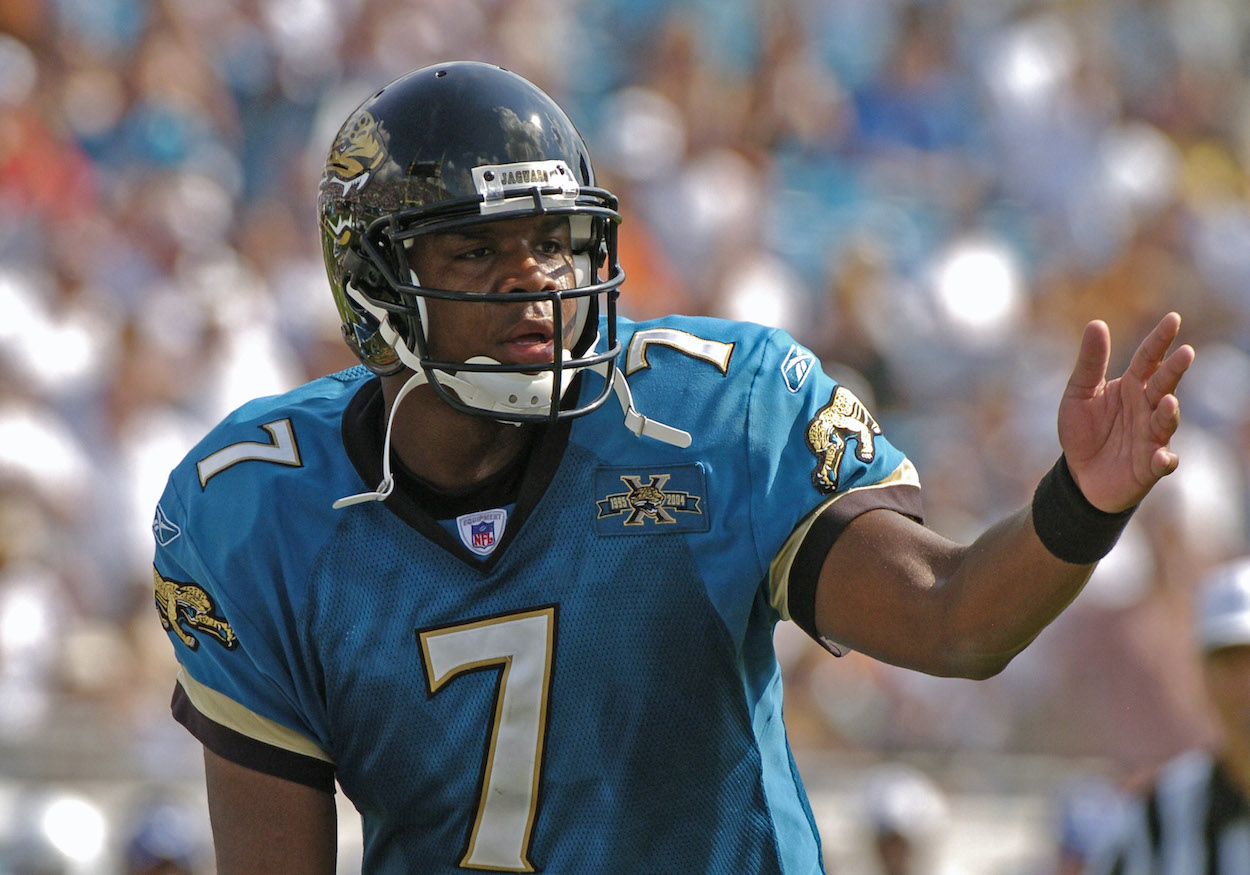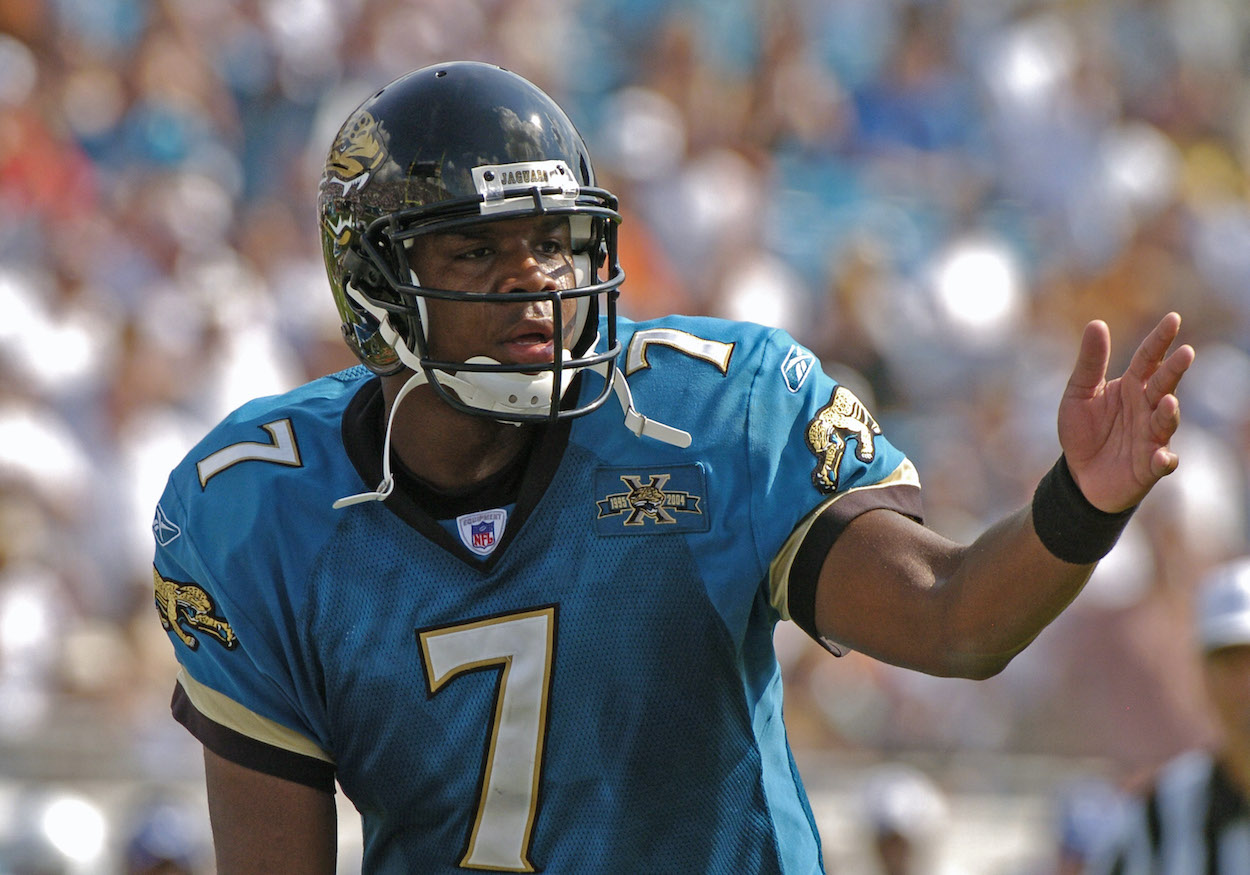 Before Byron Leftwich was a Super Bowl-winning offensive coordinator, an NFL QB, or even a top prospect out of Marshall University, he was just a kid from Washington D.C.
"I wasn't supposed to be a QB in the NFL," he once said, per Bleacher Report. "Back then, QBs were being trained at seven, eight years old. … I'm just throwing rocks at seven or eight. … Inner-city kid with no dreams of even thinking I got a shot."
However, the 6-foot-5 signal-caller went to Marshall and became a major prospect. He threw for 11,903 yards and had 89 TD passes to just 28 INTs in his five seasons in Huntington, West Virginia.
The Jacksonville Jaguars saw his talent and made him the No. 7 overall pick in the 2003 NFL Draft.
Leftwich played four seasons in Duval. He started 44 games and threw for 9,042 yards with 51 TDs and 36 INTs, leaving the franchise with a winning record of 24-20.
The signal-caller left in 2007 and played five more seasons, mainly as a backup with the Atlanta Falcons, Pittsburgh Steelers, and Tampa Bay Buccaneers.
In his three seasons in Pittsburgh (2008, 2010, 2012), backing up Ben Roethlisberger, Leftwich played under offensive coordinator Bruce Arians. This relationship is what got him to where he is today and might ultimately make him Urban Meyer's replacement back where it all started in Jacksonville.
All stats courtesy of Pro Football Reference and Sports Reference