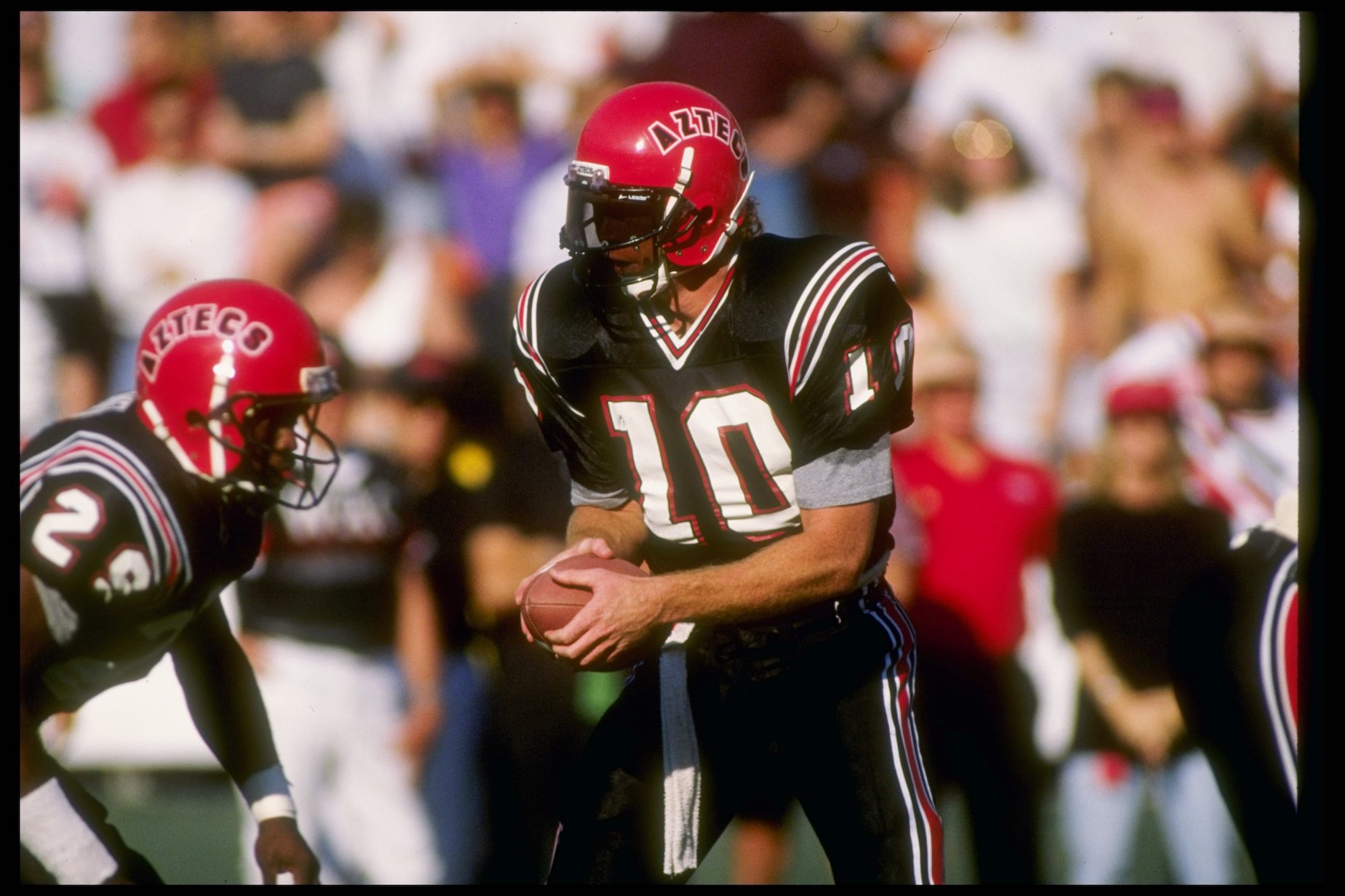 Who's the Tallest Quarterback in NFL History?
If you've watched football for any amount of time, you've heard talk of short quarterbacks. Who's the tallest quarterback in NFL history?
Even the most casual sports fan can tell you that football players are massive human beings. While that's especially true of the lineman in the trenches, most NFL quarterbacks seem to fit into a pretty neat box. If you're too small, like Russell Wilson, for example, you'll be written off from the start. But what about the guys at the opposite end of the spectrum?
While coaches and general managers can be hesitant to rely on a signal-caller who they deem to be too short, there isn't much said about tall NFL quarterbacks. Who's the tallest quarterback in league history? Is it possible to have too much height on your side?
Despite the conventional wisdom, short quarterbacks have found success in the NFL
For years, the conventional wisdom held that you needed a physical specimen to slot in as your starting quarterback; in theory, he had to be able to look over the offensive line, absorb any hits, and lead the team as a field general. Over the years, though, teams have started to realize that size isn't everything.
While Doug Flutie got the 'small quarterback' train rolling, things have picked up speed in recent years. Players like Russell Wilson and Kyler Murray, who clock in at 5 feet, 11 inches and 5 feet, 10 inches, respectively, have rewritten the book on size.
From a stylistic perspective, that shift makes sense. Modern sports is all about adaptability and athleticism; standing tall in the pocket and throwing a strike is less important in an era of scrambling, improvisation, and creative playcalling. That creates a more level playing field, where shorter quarterbacks can make up for their 'deficiencies' with other skills.
Tall quarterback, however, have issues too
Short quarterbacks aren't alone in their apparent issues, though. At the opposite end of the spectrum, exceedingly tall quarterbacks are also viewed with a bit of suspicion.
As Robert Mays recounted early in his piece for The Ringer, Byron Leftwich fell victim to that reality. Coming into the NFL combine, teams apparently were concerned about his 6 feet, 6-inch height; when the time for the official measurement came, he slouched and managed to cut off a fraction of an inch.
The issue with tall quarterbacks is essentially the same reason why shorter players can survive in the modern game. With some notable exceptions, size doesn't exactly correlate with athleticism; a seven-foot QB, for example, would be able to see over the line with ease but probably couldn't escape a pass rush if his life depended on it.
"On the whole, taller QBs lack the quick-twitch movement skills that are now prevalent among the league's best quarterbacks," Mays wrote. "Of the 23 players to measure taller than 6-foot-5 at the combine since 2000, 14 tested below the 20th percentile in either the vertical jump or the 40-yard dash. Neither metric is typically associated with QB success, but those results indicate that a lack of athleticism has long been common among taller quarterbacks."
Who was the tallest quarterback in NFL history?
As you might imagine, there haven't been many notably tall quarterbacks in NFL history; players with that kind of size either find their way into other positions or focus on a different sport altogether. There have been a few notable exceptions, though.
Dan McGwire, who stood 6 feet, 8 inches tall, holds the distinction as the tallest quarterback in NFL history; unfortunately, that height and being a bust are just about the only things he's remembered for. He started five games over his five professional seasons, throwing for 745 yards and two touchdowns.
Frank Patrick, who briefly played for the Green Bay Packers in the 1970s, and Brock Osweiler both sit at number two; he's listed at 6 feet, 7 inches. There are then plenty of quarterbacks listed at 6 feet, 6 inches, including Joe Flacco and Justin Herbert. As encountered with Byron Leftwich, that seems to be the upper boundary of quarterback height.
It's often said that sports are a game of inches. That saying apparently applies to quarterbacks, too.
Stats and heights courtesy of Pro-Football-Reference