The 5 Oldest Quarterbacks to Start an NFL Game
A look at the five oldest quarterbacks to ever start an NFL game.
While certainly not typical for an NFL quarterback to play into his 40s, it has happened occasionally.
The most famous case, of course, is that of Tom Brady, the only quarterback in NFL history to start a game after his 45th birthday. Had the seven-time Super Bowl champion opted not to return for his 23rd season in 2022, he wouldn't have ended his career as the oldest starting signal-caller in league history, as that honor would have remained with Steve DeBerg, who we'll get to in just a few minutes.
Now, while Brady holds the honor of being the oldest quarterback to start an NFL game, he's not the oldest to simply appear in one. That record belongs to George Blanda, who was 48 years old when he made his final appearance under center with the then-Oakland Raiders during the 1975 season. But his last start at quarterback was seven years earlier. Blanda spent the later years of his career primarily utilizing his talents as a kicker.
So we've already given you the two oldest quarterbacks ever to start an NFL game. Let's go ahead and take a look at the entire top five, shall we?
5. Doug Flutie — 42 years, 2 months, 10 days
Kicking off our list is Doug Flutie, who was 42 years, two months, and 10 days old when he started for the then-San Diego Chargers in their regular-season finale on January 2, 2005, completing 13 of 22 passes for 199 yards and a touchdown with no interceptions in a 24-17 victory.
Flutie appeared in five games for the New England Patriots the following season but never made a start.
4. Warren Moon — 44 years, 8 days
Up next on the list of the oldest quarterbacks to start an NFL game is arguably the greatest undrafted signal-caller in league history, Warren Moon.
Just eight days past his 44th birthday on November 26, 2000, Moon started for the Kansas City Chiefs against the then-San Diego Chargers, completing 12 of 31 passes for 130 yards with zero touchdowns and an interception in a 17-16 loss.
3. Vinny Testaverde — 44 years, 26 days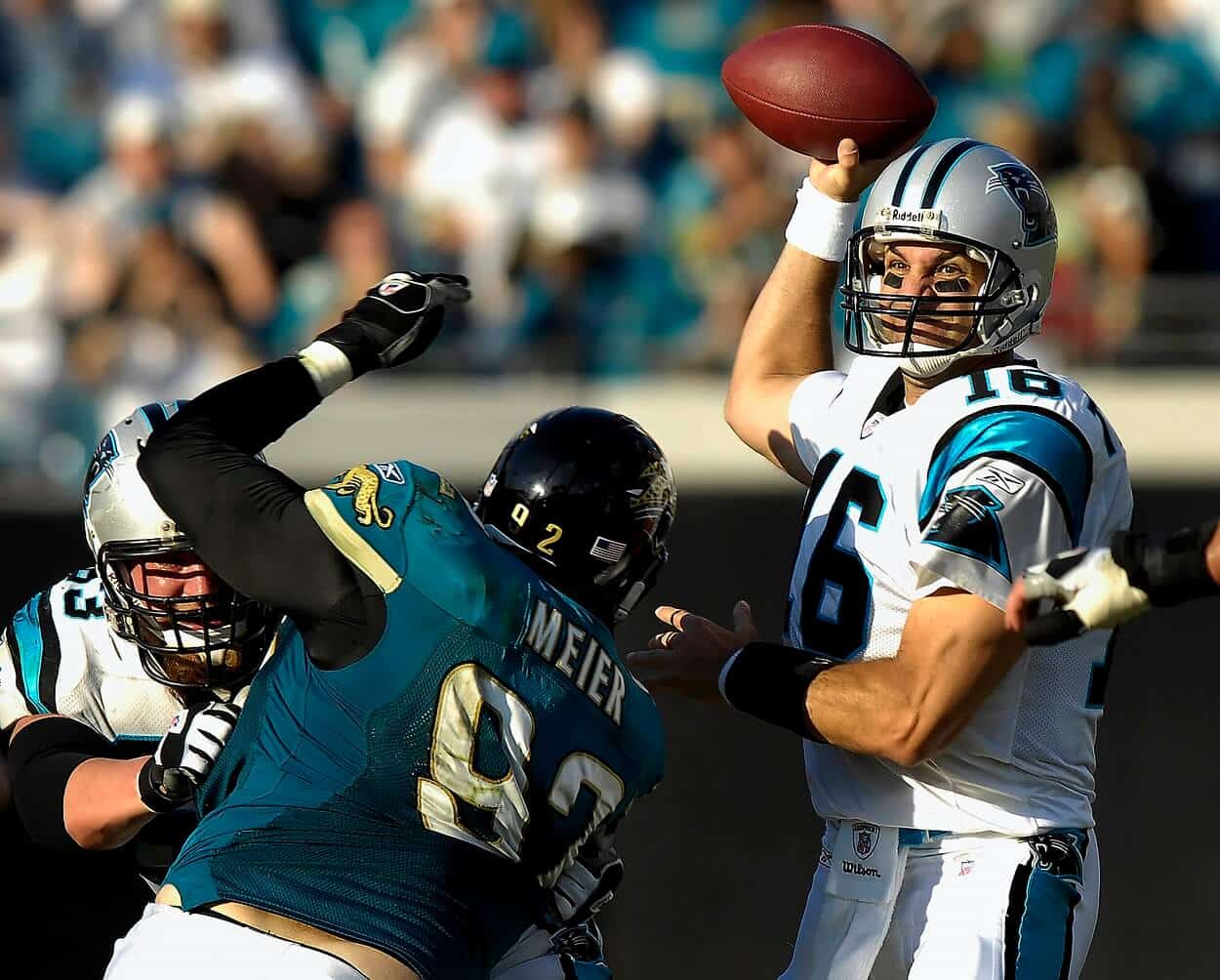 Just short of four weeks past his 44th birthday, Vinny Testaverde made his final NFL start on December 9, 2007, for the Carolina Panthers against the Jacksonville Jaguars. A week earlier, he'd set a new mark as the oldest quarterback to win an NFL game with a victory over the San Francisco 49ers, a record later broken by Tom Brady.
As for Testaverde's final start, he completed just 13 of 28 passes for only 84 yards with zero touchdowns and an interception in a 37-6 loss.
2. Steve DeBerg — 44 years, 9 months, 6 days
Following a four-season hiatus, Steve DeBerg returned to the NFL in 1998 as a backup for the Atlanta Falcons.
But in a Week 8 matchup with the New York Jets on October 25, with starter Chris Chandler out with an injury, DeBerg made the 140th and final regular-season start of his career. At 44 years, nine months, and five days old, the 1977 10th-round pick completed just nine of 20 passes for 117 yards with zero touchdowns and an interception before he was lifted for Tony Graziani.
The Falcons took a 28-3 loss, one of just two regular-season defeats for Dan Reeves' group on the year. DeBerg became the oldest player on a Super Bowl roster a few months later but didn't see any action in Atlanta's loss to the Denver Broncos.
1. Tom Brady — 45 years, 5 months, 13 days
And last but not least, of course, we come to Tom Brady, who was 45 years, five months, and 13 days old when he made his 381st and final NFL start on Monday, January 16, 2023.
Brady and his Tampa Bay Buccaneers took on the Dallas Cowboys in the Wild Card Round of the NFL Playoffs that night, and while TB12 threw for 351 yards and two touchdowns, he also completed just 53% of his passes and threw a pick in a 31-14 loss.
Fifteen days earlier, on January 1, Brady became the oldest quarterback to win an NFL game when the Bucs bested the Carolina Panthers, 30-24, a game in which the three-time MVP completed 75.6% of his passes for 432 yards with three touchdowns and no picks.