Chris Berman Talked Bill Belichick Into Giving Doug Flutie a Memorable NFL Moment
Doug Flutie was an exciting quarterback who spent 12 years in the NFL that sandwiched a stellar career in the Canadian Football League. Flutie's biggest football moment was his 1984 'Hail Mary' pass to Gerard Phelan when he was playing at Boston College. His coolest moment may have happened when he played for Bill Belichick and the New England Patriots, and ESPN icon Chris Berman had a lot to do with it.
Chris Berman and Doug Flutie had a close relationship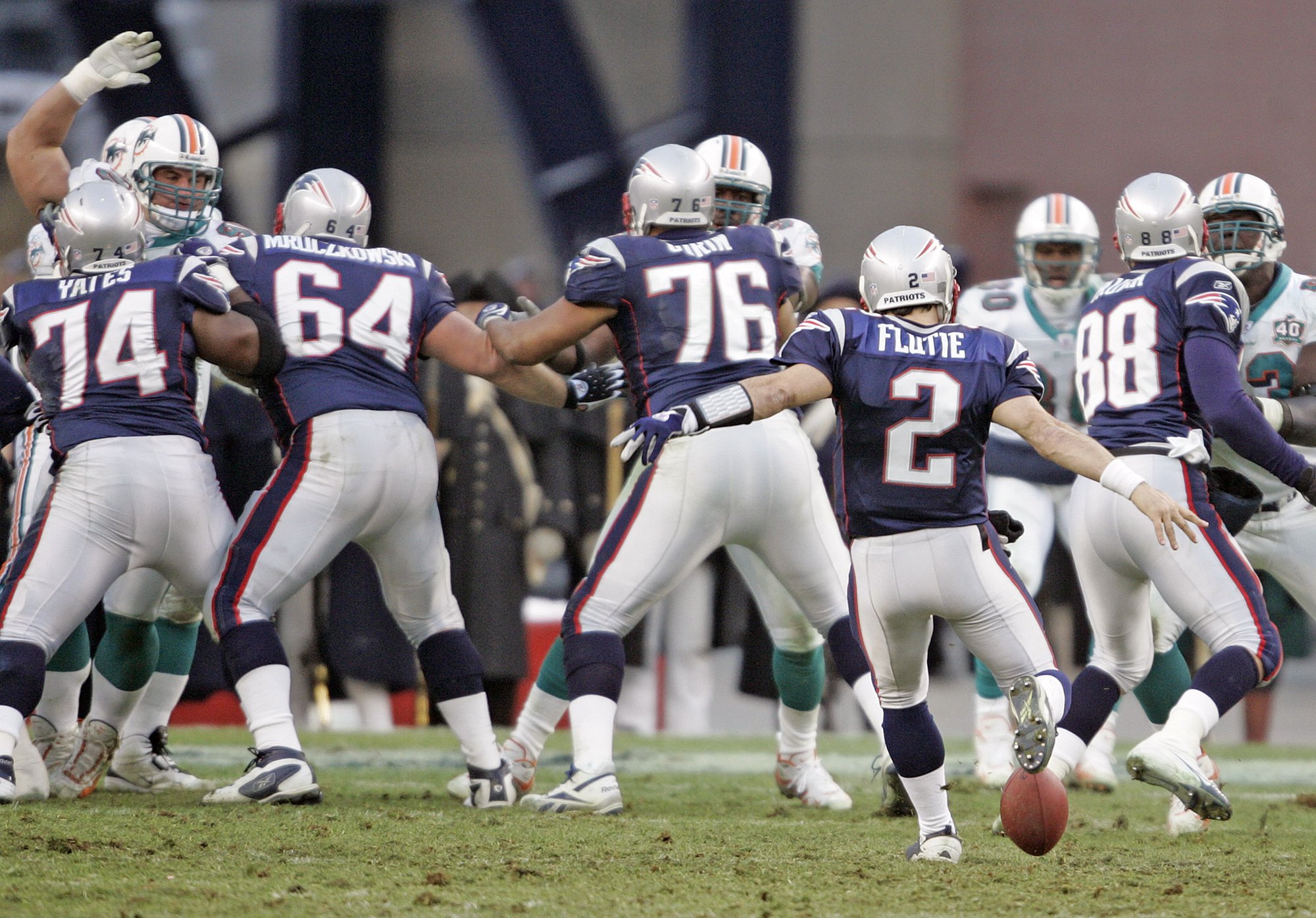 During the most recent episode of his weekly Flutie Flakescast podcast, Flutie had the legendary Berman on as a guest. The two spoke about their relationship, and the former quarterback said he had two "bookend moments" in his football career. First, was that 'Hail Mary' pass that earned Boston College an improbable win over Miami. The second was his dropkick for an extra point during his final season. "The dropkick would never have happened without Chris Berman," Flutie said.
Berman has never been shy about his love for the Buffalo Bills. It was when Flutie was playing for the Bills that the dropkick talk began. "You and I have been friends for a long time," Berman said, reliving their past. "Growing up in Massachusetts, Connecticut et cetera. We're close enough in age, although you're still a baby.
"So now you're at Buffalo and that's where we interacted because I'd go up there to visit the team every now and then. You and I talked on the practice field, I think, about the dropkick. I think we were just BS-ing in Buffalo."
Chris Berman puts the bug in Bill Belichick's ear
Berman never forgot that dropkichttps://www.sportscasting.com/rob-gronkowski-doug-flutie-inspired/k talk with Flutie. When Flutie was playing with the Patriots in 2005, his second stint with the team, the topic came up again. "Fast forward to 2005," Berman said, "and you're the backup in New England. Bill Belichick allowed me to, kinda, be as much on the inner circle as you could be with the media, but we're friends.
Berman said he went up to a midweek Patriots practice in October, and he and Belichick were chatting in the coach's office after practice. Berman said he knew what a historian of the game Belichick was. He told the coach Flutie could dropkick. "He wasn't George Jefferson but the antenna perked and he goes, 'he can?'" Belichick went to get Flutie to come to the office.
Flutie remembered the moment well. "Me, being as insecure about my position… I'm 43 years old and I'm a backup and I haven't done anything in New England," Flutie said to Berman. "I'm thinking bring your playbook, coach wants to see you. You're done. I walk in there and there you standing behind his desk. My recollection is you had this big ol' smile on your face and your arms crossed and you were just kinda nodding at me. (Belichick) goes, 'Can you dropkick?' and I said I could do it but there's really no reason to do it. He said, "is it legal?" and I said yeah it's still legal. He said, 'well work on it. We're going to practice it tomorrow."
Flutie gets his time to shine in New England
Flutie recalled that a couple of weeks later, he kicked three balls at practice. "I hit a line drive off the upright to the left," Flutie said on the Flutie Flakescast podcast. "I kicked the center in the ass with one and I kicked one through." He said they then had forgotten about the dropkick and went about their regular practices. Then he finally got his chance.
"It was the end of the Miami game," Flutie said. "Number one, I was disappointed I didn't start the game because he started (Matt) Cassel and wanted to see what the kid could do. I'm 43 and I know this is my last regular-season game. There was about five minutes left and (Belichick) sees me and says, 'if we score here, you're kicking it.' He didn't get the sentence out of his mouth and we were in the end zone." Flutie said he grabbed a ball from an equipment guy's hands and kicked one into the stands as his lone warmup.
There was a lot of confusion on the Dolphins line after the touchdown brought the Patriots within six at 25-19. Many players thought the Pats were going for two with Flutie in the game. Instead, Flutie's dropkick sailed through. "We line up and we kick it," he said. "It was funny. I went to the sideline to give Bill a hug and Tom came out for a high-five. I ran right past Tom Brady on national TV and went to Bill for the hug and that started the whole blowing off Tom Brady on high-fives."