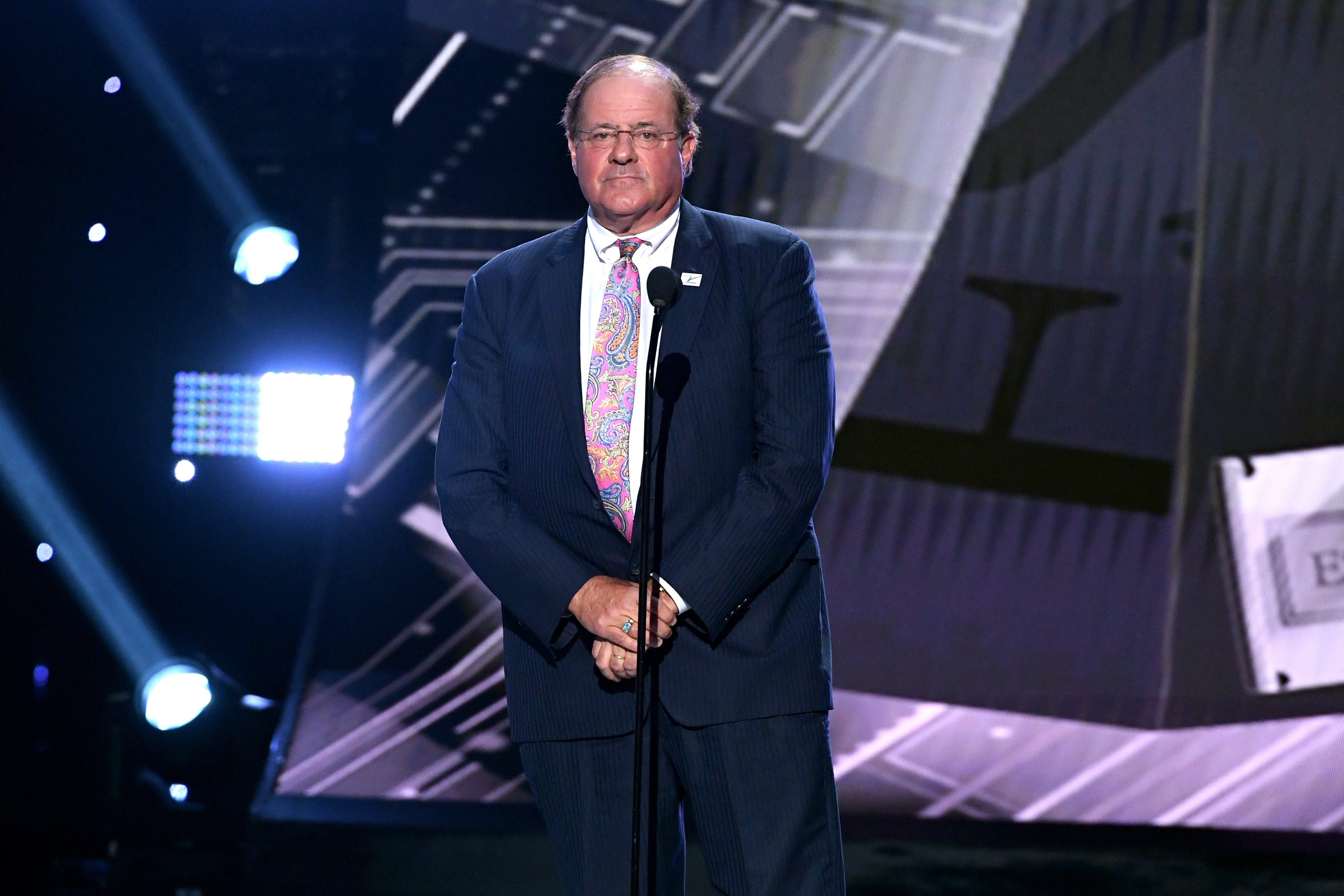 How Long Has Chris Berman Been at ESPN?
Chris Berman started as one of ESPN's first seven sports anchors. His career has many highlights and it's fun to reminisce.
Chris Berman is called "The Swami," and the moniker fits him perfectly. The elder statesman of ESPN anchors has taken on a mythic presence at the company headquarters in Bristol, Connecticut. The 65-year-old remains one of the most popular sports broadcasters ever. Although Berman's career is winding down, you can still catch him doing guest spots here and there. 
Berman's time at ESPN spans 41 years. The network began during cable TV's infancy in 1979. Against the backdrop of the local TV networks came ESPN with its 24 hours-a-day sports programming. Berman started as one of its first seven sports anchors. His career has many highlights and it's fun to reminisce about his life on air.
The evolution of Chris Berman's 'Swami' nickname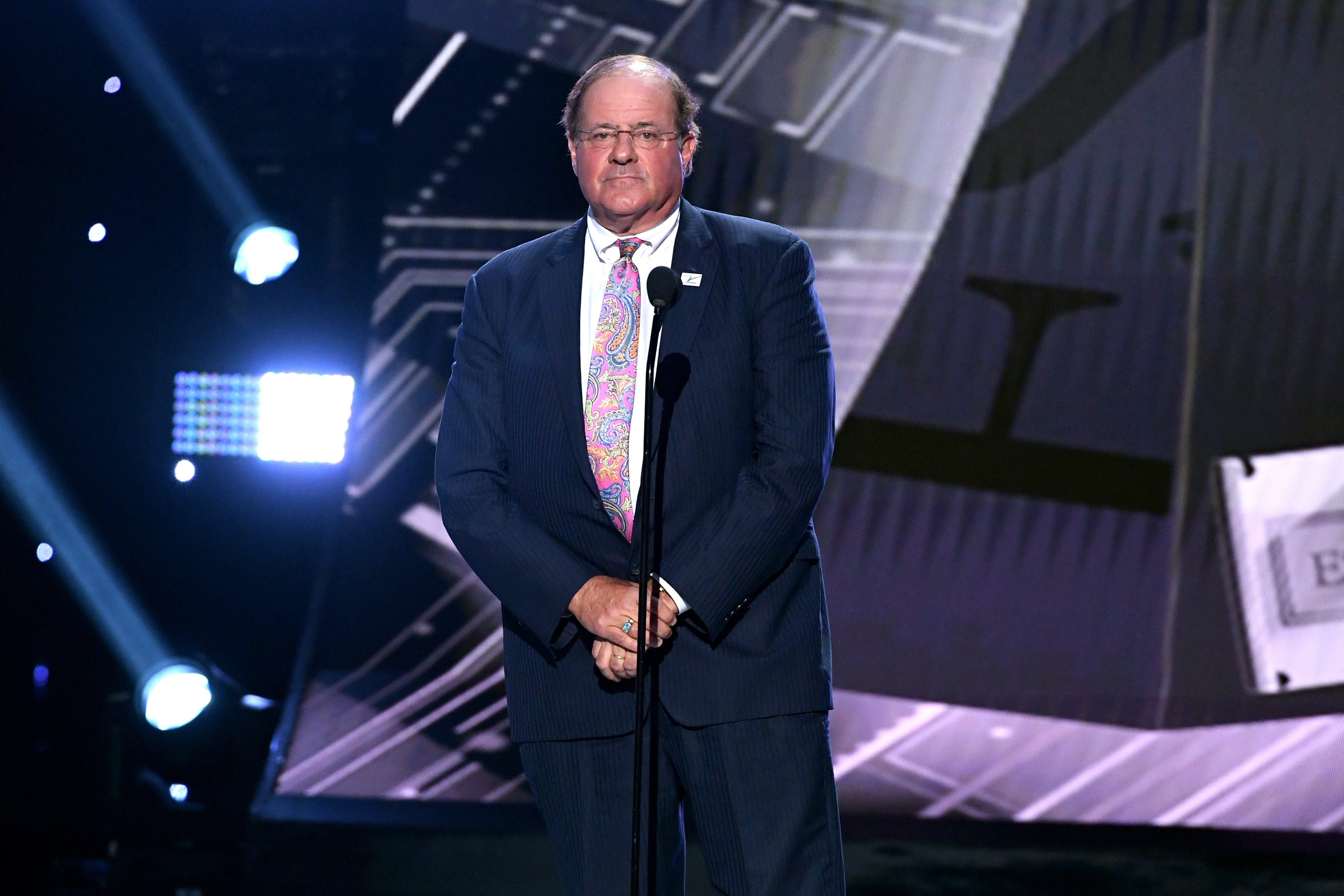 The Swami was one of Chris Berman's alter egos, details ESPN. He would don a turban during ESPN's early days and proceed to give his various picks for NFL games. The bit lost the turban but kept "The Swami" nickname. During ESPN's pregame shows, Chris would do a two-minute drill where he'd give his predictions.
These segments prominently featured his nickname by flashing "Swami Sez" before each prediction. ESPN is too much of a stodgy blue blood to explicitly give out gambling advice (they are owned by Disney after all). Making Berman into "The Swami" allowed them to give viewers some tips without attracting the hard-core degenerate gamblers.
'NFL Primetime': the highlight show fans have waited for
Berman and cohost Tom Jackson hit upon a winning formula with the NFL Primetime show. Before NFL Primetime, NFL highlights were limited to only a few big plays for each week's top games. NFL Primetime allowed ample time for each game, showcasing rising stars whether they were from big or small-market teams. 
The show also highlighted a human side of Chris Berman as he shared the spotlight with co-host Tom Jackson. Chris often gets teary-eyed reminiscing about Tom, and you can see why they liked each other so much. Chris has said of Tom that "we complete each other's sentences," so there was great chemistry between the two which helped the show work so well.
The increasing popularity of fantasy football meant there was more interest in how all players were performing in the league. Chris and Tom gave enough highlights for each game so viewers could get the gist within a few minutes. NFL Primetime was truly an innovation that helped spur even more interest in fantasy football to casual sports fans everywhere.
Athlete nicknames became Chris Berman's calling card
Berman often lamented that he had minutes of empty air to fill during ESPN's early hours. To help pass the time, he would come up with witty nicknames for various players. This shtick grew enormously popular as some fans would tune in just to hear Chris's cleverness. Some of the highlights include:
Bert "be home" Blyleven
Joaquin "the dog" Andujar
Curtis "my favorite" Martin
Joe "actual retail" Price
Oddibe "young again" McDowell
Andre "bad moon" Rison
Chris Berman has the same energy now in his late years as he did in his 20s. He's the same guy who likes to keep things funny and upbeat. This is in stark contrast to the more serious direction that ESPN has been trending toward with their increasing social issues coverage.
Berman is a sportscaster from a bygone era, but make sure to catch him whenever he's on as he's still technically employed by ESPN. You'll get a taste of what made him so beloved by millions of sports fans all over the world.