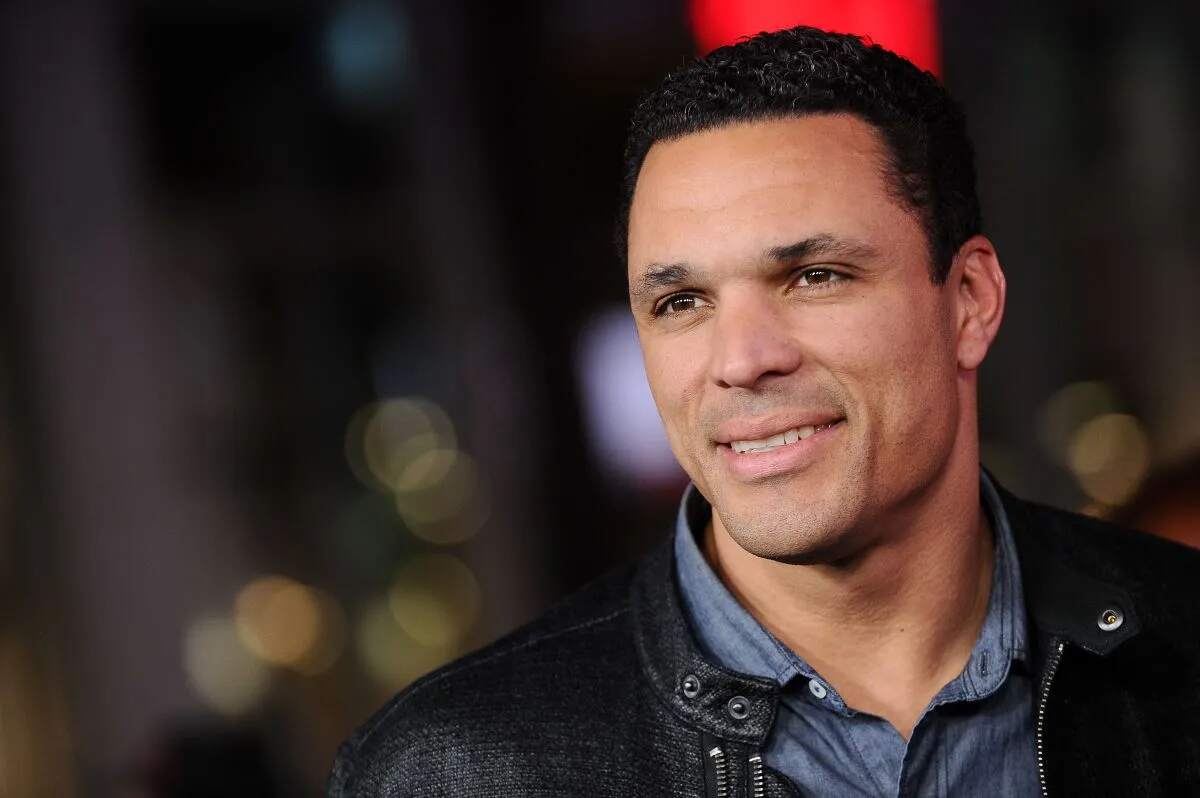 NFL Legend Tony Gonzalez Saved a Photographer's Life by Knocking Him Unconscious
Tony Gonzalez had an illustrious career with the Kansas City Chiefs and Atlanta Falcons.
Tony Gonzalez is one of the best tight ends in NFL history. Even though he never won a Super Bowl, the California native had an illustrious career with the Kansas City Chiefs and Atlanta Falcons.
When you mention the name Tony Gonzalez, most people think about the bevy of touchdowns the NFL legend caught during his career. However, if you ask Mickey Pfleger's family what their thoughts about Gonzalez are, they will call him a hero.
Tony Gonzalez was an NFL stud
The Chiefs drafted Tony Gonzalez with the 13th overall pick in the 1997 NFL Draft out of California. The 6-foot-5 playmaker spent the first 12 years of his career in Kansas City and put up monster numbers.
In 190 games with the Chiefs, Gonzalez caught 916 balls for 10,940 yards and 76 touchdowns. He made 10 Pro Bowls and five All-Pro teams.
After a decorated run in Kansas City, Gonzalez was traded to the Falcons on April 23, 2009. The versatile pass-catcher played in 80 games for Atlanta. He recorded 409 receptions for 4,187 yards and 35 touchdowns.
Gonzalez made two Pro Bowls and one All-Pro team during his five-year run with the Falcons. The 2013 season was his last campaign in the NFL.
Gonzalez finished his NFL career with 1,325 receptions, 15,127 yards, and 111 touchdowns. He has the most receptions by a tight end all-time, the most receiving yards, and is second to Antonio Gates in touchdowns.
In 2019, Tony Gonzalez was inducted into the Hall of Fame. While that is likely the proudest moment of his career, Gonzalez's most impactful day came in 2000 at Candlestick Park.
Tony Gonzalez saved someone's life by crashing into them
On November 12, 2000, the Chiefs took on the San Francisco 49ers at Candlestick Park. During the game, Tony Gonzalez was pushed out of bounds on a late hit and ran over a sideline photographer named Mickey Pfleger.
Gonzalez knocked out Pfleger, who was unconscious and rushed to the hospital. The NFL icon had to continue to play for the Chiefs despite sending someone to the hospital, which was very tough for Gonzalez. He finished with four catches for 46 yards in Kansas City's 21-7 loss.
As expected, Gonzalez contacted the appropriate people to see how Pfleger was doing. The photographer was doing fine, and Gonzalez was relieved.
A few days after the hit, Gonzalez received a phone call that he will never forget. He was told that he actually saved Pfleger's life by knocking him out and sending him to the hospital since Pfleger had a brain tumor.
Mickey Pfleger's brain scan revealed the tumor, and doctors only found it because Tony Gonzalez knocked him unconscious and sent him to the hospital. It was an incredible turn of events.
Mickey Pfleger reflected on the incident in a 2001 essay
In 2001, Mickey Pfleger wrote an essay on SportsShooter.com about the Tony Gonzalez hit. He called the essay "The event that changed my life."
But I did find out that I had a brain tumor and I really believe that things happen for a reason. I was supposed to be knocked out by Tony Gonzalez at the football game. I was supposed to go into a seizure while I was unconscious so that Dr. Klint of the 49ers would tell the paramedics to tell the emergency room doctors to do a CT brain scan on me. I was supposed to be taken to San Francisco General Hospital and land in the hands of Dr. Martin Holland, an incredibly talented neurosurgeon.

I was never supposed to get hurt from the "hit" by Tony Gonzalez. I couldn't find any bruises on my body the day after being hit full force by Tony, a 249-pound tight end in full football pads. I didn't even have a headache the next day, even though I suffered a concussion and seizure and was unconscious for two minutes. And, none of my camera equipment was damaged in any way, even though my cameras went flying in three different directions."
God works in mysterious ways sometimes. Even though Mikey Pfleger died in 2010 at the age of 61, he got more time on earth thanks to Tony Gonzalez.
.