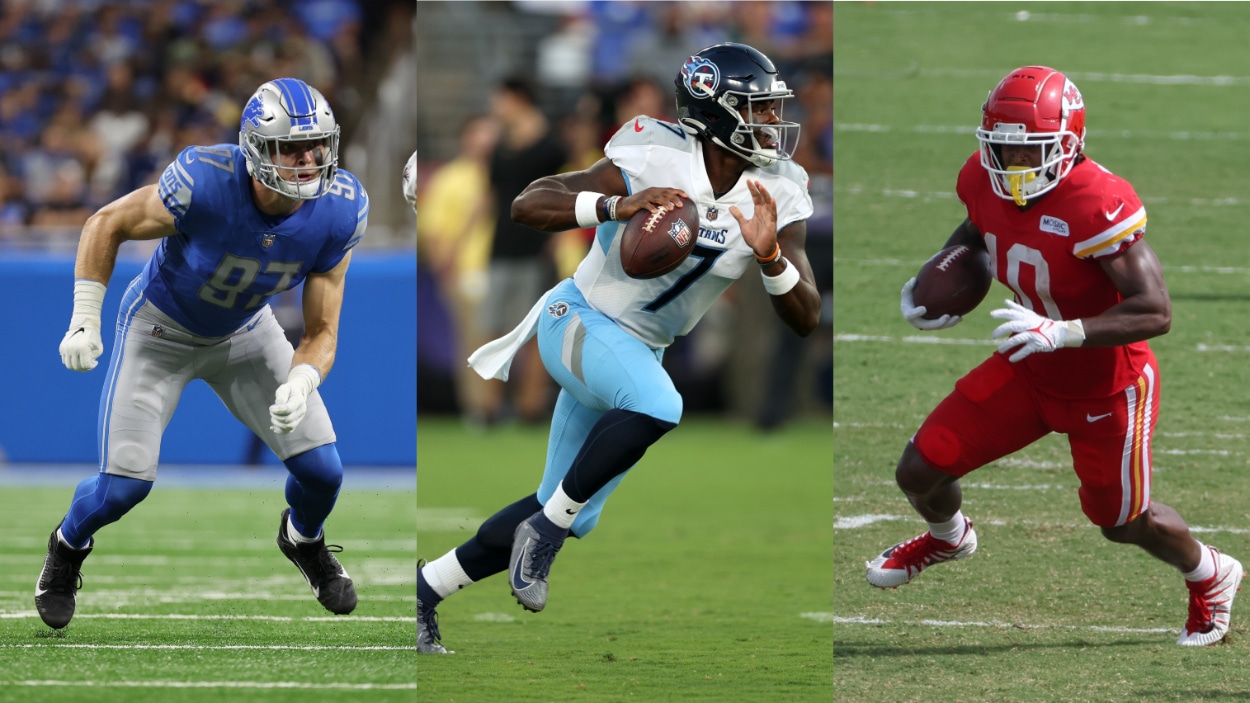 NFL Rookie Rankings: The 10 Most Talked-About Rookies Heading Into Week 2 of the NFL Preseason
In Week 2 of the preseason, fans will get to see a lot more of these 10 players who make up the first Sportscasting NFL rookie rankings of 2022.
The 2022 NFL season is exactly one preseason game old, so the sample size to judge any player is comically small. However, while we might not be able out together NFL rookie rankings based on pure in-game performance, we can rank them based on buzz. Several first-year players are already titillating their new team's fan base with their glimpses of skill. Here are the top 10 NFL rookie rankings heading into Week 2 of the NFL Preseason.
NFL rookie rankings heading into Week 2 of the NFL Preseason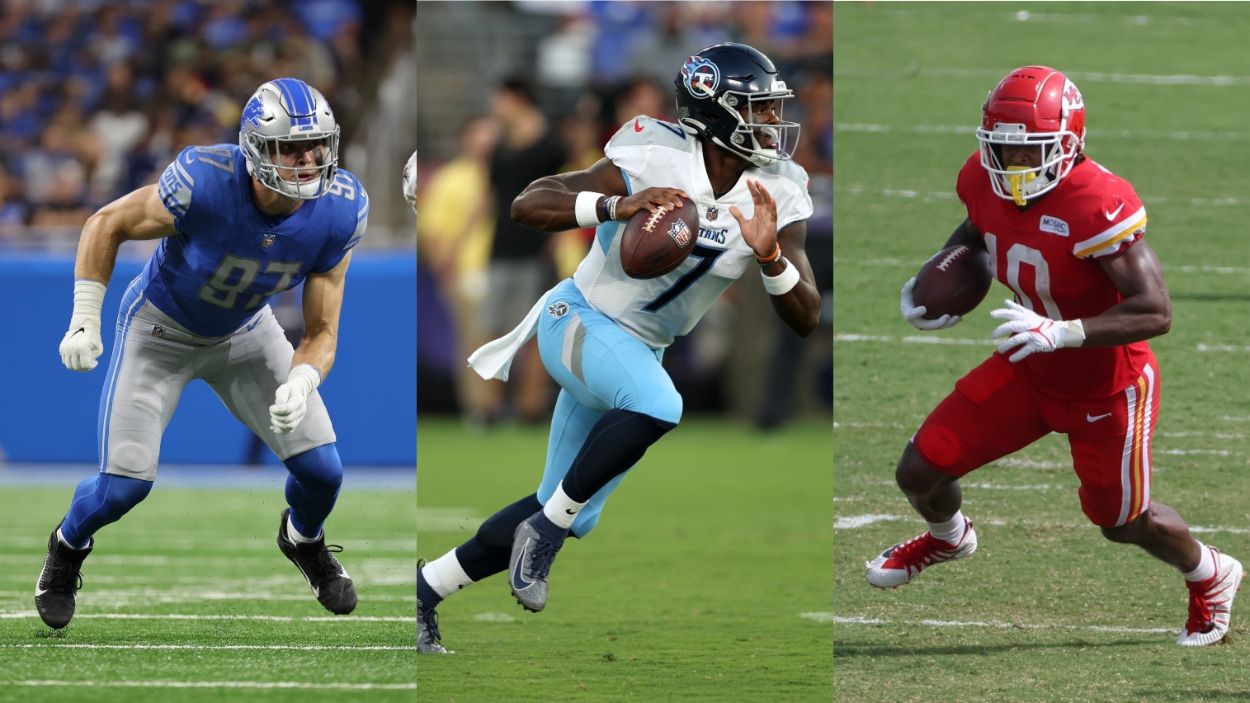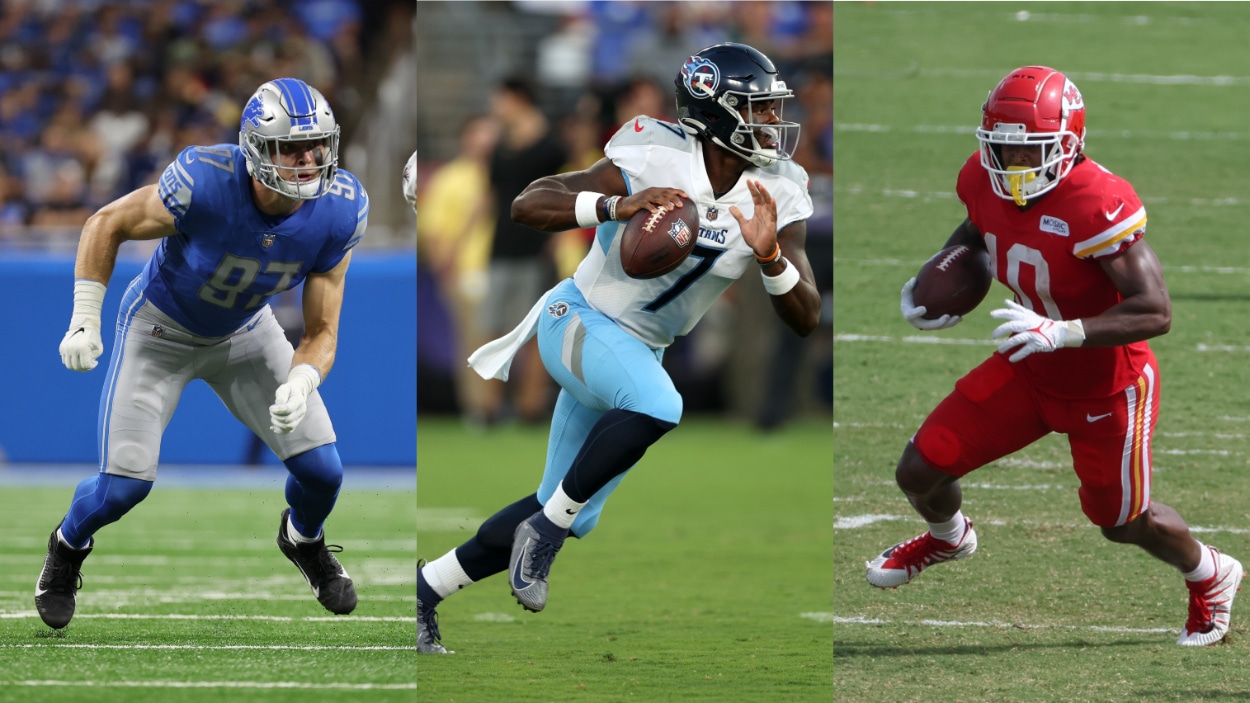 10. P Matt Araiza, Round 6 (No. 180) — Buffalo Bills
The Buffalo Bills took the "Punt God" out of San Diego State in the sixth round, and Matt Araiza is already living up to the hype. He booted an incredible 82-yard punt in his first preseason game that stunned the Indianapolis Colts special teams unit. More importantly, he held well on field goals and extra points, which should mean he becomes the Bills punter over incumbent Matt Haak this year.
9. QB Desmond Ridder, Round 3 (No. 74) — Atlanta Falcons
Atlanta Falcons head coach Arthur Smith already announced Marcus Mariota will be the team's Week 1 starter, but Desmond Ridder may make him think twice. The former Cincinnati quarterback came into the Falcons first preseason game in the second quarter and went 10-of-22 for 103 yards with two touchdowns and zero interceptions. He also added 59 rushing yards on six carries. Not bad for a first NFL appearance.
8. QB Kenny Pickett, Round 1 (No. 20) — Pittsburgh Steelers
The only first-round QB in the 2022 draft, Kenny Pickett is the only rookie signal-caller truly competing for his team's No. 1 job right now. In the first preseason game, the former Pitt Panther went 13-of-15 for 95 yards with two touchdowns and zero interceptions. Those numbers outpaced both Mitchell Trubisky and Mason Rudolph in the Pittsburgh Steelers preseason opener.
7. DE Aidan Hutchison, Round 1 (No. 2) — Detroit Lions
The No. 2 overall pick in the draft is climbing up the NFL rookie rankings both on and off the field. Aidan Hutchinson got an A grade from NFL.com in his debut. He dropped a running back for a loss and drew a holding call in just 11 snaps. Despite the small sample, his physicality, motor, and versatility were on full display vs. the Atlanta Falcons. What really drew NFL fans' attention, though, was his starring turn on HBO's Hard Knocks and his stirring rendition of Michael Jackson's "Billy Jean" in camp.
6. WR Romeo Doubs, Round 4 (No. 132) — Green Bay Packers
The Green Bay Packers took North Dakota State wide receiver Christian Watson in the second round this year to help replace Davante Adams. It looks like fourth-rounder Romeo Doubs from Nevada might be more ready for that role, though. Doubs has lit it up in camp while Watson has sat injured most of the time. Doubs also had a solid preseason debut, catching three balls for 45 yards, including a 33-yard TD grab.
5. QB Malik Willis, Round 3 (No. 86) — Tennessee Titans
Malik Willis has less chance of starting this year than Pickett or Ridder, but his first preseason game was more buzzed-about than either of those other two rookies' first performances. That's why he leads those two in the first NFL rookie rankings. The Liberty rookie was 6 of 11 for 107 yards with a rushing touchdown in his debut and showed shades of a young Michael Vick. When Willis starts in Year 2 or gets pressed into action this season, he could be the cream of the 2022 rookie QB crop.
4. TE Isaiah Likely, Round 4 (No. 139) — Baltimore Ravens
The Baltimore Ravens have an All-Pro tight end in Mark Andrews and drafted Iowa State TE Charlie Kolar in Round 4 this year. However, they still took Costal Carolina TE Isaiah Likely 11 picks later, and that move is already paying off. Likely had a great debut making a jumping, contested catch, and juking defenders out of their shoes. Ravens fans have to already be salivating over what the team's two and three-tight-end formations could look like this season.
3. OL Trevor Penning, Round 7 (No. 19) — New Orleans Saints
Trevor Penning made news early in New Orleans Saints camp for fighting three practices in a row and getting tossed out. The nasty and talented tackle made a name for himself that way, but he's been pretty good playing his position, too. Penning struggled on a few plays in the preseason game with speed pass rushers. Overall, though, he held up relatively well and excelled as a run blocker.
2. RB Isiah Pacheco, Round 7 (No. 251) — Kansas City Chiefs
The breakout rookie in the 2022 NFL rookie rankings is the seventh-round pick out of Rutgers, Isiah Pacheco. The Kansas City Chiefs running back has been the star of Chiefs camp so far and now seems like a lock to make the roster. Pacheco only had two carries for six yards and one catch for five yards in the preseason opener, but that is likely a sign Andy Reid is saving him for when it counts. Watch out for Pacheco seriously challenging Clyde Edwards-Helaire for time in the regular season.
1. WR George Pickens, Round 2 (No. 52) — Pittsburgh Steelers
The top spot in the NFL rookie rankings goes to Pittsburgh Steelers wideout George Pickens. The Steel City franchise has become incredible at picking WRs over the last decade-plus, and Pickens seems to be the latest in line. He was the highest-graded rookie from Sunday's preseason games, according to PFF, with three catches for 43 yards and a TD. He also pancaked a Seahawks corner on a running play which drew rave reviews around the internet. Plus, his tip-toeing touchdown was a thing of beauty. Watch out for Pickens both for the Steelers and in fantasy football this season.
All stats courtesy of ESPN